How to Rapidly Convert BMP to JPG Online
Any type of file conversion has been made easy thanks to hipdf.com. HiPDF provides free premium file conversion and PDF editing tools. You can use Hipdf to convert your file into any format like PNG, JPG, Excel, PPT, HTML, among many others. It also provides the best BMP to JPG converter online. Let's begin this guide on how to convert BMP to JPG document.
BMP to JPG Conversion Online
We'll first begin by learning how to convert BMP to JPG online using Hipdf tools.
Step 1: Visit the website and find the BMP to JPG Tool
First visit our homepage at hipdf.com and then click on All Tools on the top left.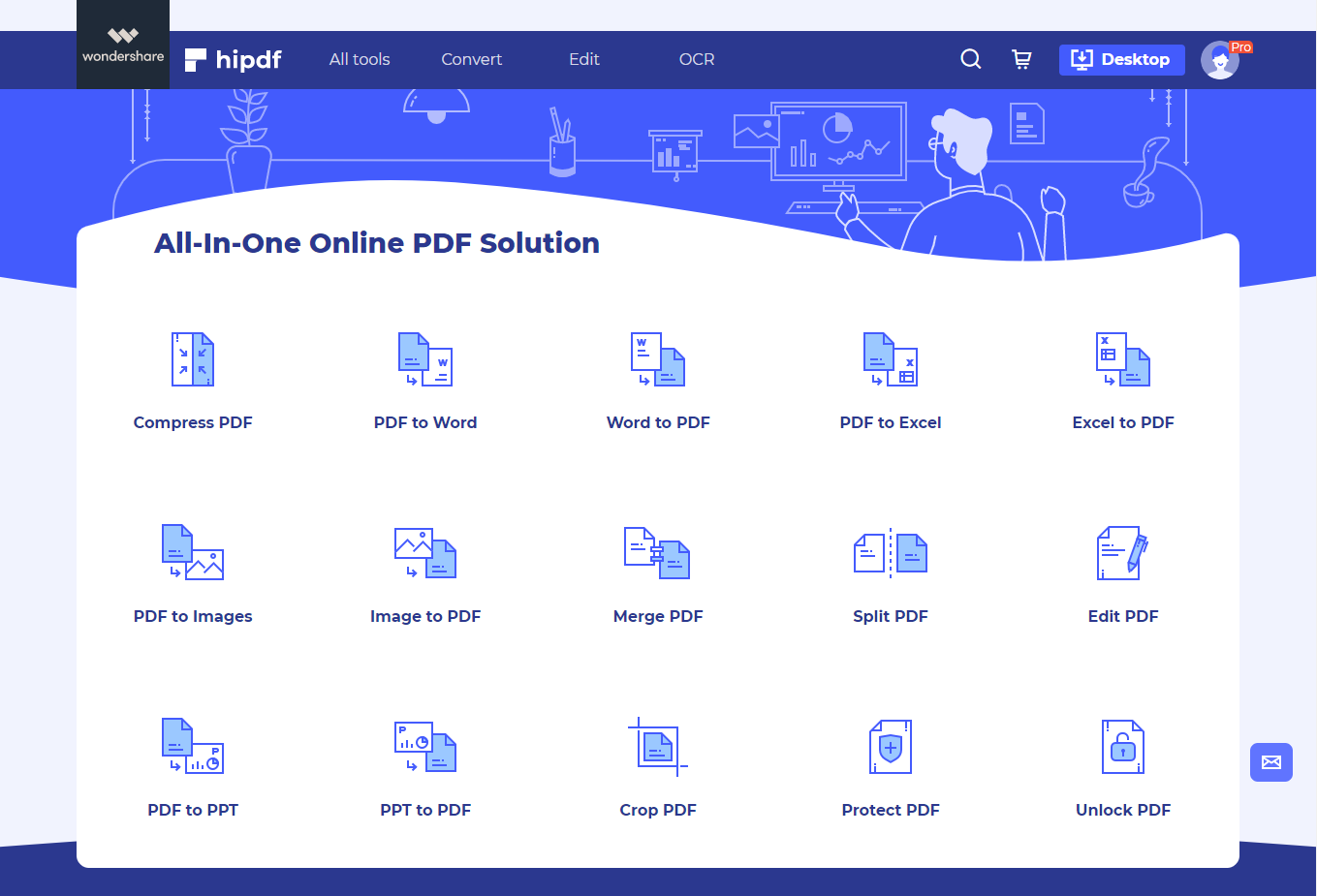 A new page will open which will show all our file conversion and editing tools. Scroll down to the page until you see the label Image Tools. Now locate the tool over here labeled as BMP to JPG and click on it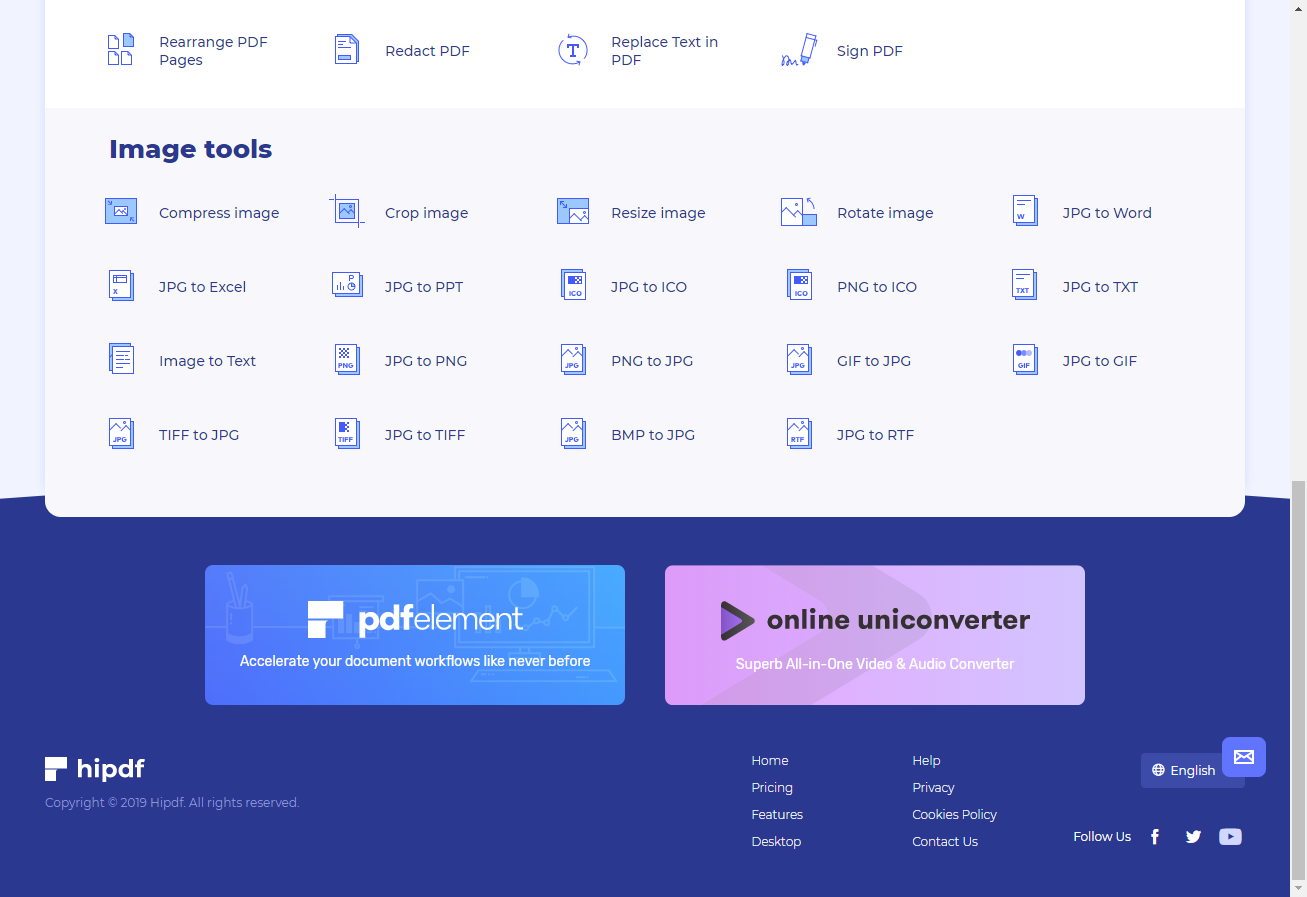 Step 2: Upload the BMP file
This will open the BMP to JPG online free tool. Now to convert BMP to JPG online upload your file by clicking on the Choose File button in the middle of the page. Another way of uploading files is by clicking on any of the cloud icons like Google Drive and One Drive.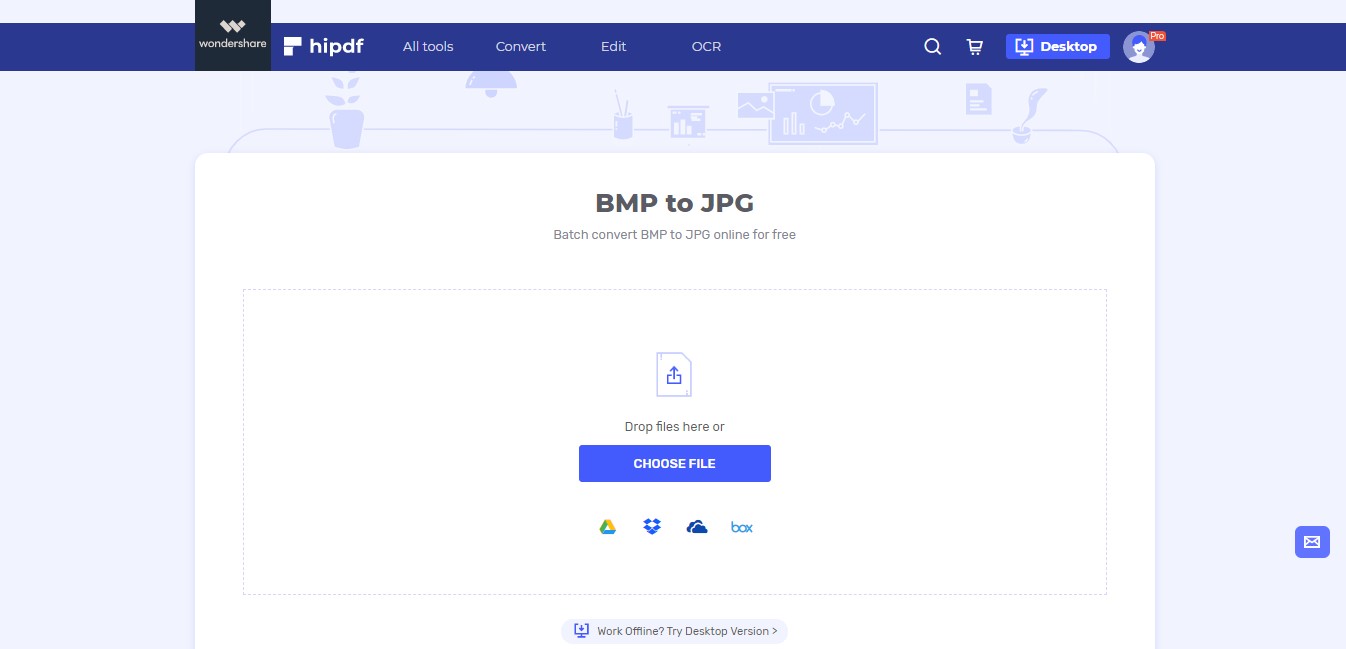 Step 3: Convert and Download
Now click on Convert to convert BMP to JPG document.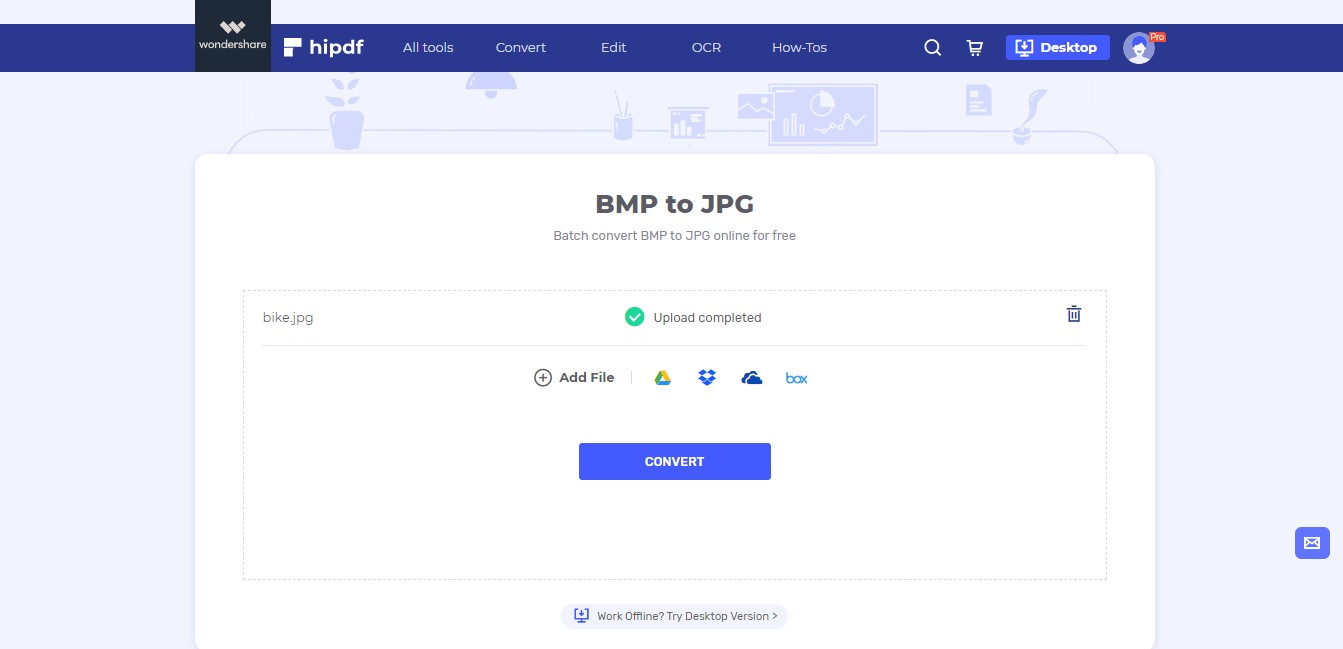 After this conversion has completed click on Download to get your converted file from this BMP to JPG converter online.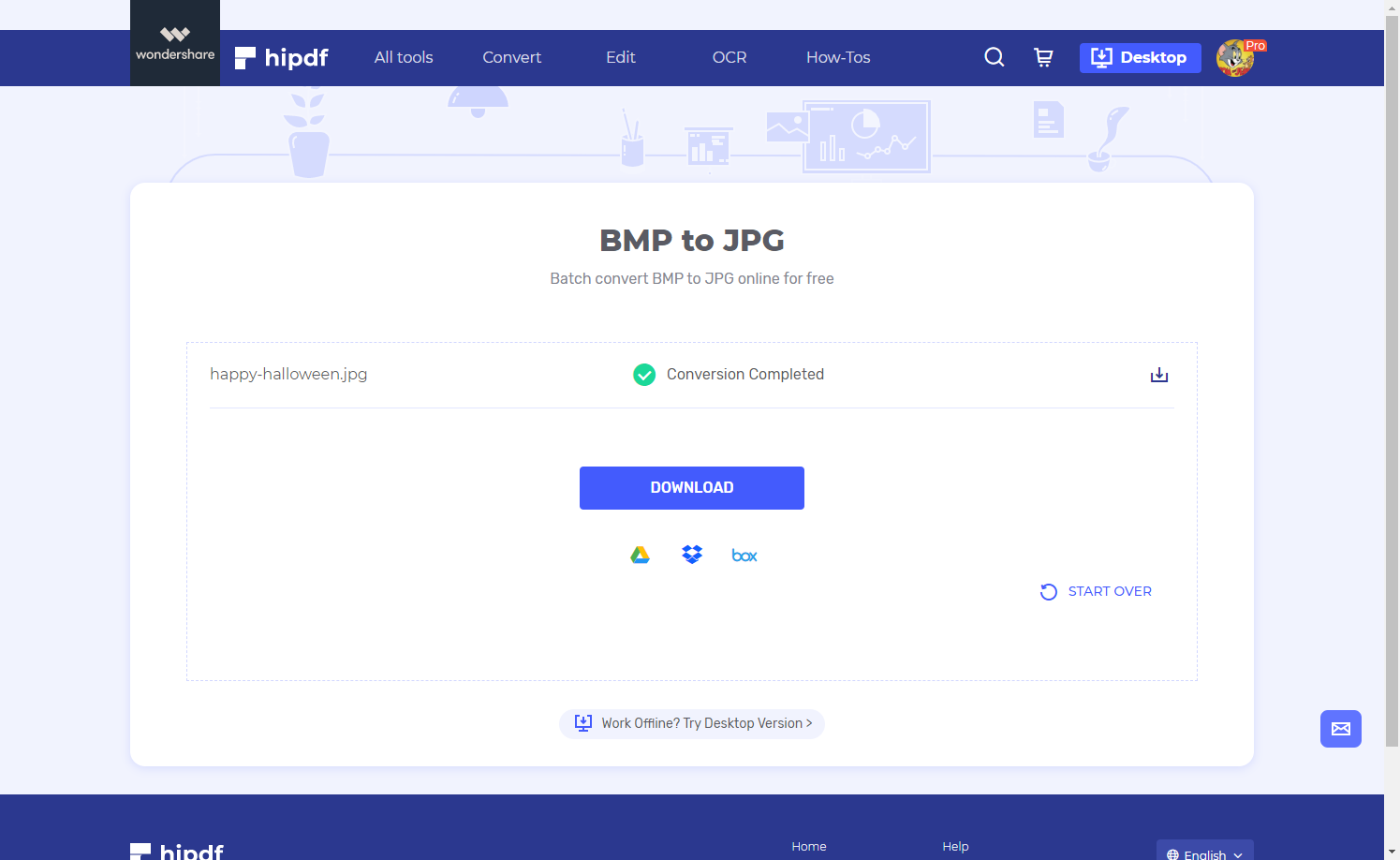 ---
BMP to JPG Conversion on Desktop/Offline
Now the next thing we will see is how to convert BMP to JPG offline on our computer. As many of you will prefer to have an BMP to JPG Converter locally saved in your PC. We will be using PDFelement for this tutorial. Go to https://www.hipdf.com/desktop to install this software.
Step 1: Open PDFelement and Import file
Open up your PDFellemt Application and go to File -> Open -> Browser. This will give you the file explorer. Use that to navigate towards your BMP file. Change view files drop-down to Show All Files. This will make sure that your BMP file becomes visible inside the File Explorer box. Select it and click on Open to open your file.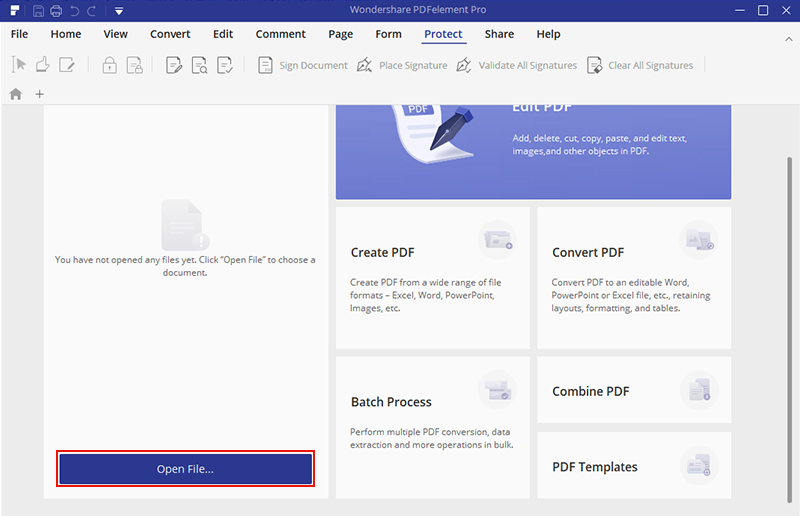 Step 2: Convert and Save File
Once your file has opened. Head over to Covert -> To Image icon. A pop up will open, which will ask you to first save your file. After this, another pop-up will open which will ask to save the converted file. Here you will select the format in which you want to save. And then click on Save to convert BMP to JPG and save at your required location.