How to Convert from JPG to PDF Format on the Internet Now
When you need to transform any of your JPG files into PDF fast and online, chances are you don't really have many reliable options. A typical JPG to PDF conversion doesn't usually come free, but with HiPDF you can easily convert any JPG image into a PDF document fast. Of course, to convert JPG to PDF isn't the only thing Hipdf does!
With the online accessible PDF management tool you can even crop, protect, unlock, split, edit and merge your PDFs while converting from PDF to image, Word, Excel, PPT and vice versa, including compressing PDFs. Here's how to convert JPG to PDF fast and easily with Hipdf right now, online.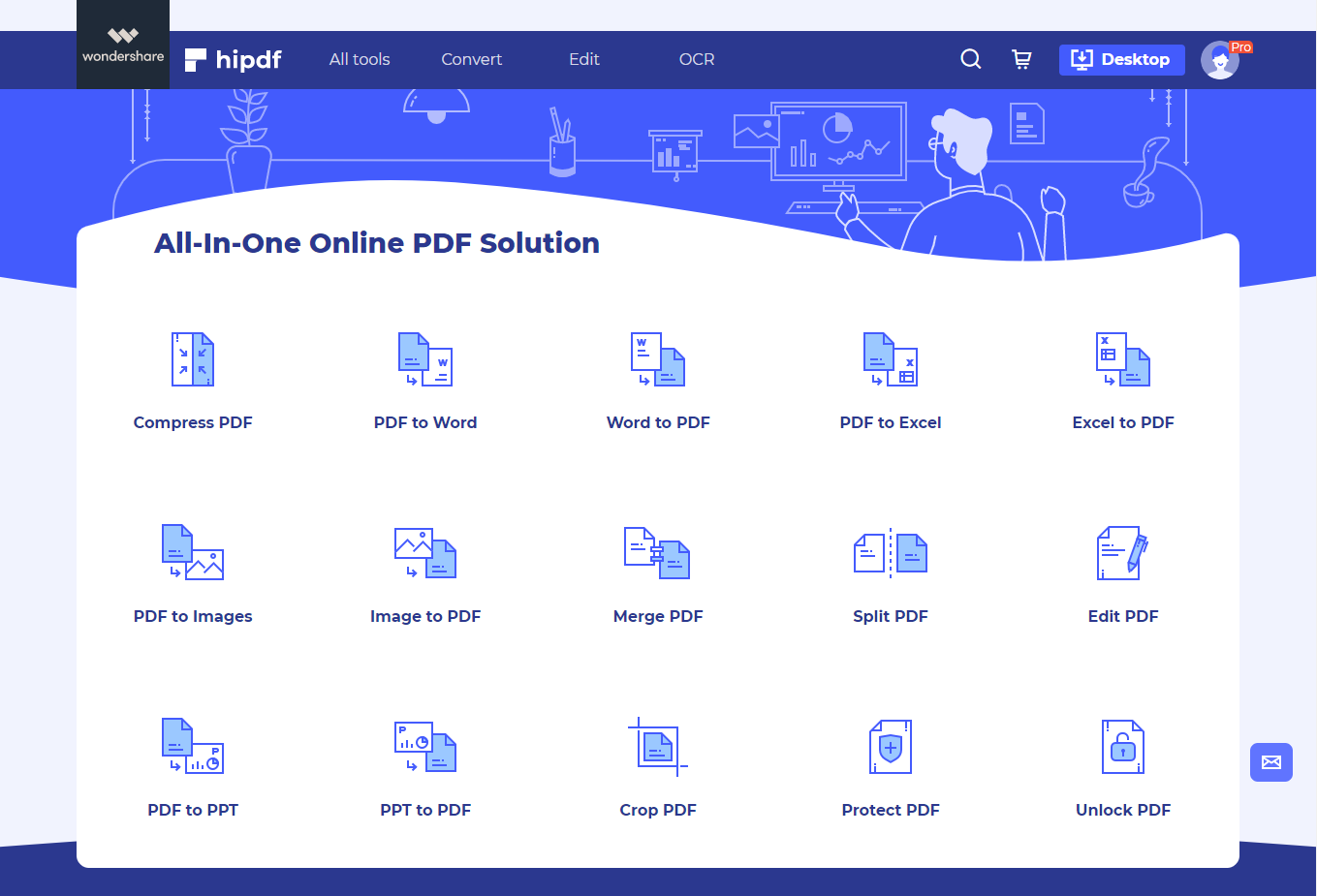 Best JPG to PDF conversion online
As indicated, Hipdf JPG to PDF converter online free tool makes sure all the quick PDF editing and management functionalities you need are easily accessible. From compressing PDFs, editing, splitting, protecting to merging and converting to PDF from Microsoft Office tools and vice versa, it's a JPG to PDF converter online available when you definitely need it.
To carry out a JPG to PDF online conversion, you need to do a number of things:
Step 1: Access the JPG to PDF Converter
Visit https://www.hipdf.com to access the JPG to PDF conversion tool fast.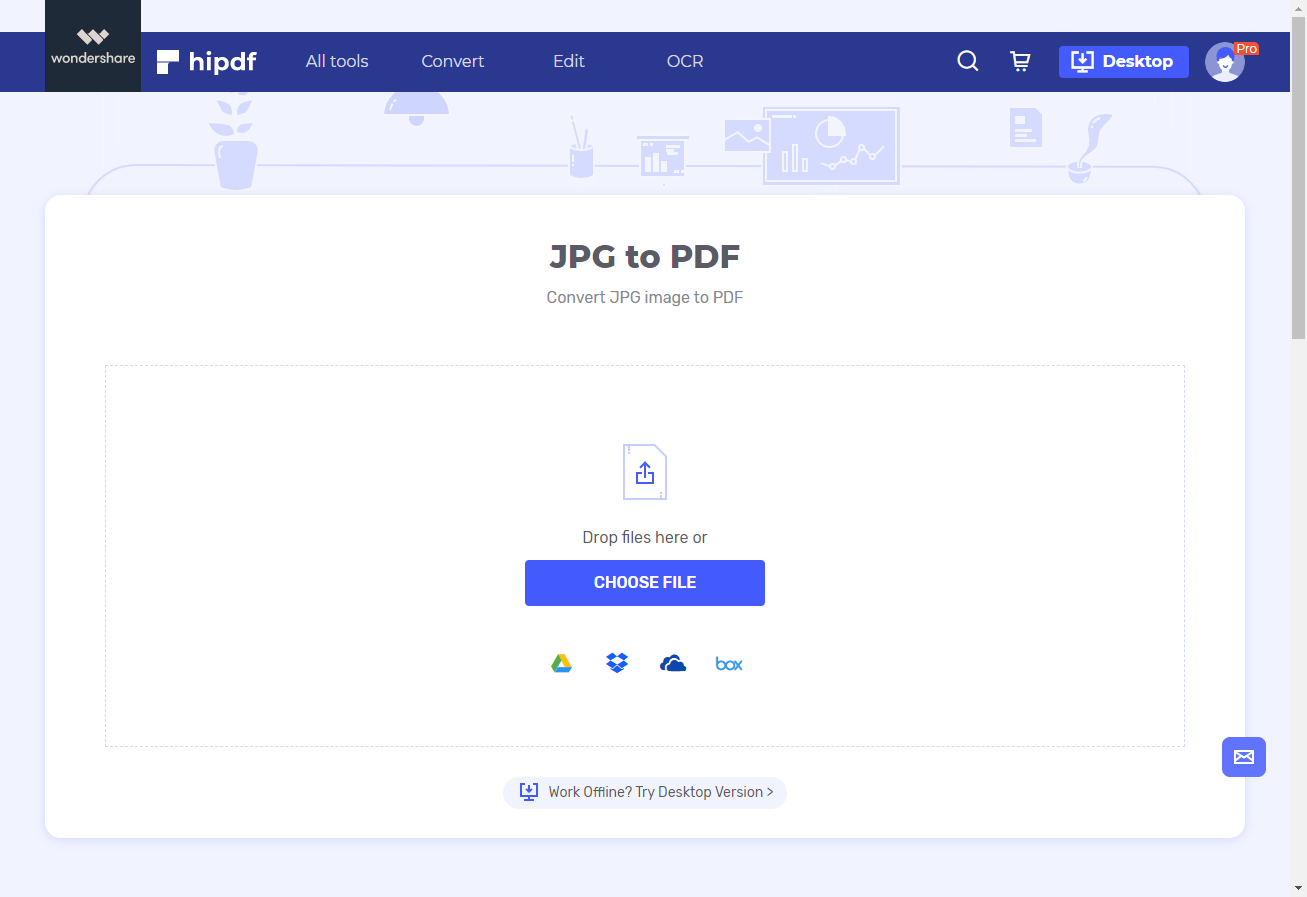 Step 2: Upload the JPG File
While there, "Choose File" to upload the JPG file you need to convert.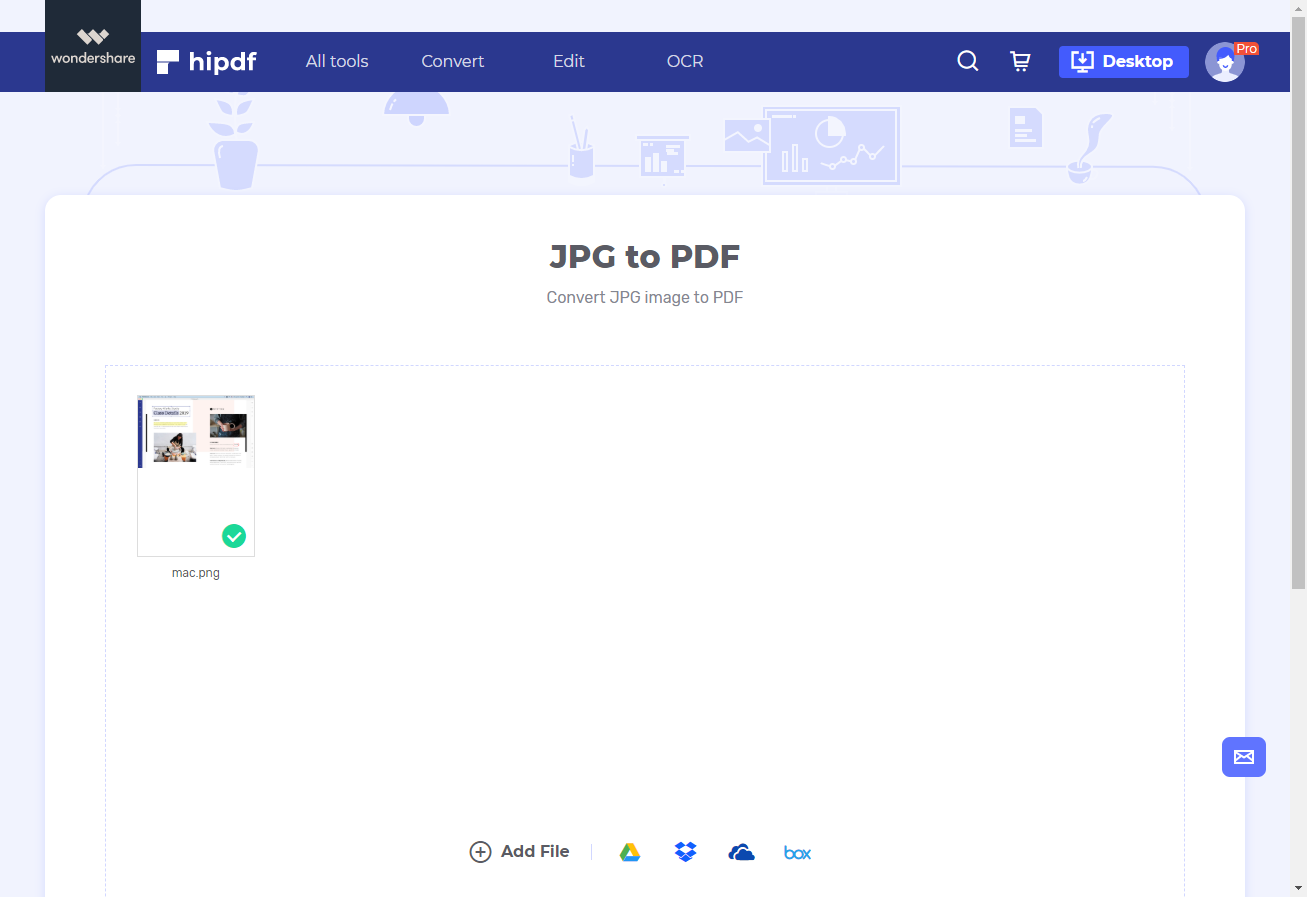 Step 3: Convert JPG to PDF Document
Do click "Convert" to begin the conversion once the JPG file upload is complete. Once done, click "Download" to access the now PDF format file.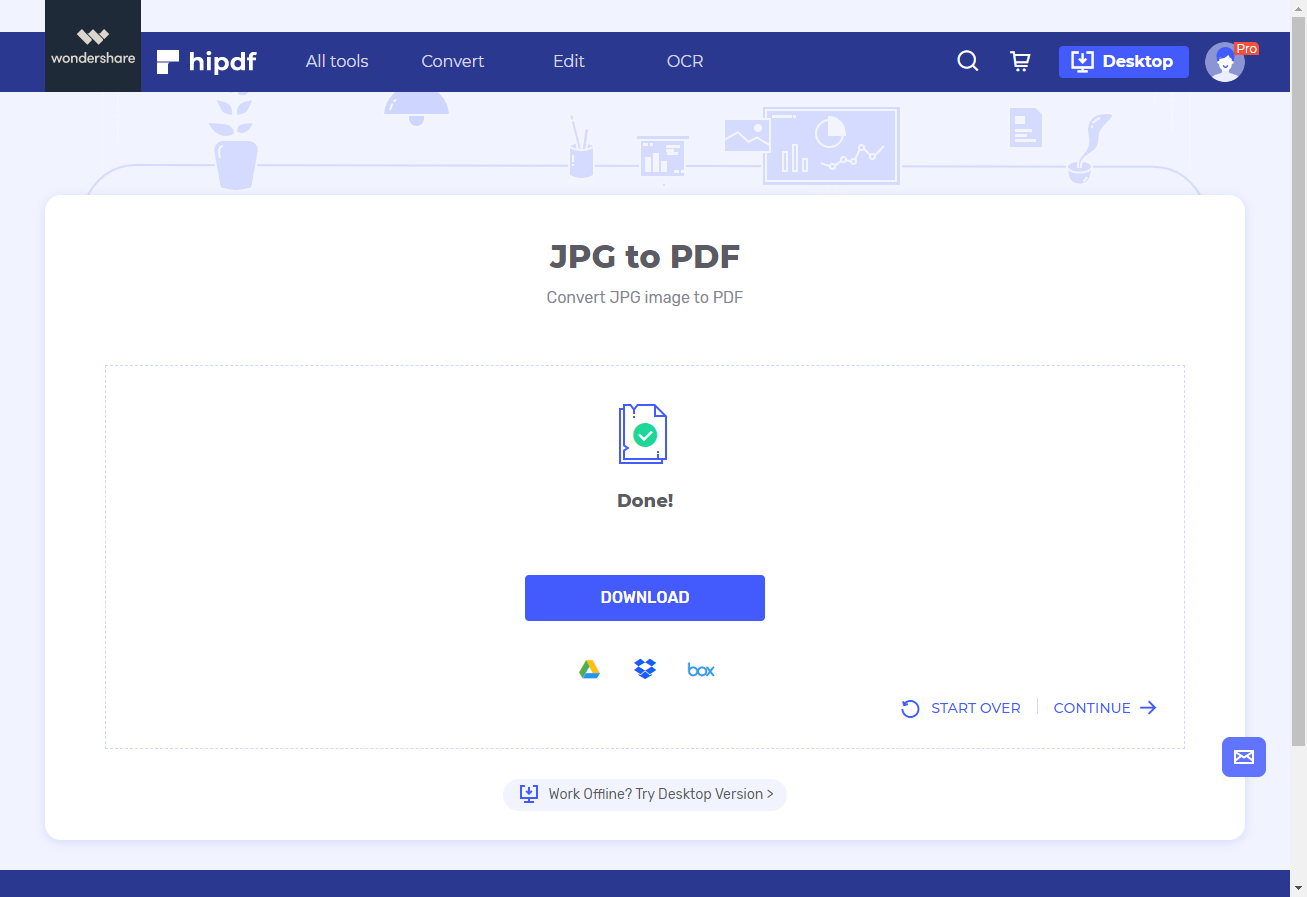 ---
Best JPG to PDF conversion offline on your desktop
Of course Hipdf JPG to PDF conversion works really well online, particularly when you want a quick PDF file or convert a PDF document to some other available format. However, to do it online, Hipdf desktop version can help you. JPG to PDF converter free download for offline use comes with lots of features unavailable or very few in Hipdf online tool.
The desktop version, PDFelement, comes with more editing features, including lots of annotation tools for your document, diverse conversion functionalities like EPUB, HTML and RTF not just to MS Office tools and images but much more, including opportunity to access and use advanced features like OCR (Optical Character Recognition) and create PDF fillable types of forms.
Protection of your PDF files is arguably much advanced in PDFelement as well, with features to ensure you are able to carry out advanced printing, share with your team or users and manage permissions, passwords and signatures to keep your PDF files safe. PDFelement also comes with a template library, while annotation allows you to comment, highlight, fill, stamp and draw on your PDF. You can also edit watermarks, pages, images, links and text with PDFelement, unlike in Hipdf.
Here's how to use the desktop JPG to PDF converter free tool, PDFelement.
Step 1: Open the PDF File
Download PDFelement free and launch it. Click "Open File" to import the JPG document you need to convert into PDF.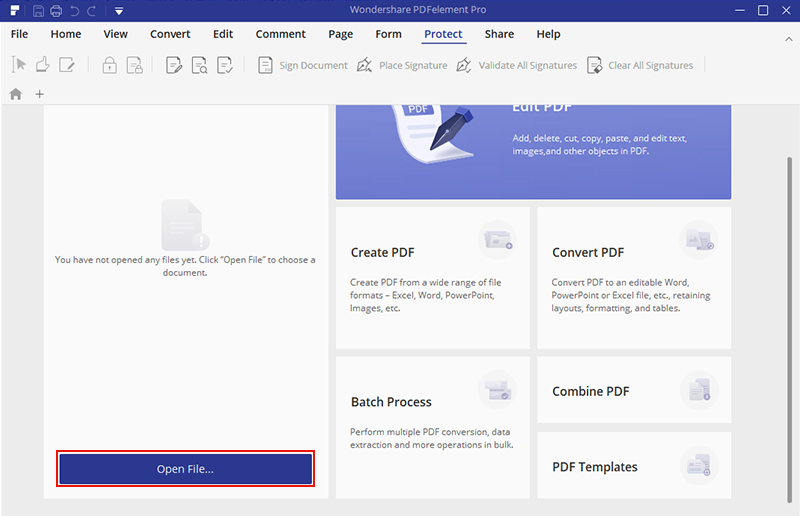 Step 2: Create PDF Document from JPG
Go to Home window and choose "Create PDF". A pop dialogue box comes up from where you can choose the JPG file you need to convert to PDF from your computer.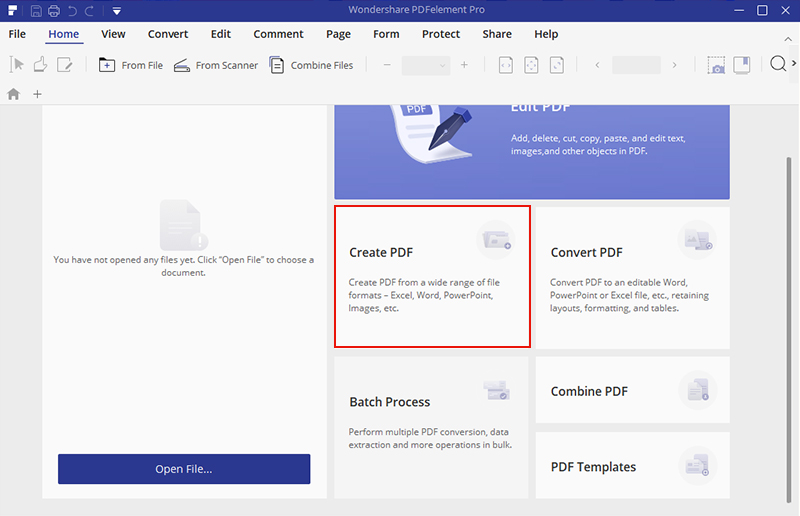 Step 3: Save As PDF
"Once you've clicked "Open", the file will be converted right away. The now PDF document will be open in PDFelement from where you can export (save) it into the computer and use it the way you want.