How to Use OCR PDF Tool Online Now
You'll find so many PDF editors and management applications with optical character recognition (OCR) function as one of the advanced features. However, PDF OCR tools aren't easy to find online when you need to use one on the web. However, Hipdf online OCR converter is a perfect way of using the OCR technology to transform your scanned PDFs into searchable and editable documents.
PDF OCR online Hipdf is free to use online and also includes other tools such as Word, Excel, PPT and Image conversion to PDF and vice versa. Here's how to OCR a PDF online fast and easily with Hipdf. For those who want to use a desktop tool to carry out OCR PDF functions Hipdf desktop version, PDFelement can help as indicated.
How to OCR a PDF Online
HiPDF is your OCR online tool that works really fast. It's a quality OCR converter online you can access from anywhere and includes more functionalities beyond OCR, such as PDF editing, merging, splitting and cropping. You can also unlock your PDF files with Hipdf as well as convert from PDF and into PDF from a number of formats such as Word, PowerPoint, Excel and images.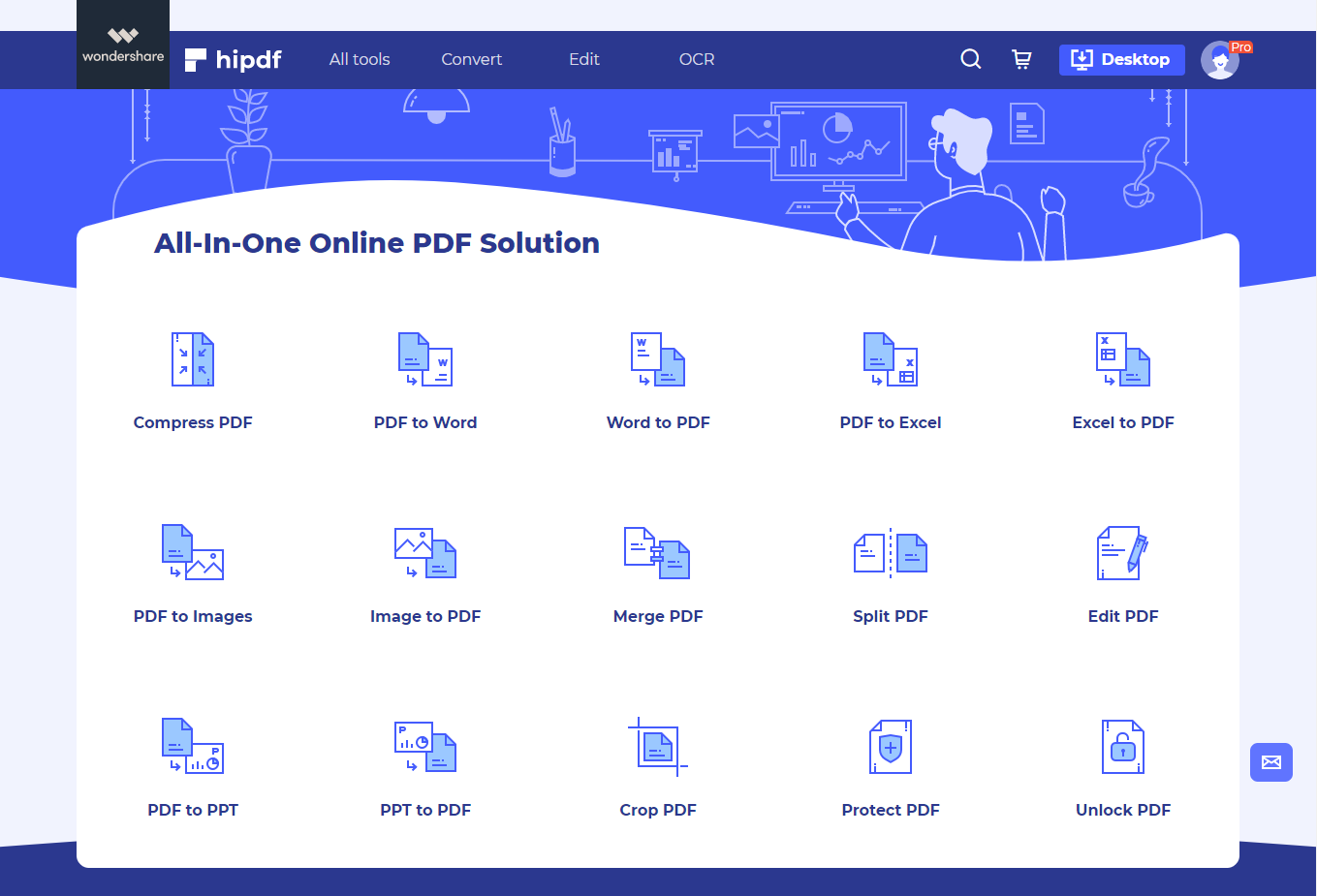 Here's how to OCR a PDF online using Hipdf right away from wherever you are.
Step 1: Access OCR PDF Tool
Start by going to https://www.hipdf.com to access the OCR tool. To start the OCR process, go ahead and click "Choose File" to upload the file you need to work on. You can also easily drop the PDF document into Hipdf OCR tool online.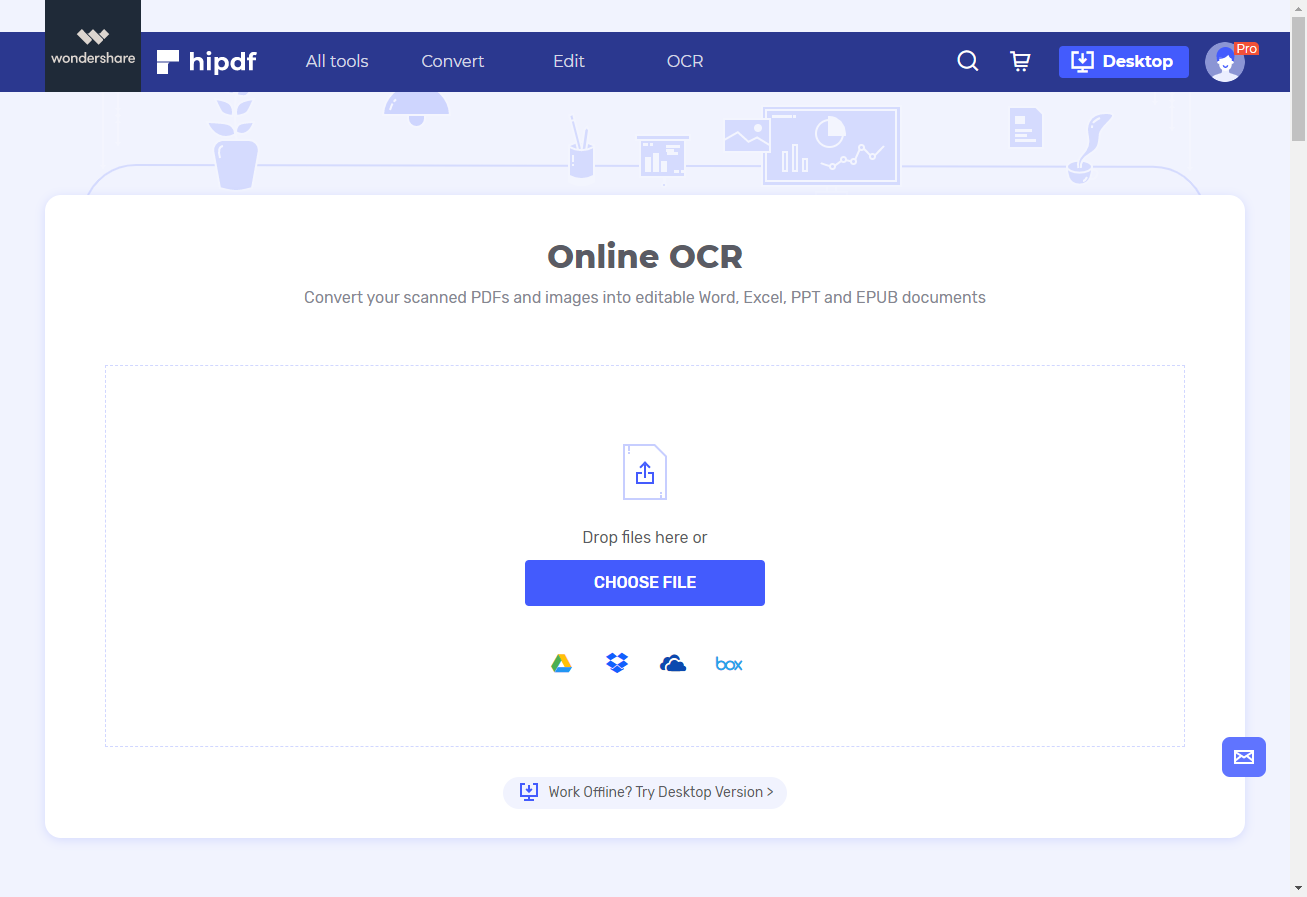 Step 2: Upload PDF and Check OCR Settings
Once the file is uploaded you should be able to see "Upload Completed". Do check your OCR settings and if you're satisfied go ahead and click "Convert" to start transforming the PDF with the Online OCR tool.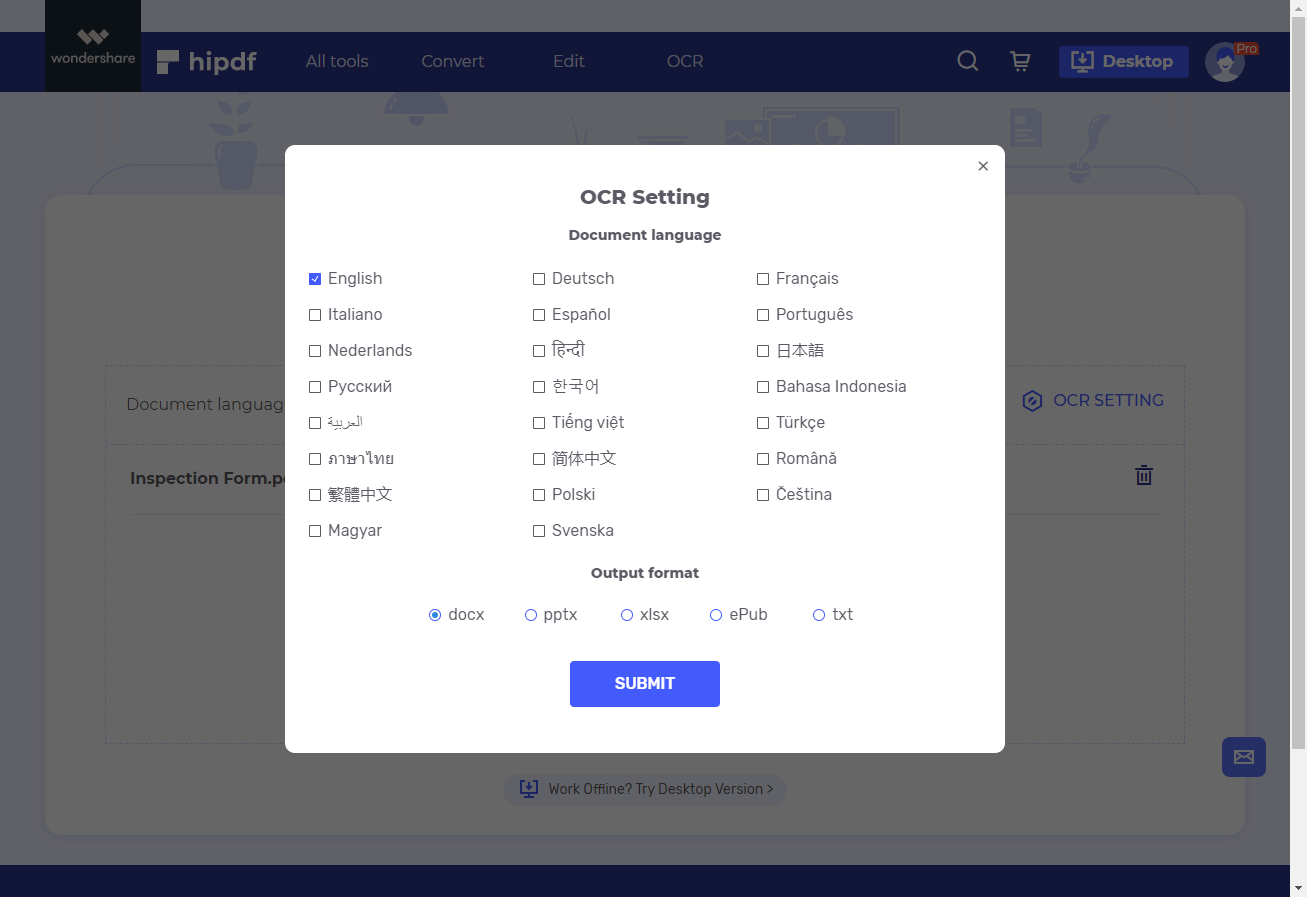 Step 3: Export the Output File
Clicking "Convert" will run until OCR conversion in Hipdf is done. Once you see "Conversion Completed", do go right ahead and click "Download" to export the OCR PDF document into your computer.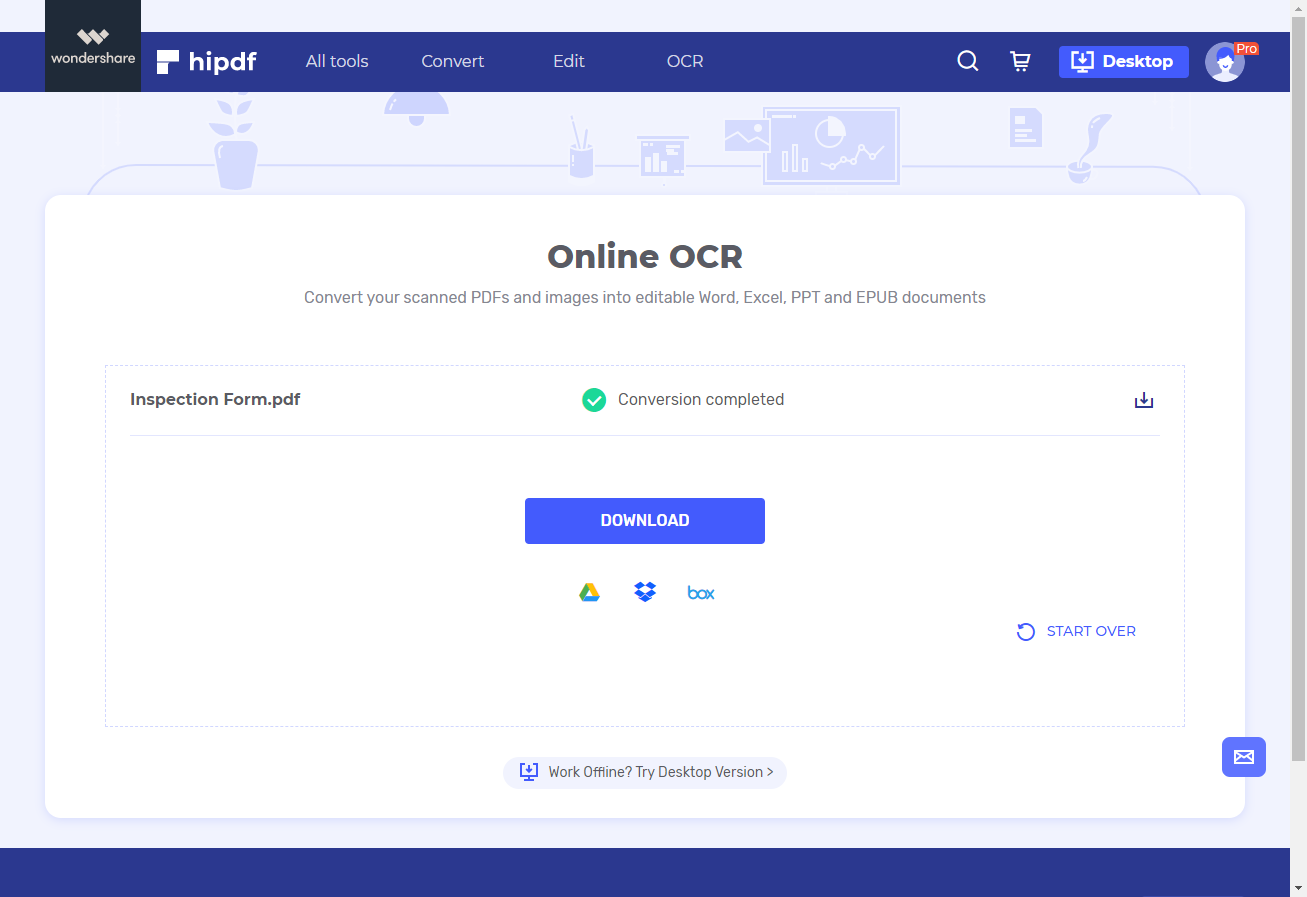 ---
Best OCR PDF Tool on desktop/offline
Have you ever wanted to use an advanced tool offline on your desktop like OCR to transform your scanned PDFs into easily searchable and editable PDF documents? What if you could do it easily with Hipdf desktop tool, PDFelement? Yes you can! PDFelement is an all in one solution offline desktop version of Hipdf offering diverse ways of editing and manipulating PDF files with easy to use tools, simple to grasp user interface and lots of features unavailable in most PDF editors out there.
This is why PDFelement is considered the top and easiest to use, feature-rich and affordable Adobe Acrobat alternative in the market today. Getting your scanned PDF files transformed into editable documents you can actually search right from your computer and offline doesn't have to be hard.
Here is how to use PDFelement to OCR PDF files right away from your desktop and offline.
Step 1: Open the PDF File
Once you've downloaded PDFelement on your computer and launched it, click "Open File" to import the PDF file you need to perform OCR on.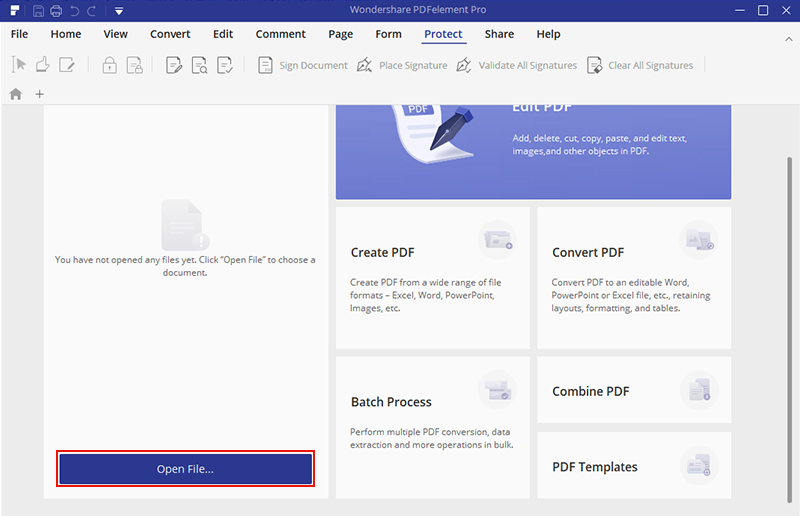 Step 2: Perform OCR
Click the "Convert" tab on the home screen and choose "OCR" just below it and respond to "we have detected this is a scanned PDF" by the offline tool by clicking "Perform OCR" easily.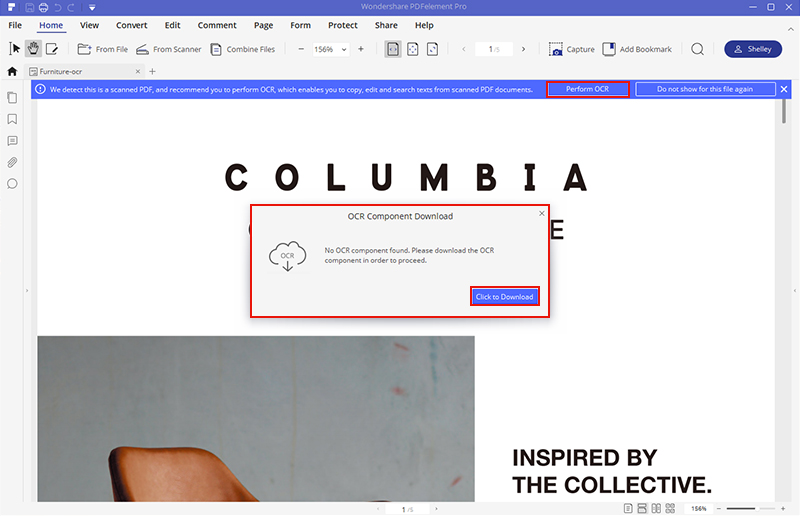 Step 3: Edit scanned PDF directly
Clicking the "Edit" tab allows you to access diverse editing preferences where you can change the PDF document's formatting, text style among others and even search the document. You only need to find the text you want to edit and double click on it for easier manipulation of the document into what you want. Images can also be edited easily.