How to Optimize PDF Size with PDFelement
Are you facing a lot of hassles while trying to optimize large PDF files? Does it take too long for your file to be available all together? Well, you don't need to worry because we've got the best PDF optimizer in store for you! You can get rid of such snags by optimizing PDF files. So, optimizing PDF files enable you to reduce its size so that the internet can optimize it to the fullest.
Furthermore, you do not have to wait too long for the file to be available. Instead, you can optimize PDFs to see the first few pages by opening the document within microseconds. However, optimized files are smaller in size so you have to reduce their size at first.
You might be wondering where to get a tool that optimizes PDF for free. Well, PDFelement has brought you the solution to this problem as well. Let's see what PDFelement can do for you.
PDFELEMENT – A POWERFUL PDF OPTIMIZER
PDFelement is a competitive online tool that can help you to optimize PDF files for free. Well, PDFelement can edit, protect, review, compress, and sign your PDF files within nanoseconds.
Furthermore, PDFelement can assist you with editing, creating, compressing, optimizing, and combining PDF files with its commendable user interface. You can also communicate with people by using commenting and markup tools
With PDFelement, you can convert PDFs to office files or any file format effortlessly. Furthermore, you can resolve all your PDF problems even if you are a greenhorn. You can create attractive and eye-catching documents with its advanced writing tools. Not only this, you can access all of its tools by paying an amount that doesn't cost you your arms or legs.
So, this is how PDFelement helps you out in many ways. You can trust PDFelement with optimizing your PDFs without any hassles and hurdles. Now, we are going to mention the steps that can help you optimize PDF size with this remarkable PDF optimizer tool.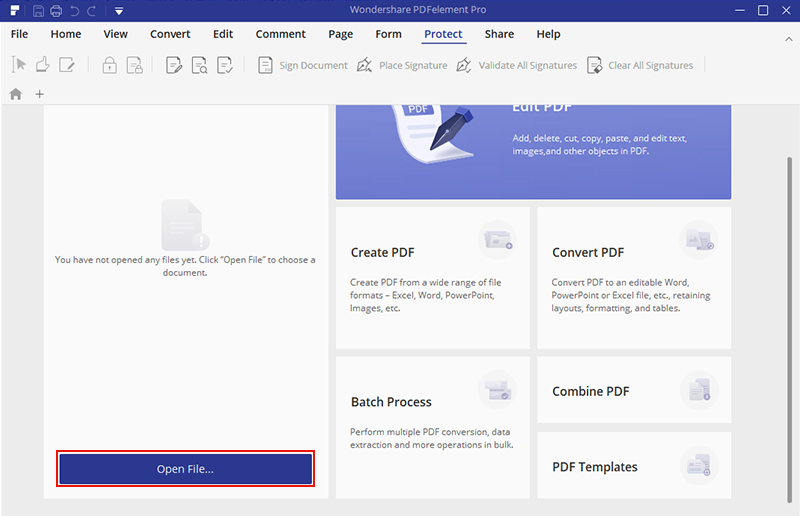 How to Optimize PDF with PDFelement?
Below mentioned are the steps that you can follow to optimize PDF size. Now what you have to do is:
STEP 1: START PDFELEMENT ON YOUR PC
● Open PDFelement on your PC and import the PDF document you want to optimize.
● You can import it by clicking on the "File" menu at the top left corner of the screen.
● So, click on the "File" and then "Open" to import the PDF file.
● You can also import the PDF by clicking on "Open File" at the bottom.
STEP 2: OPTIMIZE PDF FILE WITH ITS PDF OPTIMIZER TOOL
● Click on "File" tab and then tap on "Optimize" from the popup menu.
● Then you will see a scale ranging "low", "medium", and "high". Here you have to choose the quality of the optimized file. Choose any of it according to your preference.
● It will display you the final size of the PDF document. So, after corroborating the size and quality of the file, click on the "Optimize" option at the bottom. And there you go! You have optimized your PDF file successfully.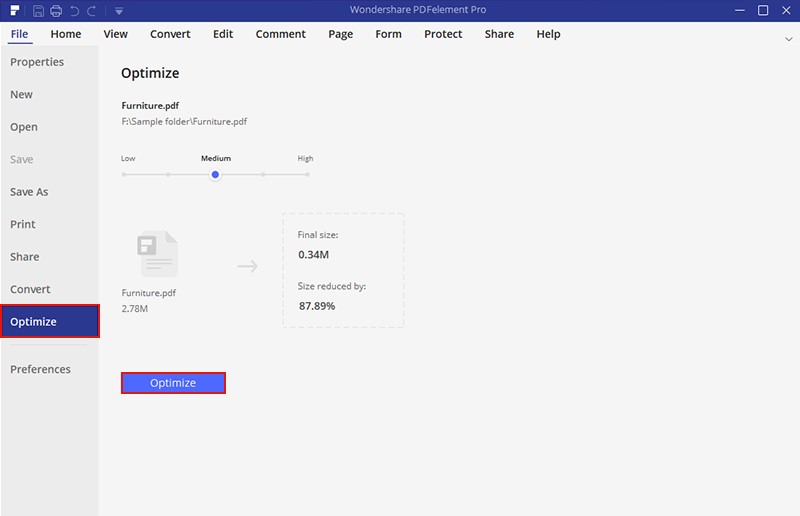 STEP 3: SAVE YOUR FILE
Next, all you have to do is save your file. You can see the "Save As" button in the screenshot above under the "File" tab. Click it to save your file!
This is how you can optimize PDF files with this remarkable yet laudable PDF optimizer tool within no time. So, stop searching for the tools now and give PDFelement a try. You will be amazed by the results!