Here's How to Convert PDF to Excel with PDFelement
Are you persistently being bothered and pestered by your client just because your document is in PDF and not in Excel? Has your client rejected your documents just because it is in PDF format? If yes, do not stress out. There are many tools available that can help you convert PDF to Excel for free within no time. PDFelement is one of them.
PDFelement is an all in one package for all your to and from PDF conversions and especially its tool that tenders you to convert PDF to Excel for free.
PDFELEMENT: PDF TO EXCEL CONVERTER TOOL
PDFelement is a top-notch online tool that can help you with all types of to and from PDF conversions for free. In addition to this, it has multiple other features as well that further contributes to the convenience of users. Thus, PDFelement never fails to amaze its users with continuous advancement in its features and tools.
Let's have a look at what features and tools it offers that you can benefit from:
• PDFelement enables you to edit, create, convert, compress, and combine multiple documents at the same time.
• Its Batch Process tool allows up to 500 files to be processed at the same time.
• You can merge multiple PDFs or split a single PDF into multiple PDFs.
• You can add variations in your PDF documents with its annotation tool.
• In addition to this, it also helps you to save time by applying bookmarks or hyperlinks to the PDF documents when working with lengthy documents.
• One of the best parts of PDFelement is that the file created or converted with PDFelement is compatible in all aspects. You can access it from any reader or device.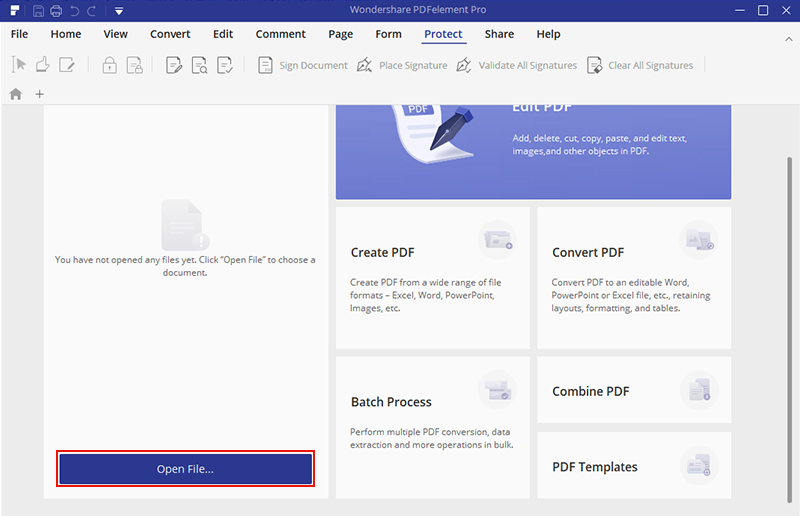 So, PDFelement provides you a vast pool of features and tools. This was just a fleeting and momentary look over some of its prominent features. Back to the point, let's have a look at the steps that you can follow to convert PDF to Excel in no time.
HOW TO CONVERT PDF TO EXCEL with PDFelement?
So, the below-mentioned steps would help you to convert PDF to Excel. Follow the step-by-step guide below to convert PDF to Excel!
STEP 1: IMPORT THE PDF YOU WANT TO CONVERT
So, after opening Wondershare PDFelement on your PC, the very first step is to import the PDF you want to convert to Excel. You can click on "Open File" at the bottom to import the PDF. Alternatively, you can import it by clicking on the "File" menu and then on "Open".
STEP 2: CONVERT PDF TO EXCEL
Now you will see a popup window right in front of you. Click on the "Convert" option that's highlighted in the picture below. Next, you have to opt for the output folder and output format for your converted file. Click on "to Excel" to convert PDF to Excel.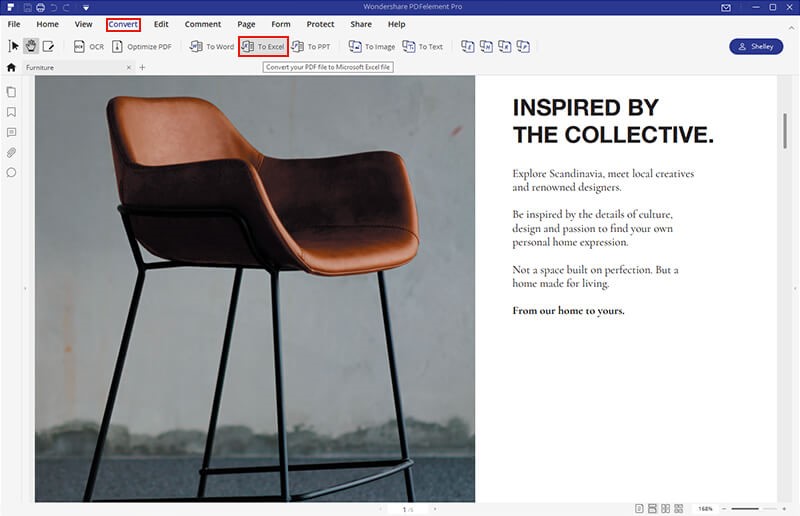 You can go to the Settings option if you want to convert all the pages of PDF into a single Excel sheet.
STEP 3: SAVE YOUR FILE
Now click on the "Save As" option under the "File" tab. There you go! You have converted your PDF to Excel successfully.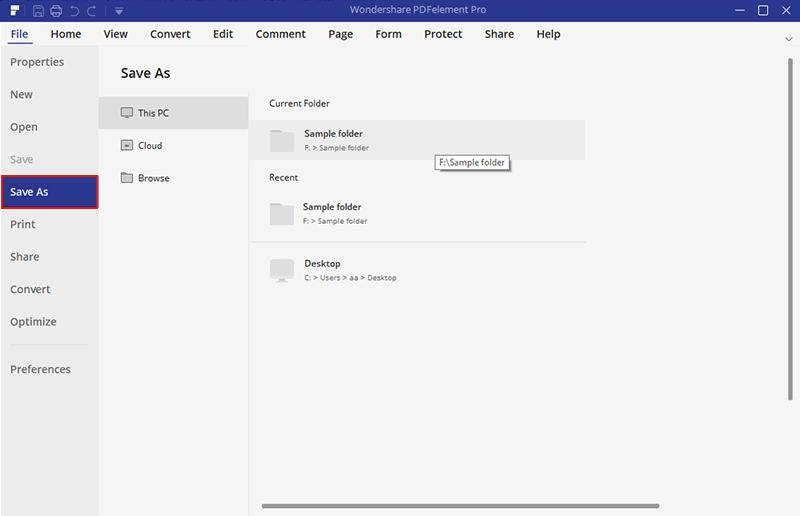 So, this is how PDFelement works and helps you with the free conversion of PDF documents.