How to Convert PDF to Word Quickly with PDFelement
Do you face obscurities and impenetrability with PDF documents? Does your client accept only Docx files? Do you want to convert PDF to Docx? If yes, then do not worry. There are many tools out there that can help you convert PDF to Word for free. In addition to this, all of your PDF intricacies have got a solution now.
Thus, you may be thinking about the tool that can assist you with PDF conversions for free. So, PDFelement is here for you with all those solutions. Furthermore, PDFelement can also give you a hand to convert PDF to Word in one go!
PDFELEMENT – A PDF TO WORD CONVERTER
PDFelement is known to be a remarkable and significant tool when it comes to PDF to word conversions. You can get your files converted to Docx with Wondershare's PDFelement using the proficient tools it provides you. So, let's see what conversion tools it offers to you.
Wondershare PDFelement offers dexterous yet adept editing and conversion tools. It enables you to convert PDF to any file format and vice-versa. In addition to this, it allows you to transform, edit, and create files without pesters and within no time. Furthermore, you can now comment, review, and sign multiple of the PDF files without complications and hassles.
It also lends a hand to students and office workers by helping them out with filling and editing forms. Moreover, you can transform a non-fillable Docx form into the fillable PDF form with its One-click form tool.
Besides all these features, Wondershare PDFelement provides the utmost security to its users with its password protection and redacting documents options. So, this is how PDFelement can help you to accomplish various tasks without any complexity. Wondershare PDFelement is recognized and prominent for the aforementioned features and especially for its feature to convert PDF to the Word. Now let's see how you can easily convert your files with this prominent PDF to word converter tool.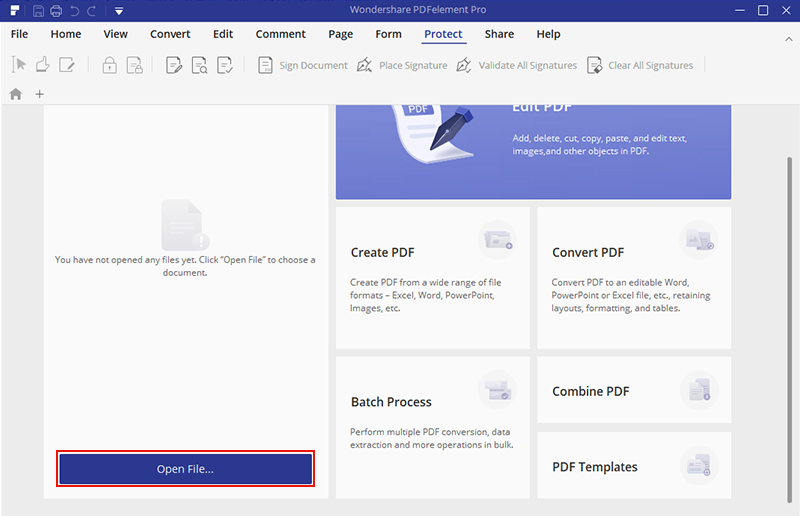 How to Convert PDF to Word with PDFelement?
You can get your files converted to Docx by following these steps one by one. So, let's get started.
STEP 1: IMPORT THE PDF DOCUMENT
Open Wondershare PDFelement on your PC at first. Import the PDF document you want to get converted to word file. You can simply import by clicking on the "Open File" at the bottom. Alternatively, you can import the PDF by clicking on "File" menu at the top left corner. Click "File" and then "Open" to import the PDF file.
STEP 2: GET IT CONVERTED FROM PDF TO WORD
Now, to start the conversion, click on "Convert" and then "To Word" from the menu. And there you go! You have converted PDF to Word successfully. In addition to this, if you want to get multiple PDF documents converted to Word then you can click on the "Batch process".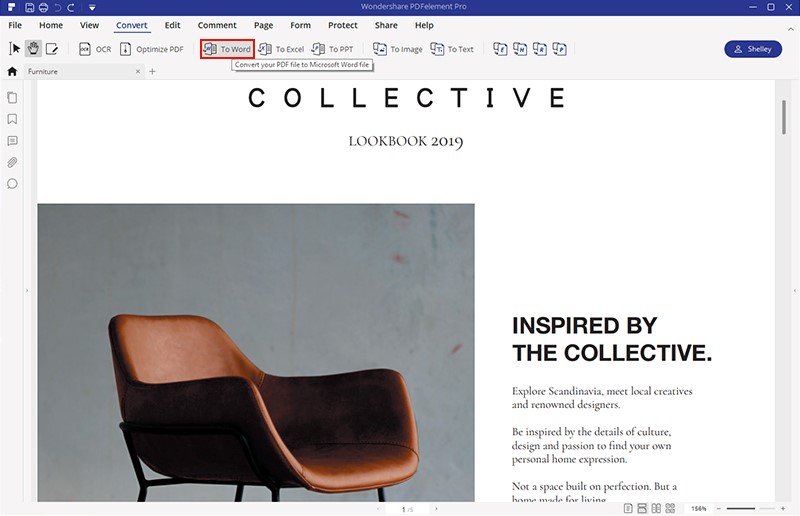 STEP 3: SAVE YOUR FILE
You can save your file by clicking the "File" tab and then clicking "Save As" and you're done!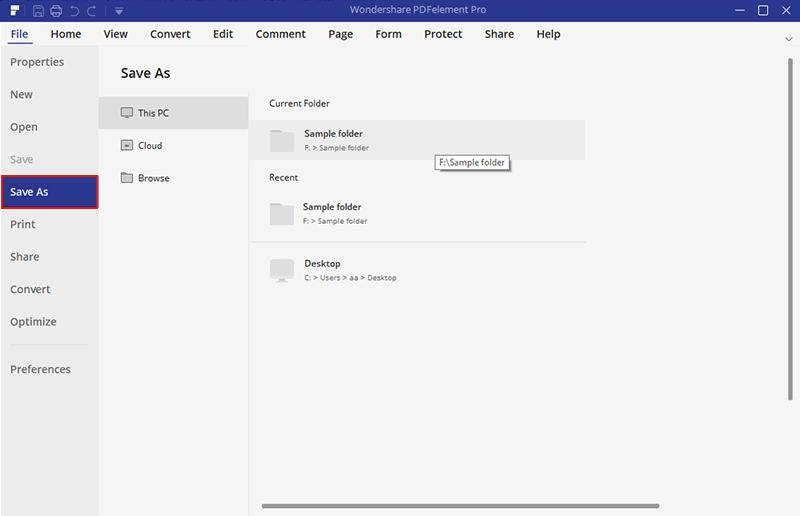 So, this is how you can convert your PDF files to Word with PDFelement without any complexity and intricacy. What are you waiting for? Get PDFelement now!