How to Convert PUB to PDF Online Now
It's never easy to convert a Publisher (.pub) file into another format such as PDF just like that. However, with HiPDF PUB to PDF online converter, this doesn't have to be any complicated. You can actually do it really fast and get the job done. To convert PUB to PDF free the only thing you need is a browser and a link to Hipdf and the all-in-one document management solution, particularly PDFs, will get the job done.
As discussed here, Hipdf isn't just a PUB to PDF converter free tool, but also offers diverse functionalities to manage PDFs, images and other documents and carry out diverse actions such as deleting and cropping PDF files and using optical character recognition (OCR) tool.
Here, we show you how to convert PUB to PDF online and offline with PUB to PDF Hipdf desktop offline version.
How to Use the Best Tool to Convert PUB to PDF Online Right Away
If you ever need to transform any PDF document into or from another format or images from and to other formats and access editing, altering and documents manipulation tools online chances are your options are really limited. unless of course you've the ultimate PUB to PDF converter, Hipdf, which offers you more than just one functionality but hundreds of them right on the web without having to download any software on your desktop.
You can use Hipdf to crop, split, unlock, edit, compress, sign and merge PDF documents including managing image with tools allowing you to crop, rotate, resize and even convert image files into other image formats and different formats such as Word, TXT, PDF, Excel and PPT.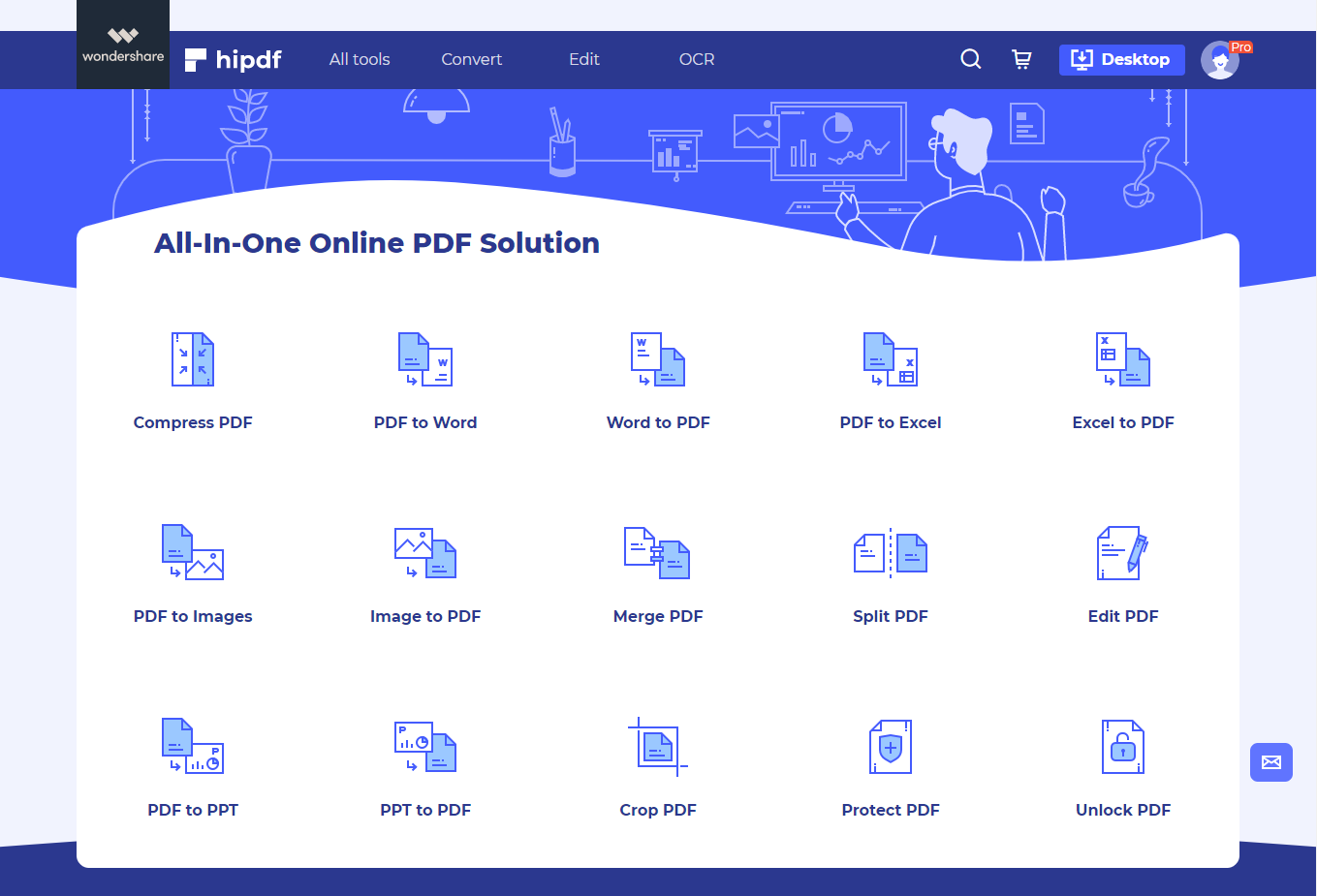 You can also rotate images and documents with Hipdf, while accessing OCR to transform scanned PDF files into editable PDF documents that are also searchable. Apart from how to convert PUB to PDF online, Hipdf offers you all the solutions you need to do more.
Here is how to use the free PUB to PDF converter right away:
Step 1: Access PUB to PDF Converter Online
Visit https://hipdf.com/pub-to-pdf to access the tool.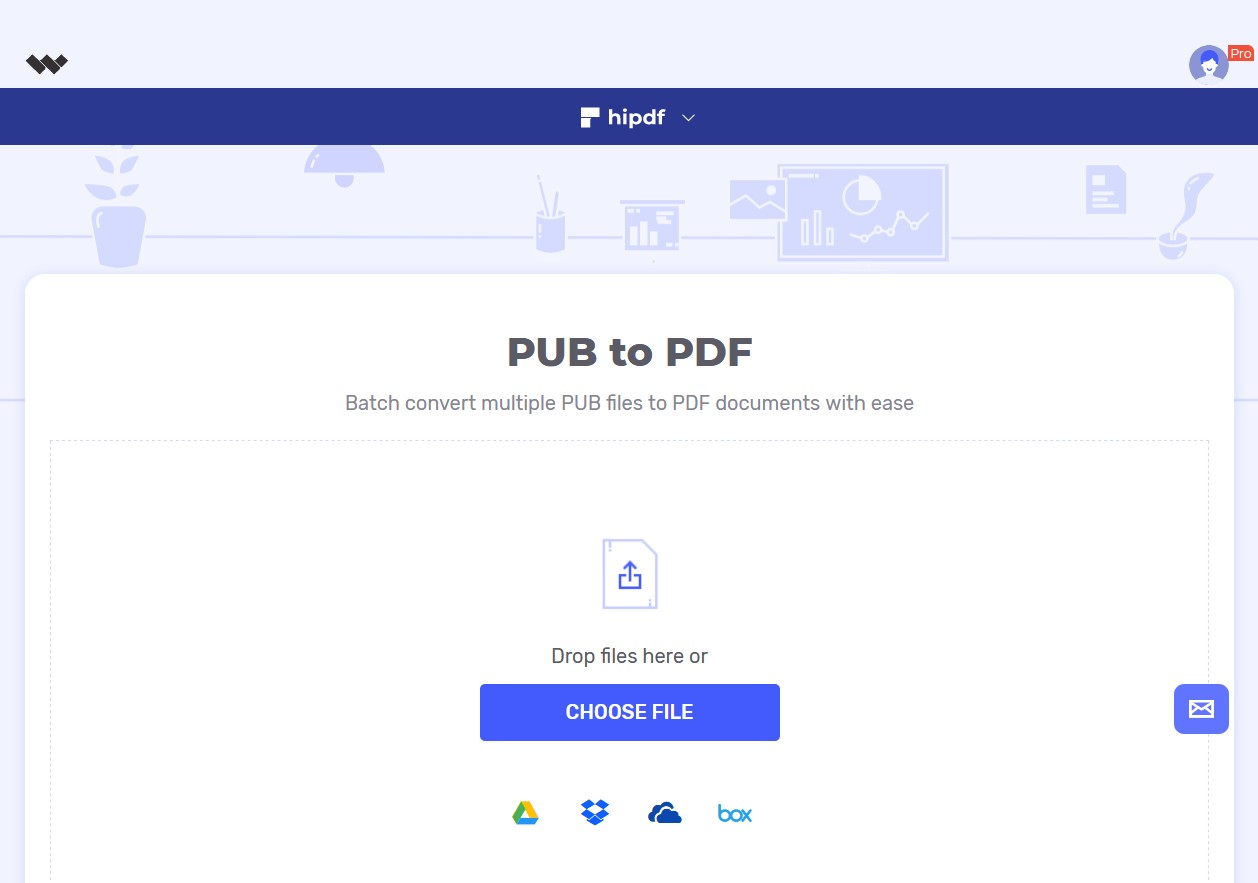 Step 2: Import PUB File
Do click "Choose File" to import the PUB file from your computer or just drop it into the converter tool.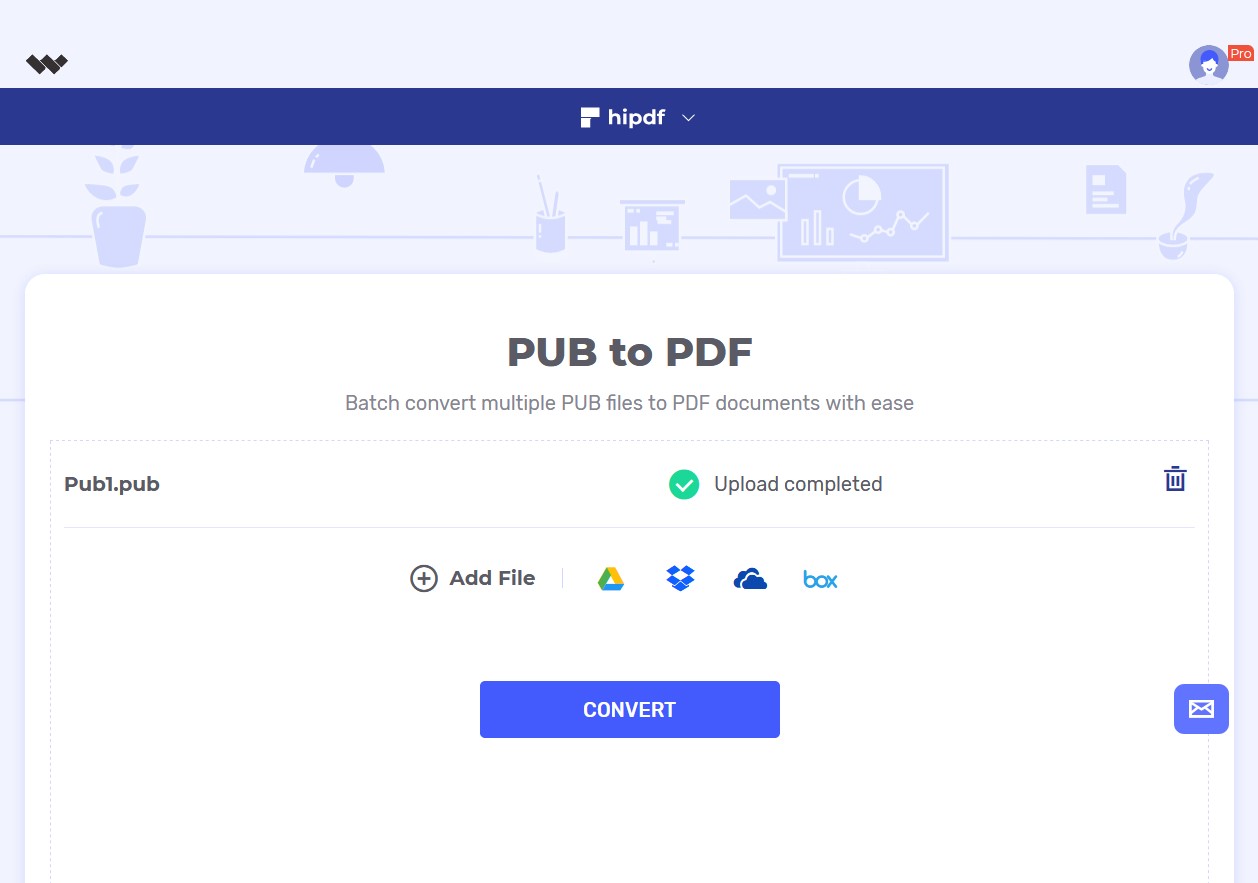 Step 3: Convert and Export PDF Document
Go ahead and click "Convert" once the file is uploaded. Once it's done, do "Download" the converted document into your computer.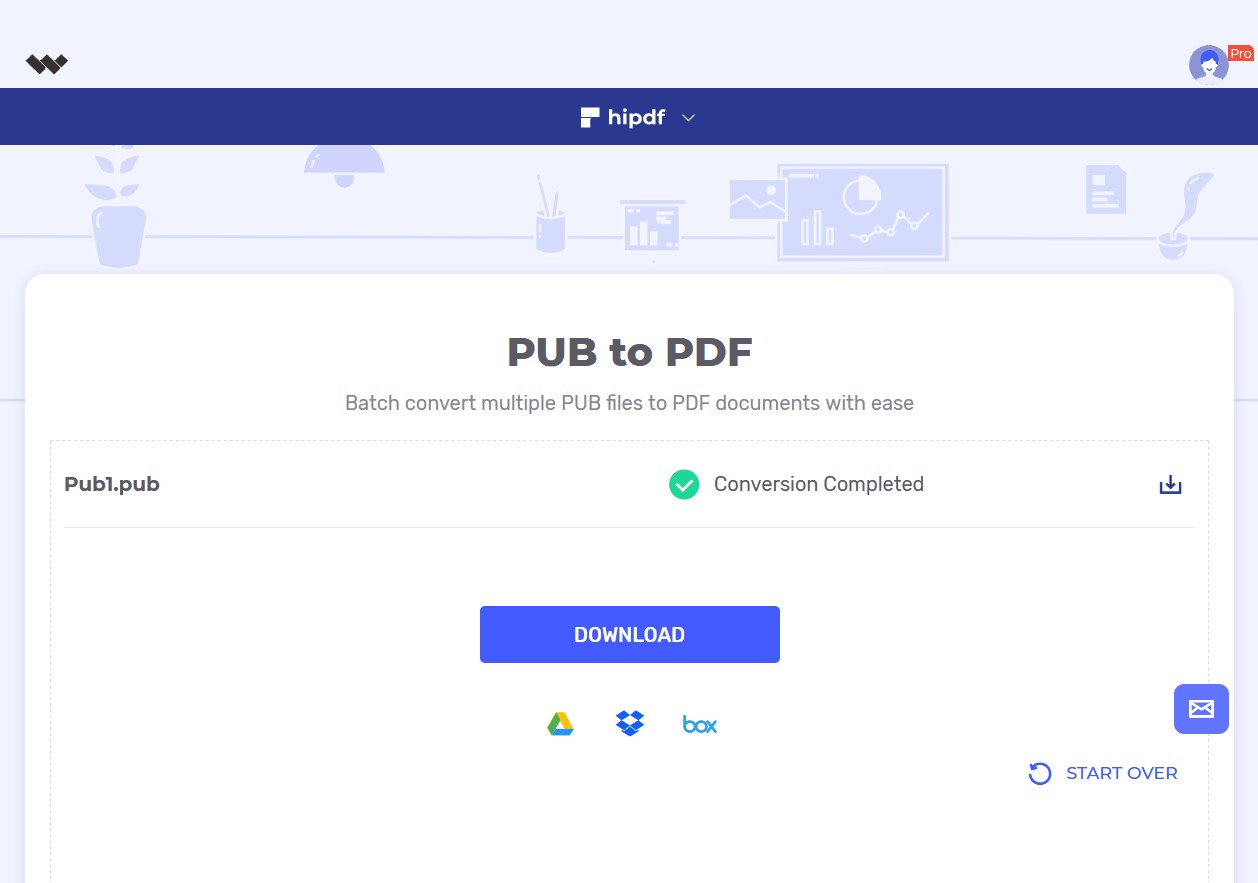 ---
Using the Best PUB to PDF Converter for Desktops and Offline Use
If you don't really like or have the opportunity of using Hipdf online PDF and documents management solution then the desktop version that you can use offline, PDFelement, is what you need. PDFelement is adobe acrobat's best alternative and highly recommended globally. You can do with it all the functions that Hipdf online tool does, including much advanced functionalities such as creating PDF fillable forms, batch processing and access to thousands of templates.
Here's how to make the most of the PUB to PDF offline converter on your desktop.
Step 1: Open the PDF File
Launch PDFelement on your desktop (download free PDFelement if you haven't) and import the PUB file you need to convert into PDF by clicking "Create PDF".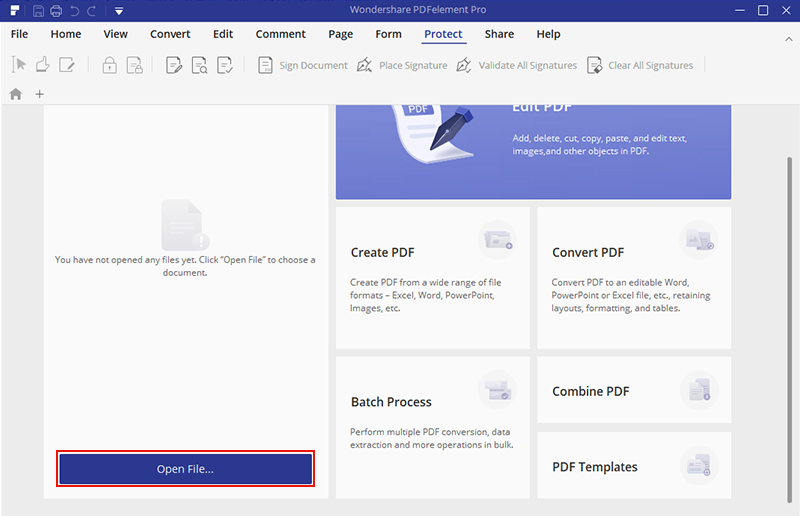 Step 2: Convert PUB to PDF
After clicking "Create PDF" The conversion process will begin immediately. Click "Finish" to complete the process.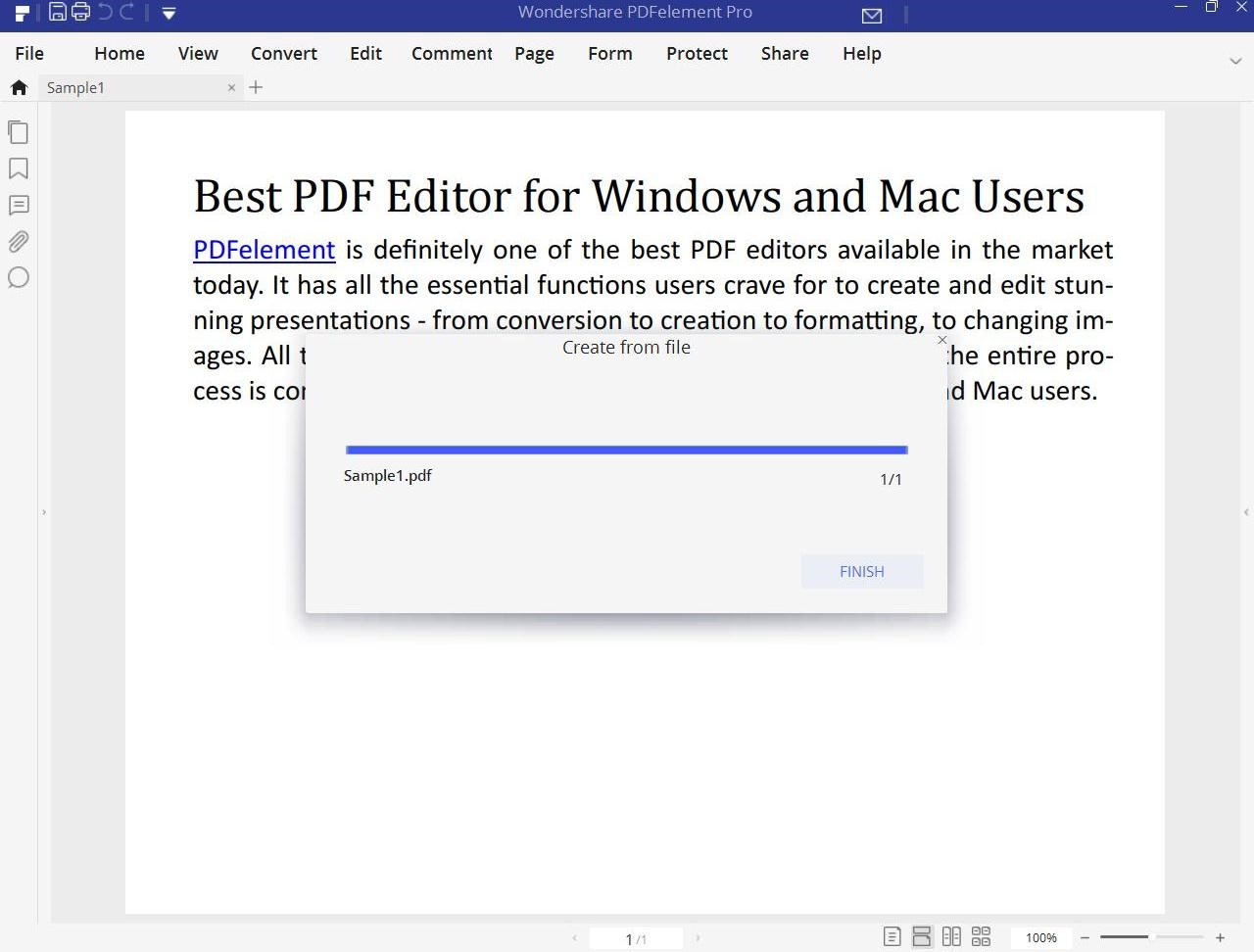 Step 3: Save the converted File
Once done, go ahead and save the document on your computer by going to "File" and choosing "Save As".