How to Convert PDF Files to PNG with PDFelement
Often a time, you'll be saving a file on your computer or might be downloading a picture off of the internet and you will be asked what type of file you wish to save it as. You might get confused and save it as a PDF and later realize you wanted to save the PDF as PNG because if you do convert PDF to PNG your file will be of high quality.
In case you are confused about how to convert PDF to PNG, Wondershare PDFelement is your one stop solution to this question.
Wondershare PDFelement: Powerful PDF to PNG Converter
Wondershare PDFelement is a powerful PDF tool that helps make working with PDF files easier. Available on both Windows and MAC, it not only helps in file conversions but also has a wide list of features available to improve the quality of your PDFs. You can open, save, print, add, remove, move, re-size and rotate any image within your PDF. It allows you to convert your PDF document into any word, HTML or image file. You can scan and edit any PDF document.
Editing features include filling fields by adding texts, check boxes and buttons and you can also highlight, underline, or strike through text for a PDF review as well as insert page numbers, bates number, and page elements. It allows you to create an interactive form field by allowing others to review your work as well as provide input to others by reviewing their work. Similarly, you can also change and/or convert any PDF to and from Microsoft Word, Excel and PowerPoint without any changes to the formats or fonts of the original document.
Moreover, it also allows you to print any PDF file as well as open and switch between multiple PDF files using tabs. Wondershare PDFelement is the prime example of how technology has made work easier and an example of this is that it allows you to approve and sign documents digitally. You can do all of this and ensure that your work is recognized as your own by applying your digital signature to your work and you can also control access and secure your work by applying password protection or permissions to restrict printing, copying, or altering. The list of features goes on!
How to Convert PDF to PNG with PDFelement?
The entire process on converting one file type to the other is simple on Wondershare PDFelement. Here is a step-by-step instruction guide on how to convert PDF to PNG:
Step 1: Open Wondershare PDFelement and select your file
Open Wondershare PDFelement. Click on the file tab on the left most corner of your screen. Click on open and select a PDF file which you wish to convert.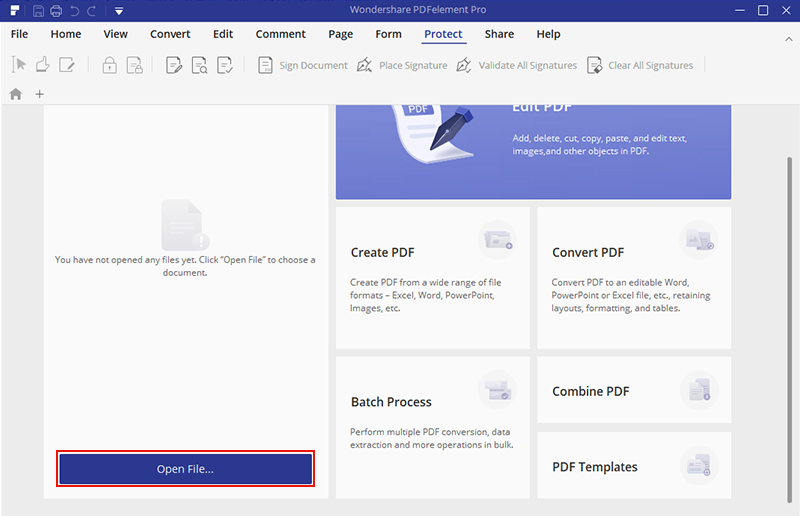 Step 2: Convert your file
Go back to the file tab and select the "convert" option. When you click on convert you will have three options: Word, Other Files, and Other PDFs. Select the "other files" option and click on "PNG", then Click on convert on the bottom of the screen.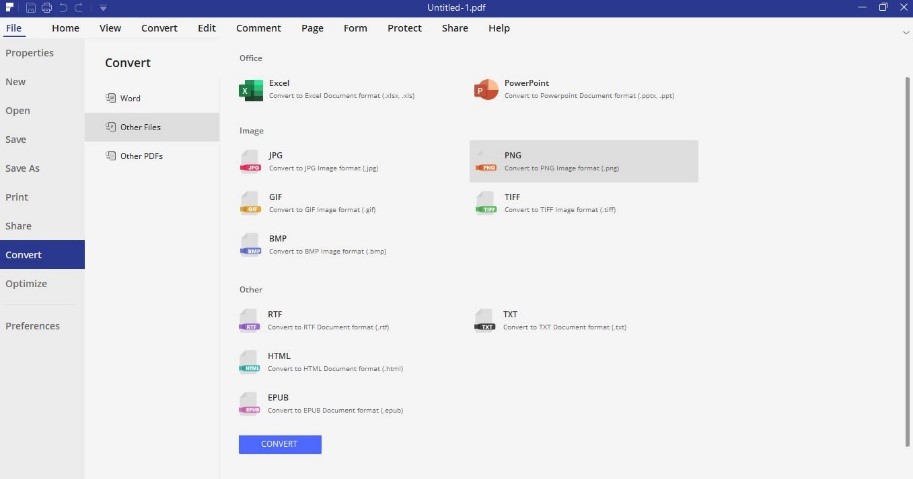 Step 3: Save your file
Select where you wish to save the PNG file on your computer. There you go, you just converted PDF to PNG