In this data-rich age, every btye of data matters. Many websites and online PDF-sharing platforms impose a data limit of 100KB on file uploads. Have you ever wondered why this specific limit is put? It is because the 100KB PDF size creates a delicate balance. Large files strain servers, making uploads sluggish, while files too small are risky, compromising quality.
To ensure a seamless file upload, you can compress PDF to 100KB. This guide will illustrate the importance and tips to reduce PDF size to 100KB. Also, you will learn the required tools and detailed processes for seamless PDF compression.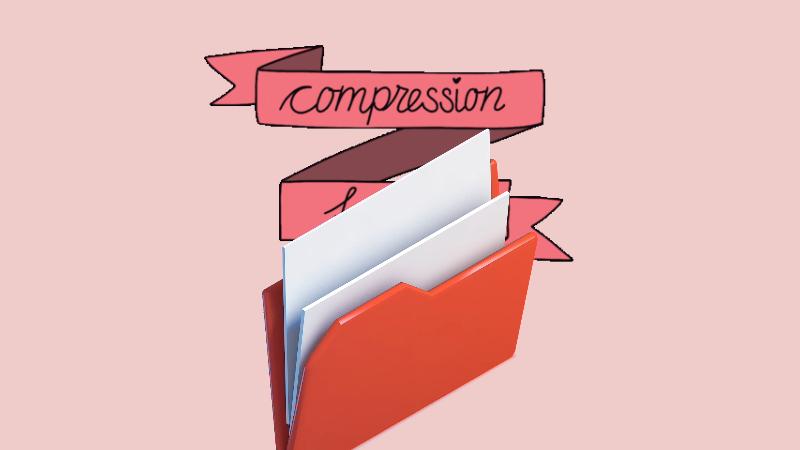 Part 1: Effectiveness of Making a PDF Less Than 100KB
The effectiveness of the PDF resized to less than 100KB is evident from their compact size and easy handling. However, the decision to make a PDF of 100 KB can prove helpful in the following ways:
- Smaller PDFs don't create trouble when sending through email. You don't need to worry about size limit issues while sharing them through email.
- Some websites impose restrictions on file size for uploading documents. In such situations, small-sized PDFs defy these restrictions and provide a smooth upload experience.
- It's a common fact that downloading a small PDF, usually in KBs, takes little time. Hence, when you reduce PDF to 100KB, the downloading and uploading process becomes a breeze.
- If you own a website related to PDF services, your site may slow down with heavy file sizes. Also, the users will not prefer downloading heavy PDF files. However, when you reduce PDF file size below 100 KB, it will provide users with the same information with more speed.
- Small PDFs prove effective during online collaboration when every second of a video meeting matters. A 100 KB PDF file or less than this size will ensure productivity by saving time and giving a smooth experience.
- Suppose you're filling out a digital application form, and it necessitates attaching your resume or degree certificates. You can reduce the size of PDF to 100KB if it does not meet the required size limit.
Part 2: Comprehensive Tutorial To Convert PDF Size to 100KB
After knowing the effectiveness of a PDF resized to 100 KB, it is important to know the right method for doing so. It is because you will find a plethora of online and offline methods to compress PDF files. Such a richness of choices may overwhelm your mind. Also, each method has its pros and cons. Further, not each method costs the same, nor does every technique prove fast and effective.
To simplify your pursuit, we have offered a widely-accepted method to resize your PDFs without breaking your budget. Consider this an all-in-one solution to compress PDF to the size of 100KB or even less.
Use HiPDF – A Ground-Breaking Tool To Resize PDF File to 100KB Online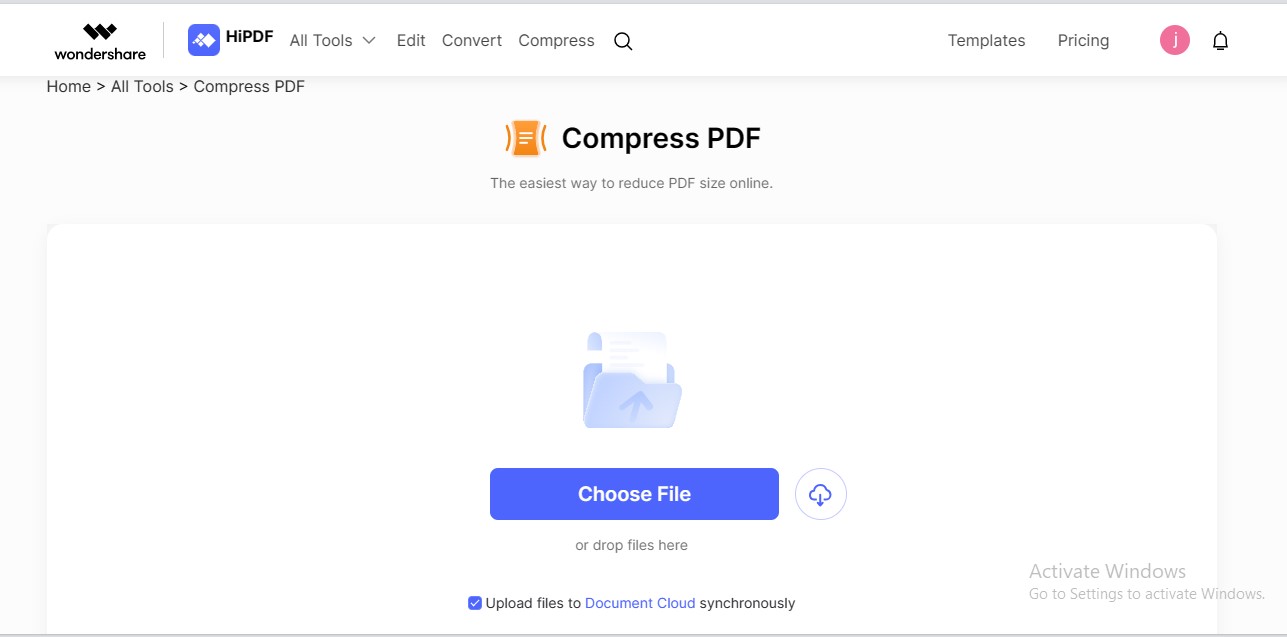 HiPDF, an Ultimate PDF management platform, takes convenience and productivity to the next level. The tool features a free-for-all PDF reduction to 100KB functionality to cater to users of all needs. HiPDF provides different compression levels to set your desired size and quality. You can process up to 5 files in batch using the free version – a functionality usually absent in other PDF compressors. Whether you're a student, a business expert, or a researcher, HiPDF's comprehensive suite of PDF compression features will fit your needs.
Highlights of HiPDF as a Proficient PDF Size Reducer Below 100KB
Let's know how HiPDF can prove a transformative power as a free PDF compressor below 100KB:
No Compression Limits: Allows you to compress unlimited files, putting no limit on the number of compressions daily.
Batch Processing: Processes up to 5 files in a batch, offering a swift experience.
Secure Platform: Deletes your PDF files immediately after downloading, ensuring data privacy.
Multiple Compression Levels: Offers multiple compression levels to adjust your document quality and size simultaneously.
No Signup Required: Requires no email or personal information use the PDF compression feature.
Affordable Premium Plans: Provides economical premium plans to fulfil your PDF management needs.
Expansive Integrations: Integrates with several external workspaces to offer a smooth document-handling experience.
Cross-Platform Compatibility: Offers a web and application (for iOS, Windows, Mac) interface to facilitate accessibility.
How To Use HiPDF To Reduce PDF Size to 100KB?
Step 1 Visit the official site of HiPDF. Search the "Compress PDF" in the search bar.
Step 2 Click the "Choose File" tab to load your PDF file.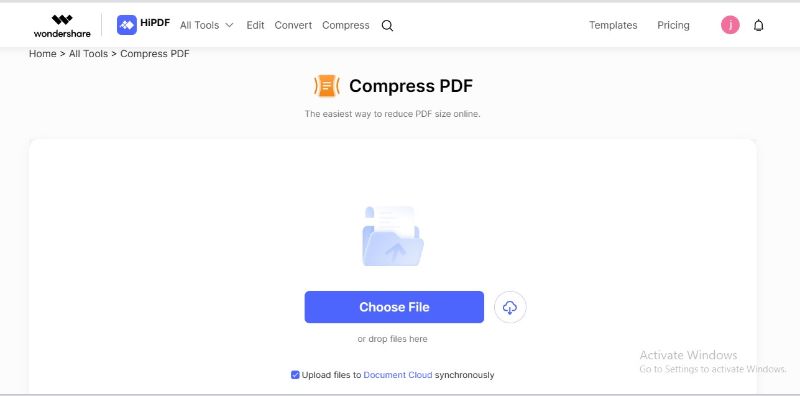 Step 3 Pick your intended compression level and hit the "Compress"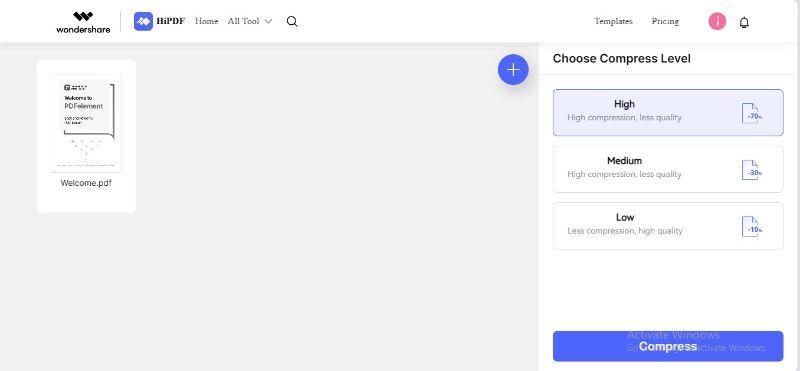 Step 4 HiPDF will reduce PDF to 100KB and automatically start downloading your compressed file.

Step 5 You can repeat the compression process to get file size up to 100KB, especially if your file size is too big.
Advantages of Choosing HiPDF as a PDF Size Reducer Below 100KB
Choosing HiPDF as your PDF compressor for less than 100KB compression offers numerous advantages, some of which are:
Memorable User Experience
HiPDF offers an intuitive platform, ensuring easy navigation and a smooth compression experience. The tool focuses on providing a hassle-free and productive user experience.
Preserved Document Quality
The tool ensures that you get a high-end document with minimal quality damage. Despite compression, HiPDF maintains the resolution of your PDF, ensuring essential details are retained.
Secure Compression
HiPDF ensures a safe and confidential compression process since data privacy is the prime motto of the tool. The tool deletes your content to avoid data theft and unauthorized use.
Efficiency and Speed
HiPDF is powered by lightning-fast compression engines. It operates swiftly, providing quick results and saving valuable time for users.
Online Availability
Although the tool contains a dedicated application, still, HiPDF offers an online interface. This web availability eliminates the need for any software downloads or installations.
Free-for-All Service
The PDF compression service of HiPDF is entirely free. Even beginners with zero budget can utilize the PDF compression feature online.
Part 3: Additional Tips To Reduce Size of PDF Below 100KB
There are other valuable strategies other than using a PDF compressor for 100KB resizing tools. Experimenting with these tips will help lighten your PDF document size. Some of the tips are presented below:
- Images cause the PDF size to swell. Use only essential images that convey the core message of your PDF. Also, utilize image editing tools to reduce the resolution of images within the PDF.
- Prefer to create digital documents instead of using scanned documents. It is because scanned documents often lead to heavy file sizes. Basically, scanned documents are image-based PDFs. Hence, their size is measured as DPI resolution instead of characters used in digital documents.
- Opt for standard, widely supported fonts. Using oversized or uncommon fonts significantly inflates file size. Reduce the number of embedded fonts and retain only essential fonts.
- Whether you want to increase PDF size to 100KB or lower than this level, you can opt for a professional PDF editor like PDFelement to compress your PDFs. These editors crop unnecessary margins and spaces to make your files concise.
Part 4: Techniques To Verify PDF under 100KB
Ensuring your PDF file adheres to the 100KB limit is vital for seamless file management. It is quite straightforward to verify a PDF's size. Several techniques can be employed to determine your file's dimensions accurately. We have provided two major methods to check your actual file size. By employing these methods, you guarantee that your PDF remains within the specified size limit:
Method 1: Check from File Explorer
You can check your PDF's size by accessing the File Explorer using the following procedure:
Step 1 Launch the "File Explorer" app on your device. Go to the drive or folder where your PDF is stored.
Step 2 Click once on your PDF file, and you will see the file size in the bottom bar.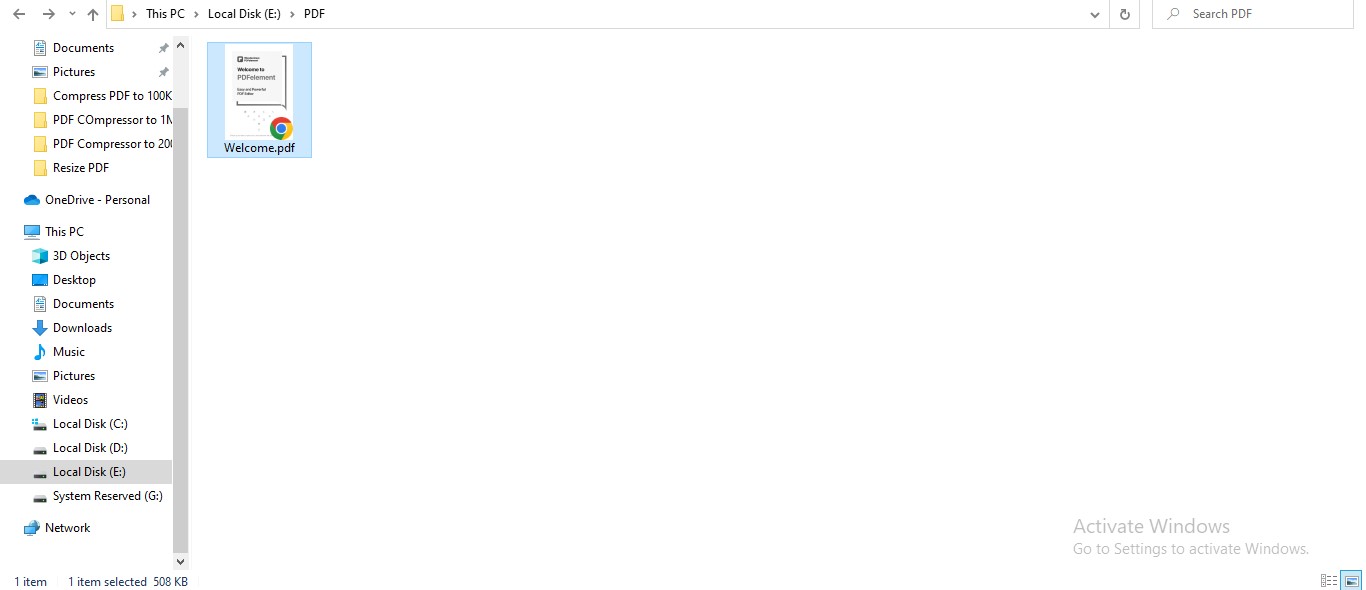 Method 2: Check File Properties
Another way to check your exact file size is by navigating to the file's properties. Follow these steps to perform this process:
Step 1 Right-click your intended PDF file. Choose the "Properties" option from the dropdown.
Step 2 You will observe your PDF's accurate size in the "General" tab of the Properties.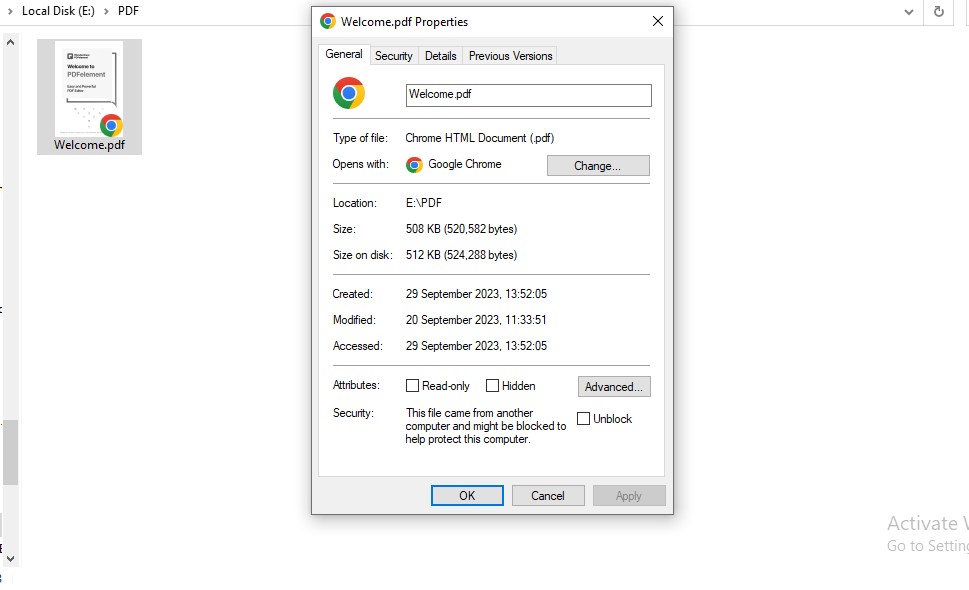 Method 3: Check Via PDF Editor
You can also check your PDF file's size using an efficient PDF editor like Wondershare PDFelement. Observe the given steps to do so:
Step 1 Open your PDF document with Wondershare PDFelement. Click the "File" menu and choose the "Properties"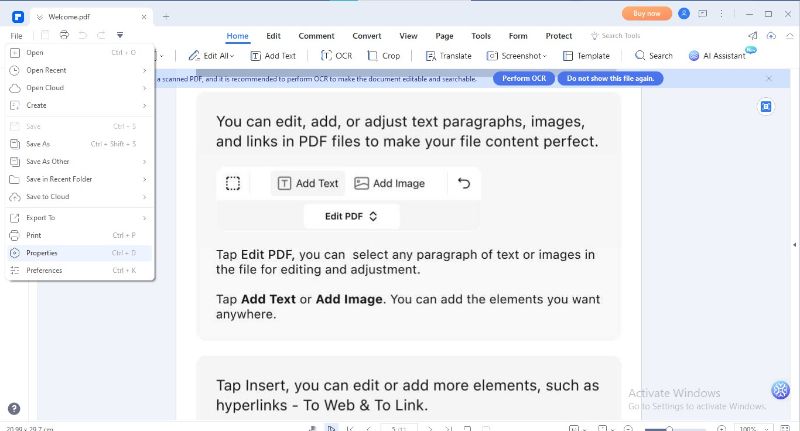 Step 2 The Properties window will display the accurate size of your PDF document. Also, it will show the page dimensions of your PDF.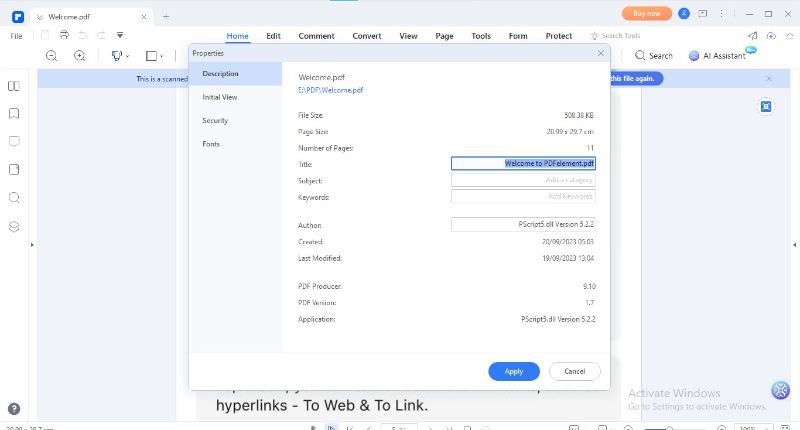 Conclusion
Compressing your file size to a margin of 100KB can prove helpful in various scenarios. Whether you need to send an email or upload a PDF to a website, compression is a handy solution for convenient file uploading. With the right tools and techniques, you can effortlessly navigate the challenges of file size limitations. Compression ensures your documents are always in line with the required specifications.
This article provided a detailed method to compress PDFs to 100KB. Also, it outlined different methods to verify the size of your compressed PDFs. It's time to experience the seamless flow of information in its most compact form.