"How to compress PDF files?" is one of the office students' and office workers' frequently asked questions. It's an essential process for document storage and sharing. By minimizing PDF size, you can send them or load/unload them more easily.
So what is the answer? Well, there are different methods for compressing PDFs. Using PDF compressors like HiPDF and PDFelement is the most popular one. But there are other ways to reduce a PDF's file size. Learn more about them below.
Why Reduce PDF File Size?
Reducing the size of a PDF file is important for several reasons. Firstly, smaller files are easier and faster to share and upload. If a PDF file is too large, uploading or downloading them may take a long time. Thus, it can be a burden for the sender and the receiver. It is especially true when dealing with slow internet connections or limited storage space.
Secondly, reducing the size of a PDF file can help save storage space. PDFs are not known for small file sizes. So having many of them can easily eat up space on your drive. Reducing their sizes can help free up disk space, allowing you to store more files.
Lastly, smaller PDF files are more accessible and user-friendly. When a PDF file is large, it may take longer to open and render. On older or slower devices, they take even longer. Reducing the size of the PDF can improve its accessibility. It allows more people to access the file more easily and quickly.
Use PDF Compressors
The most popular and effective method for compressing PDFs is by using PDF compressors. These software programs simplify the process with just a few mouse clicks. Also, this PDF size-reduction method allows for batch processing. You can compress multiple PDFs at once if you use PDF compressors.
There are many compressors out there. Some are online tools, while others work offline. Here are the best tools you can use.
Method 1: Using HiPDF - The Best Online PDF Compressor
HiPDF is a free online PDF solution with loads of useful features for solving your PDF problems. You can use its Compress PDF feature to reduce PDF file size. Here's how:
Open a web browser and visit hipdf.com.
Click Compress PDF.
Upload your PDF using your preferred method. You can use the Choose File button, drag and drop action, or upload from cloud storage.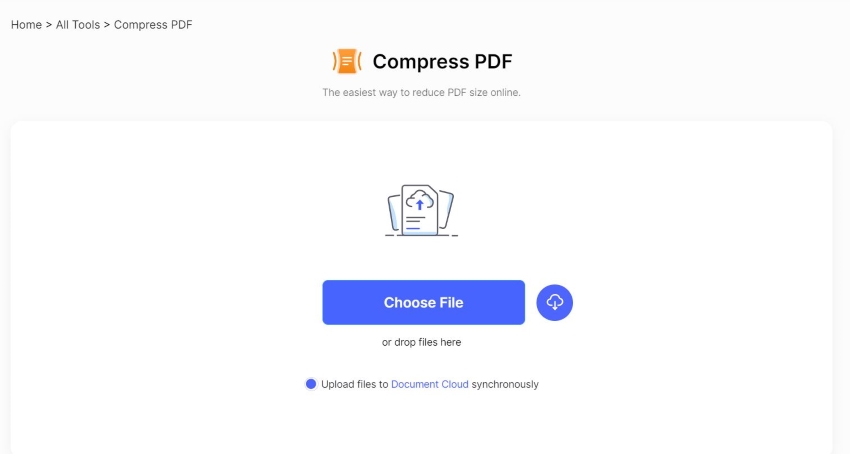 Select a compression level on the right-hand panel.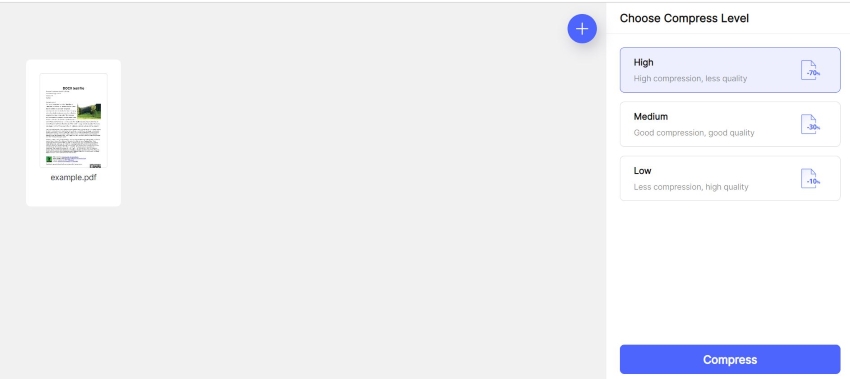 Click Compress.
Method 2: Using Wondershare PDFelement - The Best Offline PDF Compressor
Is the internet connection in your area not that reliable? If so, using offline PDF compressors is better for you. The program will have consistent performance regardless of your internet speed.
The best offline PDF compressor is Wondershare PDFelement. It is quite advanced, but it remains user-friendly. Additionally, it is more affordable than other options with relatively the same processing power.
Here's how to compress PDFs with PDFelement.
Open the PDF you want to compress with Wondershare PDFelement.
Click Tools > Compress.
In the Compress PDF dialog box, select a compression level.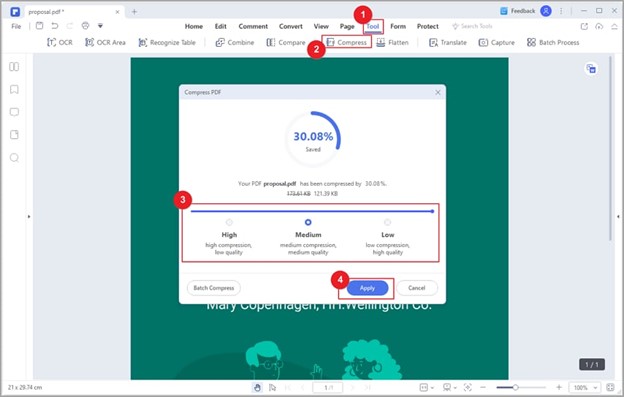 Click Apply.
Reduce PDF File Size Using Print
Not many people know this simple trick to reduce PDF file size. After all, "Print to PDF" does not scream "reduce file size." But it works. And the best thing about this method is you can use your current PDF editor to do it.
Please note that this method produces the same result as using compressors. It reduces the PDF's quality and size.
Follow these instructions to reduce a PDF's file size using PDFelement's Print-to-PDF tool.
Open your PDF with Wondershare PDFelement.
Press Ctrl + P or click the Printer icon at the top toolbar.
Select Wondershare PDFelement on the Printer options.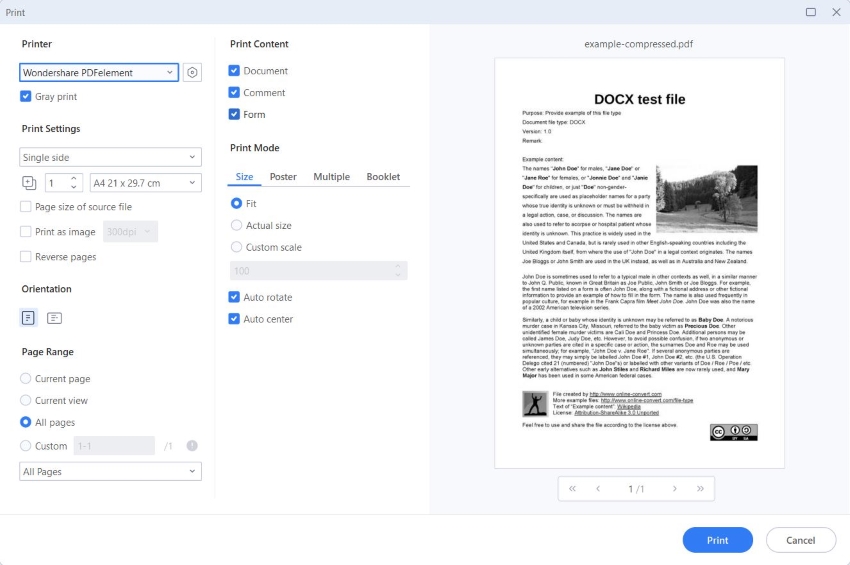 Check or uncheck Gray Print. Enabling this option will turn the images into grayscale, which helps reduce the file size.
Click Print.
PDFelement will create a new and smaller PDF. Click Save.
The problem with this method is that it requires you to process PDFs individually. If you have multiple files to compress, it can take a long time to get through them all.
Reduce Image Size
When you include images in a PDF file, the size of the file can increase significantly. It can be a problem if you need to share the PDF file over email or if you want to save it to your device with limited storage space. One way to reduce the PDF file size is by reducing the size of the images in the document.
Lowering image resolution reduces the number of pixels. The thing is that more pixels in the image make the file larger. Therefore, reducing them is helpful.
The image format is also a factor to consider. JPEG files are typically smaller than PNG. But please remember that it is a lossy compression.
If you don't want to compress the whole PDF file, you can at least compress the images. It will help reduce the file size.
Remove Unnecessary Elements from The PDF
PDF files can often contain unnecessary elements that can increase the file size. Needless to say, removing these elements can significantly reduce the size of the PDF file.
Here's a list of elements your PDF file can do without:
Images
If the PDF file contains images that are not essential, you can remove them to reduce the file size. You can use a PDF editor tool like PDFelement to select and delete the images from the document.
Fonts
PDF files can include embedded fonts that are not necessary for the document. You can use a PDF editor tool to remove the embedded fonts from the document. However, be careful not to remove any fonts that are essential for the document to display correctly.
Bookmarks
If the PDF file contains bookmarks that are not necessary, you can remove them to reduce the file size.
Metadata
PDF files can contain metadata such as author name, creation date, and revision history. Suppose you don't care about these elements. Then, it is okay to remove them from the PDF. It will significantly reduce the file size.
Form fields
Some PDFs have form fields. They may contain important information, so you can't remove the forms. You can flatten the form fields instead. The fields become part of the document and non-editable. This can reduce the file size of the document.
Avoid Scanning PDFs
Suppose you have files that are not in PDF format. But you need them to be PDFs. One way to do that is by printing the documents, then scanning them as PDFs.
While that method works, we strongly recommend against it. It creates large PDFs. The reason is that scanned documents have 300 DPI (dots per inched). And for a PDF, 72 DPI is enough.
A better approach is converting the files to PDF. It's faster and more efficient. You can use HiPDF or PDFelement to do it.
Here's a quick guide on using HiPDF's converter feature.
Using the web browser that you prefer, open HiPDF's website.
Select the conversion tool that you need. For instance, if you need to convert images to PDF, select JPG to PDF.
Upload the files that you need to convert.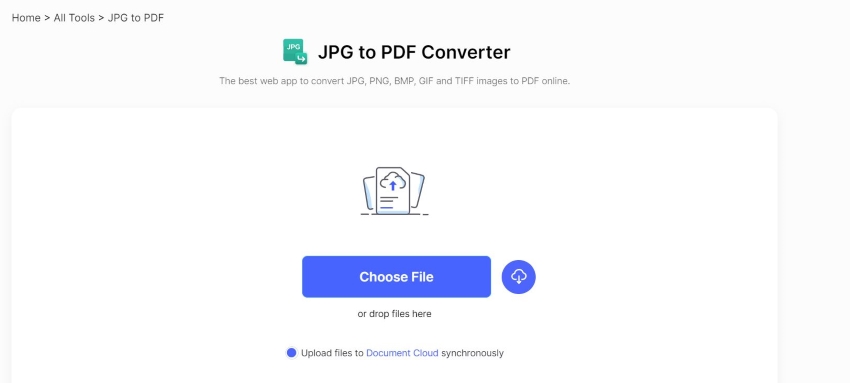 Click Convert.
How To Choose A PDF Compression Method
If you don't want to reduce the PDF's quality, you can manually reduce its file size. You can do that by removing extra elements that are not essential to the document.
But most of the time, using PDF compressors like HiPDF or PDFelement is recommended. It is the most popular method for reducing PDF file size for a reason. The process is quick and easy, and you can even process more than one document at a time.
Conclusion
There are many ways to compress PDFs. You can use Print-to-PDF tools, remove unwanted elements, modify the images, or flatten form fields. But the easiest thing to do is use PDF compressors. HiPDF, an online tool, and PDFelemet, an offline tool, both offer a PDF compressor. And both are very reliable.