PowerPoint presentations are the backbone of modern communication. They convey ideas and information in a visually engaging manner. Whether in the corporate world or education, PPT presentations act as information packets. However, presenters often face a common challenge – size upturn. As PPTs include multimedia and intricate designs, their size usually increases. That's where the challenge begins. These issues may interrupt your presentation experience.
You can opt for several techniques to compress a PowerPoint file size. However, the most useful option is to go for online PPT size reducers. Discover how to tackle the issue of large PPT file sizes, making your slideshow seamless and hassle-free.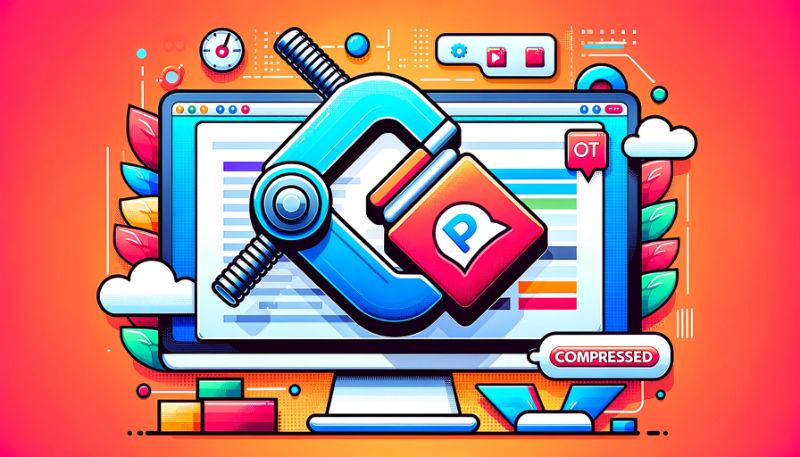 Part 1. Importance To Compress PPT
Compressed PPT files prove valuable in many scenarios. Their compact size eases troubles, especially when you're dealing with hasty situations. Below are some settings where reduced PPT sizes become vital:
In a corporate setting, managers share presentations during meetings. Smaller PPT file sizes ensure quick sharing. Also, they prevent delays in crucial discussions.
Teachers and students exchange presentations for lectures and projects. PPT reduced file sizes enable seamless communication among tutors and learners.
Presenters conduct webinars and online workshops. They often share presentation materials with attendees. Compressed PPTs guarantee that attendees can download files swiftly.
Suppose you are a researcher collaborating on projects. You need to share research material quickly. Compressed PowerPoint files will speed up your data exchange.
Government agencies and non-profit firms create presentations for public awareness campaigns. Compact files are easier to share via email newsletters or social media forums.
Part 2. 5 Different Methods To Compress PPT Online
In the quest for efficient ways to shrink PPT file sizes, you will find various methods. Each offers unique solutions to tackle the challenges posed by hefty file sizes. However, using online compress PPT solutions is the most viable avenue. Let's delve into five distinct techniques that stand out in the realm of online PPT compression. These methods not only squeeze your file size but also ensure your slides remain visually impactful.
Method 1: Compress PPT Size By Shrinking The Pictures
Shrinking pictures is a highly impactful strategy to compress PPT file size. Pictures, especially high-resolution ones, are often the culprits behind swelling file sizes. This method significantly reduces the file size, making the slides more manageable. By following these steps, you can efficiently compress pictures within your PowerPoint presentation:
Step 1 Choose an image within your document to compress. It will launch the "Picture Format"
Step 2 Access the "Adjust" group and click the "Compress Pictures"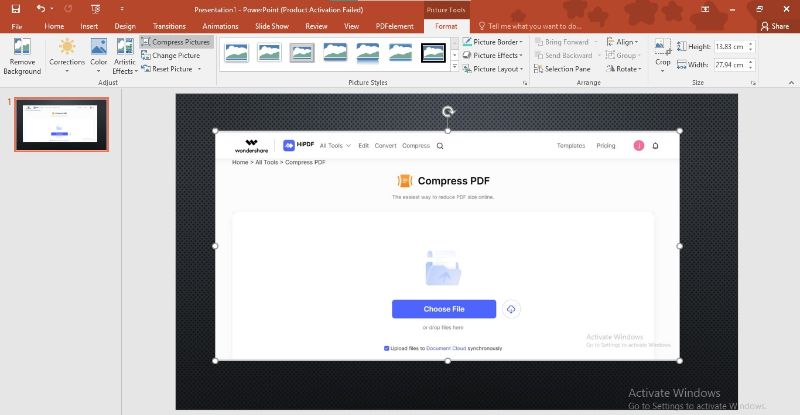 Step 3 A compression popup will appear. Untick "Apply only to this picture" to ensure changes apply universally.
Step 4 Choose "Delete cropped areas of pictures" to reduce your images' sizes.
Step 5 Tick the "Use document resolution" option under Resolution settings.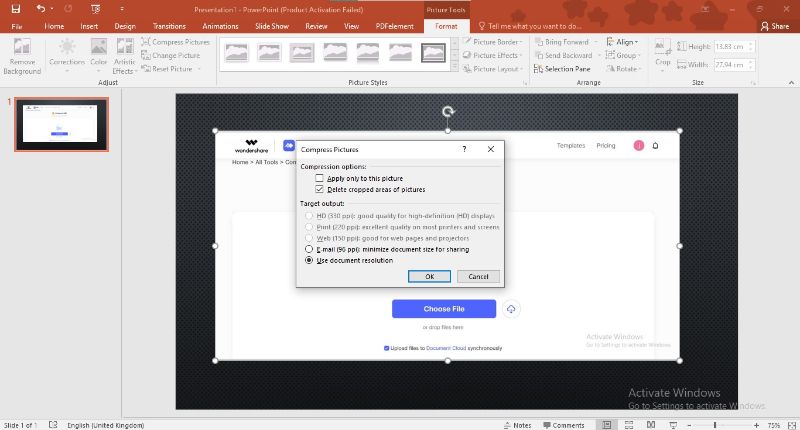 Method 2: Shrink PPT File Size By Converting PPT to PDF
PDF files usually contain less size. It is because of their compactness and adaptable format. Their ability to carry excessive data even in less size makes them an ideal choice for information exchange. Hence, you can leverage this perk by converting your PPT files to PDF. This technique significantly reduces the overall size of your PPTs without losing quality.
To transform your PPT files to PDFs, we recommend using HiPDF. The tool has a complete suite of features for to and from PDF conversion. HiPDF seamlessly converts your PPT files to PDF in seconds.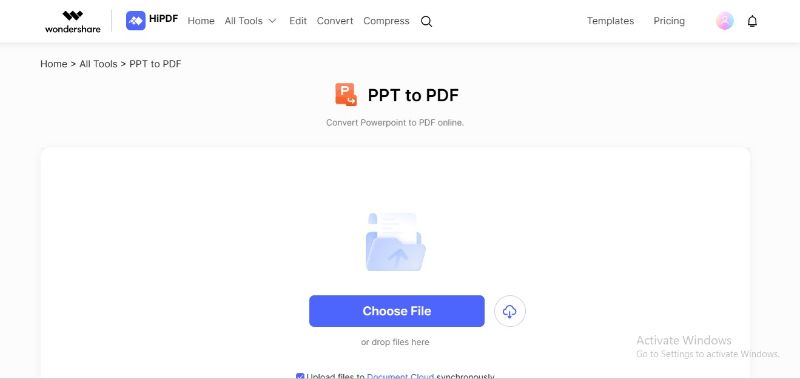 The standout feature of HiPDF is its batch processing. You can convert up to 5 files to PDF simultaneously. Also, the tool allows file uploading from both local and Cloud storage due to its integrations. Another notable perk of HiPDF is its affordability. You can perform unlimited conversions daily. Also, its security and friendly interface make it an excellent pick for users of all levels.
How To Reduce PPT Size Online Using HiPDF?
Using HiPDF as an online PowerPoint file size reducer is quite simple. Just perform PPT to PDF conversion to shrink your PPT file. This process will significantly reduce your file size. However, if your file size is still bulky, you can compress your converted PDF file using HiPDF's online PDF compressor. Here is the detailed process to do that:
Step 1 Visit HiPDF's official site. Locate the "PPT to PDF" feature in the "All Tools"
Step 2 Click the "Choose File" tab to import your PPT file.
Step 3 To add more files, click the "+" Click the "Convert" button below to start conversion.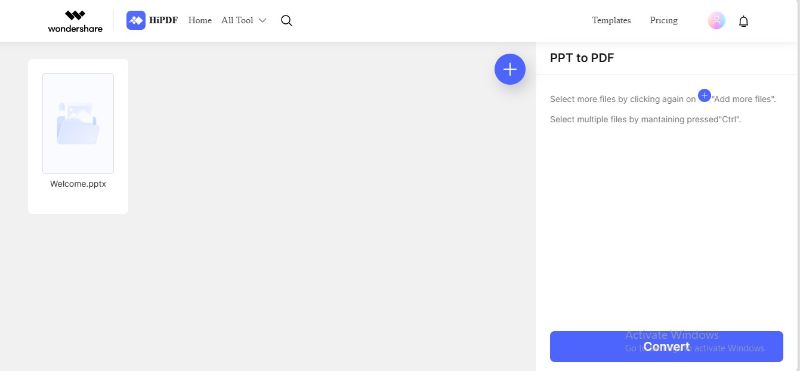 Step 4 HiPDF will convert your PPT file to PDF. The downloading will automatically start.
Step 5 If you want to further shrink your file size, opt for compression. For this, search the "Compress PDF" feature on the HiPDF website.
Step 6 Select your PDF file by clicking on "Choose File."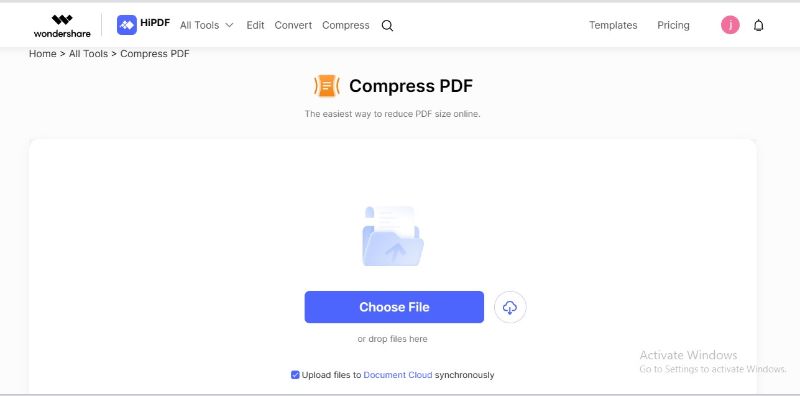 Step 7 Choose your desired compression level. Click the "Compress" option to start compression.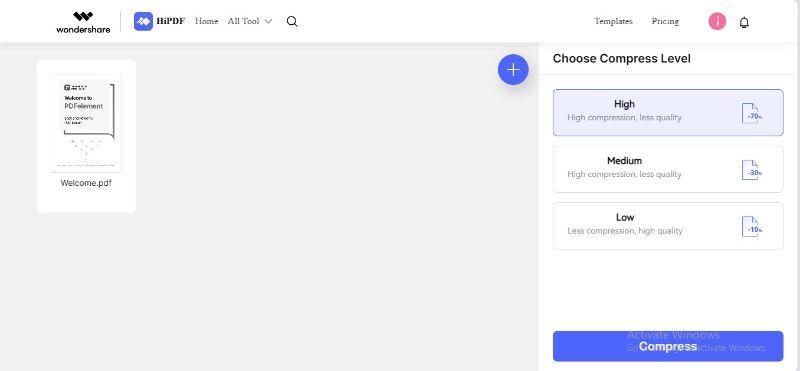 Step 8 HiPDF will lower your PDF size and download it.

Method 3: Remove Unnecessary Elements To Compress PPT Size
Optimizing PowerPoint presentations for productivity needs a strategic approach. It is good to remove unneeded elements within the slides. It will not only reduce a PPT file's size but also enhance its overall effectiveness. Here's the breakdown of how and which elements should be removed for PPT size reduction:
Simplify Content
Begin by meticulously reviewing each slide. Remove redundant text and outdated visuals. You should retain only essential information. A streamlined message not only enhances clarity but also significantly reduces the file's bulk. Direct content will also ensure a focused and impactful slideshow.
Eliminate Unused Slides
Edit your PPT slides carefully. Delete irrelevant slides that do not directly impact your main points. A concise slideshow captivates your audience's attention. Thus, reducing unnecessary data makes the file more manageable.
Simplify Transitions
While transitions add visual appeal, opt for simpler effects. Flashy transitions might seem engaging. However, they inflate the PPT file size. You can keep professionalism with subtle transitions. A plain transition will give a polished look without losing the presentation's efficiency.
Efficient Font Usage
Choose common fonts and moderate sizes. Extravagant fonts and large text can increase file size. Also, remove embedded fonts if not much needed. By employing standard fonts, you maintain efficiency while keeping the file concise.
Lesser Animations Use
Reducing animations is crucial in lowering PPT file sizes. Limit animated elements and avoid continuous loops. Remove redundancies and test for smooth playback. By minimizing animations, slides remain lightweight.
Method 4: Reduce the Audio & Video File Sizes To Compress PowerPoint Files
Audio and video files often lead to heavy PPT size. Thus, reducing them is a pivotal step to compress PPT presentations. Below is how you can effectively implement this method:
Choose Optimal Media Formats
Select formats like MP3 for audio and MP4 for videos. It is because they offer good quality at smaller sizes. You can use compression tools to convert existing files into these formats.
Compress Multimedia Files
Utilize specialized compression tools to reduce the size of audio and video files. These software employ algorithms to decrease file sizes. Compressing audio-visual content will ensure smooth playback during a slideshow.
Trim Unnecessary Segments
Edit multimedia files to remove redundant segments. Trim the beginnings and ends of videos or audio. Keep only the essential content. Trimming will also significantly reduce the overall file size.
Adjust Bitrates and Resolutions
Lowering audio and video bitrates can decrease file sizes. Strike a balance between quality and size. Thus, your media files will remain clear while significantly reducing their bulk.
Use Online Compression Tools
Use online platforms offering audio and video compression services. These user-friendly tools allow you to upload files and receive compressed versions promptly.
Method 5: Compress PPT Using Online PPT Size Reducer
Last but not least, you can go for a PPT compression online tool. Using platforms to compress PPT file online is a viable idea. Online PPT compressors offer ease of use and free-of-cost access. Also, most platforms don't require signup or personal information. Another great benefit of using online solutions is that they have state-of-the-art technology. Further, you don't need to download or install any software to compress your files.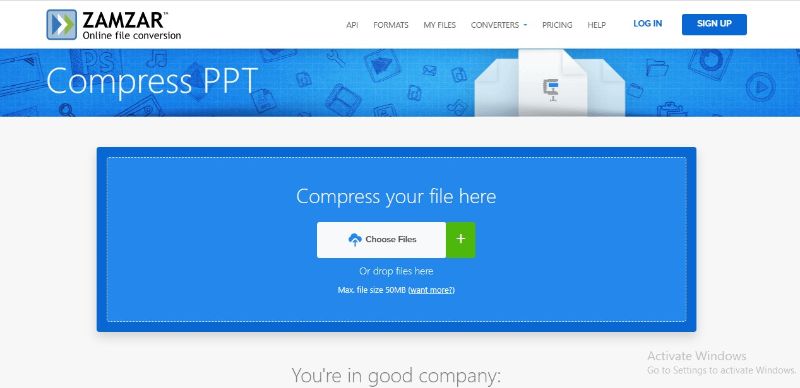 If you want to compress PPT files online, we will suggest using ZAMZAR. The tool is a reliable partner when it comes to compressing PowerPoint online. With its intuitive interface, it caters to users of all levels. The tool's directness makes the compression process easy and accessible. ZAMZAR prioritizes data security and deletes your files after 24 hours. Also, you can access the tool from any device, anywhere, to compress PowerPoint online.
Conclusion
PPT presentations are a striking way to convey information. However, their huge size becomes an issue. Also, bulk size is a common issue that you might face during teamwork. To relieve this trouble, compression is a viable solution.
This guide has covered five useful methods to compress PPTs online for free. From optimizing visuals to refining multimedia, each technique is a game-changer. Using these methods, you can make your hefty slideshow into agile, efficient tools. Embrace these methods and experience the change.