While venturing into the journey of PDF compression, you will come across endless techniques and tips. But the most valuable strategy to compress PDFs, let's say, to the margin of 300 KB, is using a PDF compressor. There is a plethora of 300KB PDF compressors available, each with its unique benefits. Generally, online tools offer more convenience and directness, whereas offline compressors give more control over the compression.
This article will educate you on how you can compress your PDFs to the required margin online and offline by employing the best PDF size reducers to 300KB.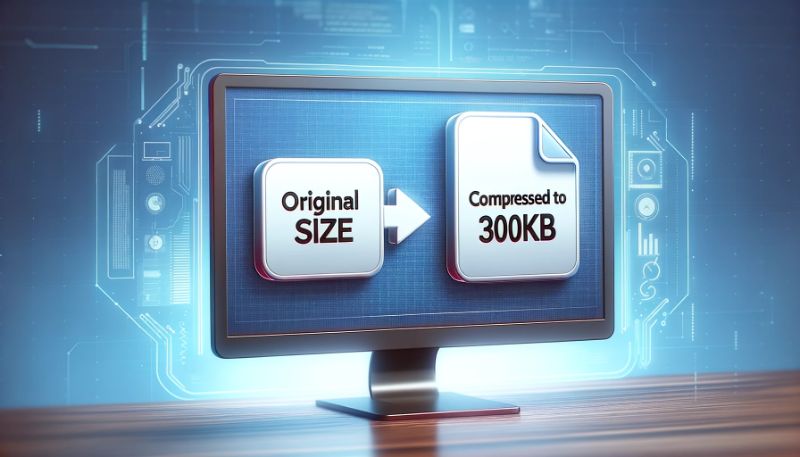 Part 1: Reasons To Resize PDF Under 300KB
Large PDF files are difficult to handle. Compression is the best solution, especially when you are in a situation requiring less PDF size. Here, we have provided several real-life scenarios that require less-sized PDF files. Thus, if you face one of these situations, opt to compress your PDF below 300KB.
A PDF resized in 300 KB allows storing more files without exhausting your storage limits, whether it's local or Cloud storage.
Many online forms, job applications, and government forms have restrictions on file sizes. Making your PDF under 300KB ensures seamless form submission.
Lawyers and legal professionals frequently submit evidence and court documents electronically. Compressing these files to a size like 300KB ensures they meet online submission requirements.
If you are an accountant or financial analyst, you may need to compress your financial statements for speedy exchange with clients and stakeholders.
Part 2: Functional Techniques To Compress PDF to 300KB
After knowing the importance of PDF resizing to 300KB, it's time to learn effective strategies for PDF compression. From utilizing online tools to specialized software, we have provided complete knowledge to handle PDF compression effectively.
Resize PDF File to 300KB Online Using HiPDF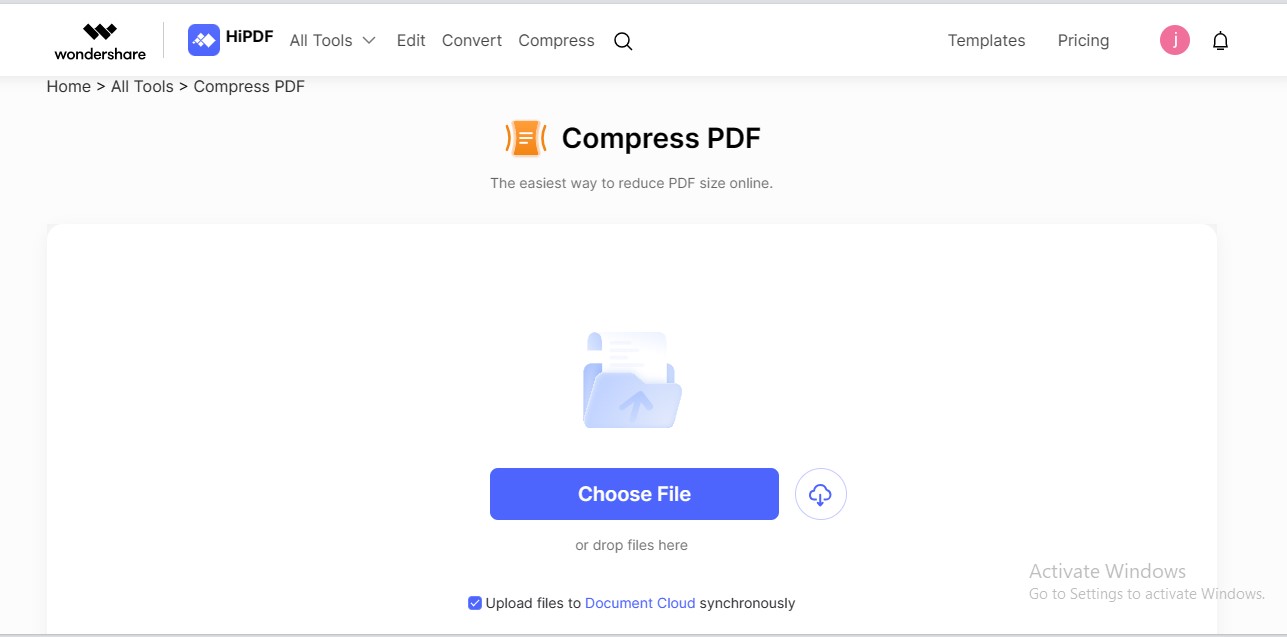 HiPDF is a professional solution that you can use to compress PDF to 300KB online. The tool is armed with super-efficient compression engines that crush your PDFs down to a manageable size. It contains a seamless and intuitive interface to transform your PDFs into compact data carriers.
With its robust features and ease of use, HiPDF takes PDF compression to new heights. From single compression to batch processing, HiPDF simplifies your compression journey.
HiPDF – A Top-Notch Solution to Compress PDF Under 300KB
Are you inclined to know why HiPDF stands out as the best PDF 300KB compressor? HiPDF is replete with several advanced features that make it a preferable solution for compression. Here are some of the highlights of HiPDF's compression expertise:
HiPDF allows you to compress PDF to 300KB for free. The tool puts no limits on daily uploads and compressions.
The tool supports batch processing of 5 files in the free plan. It means you can compress 5 PDFs simultaneously to save time & effort.
The security protocols of HiPDF are strong. It deletes your file one hour after you download it.
The tool offers three compression presets to reduce your file size. You can choose between different compression levels to strike a balance between quality and size.
HiPDF requires no signups or personal information to compress your PDF files. Just import your files and start resizing them seamlessly.
How To Compress PDF to 300KB Free Using HiPDF?
PDF resizing via HiPDF is quite straightforward. Just upload your PDF file and watch HiPDF compressing your file size for use in real-time. Follow these steps to compress PDF to 300 KB for free using HiPDF:
Step 1 Navigate to HiPDF's official website. Search for the "Compress PDF" feature under the "All Tools"
Step 2 Click the "Choose File" option to upload your PDF file.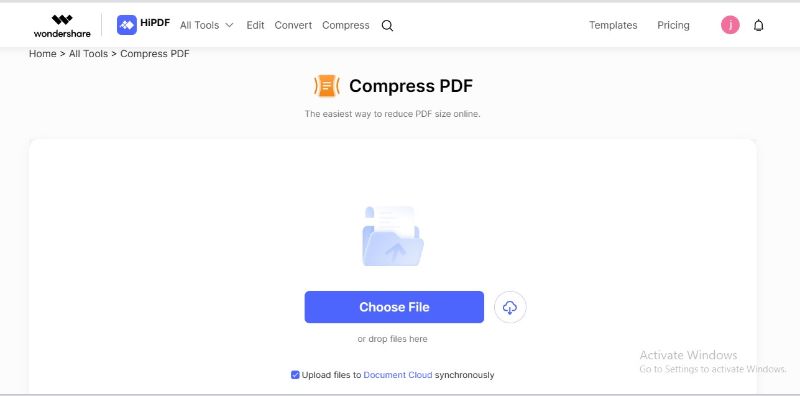 Step 3 Select your desired compression level, depending on your file size. Click "Compress" to initiate compression.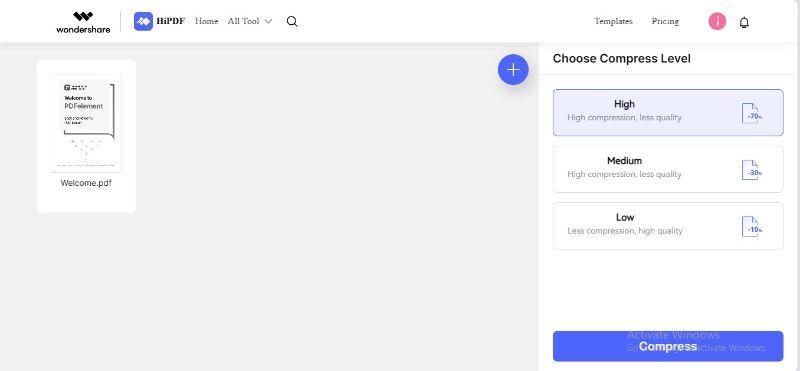 Step 4 HiPDF will compress PDF to the limit of 300KB. The compressed PDF will be automatically saved to your device.

Use PDFelement To Batch Reduce PDF Size to 300KB Offline
If you are looking for an offline solution to compress your PDFs to the perfect 300KB size, PDFelement is your destination. The tool operates offline, ensuring you can compress your PDFs without an internet connection.
What sets PDFelement apart is its ability to handle batches of PDFs effortlessly. Whether you have a handful of documents or an entire folder to resize, PDFelement streamlines the process. Hence, PDFelement is a solution that frees you from the hassles of internet connection and single compressions.
How To Reduce the Size of PDF to 300KB Using PDFelement?
Compressing PDFs with PDFelement is just as direct as using HiPDF. It is because of their common compression engine. But what sets PDFelement apart is its firm dedication to simplifying PDF management. Let's learn to use PDFelement as an offline PDF 300KB converter:
Step 1 Launch the PDFelement application. Open your desired PDF file.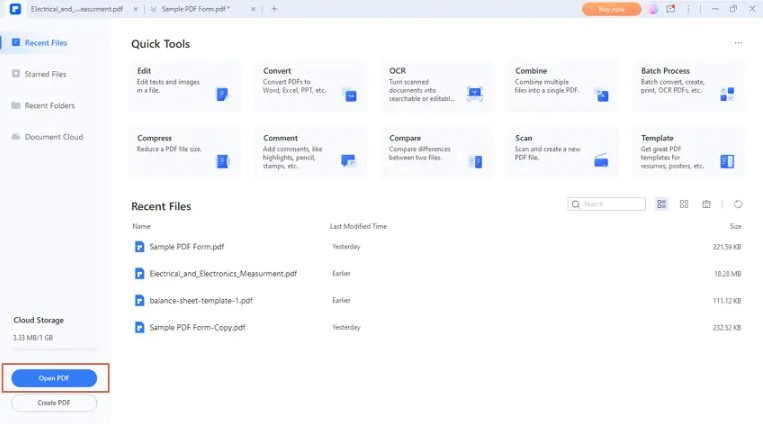 Step 2 Go to "Tools" at the top, then choose the "Compress" Select your preferred compression level based on your original file size.
Step 3 Click "Apply" to start the compression process. For batch compression, click the "Batch Compress" button on the left.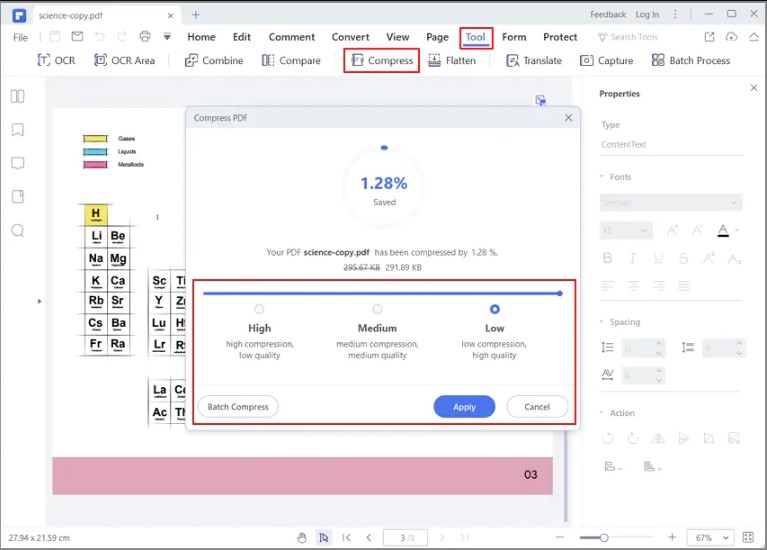 Step 4 Your file size will be compressed. You can save the reduced file with one click.
Part 3: HiPDF Vs. PDFelement – A Head-to-Head Comparison
The battle between offline and online PDF compressor 300KB tools has intensified. The main reason is their appeal and diversity of features. Both solutions offer promising results. However, there are some aspects that make them unique from each other. The same rule goes for HiPDF and PDFelement.
Although both tools are high-end, each has its own benefits and limitations. On one side, HiPDF offers directness and ease in the process. Whereas PDFelement excels in the richness of the features. Such a situation might confuse you about which one to choose. Therefore, we have aimed to uncover the finer nuances of both tools. This comparative analysis will serve as your compass, guiding you toward the ideal compression solution tailored to your needs.
Ease of Use
Regarding ease of use, HiPDF excels compared to PDFelement. It offers a direct and seamless PDF compression process. Although PDFelement is also easy to navigate, but the general functionalities of the tool might overwhelm you. You would need to locate the compression feature somewhere in the menus. In contrast, HiPDF's compression feature is clearly visible on their Compress PDF page.
Verdict: HiPDF is more straightforward.
Compression Levels
When it comes to compression level, both tools perform equally. Both HiPDF and PDFelement are powered by Wondershare compression engines. Therefore, both offer three different compression levels. However, HiPDF is equipped with state-of-the-art technology because of its web interface. Therefore, its compression results are more satisfying.
Verdict: Both tools are well-performing regarding compression levels.
Batch Processing
Both tools are promising regarding batch compression. When it comes to HiPDF, it allows batch processing of up to 5 PDFs in the free edition. However, PDFelement supports batch processing of unlimited files. However, HiPDF downloads your batch files in a zipped folder automatically. In contrast, you may need to save your files manually using PDFelement.
Verdict: PDFelement excels in batch processing.
Post-Compression Editing
Post-compression editing refers to the ability to edit and modify your PDF after the compression process. Although HiPDF offers a more straightforward experience, the tool lags in post-compression editing.
Yet, PDFelement outshines in this regard. The software offers OCR, interconversion, merging, splitting, doodling, translation, and more. You can also protect your PDF using a password. The greatest perk of PDFelement is its AI integration, which you can use to chat, summarize, rewrite, and explain your compressed PDFs.
Verdict: PDFelement excels in post-compression editing.
File Security
Although both tools follow security standards, HiPDF clearly declares file security as its main motto. The tool deletes your PDFs after one hour of compression. As per PDFelement, the security standards are the same. Being offline, using PDFelement saves you from virus attacks and unauthorized users.
Verdict: Both tools are secure.
Pricing
Both tools have affordable pricing, but HiPDF is more economical. The tool costs $5.99 per month. On the other hand, PDFelement costs approximately $79.99 per year. In this way, the per month cost of PDFelement is estimated at $9.08. However, the only downside of PDFelement is that it doesn't offer a monthly plan, whereas HiPDF does.
Verdict: HiPDF is cost-effective.
To and from Conversion
To and from conversion means interconverting your PDFs into other formats and vice versa. Both tools enable the interconversion of PDF files. However, PDFelement offers in-app conversion of compressed PDFs, which is a plus. It means you don't need to go to a separate platform or webpage for conversion. In contrast, HiPDF also offers interconversion, but you will need to go to the respective webpage for conversion.
Verdict: PDFelement is good in to and from conversion.
Conclusion
Online and offline solutions are great for compressing PDFs to the 300KB limit. In this regard, HiPDF and PDFelement stand as stalwarts. Each tool caters to specific user needs. HiPDF shines for its simplicity, accessibility, and economical pricing. On the other hand, PDFelement offers matchless versatility, offline stability, and advanced editing features.
Now, the choice between HiPDF and PDFelement rests on your unique requirements. Whether you prioritize ease of use or comprehensive features, this article guides you to make an informed decision.