Top 6 Best JPG to ICO Converter Online
JPG and PNG are the most common image formats used to store images in PCs and Smartphones whereas ICO is another image format that many people do not even know about. ICO is usually used by IT professionals and Software developers to create one or more images of various color depths and sizes. There are many online tools and desktop programs to convert a JPG image to ICO format which you can use to convert your images quickly and easily. Don't know which is the best free JPG to ICO online converter? Don't worry because today, we will talk about 6 of the best JPG to ICO converter online.
There are many JPG to icon converter online websites that you can use to quickly convert your JPG files to ICO without any trouble or effort. With hundreds of online tools available on the web, finding the right one can be an overwhelming task. Check out the best online JPG to ICO converter review below to find out which is the one for you. Following are the 6 best JPG to ICO converter available online:
HiPDF is the best JPG to ICO converter online which comes with a number of different tools to edit, compress, unlock, merge and format PDF documents. It has many image tools as well which also include a JPG to ICO converter. No matter what the file size is or how many conversions are needed, the HiPDF image tool has got you covered.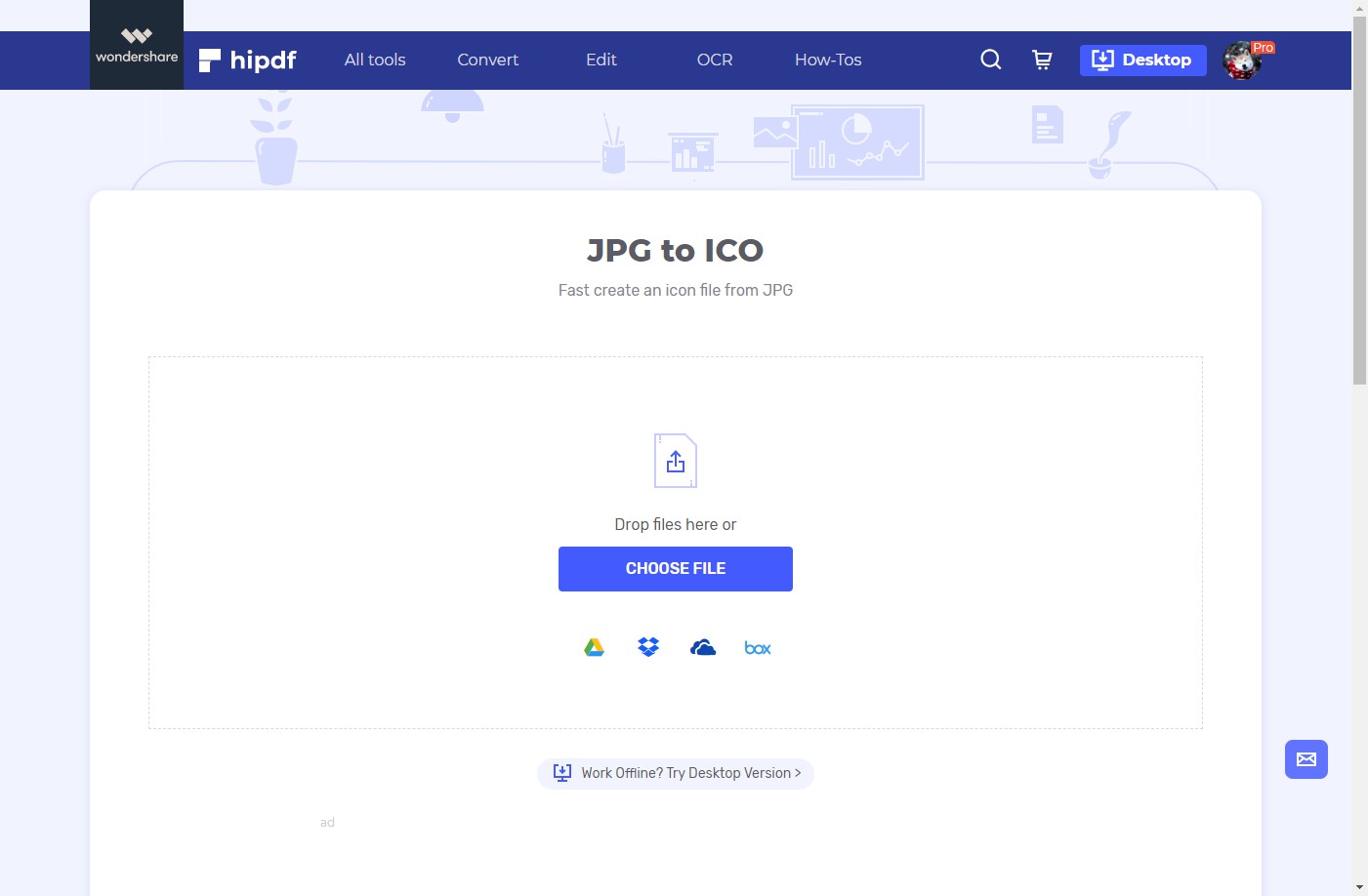 Pros:
Can be used online anywhere
Offers more than 50 different tools
All image formats are supported
Desktop version is available
Quick Service
Cheaper in comparison to other desktop software
High Security and confidentiality due to SSL encryption
Cons:
Pricing: Monthly: $6/month & Annual: $48/year
---
Online Convert Free is a premium online converter which offers many tools for image, document, videos etc. It is one of the best JPG to ICO converter online. You can convert images to JPG and from JPG to other formats including ICO. One cool thing about this converter is that it supports a wide range of file types. All the tools in all the subscription plans are the same in every version, however, the storage limit and conversion priority differ.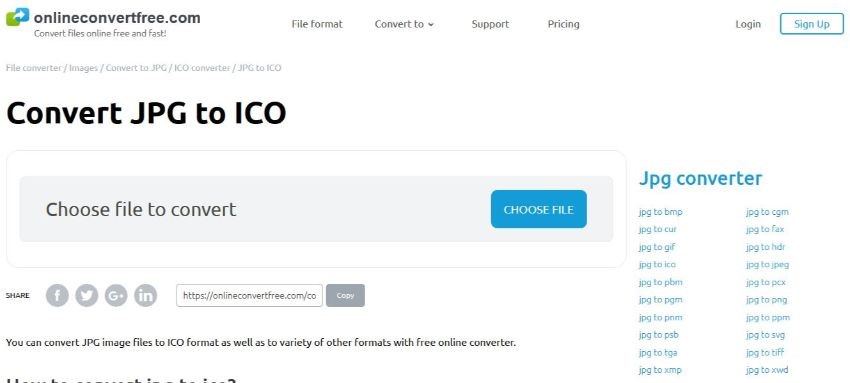 Pros:
All tools are accessible for free
Easy to use website converter
Affordable pricing
No ads in paid versions
Bulk optimization
Cons:
No additional tools in the premium versions
No desktop program or smartphone app available
Pricing: 24 Hours: $7.99
Light
Monthly: $6.99
Annually: $59
Pro
Monthly: $11.99
Annually: $107
---
Online convert is the best JPG to ICO converter online free with a very simple interface. This website can convert many different types of files into different formats. Though Online has many different converting tools, it is mostly popular for converting different files to ICO file type without any hassle. This website is 100% free for all users, however, you will need to register first. Overall it is a good converter website for basic small sized images.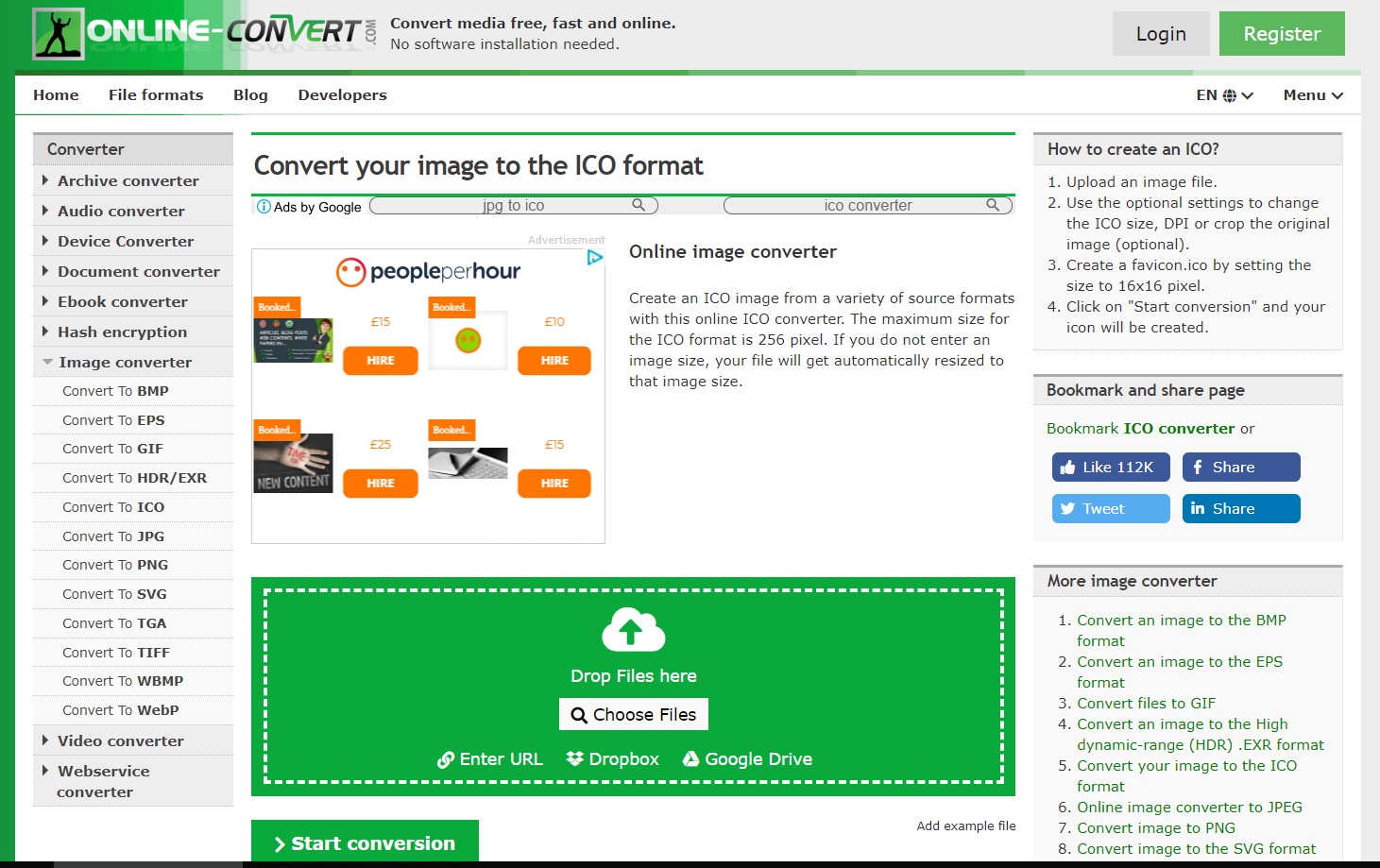 Pros:
Free for all users
No software installation required
Wide range of online file converters is accessible
A simple converter to use
Cons:
Contains annoying Ads
Registration is required
No mobile app or desktop software available
Pricing: Free to use
---
CoolUtils.com is an online convert website that contains many Forensic, Image, PDF and File tools for editing, conversion, and formatting. It is one of the best JPG to ICO Converter online. It also contains an image converter which can convert all images from one file type to another, including JPG images to ICO type. CoolUtils is free but it does not offer batch processing. You can use this website for a one-off task but an app version is also available for batch conversion.
Unlike most online tools, Online Convert Free does not require registration, hence, it is one of the best JPG to ICO converter online without email.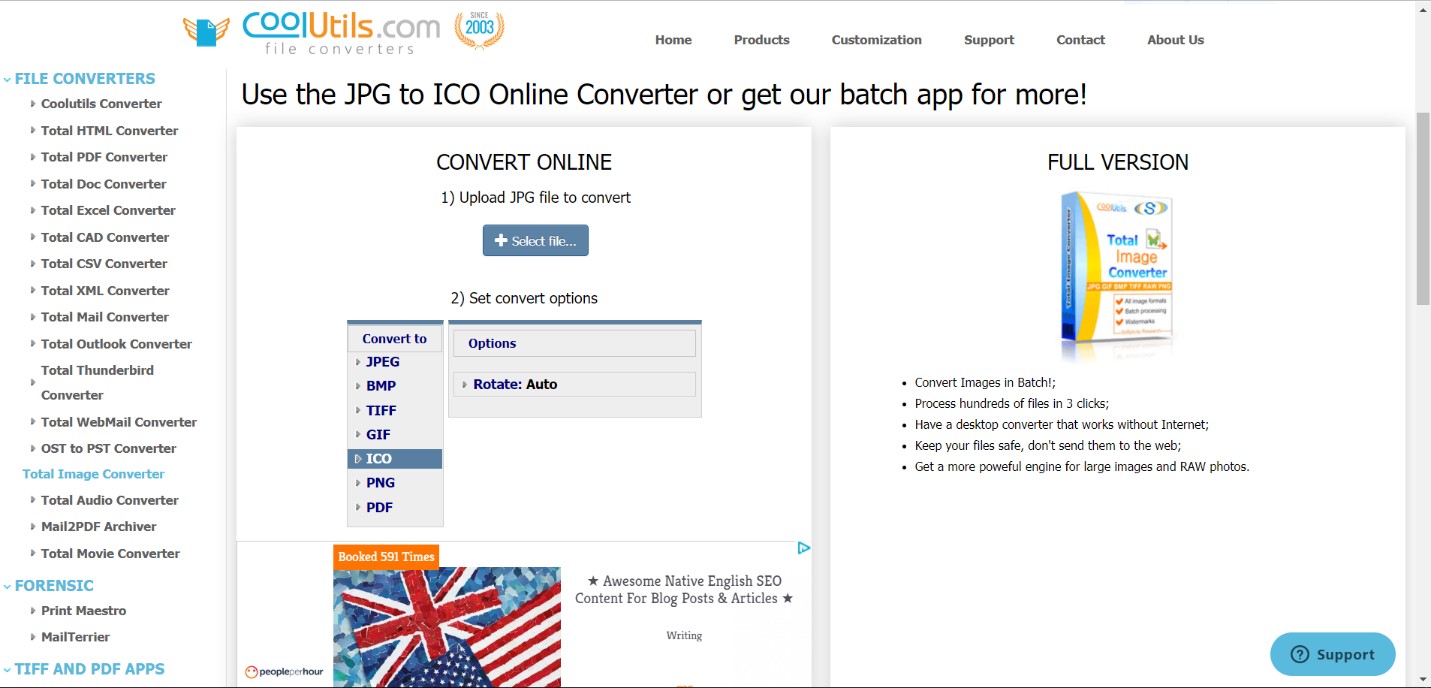 Pros:
Different file, PDF and image tools are available
Clean and simple to use website
App version available
Quick conversion
Free Online Support
Cons:
No online batch processing
App is not free
Cannot use it without the internet
Ads are annoying
Pricing: Free to use
---
Convertio is a portable online software with many tools for different file types. Similar to other online editors and converters, Convertio has different converters as well. Most of the tools are free to use but some are only accessible in the paid version. It enables users to convert videos, documents, images and other file types. Being one of the best online JPG to ICO converter, the Convertio ICO converter is a premium tool.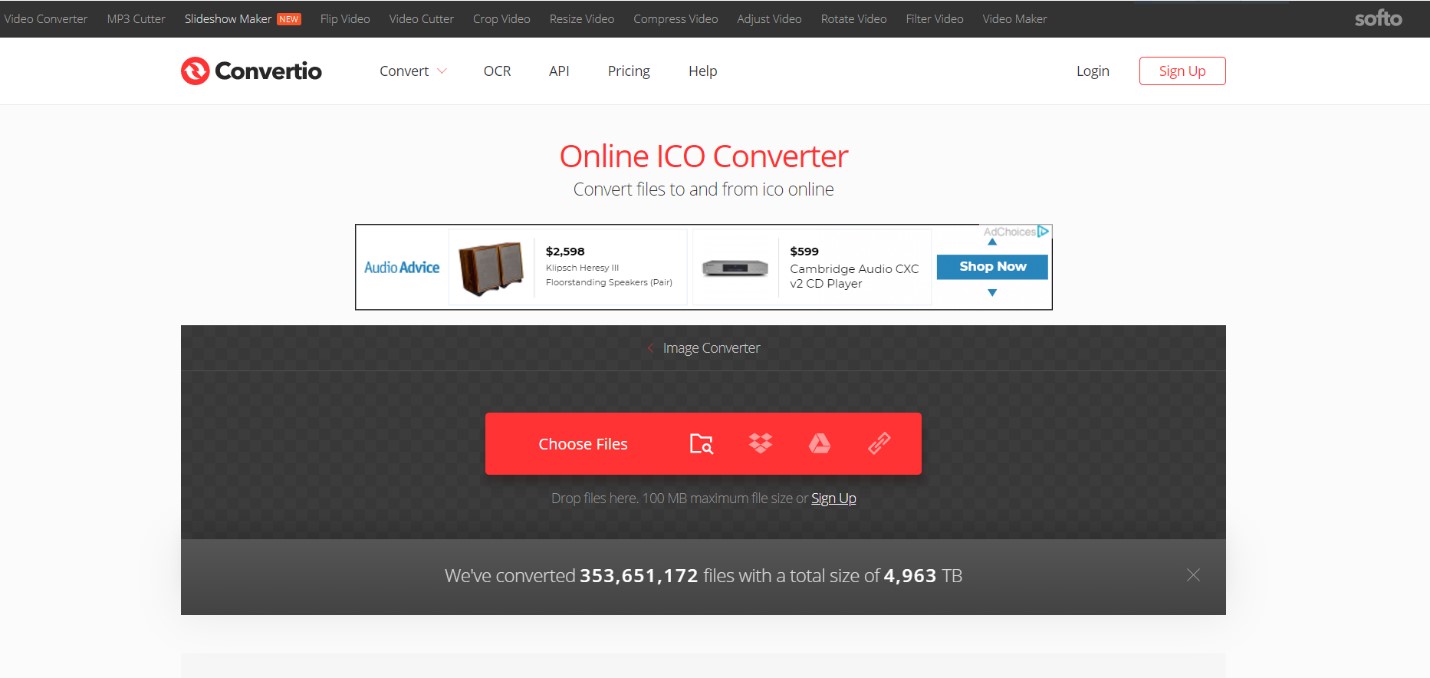 Pros:
Catalog of different convert tools
Mobile and desktop apps are available
Free regular updates
Safe for all file types
Cons:
High premium charges
Registration is required
Pricing: one-time charges of $7.99.
---
Supporting more than 1200 different conversion types, ZamZar is the biggest online converter on the web since 2006. It is a great tool to convert an unlimited amount of large files in just a few seconds and even supports CAD formats. This web application also allows you to convert JPG to ICO as well. However, ZamZar is not free and requires online registration. It offers three different plans i.e., Basic, Pro, and Business with varying features.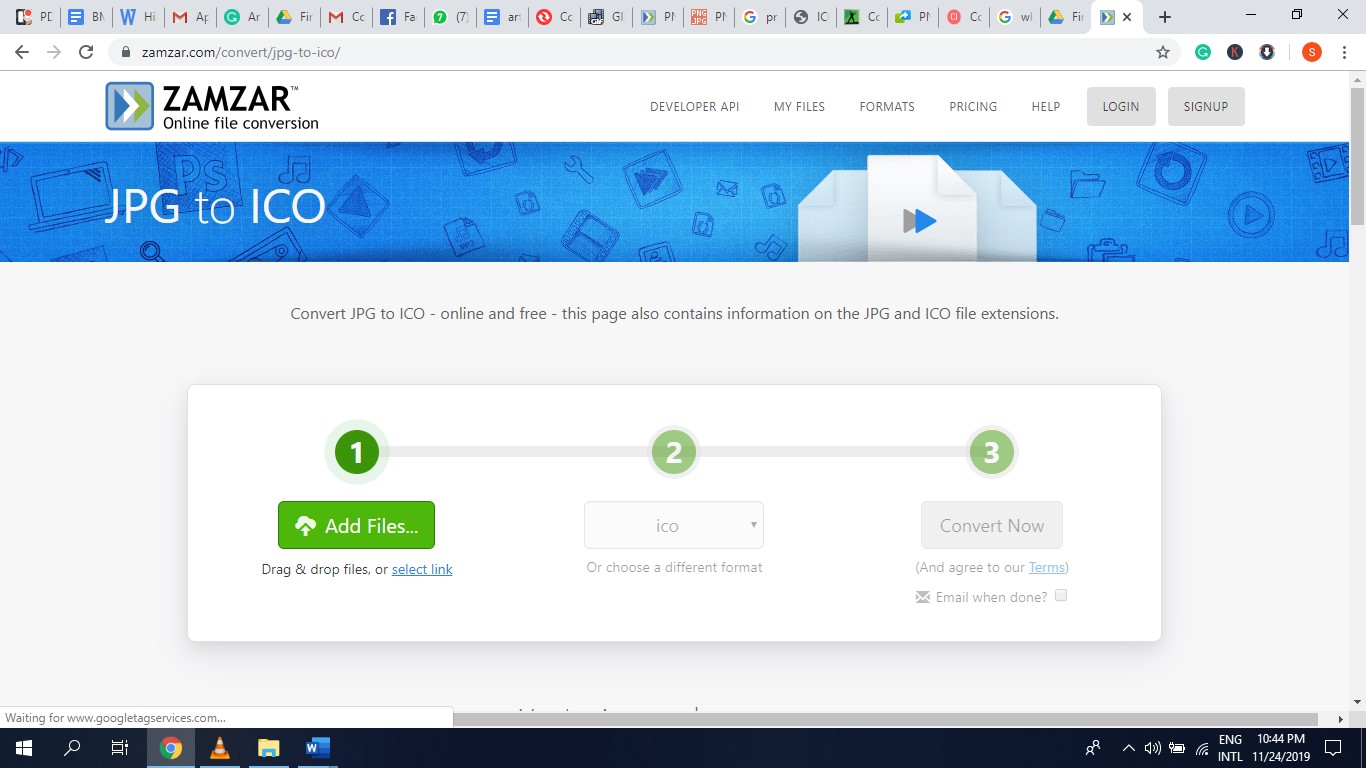 Pros:
Powerful online tool
More than 1200 conversion types
Supports 1100+ formats
Maximum file size up to 2GB
Accessible on all browsers and all devices
Unlimited conversions every day
Cons:
Images to be downloaded one by one after conversion
Small batch size per task
Lags sometimes
Pricing: Basic: $9 per month
Pro: $16 per month
Business: $35 per month
---
Conclusion
HiPDF is a great image converter website that can format and convert many different types of files. With a wide variety of both PDF tools and Image tools, this online convert offers many features to its clients. You can compress, edit, merge and convert your files just within a few minutes. Being one of the best JPG to ICO online converter, it does not alter the pixel quality or formatting of the original image.
Moreover, HiPDF offers a high degree of file security and protection because it encrypts files to make sure no one can hack in and steal your documents from their servers!
Other attractive features of HiPDF include:
• 256-bit SSL encryption for maximum security
• Maximum File Size up to 50MB
• Batch Processing
• Ad-Free Interface
• File History
HiPDF is available on all browsers and compatible with all devices whether it is Windows or Mac. All you have to do is upload your image and convert the JPG image to ICO online for free!
So, what are you waiting for? Get the best JPG to ICO converter online, which is HiPDF, and make your conversion a lot easier, smoother and safer!