5 Best Microsoft PDF Editor Alternatives
Looking for some suggestions to seamlessly edit your PDF files? Microsoft PDF Editor is a great software meant for Windows computers that allow users to create and edit PDFs easily. Although a useful tool on numerous occasions, the program still suffers some limitations. You can learn more about Microsoft Office PDF Editor and its rational alternatives in the proceeding read.
What is Microsoft PDF Editor
Microsoft PDF Editor is a free desktop app available at the Microsoft Store that is specifically designed to cater to your PDF-related needs. It is an easy-to-use PDF reader and editor with simple yet efficient functionalities to help you create innovative documents.
Microsoft Edge PDF Editor offers a cost-effective solution when it comes to editing PDFs. The software offers a wide platform for viewing, creating, editing, and sharing PDF documents. You can also use it to sign your documents, change the arrangement of the file, or export to other supported formats.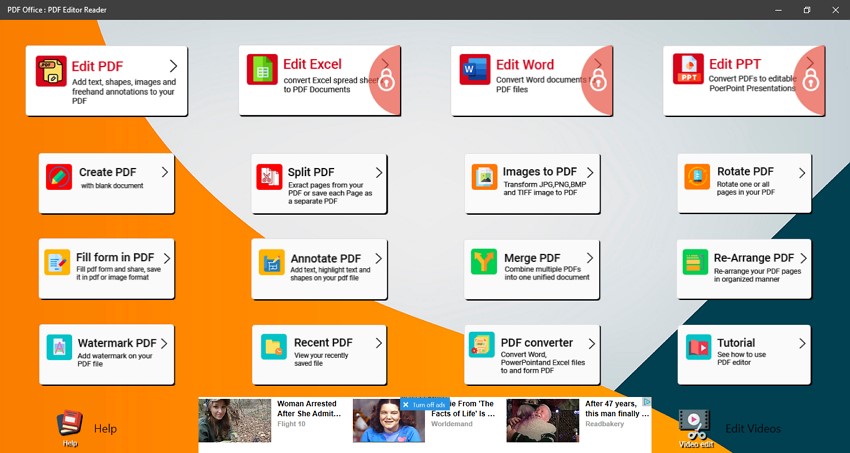 Key features:
A built-in option to convert PDFs to Word, Excel, images, and more
Turn your images into PDF files using Microsoft PDF Editor
Protect your PDF files by applying password security
Combine multiple files into a single PDF document
Annotate your PDF by highlighting, marking, and striking text
Pros:
You can create bookmarks and notes in your PDF document.
It lets you create personalized labels on your PDF with date and time
The features offered by Microsoft Office PDF Editor are relatively easy to use
Cons:
You cannot access Microsoft PDF Editor online or on Mac devices. The tool is only available as a desktop application on Windows
Top 5 Alternatives to Microsoft PDF Editor
Although the Microsoft PDF Editor is a great application, there are certain limitations to it. The tool falls short in functionality owing to multiple reasons.
For starters, the Microsoft Word PDF Editor has an outdated and unorganized interface. Moreover, the app's interface is laden with ads, which can tend to prove frustrating. You can also not create and edit PDF forms or extract data from your documents. The app is free yet lacks the enhanced features to make it stand out in the world of PDF editors.
If you are looking for an alternative to Microsoft Office PDF Editor with a more in-depth toolset, you are at the correct place. Below, you can find a list of the top 5 PDF editing tools that can easily replace Microsoft's PDF Editor more cost-effectively.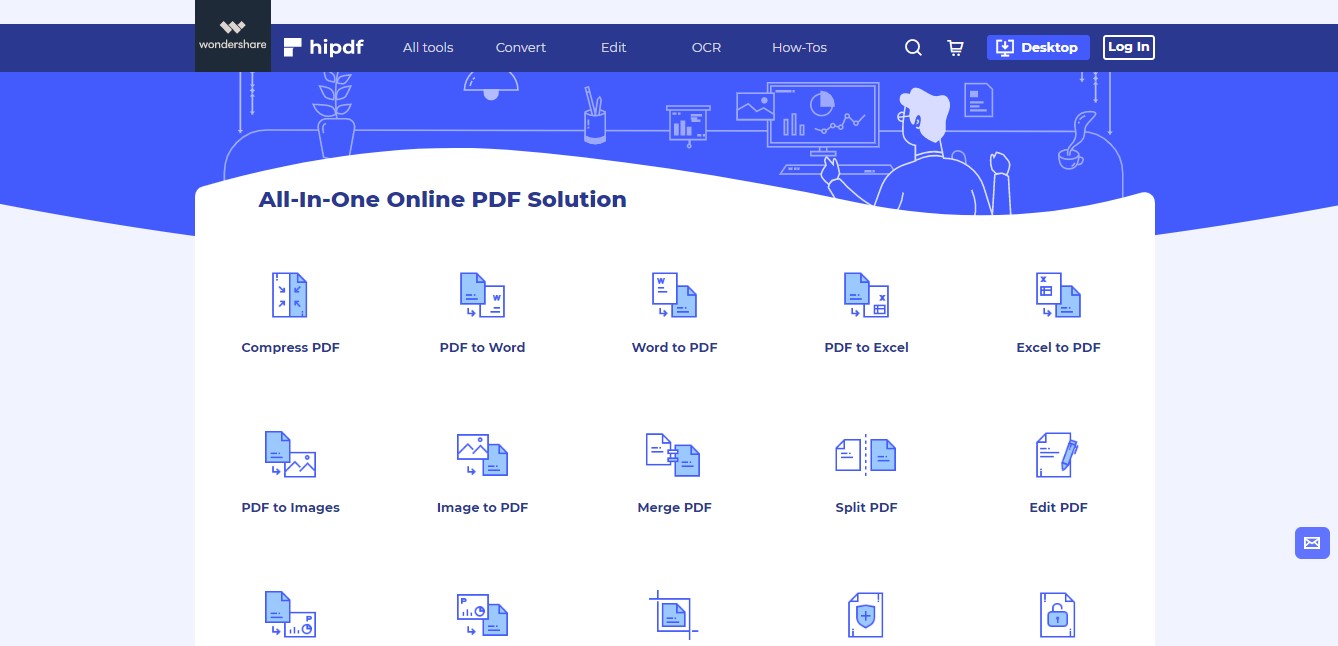 Looking for an all-in-one solution to replace Microsoft PDF Editor online? The answer lies in HiPDF by Wondershare. This powerful tool is perfect for almost all of your PDF-related inquiries.
HiPDF comes with a range of features for you to effortlessly create captivating documents. It allows you to create, edit, and manage your PDF files in the most compelling way. Serving as an online tool, you can access it on all the major platforms. In addition, HiPDF lets you use integrated cloud services such as Dropbox and Google Drive.
To make things better, HiPDF offers batch processing along with encrypted connections to make your workflow more efficient and secure. The tool's interface is pretty straightforward and easy to use, where all the available features are displayed in one place. HiPDF can prove to be a great alternative to the Microsoft Edge PDF Editor.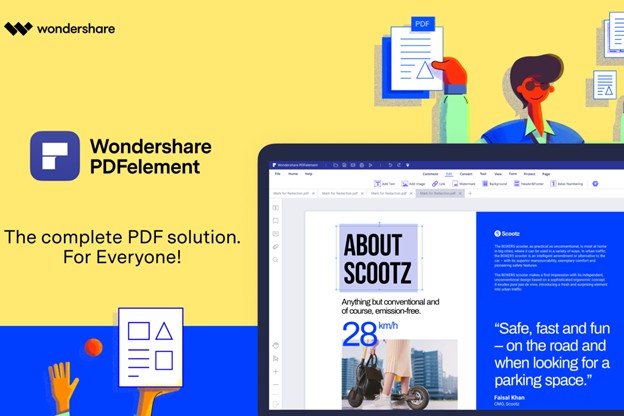 If you are looking for a PDF solution to access on your desktop, you can use PDFelement. This remarkable tool is available as an efficient Microsoft Office PDF Editor replacement on Windows and Mac OS.
PDFelement by Wondershare aims to deliver a comprehensive yet simplified experience for your PDF files. This full-featured tool lets you add elements including text, images, links, and shapes to your PDFs. The program also lets you have full control over these elements, so you can modify them in any way you want.
PDFelement comes with a free trial option so that you can utilize the basic editing options in the program. With up to 100 GB of cloud storage and a broad spectrum of features, PDFelement is certainly a good choice when it comes to Microsoft PDF Editor alternatives.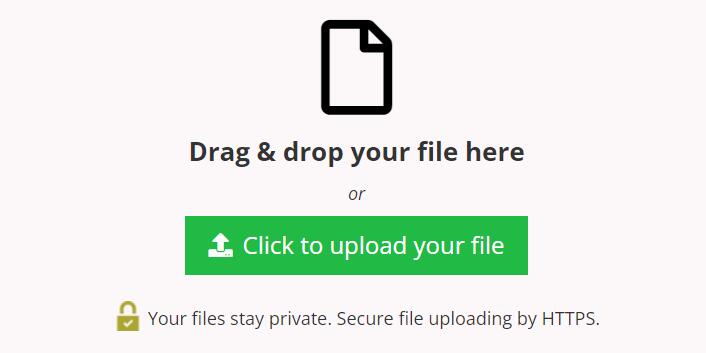 DocFly is a web-based tool that can be used as a replacement to Microsoft PDF Editor online. With a simple yet interactive user interface, DocFly claims to provide an innovative platform to help channel your creative abilities.
DocFly offers a variety of the standard tools and features required for PDF files. It allows fast document creation with an easy-to-use interface. Besides the basic reviewing and editing options, DocFly also allows users to convert their PDF files to and from a range of supported file formats.
You can use DocFly as a replacement to Microsoft Edge PDF Editor to customize your PDF files fully. From changing the text to changing the order and layout of pages, DocFly lets you do it all. You can also merge or split your PDF documents and even extract pages or text from files quickly and easily.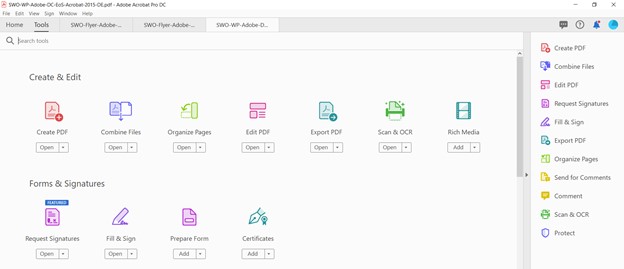 Acrobat DC is the industry's gold-standard editor when it comes to PDF-related needs. It has set the pace for all other PDF editors since its release. Powered by Adobe, this full-featured application is a recommended alternative to Microsoft Office PDF Editor due to a variety of reasons.
Acrobat DC has a powerful OCR engine that lets you scan and then edit documents in a matter of seconds. A simple yet interactive interface surrounds your document to present you with all the necessary tools for your PDF. Acrobat DC has made organizing and managing PDF documents relatively easy for users.
Although the tool is used by high-end organizations and large businesses, unlike Microsoft Word PDF Editor, it tends to fall on the pricey end of the spectrum for everyday users. Nevertheless, Acrobat DC is still a premium-level tool for your every PDF need.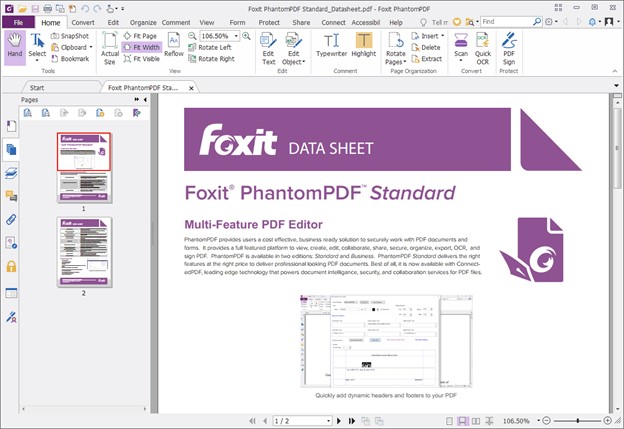 Another remarkable tool that can serve as an alternative to Microsoft Word PDF Editor is Foxit Phantom PDF Software. Available for Windows and Android devices and across the web, this capable PDF reader and editor is the embodiment of better features at lower costs.
Foxit enables users to have complete control over their documents. A strong alternative to Microsoft Office PDF Editor, the software offers some robust collaborative and editing features for PDF documents. With a clean and organized interface, Foxit divides its comprehensive toolset into dedicated task-based tabs.
You can secure your sensitive documents by setting up multiple levels of protection, including passwords and permission control. Foxit also offers support for e-signatures and digital certificates. You can create, edit, and manage your PDF documents effortlessly using the app's dedicated features.
Although the application offered by Microsoft in the form of Microsoft PDF Editor is free and easy to use, it falls a little short in its functionality. Luckily, there are several other options available that can serve as an alternative to it. You can try the aforementioned tools such as HiPDF or PDFelement to have better control over your PDF documents.