Top 5 Best TXT to PDF Converter Online
TXT files are simple text files saved in a computer in the form of lines of electronic text. These are used millions of times a day and some users might need to convert them into PDF (Portable Document Format) documents to make them easier to share, store, or secure. For that purpose, we dug up the best TXT to PDF converters online!
Hipdf is the top online TXT to PDF converter on the Internet, which promises an 'all in one pdf solution', allowing users to convert PPT files, digital images, Excel sheets, and Word documents into PDF files, as well as splitting, merging, cropping, editing, or compressing PDF files. This website proves to be the most helpful and effective as it gives users the opportunity to fulfil all their PDF requirements on one website. The versatile website is simple and easy to use.
How To Use: To convert text files to PDFs, the user can upload the TXT onto the website directly, or through Google Drive, Dropbox, One Drive or box. Once the file has been converted into a PDF, the website provides a comprehensive set of tools to add text, image, or watermark, or highlight, stamp, merge, or secure the document.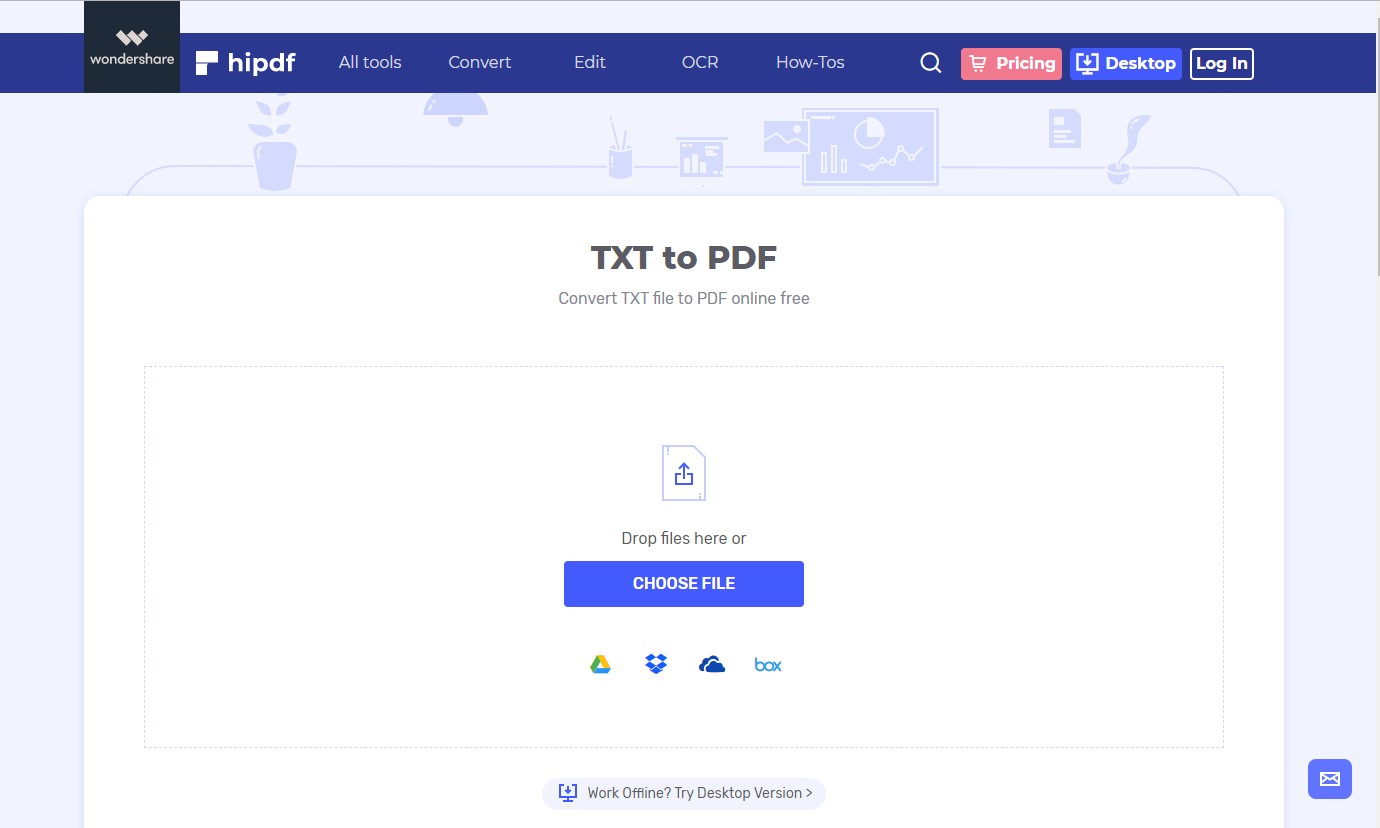 Pros:
The website is well designed, with vibrant blue colors and a pleasant view.
Users can pay to unlock the OCR feature which allows them to edit the text within the images which is automatically recognized by the Optical Character Recognition software.
Good quality files
Allows batch conversion
Users may download a desktop version which has no size limitations
Cons:
The online editor has a limit of up to 10MB file size.
Users have to pay for the downloaded version which prepares the PDF six times faster.
Pricing: Monthly: $6/month & Annual: $48/year
---
This online document converter instantly converts the TXT document into PDF when uploaded onto the website. It supports many different formats such as DOCX, HTML, PPT, RTF and TXT. Once the PDF is created, the user may utilize the tools provided by the website to merge, compress, rotate, or sort the PDF file. Users are required to register, but the process is free!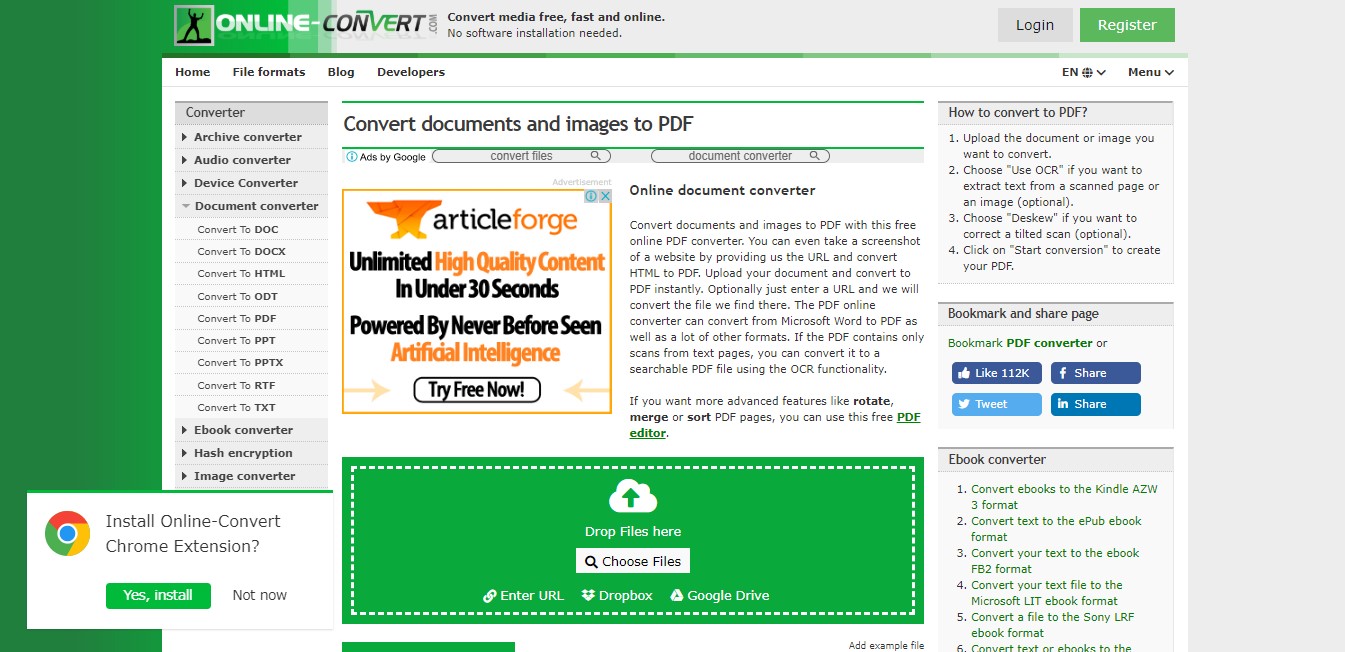 Pros:
Provides OCR
Free to use
Easy to use
Simple interface
Cons:
Website interface is not designed to be beautiful and inviting
Limited formats
Requires registration
Pricing: Free to use
---
JinaPDF is one of the best online TXT to PDF converters. It supports Word, TXT, JPG, and PDF formats, and allows users to split, merge, and compress tools. The website is safe because it deletes the documents once the user is done working with them! Only the user can access and download their own files.
How To Use: Users upload the TXT document onto the website and it magically generates the PDF, which can then be edited and stored! The online tool converts the Text file to PDF with very high quality, and easily readable and editable text.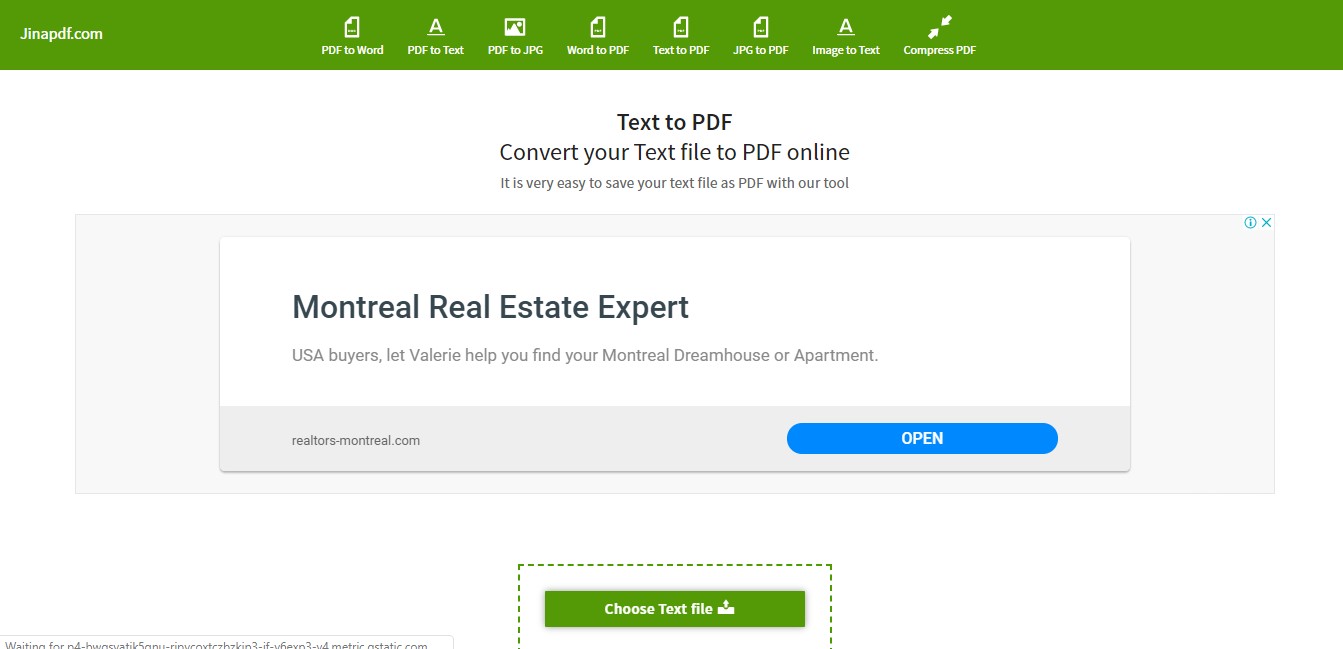 Pros:
Quick
Free to use
Supported by all browsers
Easy to use
Cons:
Limited formats
Few tools
Pricing: Free to use
---
Another online free TXT to PDF converter is online2pdf which has a maximum file size of 100 MB and allows users to select up to 20 files, not exceeding the limit of 150 MB.
How to Use: The user simply has to select and insert the text.file on the online toolbox, edit it with the given tools (compress, view, merge, protect etc.) and convert to get the final file!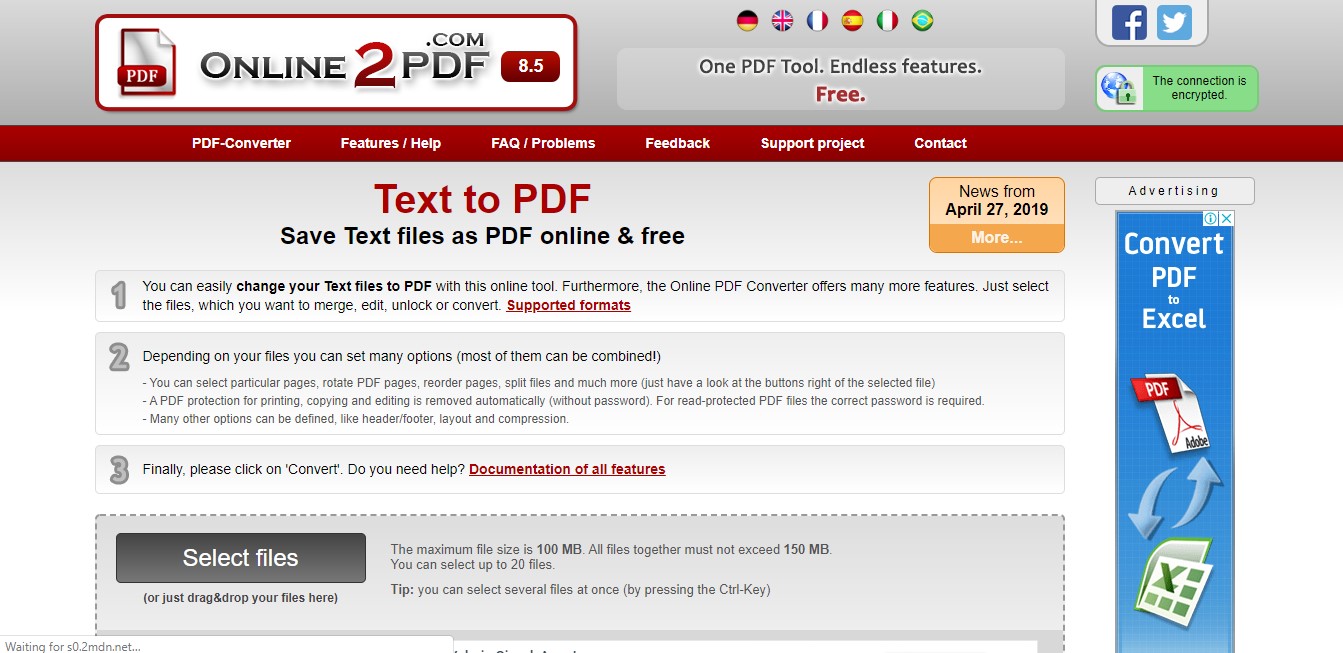 Pros:
Free
Easy to use
Supports many formats such as jpg, GIF, png, rtf, bmp, docx, ppt, and txt etc.
Cons:
Advertisements on website
Website does not have an aesthetic or inviting interface
Includes limited fonts
Pricing: Free to use
---
Another effective TXT to PDF online free converter is Smallpdf. This website is well designed and therefore, aesthetically pleasing for the users. The interface is colourful and looks friendly and inviting. The GMAIL integration of Smallpdf is a unique and distinguished feature through which the user can access the files from their Google email account, without having to visit the website itself.
How to Use: The user has to upload his/her text file into the toolbox, adjusts the size, margin, or orientation, and simply creates the PDF. The website then provides tools to edit the PDF, and then download it. These new files are easy to store, upload, and share. The website allows the user to merge, split, and rearrange the PDF file according to their own choice or requirements.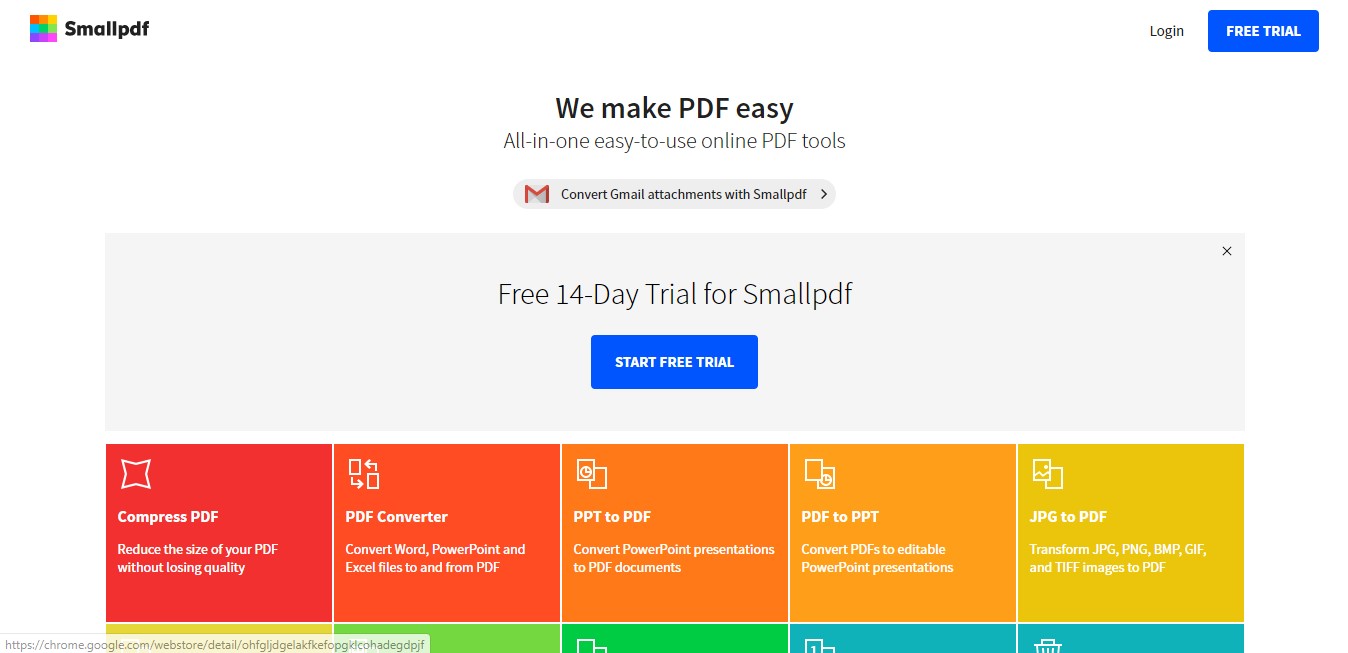 Pros:
Quick
Free to use
Does not require any installation or registration.
Gmail integration
Cons:
Users have to pay to get rid of advertisements
Users have to pay for extra tools and access
Formats such as GIF and TIFF are not supported
Limited tools
Pricing: 14-day free trial.
Pro: $12/month or $108/year.
---
Conclusion
These are the top online TXT to PDF converters which allow users to upload text files and convert them into Portable Document Format files. One of the best is HiPDF where users can edit the PDF, and work with many different formats, use the OCR feature, download a useful and effective desktop version, and enjoy high quality files! We hope the users can use these websites to easily convert their text files into PDFs!