How to Convert PDF Documents to GIF Format Online Fast
Have you ever wanted to convert your PDF documents into GIF image format online and very fast but didn't know where to begin? You're in luck because HiPDF PDF to GIF online converter can help you right away. The only thing you need to use the convert PDF to GIF free tool is a browser and internet connection.
You don't need to download any software on your computer to do the alteration, which actually allows you to use the PDF to GIF converter free tool fast and get the job done. Hipdf convert PDF to GIF online tool isn't just a convert for PDFs but images as well, including other document formats such as TXT, Word, PPT, Excel and RTF.
It has countless tools beyond PDF to GIF conversion functionalities. Here, we not only look at how to convert PDF to GIF with Hipdf but also how you can use Hipdf offline tool, PDFelement to convert PDF to GIF when you need to.
How to Use the Best PDF to GIF Converter Online
Obviously, Hipdf free PDF to GIF converter is one of the fastest document management tools you can use online and get top quality document output. It does more than just convert PDFs to GIFs, such as converting into dozens of other image formats from PDF such as TIFF, JPG, JPEG, ICO and PNG among others, and from these image formats and many more into PDFs. Hipdf also comes with conversion tools to PDF from Word, TXT, Excel, PPT, RTF, HTML and other document formats and vice versa.
You can also use Hipdf online version to crop, split, compress, merge, rotate, edit, unlock, protect, and sign your PDF documents among other features. OCR (Optical Character Recognition) technology is also supported and you can use it to transform your scanned PDF files into the kind of PDF documents you can edit and search.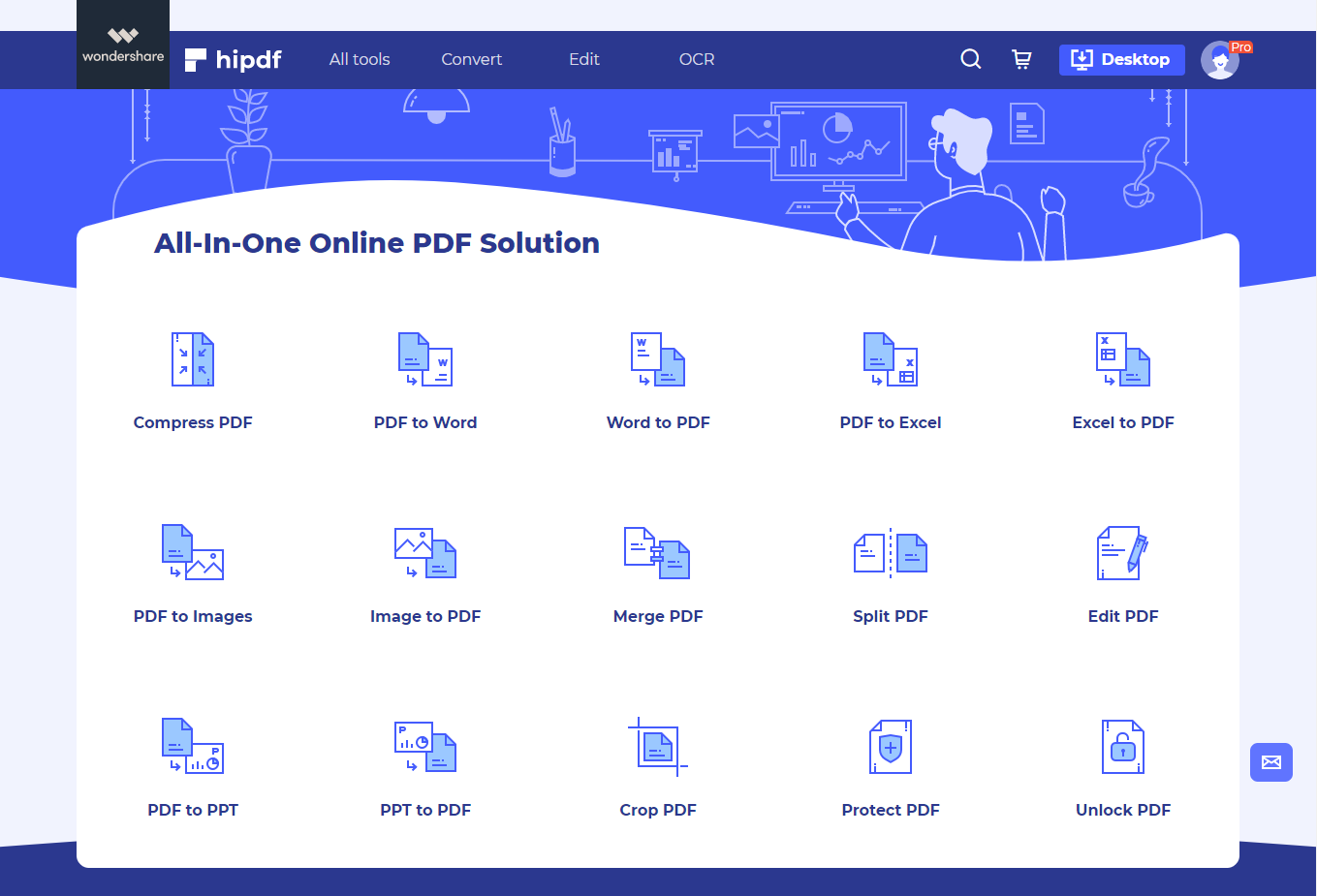 Here's how to convert PDF files into GIF documents right away with Hipdf:
Step 1: Access PDF to GIF Converter Online
Do visit the PDF to GIF tool, https://hipdf.com/pdf-to-gif, to begin the conversion process.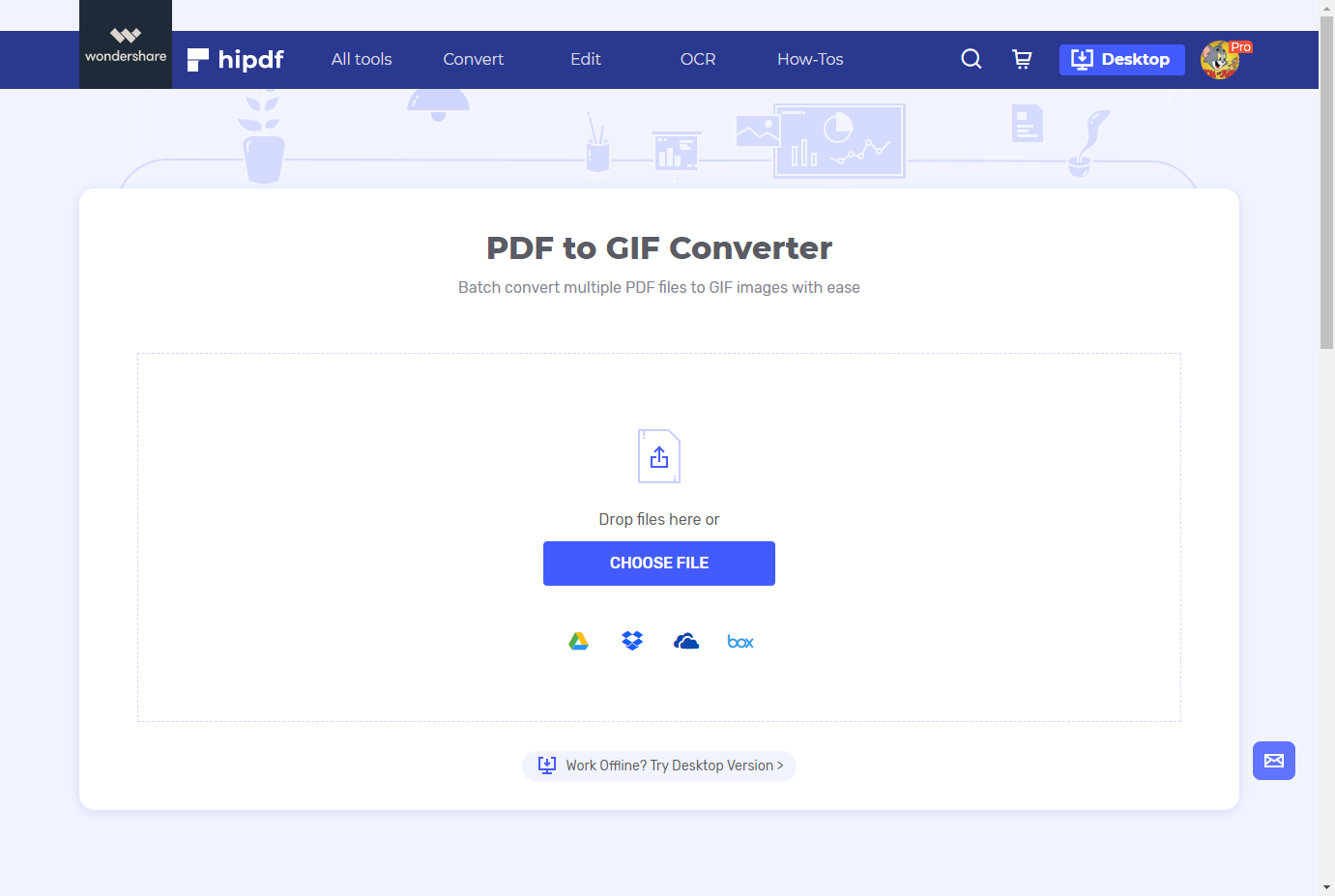 Step 2: Import PDF Document
Do click "Choose File" to upload the PDF document and click "Convert" once import into the tool is done. Alternatively, you can simply drop the PDF file into the tool.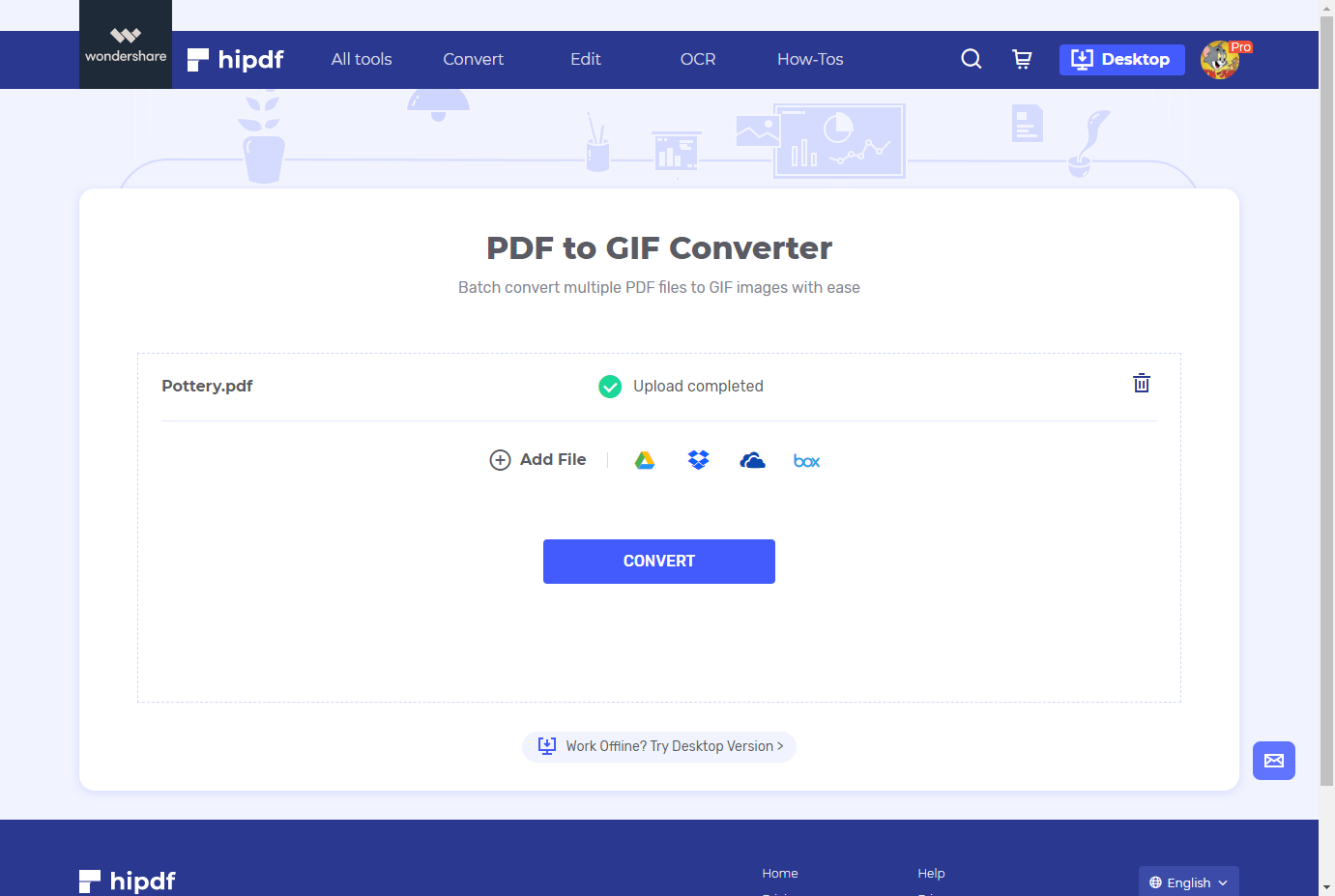 Step 3: Download GIF Image
Once conversion process is over, simply click "Download" to access the converted GIF document and save it on your computer.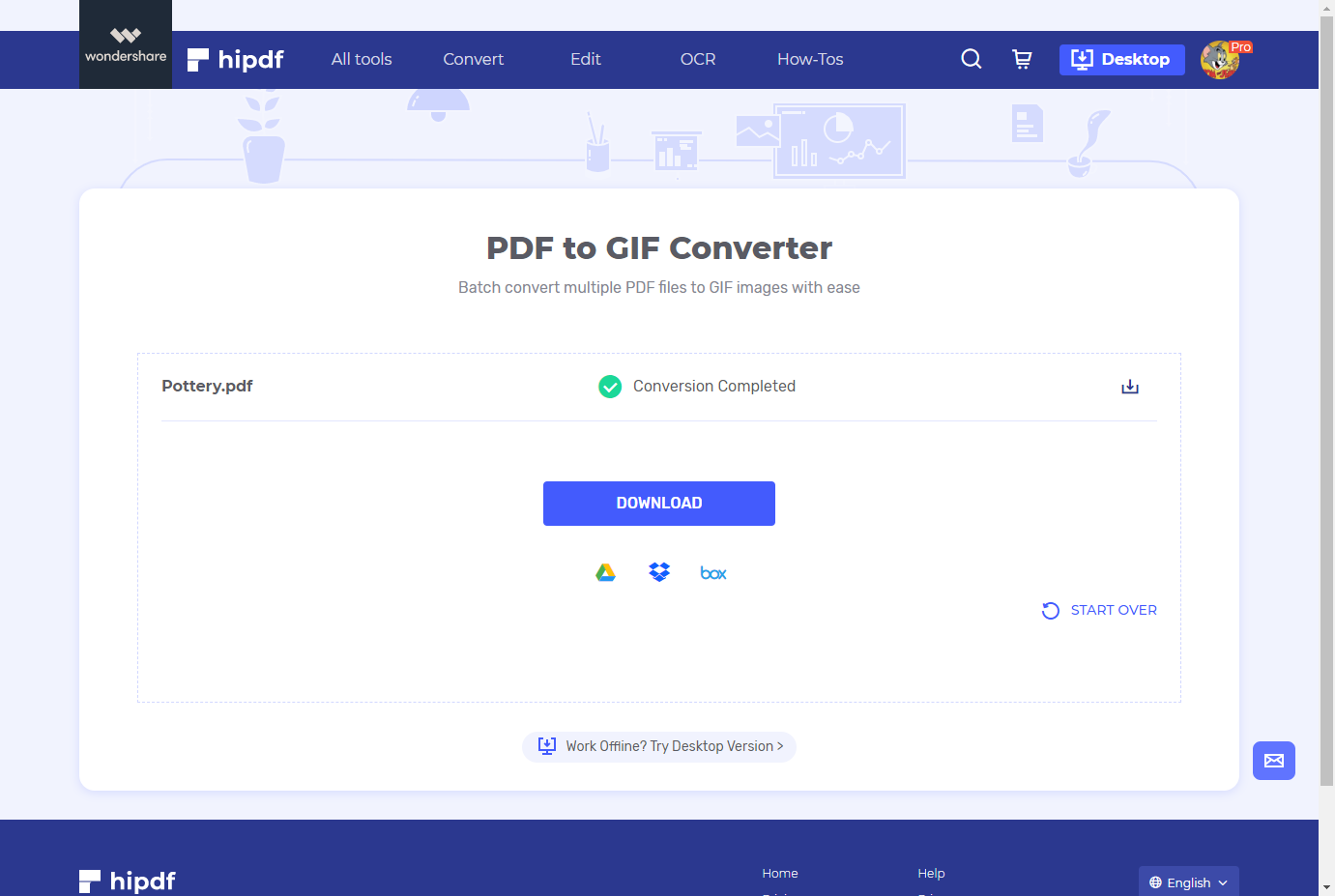 ---
How to Use the Best PDF to GIF Desktop Hipdf Tool Offline
We understand not everyone might want to always convert files and edit them online. Sometimes an offline tool for a desktop is highly needed. Hipdf desktop version, PDFelement, which you can use offline fast is definitely what you need. PDFelement is rated top Adobe Acrobat alternative in the world, simple to use, great and easy to understand UI, great features more than what Hipdf online version has and intuitive with great document output quality.
Here is how to use PDFelement to convert PDF to GIF fast and offline.
Step 1: Open the PDF File
Do download PDFelement first if you haven't and launch it. Click "Open File" to access the PDF file you need to convert and upload it into PDFelement.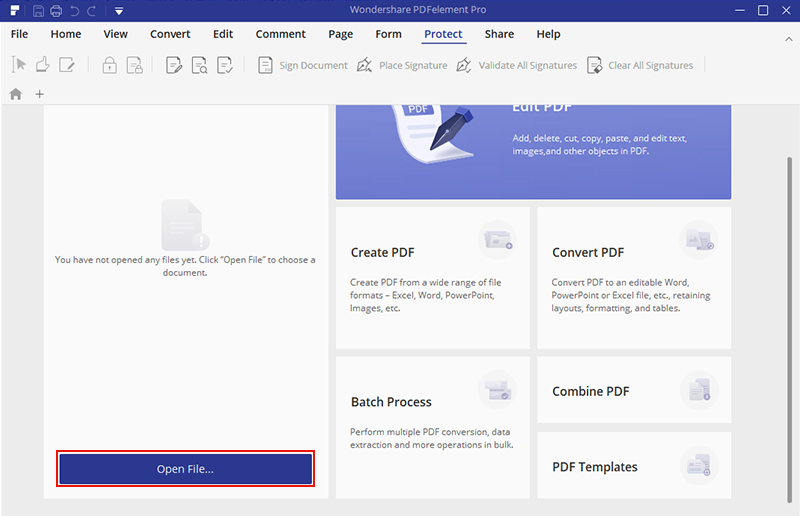 Step 2: Convert PDF to GIF
Once you've uploaded the file click "Convert" and then "convert your PDF file to image" icon. Choose .gif format from the "Save As" drop down menu that comes up.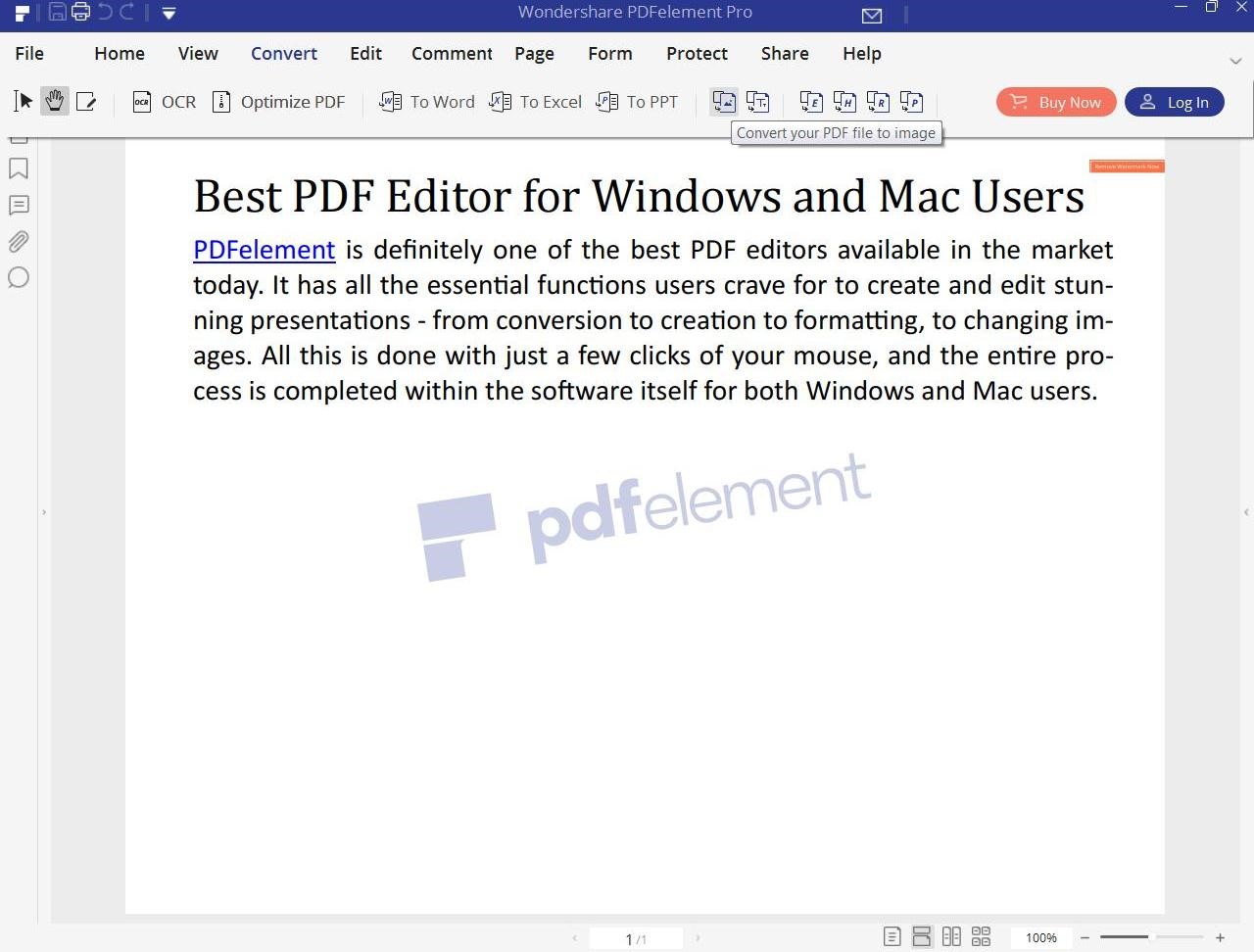 Step 3: Save the Converted File
Do click "Save" and "Finish" to complete the process. Once done click "File" and then "Save As" to export the converted GIF document into your computer from PDFelement.