How to Easily Edit PDF Documents Online
Managing your PDF files and editing them easily and fast when you need to doesn't have to be complicated and time consuming. With HiPDF, you have a unique and easy to use PDF editor accessible online. It's not just simple to use, but also very effective that the PDF editor online doesn't compromise on the quality of your PDF. Here's how to edit a PDF fast and easily on the web.
How to edit your PDF file online
HiPDF isn't just a PDF editor, but also offers other PDF management solutions right on the internet, including:
· Compressing PDF
· Conversion of PDF to Word/Excel/Images/PPT and vice versa
· Protecting, unlocking and cropping PDFs
· Splitting and merging PDF files
Here's how to edit PDF file with HiPDF online right away:
Step 1: Find PDF Editor on HiPDF.com
To edit PDF documents visit the HiPDF website and select the online PDF editor.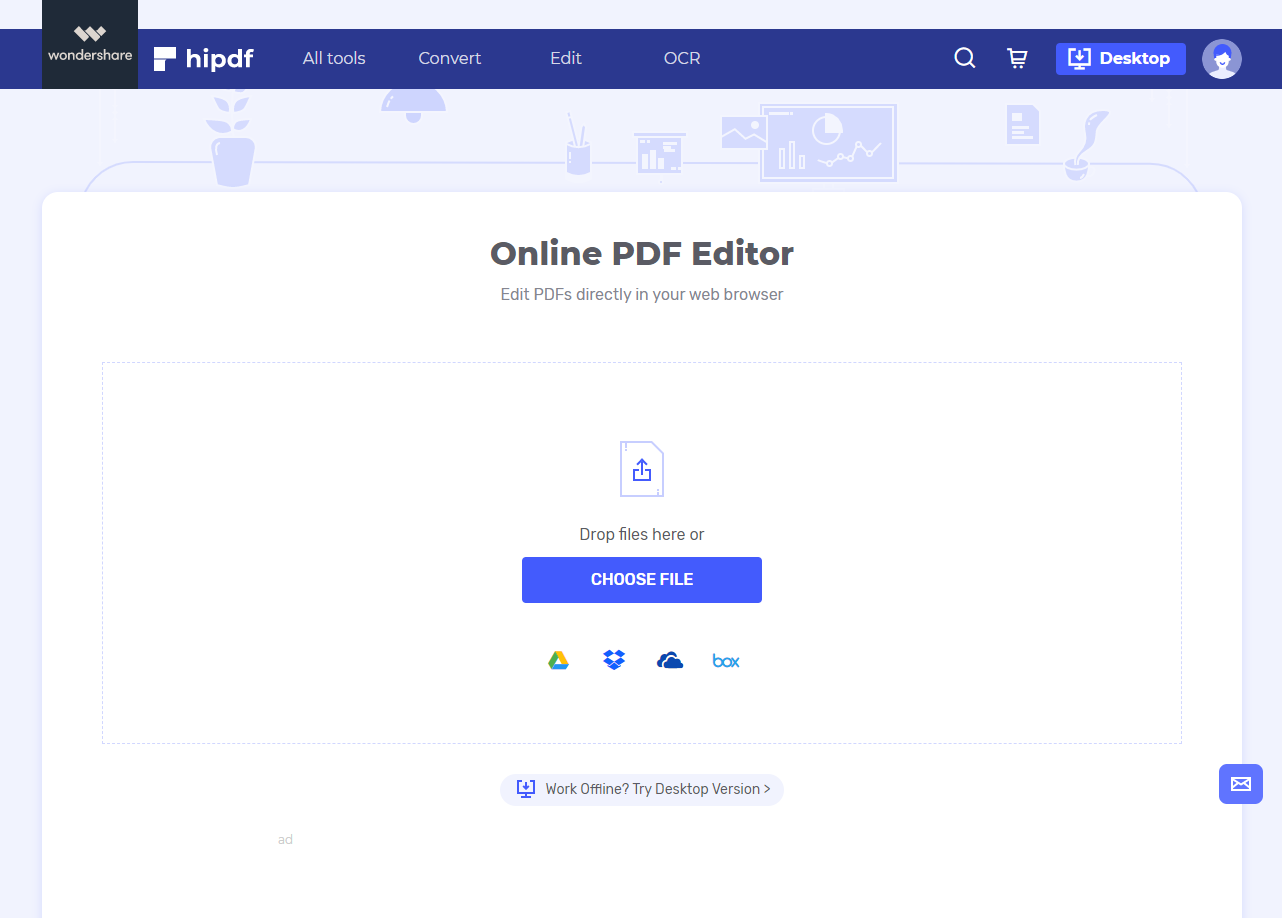 Step 2: Modify PDF As You Need
Click "Choose File" or drag the PDF file you'd like to work on into the edit PDF online free program. Uploading process takes seconds. The PDF file will open up immediately online and you can start editing it instantaneously using all the necessary tools such as 'Add Text', 'Add Shape', 'Sign' or 'Add Image'.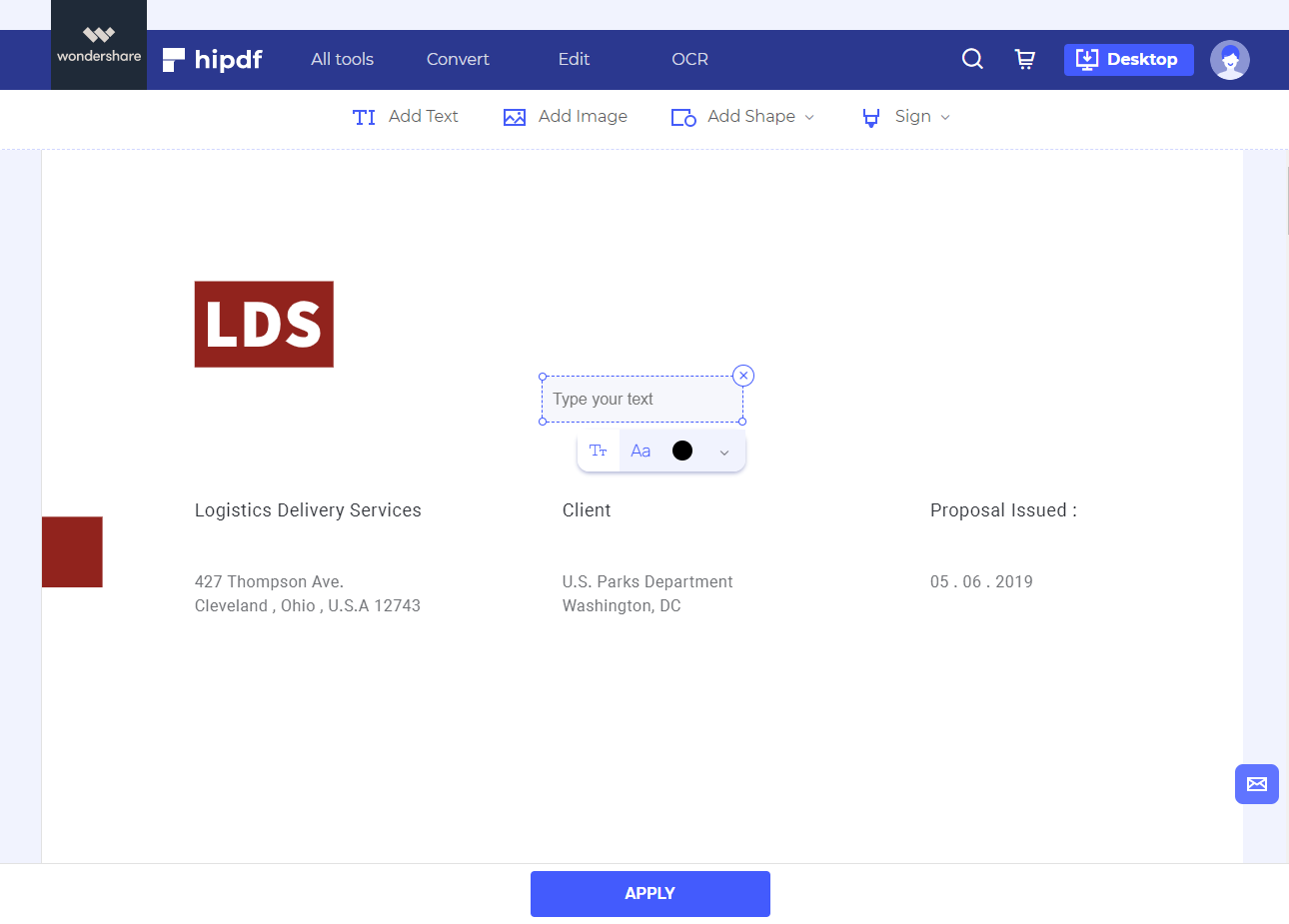 Step 3: Export the PDF Document
Once you're through with editing go ahead and click "Apply" and download the edited file fast.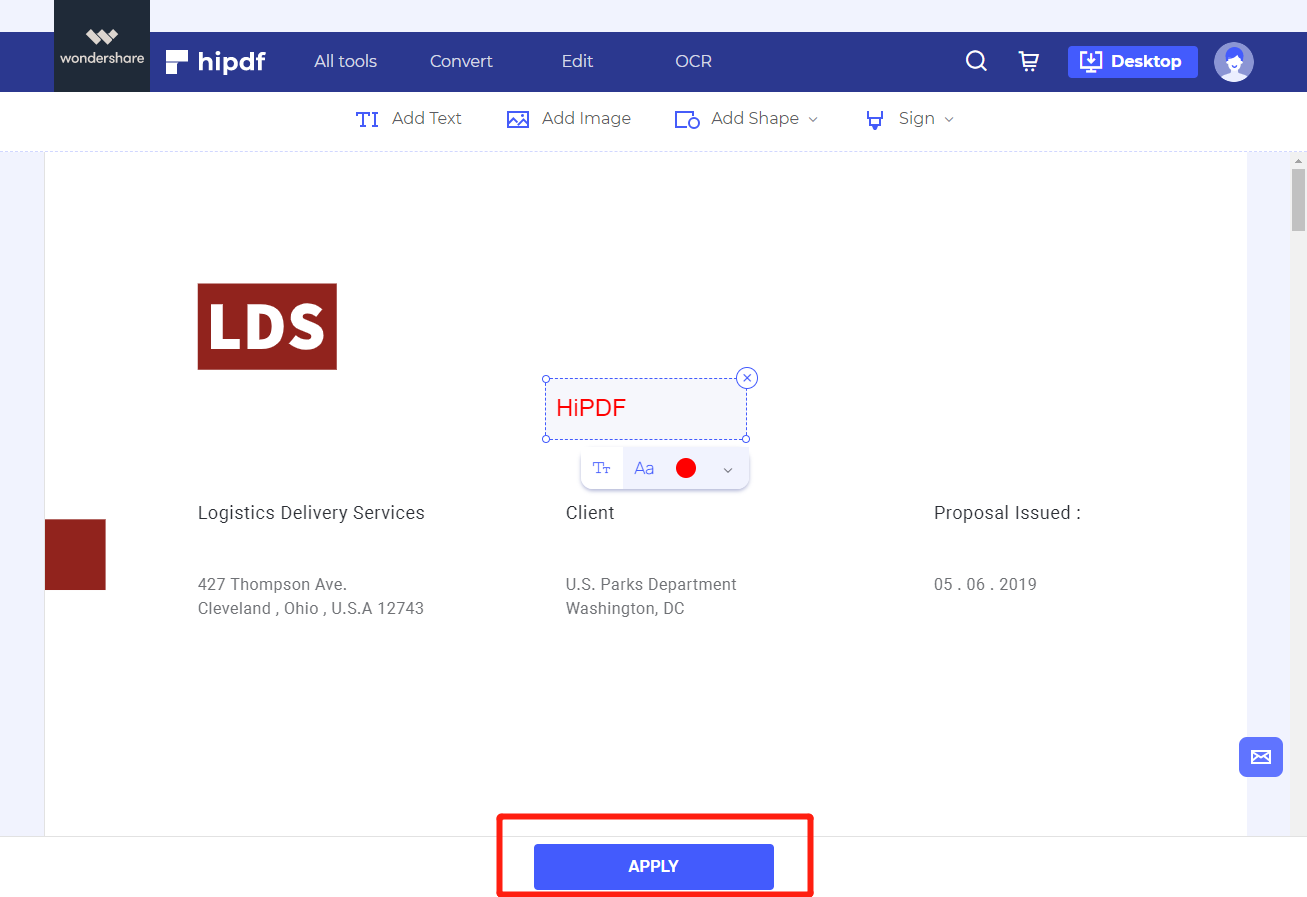 ---
Editing your PDF on a Desktop and offline
HiPDF is a quality PDF text editor that helps you modify PDF documents online. However, if you're looking for a feature-rich, downloadable PDF editor you can use offline whenever and wherever you're, then PDFelement for Macs and Windows is exactly the PDF editing tool you need.
It comes with lots of features, standard and advanced most of which are unavailable in the simple HiPDF tool that comes with limited editing functionalities to help you modify PDF online. For instance, to use OCR (optical character recognition) technology to transform your scanned PDFs into editable documents, you can't use HiPDF but PDFelement, among other highly effective, useful and efficient features.
Here's how to modify a PDF document on your desktop with PDFelement.
Step 1: Open the PDF File
On your desktop, run PDFelement PDF editor and click "Open File" on the Home window to import the PDF document that needs to be edited.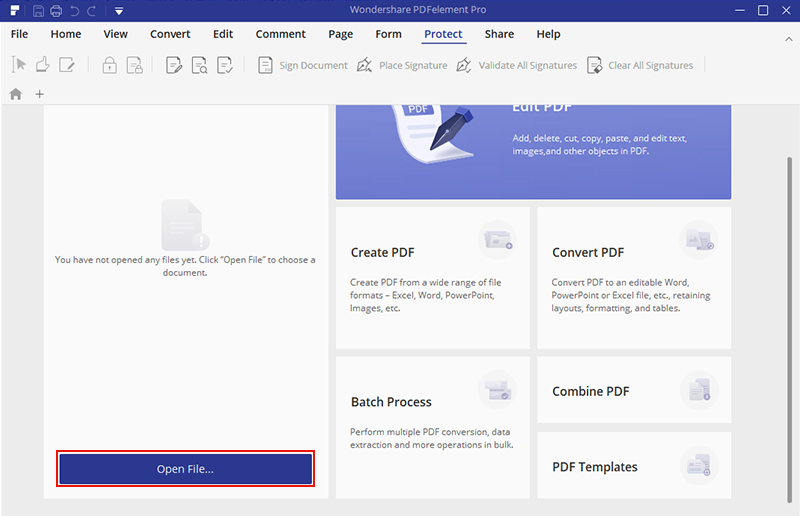 Step 2: Edit the PDF Document Easily
On the Home window select "Edit" and click the icon for "Edit text and image object". On the open PDF document click the text you need editing and modify by typing text to replace the earlier one. PDFelement includes lots of editing features which you can also use to modify the PDF, such as color, size and font type right on the editing bar.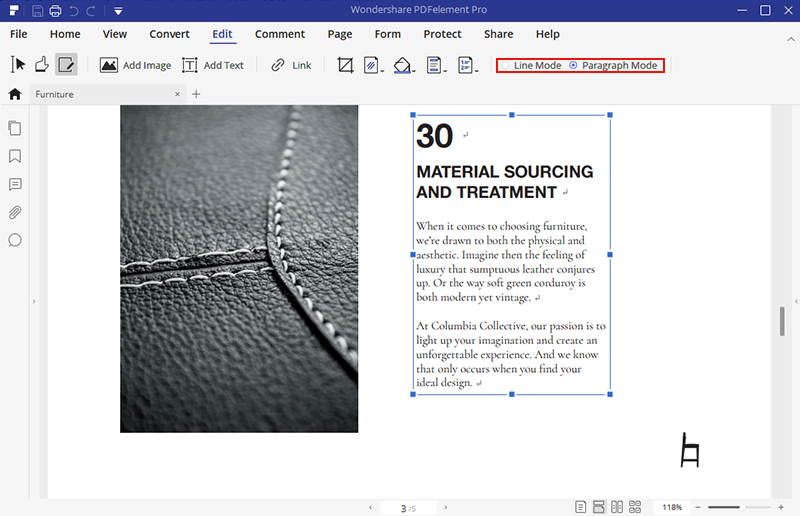 Step 3: Check the Word Document
You can delete text or add text easily in PDFelement. Click "Add Text" and using the mouse draw on the PDF where some text needs to be added. To delete, choose the text that needs to be removed and select it. Delete by pressing "Backspace" or clicking "Delete" on your desktop keyboard.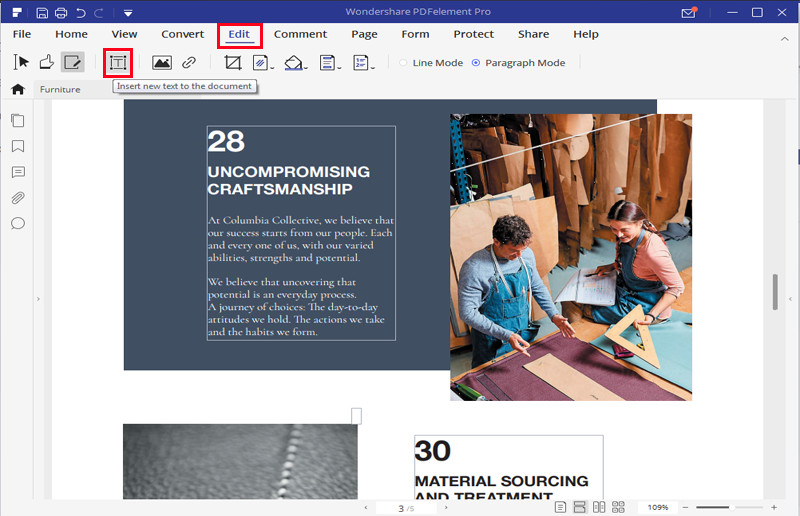 HiPDF is perfect for quick PDF editing and getting the job done fast online. However, to do it offline on your desktop and access lots of standard and advanced PDF editing features to fully modify your PDF documents you need a downloadable, feature-rich, affordable and intuitive PDF editor such as PDFelement.