PDF compression is the process of reducing a PDF's file size without removing elements from it. It enables you to attach PDFs to emails (most email clients have an attachment size limit). Furthermore, compressing PDFs allows you to save space on your device. The best thing is that it is easy to do. You can use Adobe PDF compressor online or its best alternatives.
Learn what these tools are and how to use them below.
What Do PDF Compressors Achieve
PDF files can often be large and cumbersome, which can make them difficult to share or transfer online. Compressing a PDF file can reduce its size, making it easier to share or store. PDF compressors, as the name suggests, are software programs that allow you to easily do that.
PDF compressors work by analyzing the content of the PDF file and removing unnecessary or redundant information. It can include reducing image quality or removing embedded fonts or metadata.
PDF compressors can be used to optimize PDF files for specific purposes. The said purposes include email attachments, web uploads, or printing. They can also help reduce storage space and improve document loading times.
These tools come in many forms, including desktop software, online tools, and plugins for popular PDF viewers. Some examples are Adobe Acrobat Online and its most popular alternatives - HiPDF and PDFelement.
Compress PDF With Adobe Acrobat Online
Adobe Acrobat Online is Adobe's free PDF solution. It lets users experience most of its main product's features without paying. The features are as powerful as the offline counterpart. Thus, you can rest assured it has reliability. You can try its PDF Compress tool to see for yourself.
Features
Adobe Acrobat Online's PDF compressor is very simple. Thus, even children and non-tech-savvy people can use it with no problems.
The tool offers three compression levels: low, medium, and high. If you choose the high compression level, the output will be a very small PDF compared to the original file. On the other hand, the low compression setting will reduce the file size by only a little.
Adobe Acrobat Online shows you the estimated file size while selecting a compression level. It lets you make informed decisions.
Limitations
Adobe Acrobat Compressor Online does not offer batch processing
It has no integration with Google Drive, Dropbox, or other cloud storage systems
Unless you register an account, you can only download 1 document a day
Pricing
Starts at $29.99 per month
How To Compress PDFs With Adobe Acrobat Online
Using your preferred web browser, visit Adobe Acrobat Online's website.
Click Compress PDF.
Upload the PDF you want to compress.
Select a compression method. Choose High to significantly reduce the PDF's size at the cost of quality. Medium is for medium size and okay quality. And Low reduces the size and quality by only a little.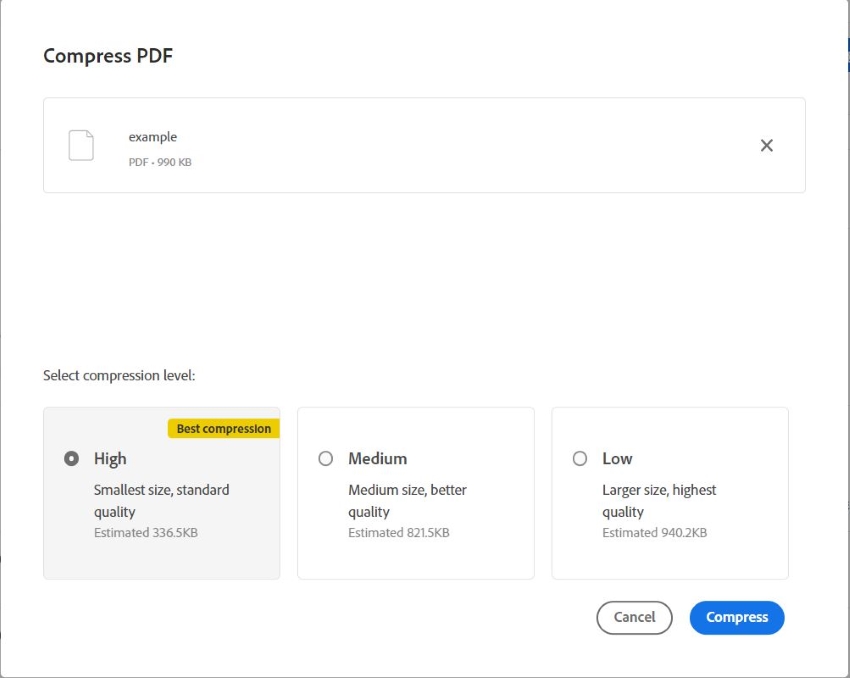 Wait for Adobe Acrobat Online to finish compressing your file.
Click Download.
Compress PDF With HiPDF - Adobe Acrobat Online's Best Alternative
Suppose you are looking for more features. You can use HiPDF instead. What's great about this online PDF solution is it offers a lot for free.
Features
Here are HiPDF's key features.
Compression Levels
Like any good PDF compressor, HiPDF offers different compression levels: low, medium, and high. As usual, the high compression setting outputs small PDFs. Lowering the level will result in bigger PDFs.
Cloud Integration
Another great thing about HiPDF is its integration with some of the most popular cloud storage services. It streamlines the process of uploading documents.
Batch Processing
HiPDF can compress 5 PDFs simultaneously. But that's only the free version. If you upgrade to premium, you can compress more files at once.
Unlimited Processing
You only need to register and login to unlock unlimited document processing. No need to upgrade to the paid version!
Limitations
The free version can only batch-compress 5 files simultaneously
The free version can compress only PDFs 20 MB or below in size.
How To Compress PDF With HiPDF
Open HiPDF's website using your preferred web browser.
Click Compress PDF.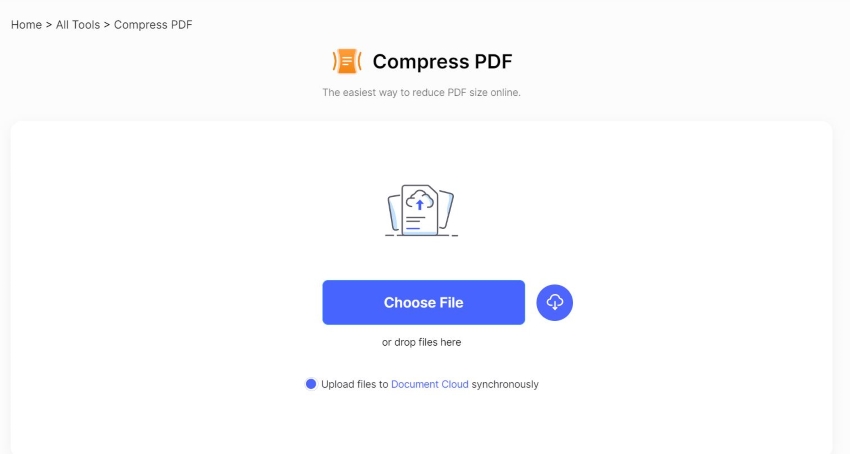 Drag and drop your PDF files into the specified area. Or click Choose File or the blue Cloud button to upload files from your computer or cloud storage.
Select a compression level from the right panel.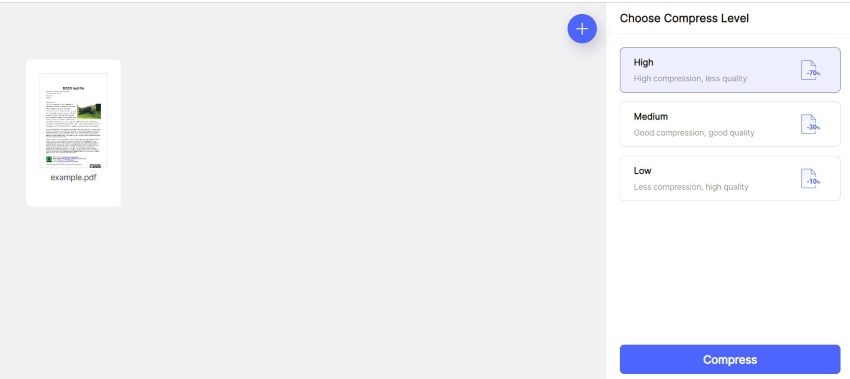 Click Compress.
Your computer will automatically download the files once they have been compressed. If there are multiple files, they will be in a ZIP folder.
Limitations of Online PDF Compressors
Online compressors are less powerful than offline compressors. But what exactly are their limitations?
Dependence on Internet Connection
Online PDF compressors require a stable internet connection. Also, users may experience delays or interruptions during the compression process if their connection is slow or unstable.
File Size Limitation
Online PDF compressors often have limitations on the size of the PDF file that they can compress. Large files may take a long time to compress or may not be supported at all.
Security
Uploading sensitive documents to an online PDF compressor can pose a security risk. The document could be intercepted or accessed by unauthorized parties. So choose trustworthy services like the ones listed above.
Limited Controls
Online PDF compressors may offer limited customization options. The ability to adjust image quality or set specific compression levels may not be present. It can limit users' ability to achieve the desired compression results.
Privacy Concerns
Many online PDF compressors will ask you to register and sign in. That means they need to know your email. They can use that for marketing purposes.
As you can see, various factors can change your opinion on using an online PDF compressor. But please know that these limitations are not so major that they make online compressors downright unusable. Online PDF compressors still have good things about them, like availability anywhere and on any device.
Best Offline PDF Compressor
Are you also looking for an offline PDF compressor? If so, you should give Wondershare PDFelement a shot. It is an affordable and user-friendly PDF solution that has helped countless people manage their documents.
Among PDFelement's wealth of features is its impressive compressor. It offers different compression levels and can even do batch compression!
How To Compress PDF With PDFelement
Download, install, then launch PDFelement.
Open the PDF that you want to compress.
Click Tools > Compress.
Select a compression level.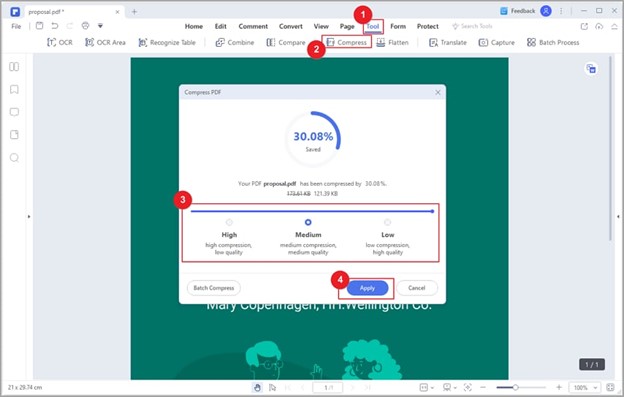 Click Apply.
How To Batch Compress PDFs With PDFelement
Open Wondershare PDFelement.
Click Batch Process.
On the new window, select Compress.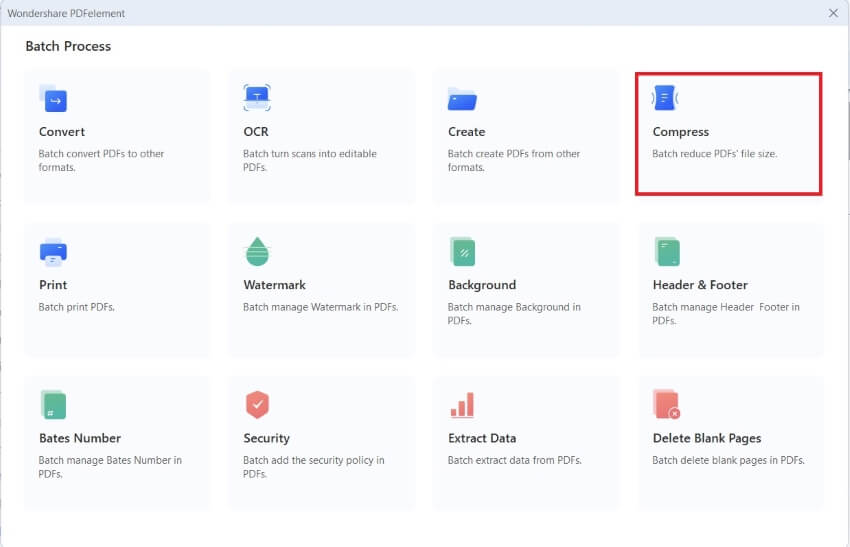 Import the PDFs that you want to compress.
Select a compression level. It applies to all the files.
Click Apply to start the compression process.
Adobe Acrobat - HiPDF - PDFelement Comparison
Tool Name

Pros

Cons

Pricing

Adobe Acrobat Compressor Online

● Very straightforward

● Does not Offers different compression levels

● Can only compress one file at a time

● Limit of 1 document download per day for unregistered users

● You need your PDF saved on your computer since it does not have cloud integration

● Expensive

Starts at $29.99 per month
HiPDF

● Offers batch processing

● Includes three different compression levels

● Lets you import files from your cloud storage

● The free version is very limited in terms of file size and maximum number of pages

● You can only simultaneously process 5 documents in the free version

Starts at $5.99 per month
PDFelement

● Offline

● Offers unlimited document processing

● There are three compression levels to choose from

● The free version gives only temporary access to the compressor

● The batch processing feature on the free version can work on only 3 PDFs at once

● The free version adds a watermark to the document

Starts at $29.99 per quarter
Conclusion
HiPDF is a fantastic alternative to Adobe Acrobat Online. It offers free unlimited document processing, batch compression, and cloud integration. These can significantly streamline your workflow, enabling you to be more efficient and productive.
Suppose you want an offline PDF compressor instead. Wondershare PDFelement is your best option. It is a powerful PDF software that's affordable and easy to use.
The compression tool of both HiPDF and PDFelement is impressive. You can't go wrong with either of them.