A text box, also known as a text entry box or an input box, is an area within a digital document where you can enter text. It is commonly utilized in PDF documents to complement the text. Adding text boxes to different documents, particularly in forms, is frequently necessary for users who need to input new content.
This article will discuss how to add a fillable text box to a PDF effortlessly.
How To Add A Text Box On PDF Online
You can use numerous methods to add a text box to PDF. One of them is through a nifty online tool that allows you to work in the cloud.
Unlike desktop tools you have to download and install, online tools get the job done in minutes, saving you the precious time you could use to complete other tasks. Online tools also save you from using up much-needed storage space on your laptop or external hard disk.
An excellent example of a helpful online tool to help you insert fillable text boxes into a digital document is HiPDF Online PDF Editor. The platform is easy to use, meaning you don't need to go through a steep learning curve before you find your way. HiPDF also works at impeccable speed, converting your file or making the necessary changes within minutes.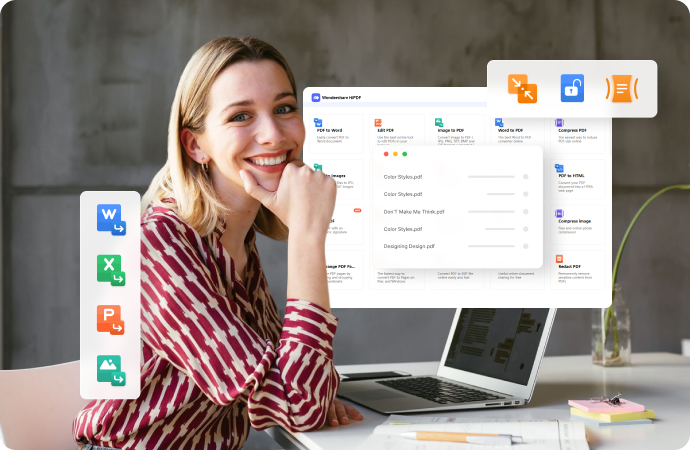 Here is a detailed guide on how to use HiPDF to add text boxes to a PDF.
Step 1 Navigate to the HiPDF homepage and select "Choose File" to upload the PDF you want to edit. Alternatively, you can drag and drop the file in the designated area, as shown below.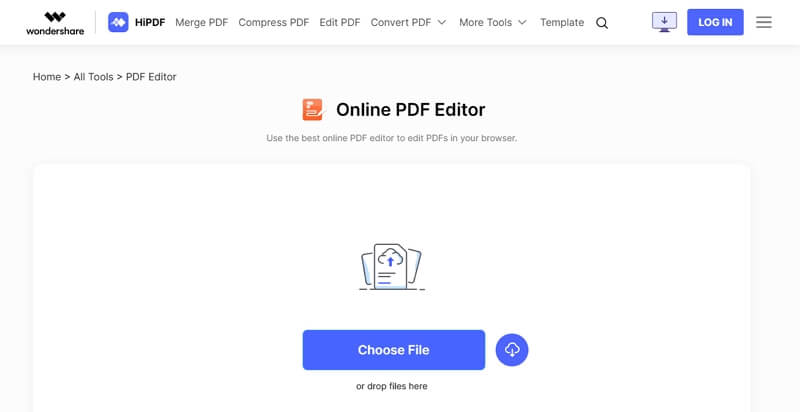 Step 2 Select "Add Text" at the top of the page.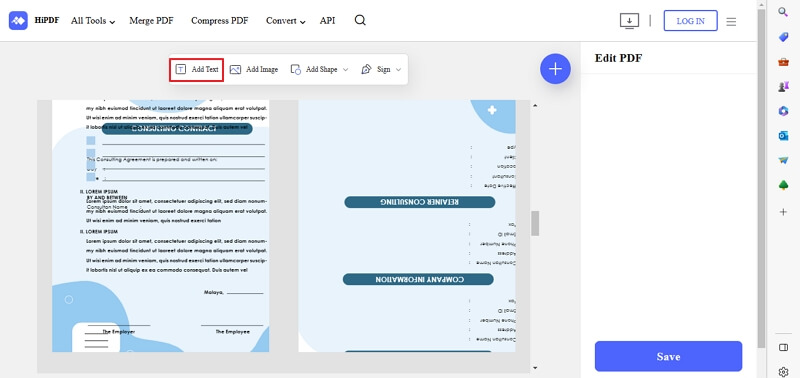 Step 3 An almost translucent dialogue box will appear in the middle of the screen, prompting you to type your text. Drag the dialogue box to where you want to insert a text box within the PDF. Click on the top left corner of the dialogue box to enlarge it.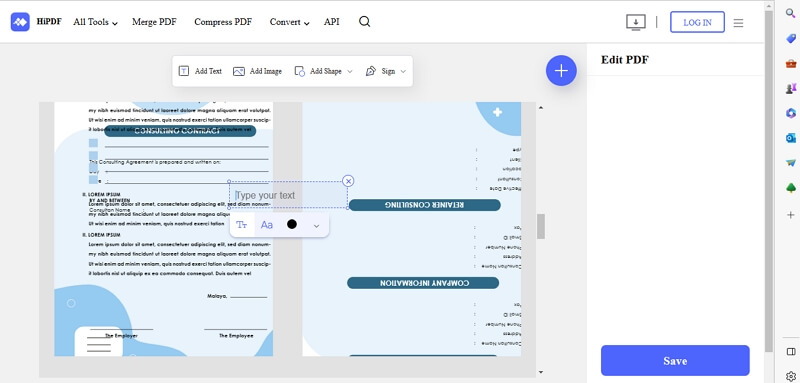 Step 4 Use the tabs below the region you inserted the text to change the font, font size, and color.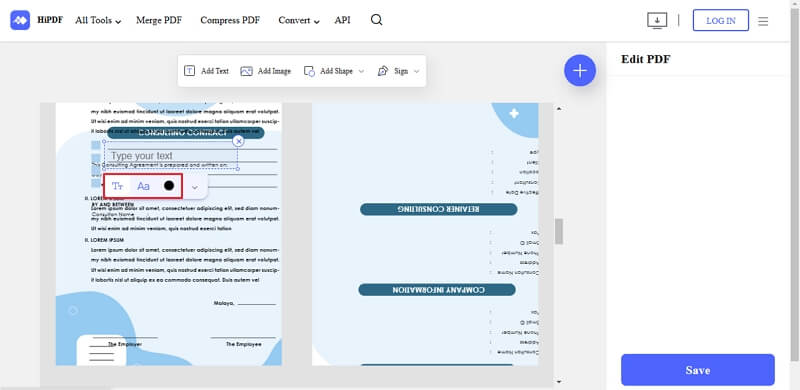 Step 5 Click "Save" to apply the changes to your digital document. Once the platform has completed saving your work, it will provide a 4-digit code that ensures your files stay safe from prying eyes. Click on the blue button to copy the code.
Click on the link next to the blue button. You will be redirected to a separate page to download your edited task. Once you paste the security code, the platform automatically downloads the document to your device.
Limitations of Online tools
Unfortunately, there are a couple of limitations to using online tools to insert text boxes.
You cannot use online tools without a steady Internet connection.
Most online tools aren't feature-rich, especially free ones.
Some platforms have a limit to the number of PDFs you can edit in a day. Therefore, you might be stuck if you work in a corporation dealing with multiple digital files daily.
A suitable alternative would be to use offline or desktop tools you install on your device. You don't need to connect your device to a WIFI router to edit your digital file. In addition, you can work on your PDFs on the go without waiting till you get home. Last but not least, desktop tools come with numerous features that you can't possibly exhaust.
Add a Text Box to PDFs Offline
Wondershare PDFelement is an example of an offline tool you can use to insert text boxes in PDFs, among other things. The platform has an eye-catching interface that is easy to use. You can also see all the features Wondershare PDFelement offers and choose what you need for your digital document.

Here are some of the key features Wondershare PDFelement has to offer.
All in one PDF editor that allows you modify text, images, pages and more
Conversion from PDF to Word, Excel, PowerPoint and vice versa.
Organizing PDFs
OCR PDF easily
Password PDF Protection
Combine multiples into a single file
Perform batch processes
Without further ado, let's discuss how to add a text box on PDF using Wondershare PDFelement.
Step 1 Launch the platform on your device and select "Open PDF" at the bottom of the page. Choose the PDF you want to edit and click "OK."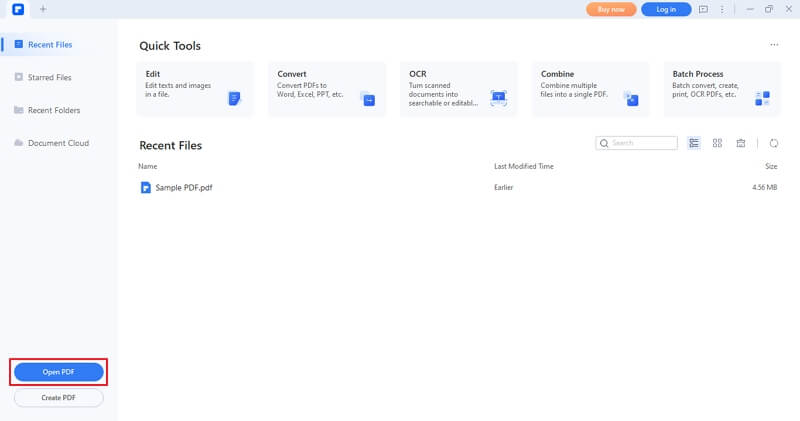 Step 2 Select "Add Text" at the top of the page.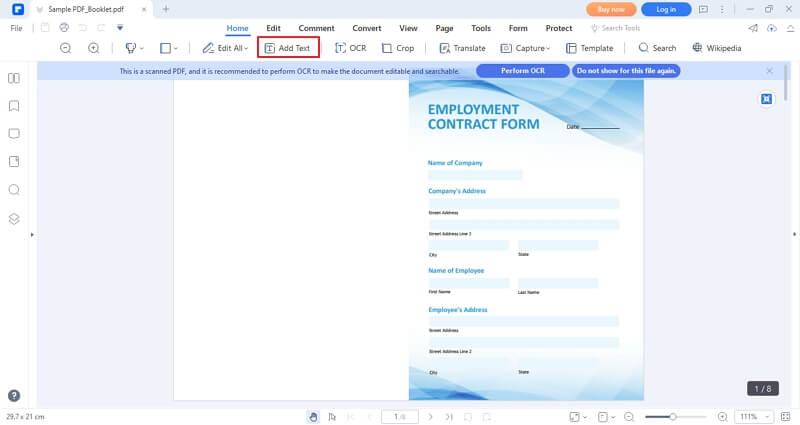 Step 3 Once you are done inserting text into all the required fields, save a copy of the edited digital document to your device.
Benefits of Adding a Text Box to a PDF?
Now that you know how to add a fillable text box in PDF, you might wonder how it will benefit you. Here are some advantages of adding a text box to a PDF.
Simplicity
As mentioned earlier, not everyone can access a PDF editing tool or software. Suppose you sent a fixed form and requested the recipients to fill in the blank spaces and return it to you. However, since they don't have the software, they might resort to downloading a suitable tool first, installing it, then fill the form you sent.
Inserting a text box takes the tedium out of the entire process and makes it easier for your readers and recipients to fill in the required areas without downloading any editing tools.
Flexibility
Suppose you have an editing tool on your laptop but not your mobile phone. If your supervisor or boss sends you a form to your phone to fill out, you might have to wait till you access your laptop to complete the task. Inserting fillable forms allows you to insert text into any PDF on the go.
Annotation
Your colleague might send you a PDF with errors you must correct before sending it back. Inserting a text box will help them identify which areas you amended so they can take note and refrain from repeating the same mistake in the future. You could also use the text box to indicate any additions you thought were essential to include in the PDF.
Highlight important sections
Reading an entire block of text can be pretty dull. Even if the text is broken down into numerous paragraphs, there is still a chance you might miss something important. A text box is an excellent way to grab your attention and highlight important parts the reader should focus on as they peruse the digital document.
Saves time
As fast as these PDF editing tools are, you still have to take your time to download the software or navigate to the site, upload your document, and begin editing. Inserting a text box into the fillable PDF saves the recipient time they would have used to access the tools and allows them to fill the fields directly.
FAQs About How To Add Text Box to PDF for Free
Before we conclude this article, let's discuss some frequently asked questions about adding text boxes to a PDF.
Q1. How Do I Insert a Fillable Textbox in a PDF Without Acrobat?
Perhaps you downloaded Adobe Acrobat and didn't like it, or it didn't fulfil your needs. In that case, you might want to find other alternatives you can use to add a textbox to your PDF. There are numerous alternatives to Acrobat that will get the job done just as well.
You can also use PDFelement or HiPDF Online Editor to insert a textbox and send it to anyone you want to submit their information. All these tools are available for Windows and Mac, making them an all-inclusive solution for anyone who needs to edit their digital documents.
Q2. Can You Add Text Box to a PDF Form?
Yes, you can add a text box to a PDF form. It doesn't matter whether the PDF is fixed and in Read-Only mode. However, you cannot add a text box directly from MS Word or a PDF reader. You must download a PDF editing tool to your phone or laptop to achieve that. If you don't want to download any software, you can use online tools that allow you to work in the cloud.
Q3. Can You Add a Text Box to a Signed PDF?
No, you cannot add a text box to a signed PDF. Ideally, digital signatures prevent the PDF from being altered by anyone other than the author. Therefore, you cannot change a digital document once it has been signed.
However, there are exceptions to the rule. The document will allow you to fill in any form fields or add an extra signature if necessary. Therefore, if you need to make any future changes to the document, ensure you leave the digital signature for last.
Conclusion
Text boxes are small yet essential components of a PDF that make it easy to spot meaningful sentences or bring your attention to something your colleague corrected. The most common use of text boxes allows the recipient to fill in a blank field in a form without hassle.
We understand you might have difficulty inserting a textbox, especially if you are a novice. Fortunately, this article has provided detailed tutorials and extensive information to tackle this task.