You might be familiar with many image formats, but JPEG or JPG is the most widely known, given its highly compressible nature. JPG format is efficient enough to preserve the quality of images in as low a size as 50KB. That's the reason users opt for the JPG format to make image-sharing easier.
50KB is considered an optimally low size for compression, and to reach such a low level of compression, you might need a 50KB JPG converter. In this context, here you will get to learn how you can compress JPEG to 50 KB effectively.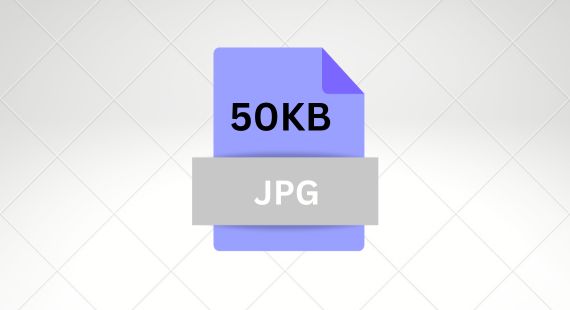 Part 1: Overview of Image Compression
The image compression concept is pretty straightforward. As the image size is expressed in bytes, the removal of some information bytes from an image with the intent to make it smaller is referred to as the compression process. In a nutshell, it can be defined as shrinking the image sizes to a certain limit. The compression of digital images holds great significance since a low-sized image is easier to upload and share across the web.
In the considered case, you may find two types of compressions: lossless & lossy compression. Here, we'll shed light on both.
Lossless Compression
In lossless compression, the image gets compressed without losing any data. On the flip side, you can achieve sufficient compression level in such a case. Against this backdrop, PNG, RAW, BMW, etc, are considered as the lossless image formats.
Lossy Compression
Lossy compression ensures the highest level of compression. However, you may lose some of the data permanently because the particular algorithm deletes insignificant information to considerably reduce the image size.
In apropos of image compression, JPEG/JPG is a popular lossy image format that is widely opted for its maximum compressibility. However, despite its compressible nature, it seems an arduous job to compress a JPEG image to a particular ratio, i.e., 50 KB.
Part 2: How To Reduce JPG Size to 50KB?
Various strategies can be adopted to reduce image sizes. If you're wondering how to reduce JPG size to 50KB without significant quality loss, then here you can get a quick solution to this problem. Since it's a fact, JPG, a lossy image format, often leads to low-quality compressed images.
Lossy Image compression to a specific limit is generally achieved by exploiting the right JPG size reducer 50 KB-compatible tool. Many tools offer compression services to end-users, and such an extensive choice list might put you in an overwrought state. Given this concern, we have chosen a top-notch tool, Wondershare HiPDF, that best-fits your compression-related requisites.
Convert Image to JPG 50 KB Readily With HiPDF
AI-powered HiPDF is a comprehensive solution to cater to your multiple PDF-oriented needs and serves as the best image-to-jpg converter for less than 50kb. The free compression service & intuitive interface elevate its worth.
HiPDF offers a dedicated Compress image tool to ensure the seamless compression of images to a particular ratio. The tool employs advssanced AI algorithms to compress the image files regardless of the format.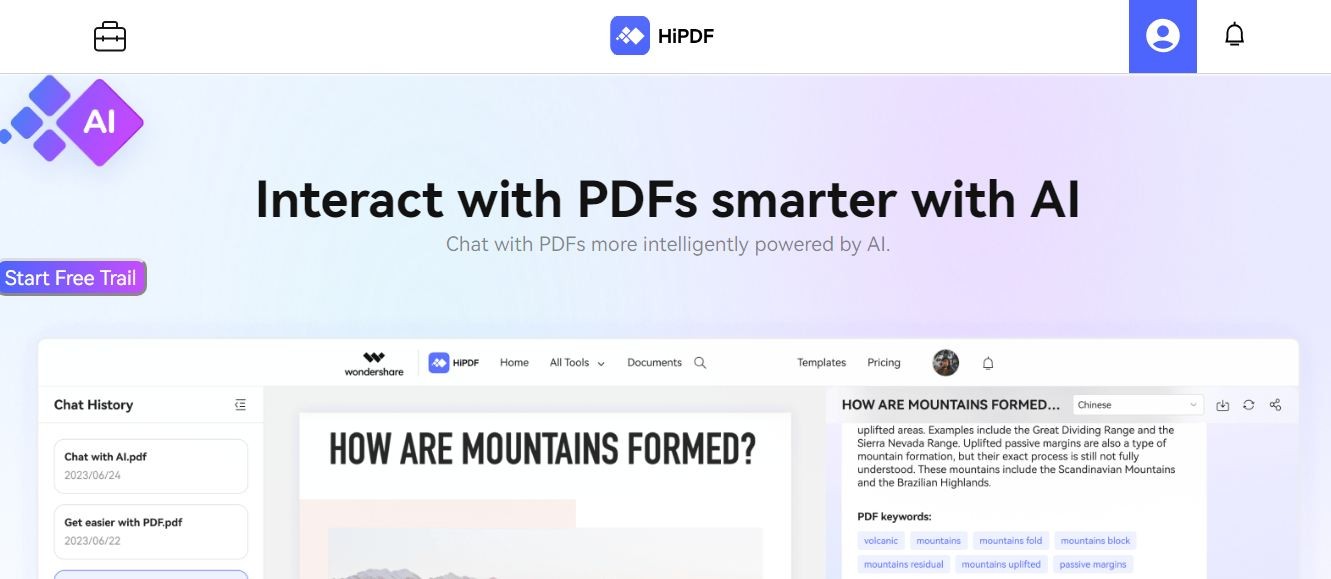 Method To Compress JPG to 50KB Free Using HiPDF
HiPDF's "Compress Image" feature lets you compress JPEG to 50KB free without costing a penny. However, you must first choose the appropriate compression level to get the desired image size. Here, we have illustrated in-depth how HiPDF assists you in reducing the size of your images readily.
Operational Steps:
Step 1 Sign in to the "HiPDF" official website using your credentials.
Step 2 Type the "Compress image" in the top search bar to launch the Compress image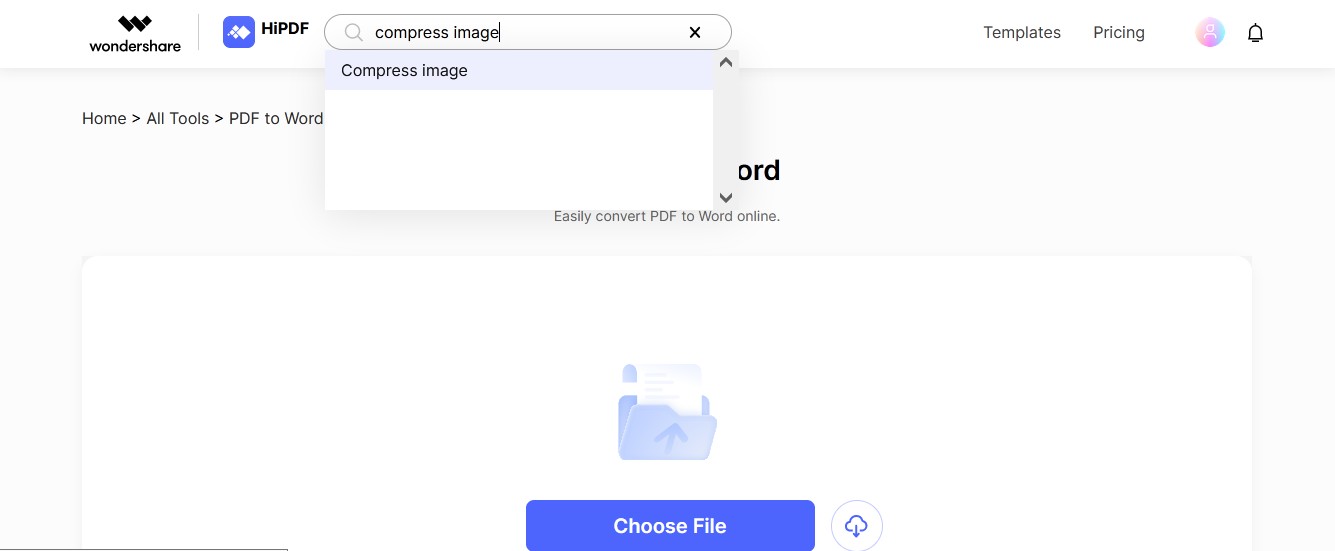 Step 3 Click the "Choose File" option on the Compress image tool page to upload the JPEG image you intend to compress to 50KB.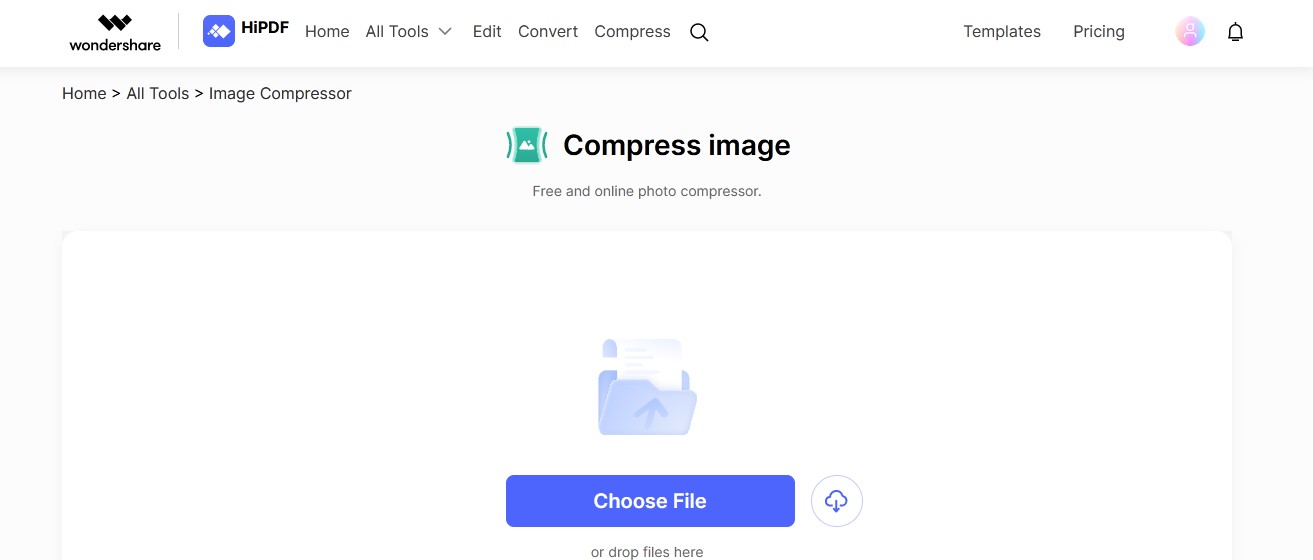 Step 4 Choose the "High" compression level and click the "Compress" button.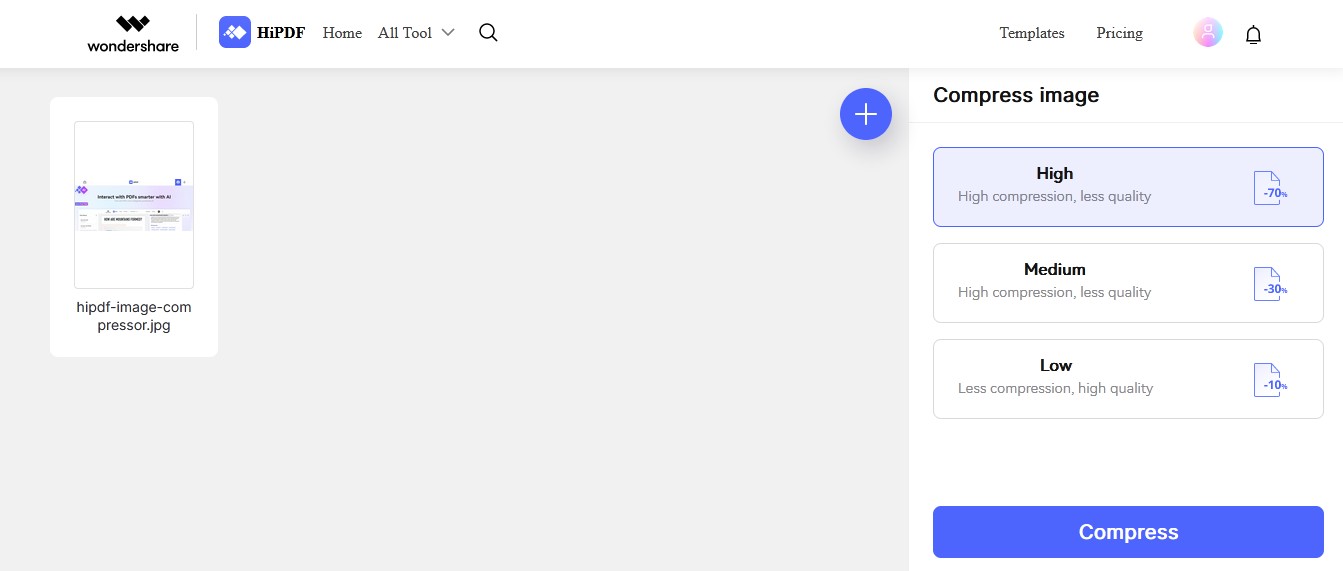 Step 5 Once the compression is successfully done, click the "Download" option to save the compressed JPG 50KB image to your desired location, i.e., local storage, document cloud, Dropbox, etc.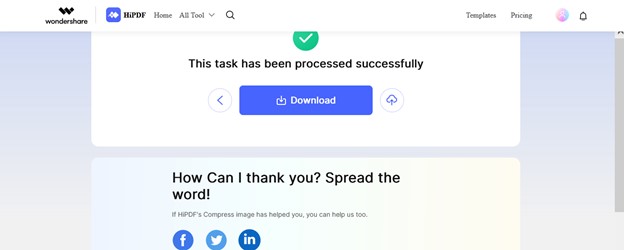 Usefulness of HiPDF To Compress JPEG to 50KB
The efficiency of HiPDF's online Image compressor is undeniable, even though the market is full of competitors still certain factors make it a phenomenal choice. Here, we have enlisted a few major advantages of HiPDF to compress JPEG to 50KB.
Free online services have always been an attractive deal for users. Referring to this perspective, HiPDF offers totally free compression. You can compress any number of images free of cost.
The images might be of varying sizes, so to make the compression of JPG to 50KB more straightforward, the tool offers different compression levels, i.e., High, Medium & low.
You can compress multiple images to 50KB at the same. Such a bulk compression process saves your time considerably. The multiple compressed images get downloaded in Zip format.
HiPDF offers multiple options to the users in downloading compressed 50 KB images. The compressed file can be saved to local storage, Box, Document Cloud, and Dropbox.
Note: The compressed JPG or original image file can also be converted to another format. For instance, if you intend to convert a JPG to PDF 50 KB, you can conveniently do so by using HiPDF as a JPG to PDF converter 50 KB.
Part 3: Importance To Compress JPEG to 50KB
It seems necessary to elaborate on the significance of image compression and the need to reduce the JPG size to 50KB. In certain situations, you may need a low-sized image; even some platforms or online portals define a criterion for uploading media files to 50KB or less. Therefore, in this connection, we have highlighted a few real-life scenarios where getting a compressed JPG 50KB picture becomes crucial.
Website Speed
Website speed matters a lot in the context of its efficiency. You may experience a low loading speed for websites containing large-size images. Therefore, shrinking the images' size to 50KB increases the website's speed, and the content loads relatively faster.
Storage Space
The storage space on your computer might be full, and some applications may stop working normally. In such a case, you might need to compress the images to JPG 50 KB size to free up the storage space to a considerable extent.
Communication
Email is a great way to communicate with potential individuals or customers. If you intend to send some images by email, reducing the image size to 50KB can assist you greatly as a time-saving approach.
Documents Submission
You may need to submit documents on online portals for job or educational purposes, where you might encounter image size restrictions. Thus, compressing the image to JPG 50 KB becomes necessary in such a case.
Part 4: FAQs
Q: Why reduce image size?
A: You should reduce image size primarily to make the sharing process convenient, as you may often encounter file size limitations to sharing media files.
Q: How do I reduce the size of a picture to 50 KB without losing quality?
A: To reduce the image size to JPG 50 KB without losing the quality, you can opt for a reliable Image compressor tool like HiPDF.
Q: Does reducing image size reduce quality?
A: It depends on the type of compression strategy you choose. For instance, the image quality might be lost in lossy compression, especially if you want to achieve a maximum compression level.
Q: What is the advantage of a compressed JPG 50KB image?
A: A Compressed JPG 50KB file eases the sharing process by overcoming file size limitations. Moreover, such images take minimum storage space and reduce uploading time.
Conclusion
Image compression is the process of decreasing image size that can be performed in two ways: lossless and lossy compression. Lossy image compression indicates the shrinking of JPEG files to a certain degree to meet the particular size requirements.
For instance, if you intend to compress a JPG file to 50KB for document submission or to free up storage space, then you might need a compressor tool. Therefore, in this detailed guide, we have explained how you can instantly reduce the JPG to a 50KB size limit with the HiPDF Compress image tool free of cost.