It's a fact that a picture is worth a thousand words, and this exalts the significance of image insertion in different documents. The visual information explains the conceptual things much more efficiently. Therefore, you may need to add images to PDFs and other documents because a picture added to the file generally influences how we observe and perceive things.
In fact, the images elevate users' engagement in files and encourage them to read entire textual content. Given the importance of adding images to PDF, we have profoundly elaborated on the procedure to add images to PDF online.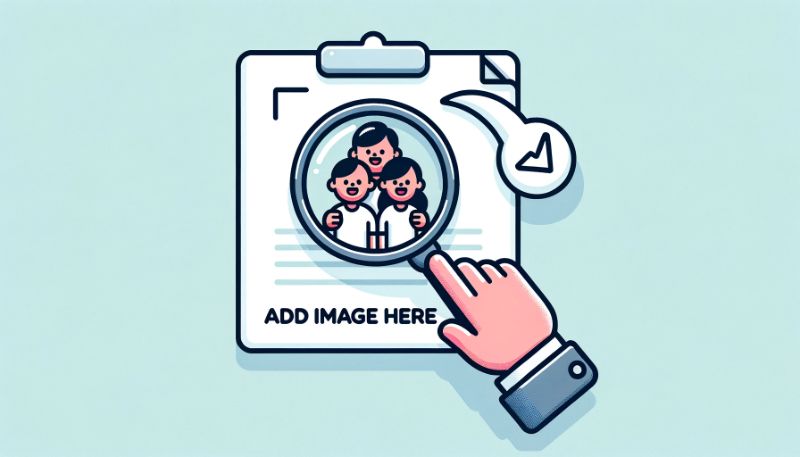 Part 1. How To Add Images to PDF?
If you are looking for a way to insert an image in PDF, then you're in the right spot. Adding a picture to a PDF file isn't that straightforward since the PDF file itself isn't easy to edit, unlike a Word document. However, an efficient PDF Editor tool can be chosen to address this issue.
Against this backdrop, the paradox of choices is on tap, and the election process often seems tough. In such a state of dilemma, you may need a solid direction. Therefore, you're recommended to opt for Wondershare HiPDF- a top-notch PDF management tool.
Add Image To PDF Conveniently With HiPDF!
Smart moves in electing the right tool to add pictures into PDF prove quite beneficial in terms of security & efficiency. HiPDF powered by AI in this connection is quite effective and facilitates the management & editing of PDFs significantly.
The tool lets you conveniently add images to PDF to offer a smooth user experience. You can add multiple images free of charge by employing the Online PDF Editor of HiPDF.
Note: The first attempt to insert images into PDF doesn't require you to sign in first.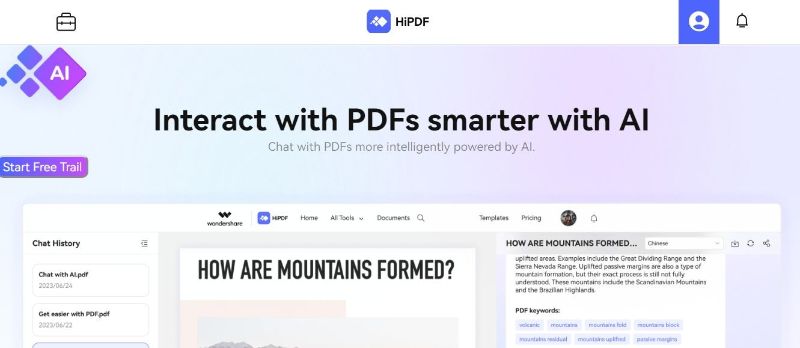 Follow the below-stated steps to insert pictures in PDF readily with HiPDF.
Operational Steps:
Step 1 Navigate to the "HiPDF" site and search the "Edit PDF" tool in the top search bar.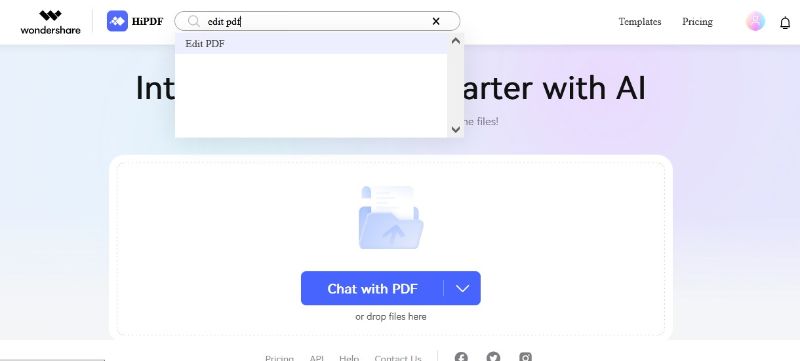 Step 2 Click the "Choose File" option on HiPDF's Online PDF Editor page to upload your PDF file.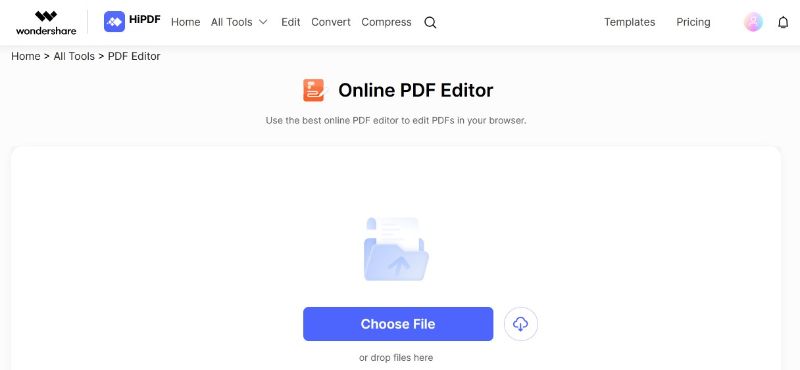 Step 3 Once the PDF document is opened, select the "Add Image" option in the displayed taskbar and choose the image you intend to add to the PDF file.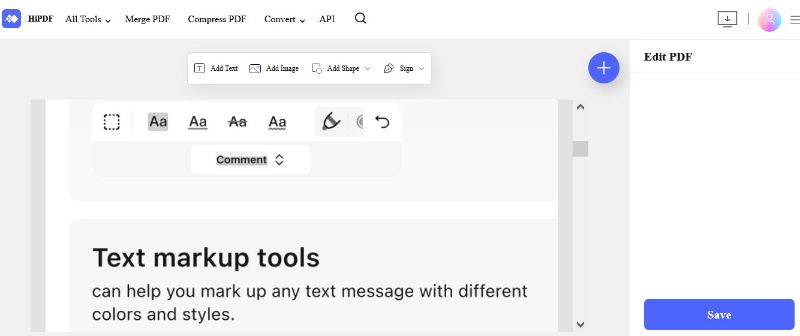 Step 4 Relocate the added image to a specific location on your PDF file and click the "Save" button.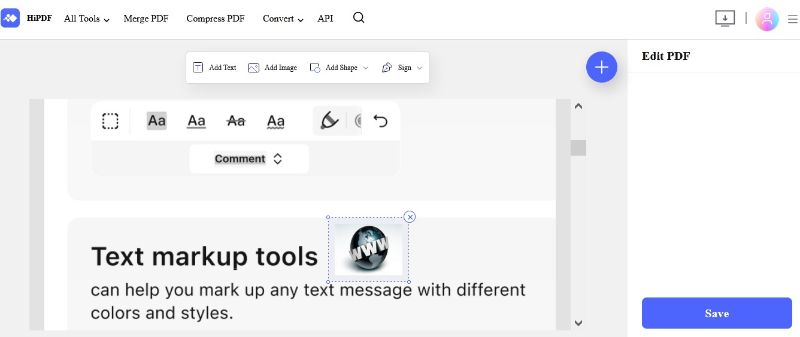 Step 5 Hit the "Download" icon to download the updated PDF file.

Part 2. Use Cases To Add Images to PDF
As we delve deeper into the digital landscape, adding images in PDFs also emerges as a strategic viewpoint. Besides generic applications, visuals also play an important role in specific scenarios. Be it a lengthy academic assignment, a technical user manual, or a restaurant menu, incorporating images has a lot of value.
Let's have a look at some real-life scenarios where adding images to PDF files is paramount:
User Manuals
Suppose you have introduced a brand-new electronic gadget to the market. Usually, user manuals for such gadgets are filled with lengthy and difficult jargon explaining how to operate the product. In this case, designing the user manual with images is your best bet.
In today's digital age, designing a user manual with compelling visuals is not just an added benefit; it is also necessary for gaining the trust of your customers. A well-structured manual with labelled images and step-by-step instructions can benefit consumers, as they can operate your product easily & confidently. The technical terms can also be explained clearly with the help of images, thus amplifying the whole shopping experience.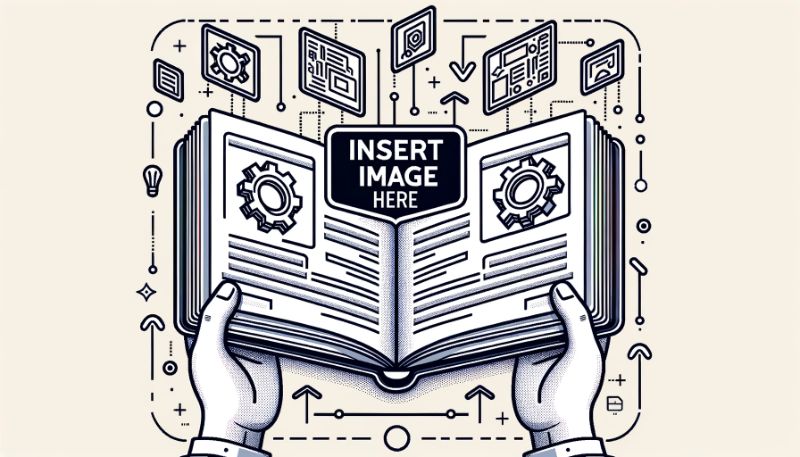 Restaurant Menu
Having a restaurant business is a highly lucrative endeavour these days. However, attracting and retaining your customers is necessary for this business to thrive. PDF menus with images play an important role in this regard. Not only can customers easily view it from their phones, but it also helps them to understand your offerings in a better way.
You can display rich, attractive images of mouth-watering cuisines and their preparation. A textual description, no matter how elaborate it is, cannot fully depict the attractiveness of a cuisine the way images can. A high-quality, real-life image can amplify the ordering experience for your customers and encourage them to return.
Personal Resume
When discussing personal resumes, many people refrain from adding pictures to them. However, a professionally captured photograph can be a welcome and beneficial addition to your resume. Usually, CVs are submitted in PDF format, and employers view them online.
When you include an image, the recruiter can get a clear idea about your personality, making your application stand out from the crowd. Images can greatly enhance your profile and increase your hiring prospects, be it any field, multimedia, business, teaching, design, or arts.
Academic Assignments
Academic assignments mostly deal with intricate and difficult topics that cannot be explained clearly with words alone. Adding labeled images in graphs, diagrams, or historical visuals provides the detailed context most examiners seek.
No matter what subject it is, incorporating images within academic PDF assignments elevates the content quality, making it more engaging, easier to understand, and learn. Moreover, images also play a pivotal role in breaking down the content into smaller parts. For instance, a difficult science chapter can be better explained using well-labeled diagrams. By looking at the diagrams, the course instructor can get a concise snapshot view or summary of the topic.
Part 3. Is It Safe To Add Images to PDF?
Security is often considered the utmost concern while adding images to documents or PDF files since you might need to insert personal images in certain scenarios. This concern is obvious, but adopting the right strategies can save you. Generally, adding images to PDF is safe, but sometimes, using unreliable third-party applications or online platforms to add images to PDF increases security risk.
However, to improve security, you can implement certain security settings on your PDF file to prevent the copying of content. Moreover, selecting a reliable PDF editor like HiPDF Online PDF Editor ensures the security of your uploaded images by removing the images from the database after an hour.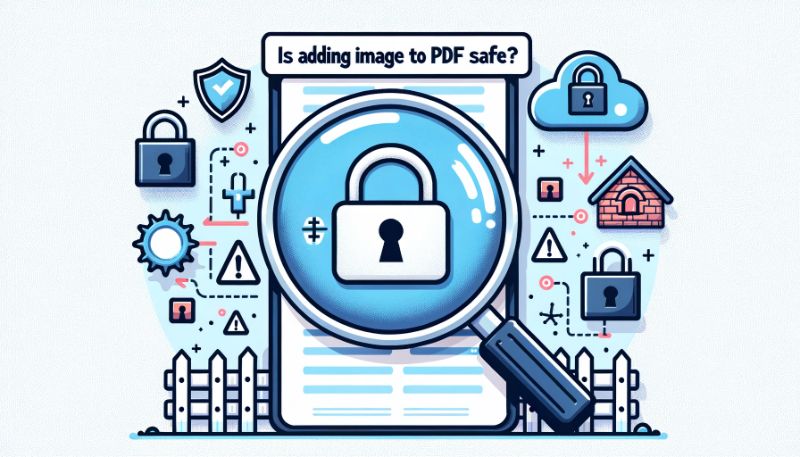 Part 4. FAQs
Q: How can I edit a PDF and add an image online?
A: To edit a PDF and add an image online, you can opt for the HiPDF tool and follow the given steps:
Access HiPDF's "Online PDF Editor".
Open your PDF file in Online PDF Editor.
Click the "Add Image" option to insert a picture.
Click the "Save" button for successful image insertion.
Q: How do I add a logo to a PDF online?
A: To add a visual Logo to your PDF file online, you need to access an efficient PDF editor such as HiPDF's Online PDF Editor, which lets you instantly add an image-based logo into PDFs.
Q: Can Images be added to any PDF file?
A: No, you can add images to only editable PDFs since some PDF files may be in a read-only state and can't be edited.
Q: Can I add an image to every page of a PDF?
A: Yes, you can conveniently add a picture to each page of your PDF file with your chosen PDF Editor. For instance, if you use HiPDF PDF Editor, you just have to employ the Add Image option multiple times to add images to all pages.
Conclusion
Image-based content is considered a great source of conveying information since visual information leaves lasting impressions on minds and is relatively easier to remember than text. Therefore, it is often preferred to add images to documents & PDF files.
Most users find it problematic to insert pictures into PDF since PDF files aren't easy to edit. Therefore, we have presented a detailed procedure for how you can add picture to pdf online using an efficient tool- Wondershare HiPDF.