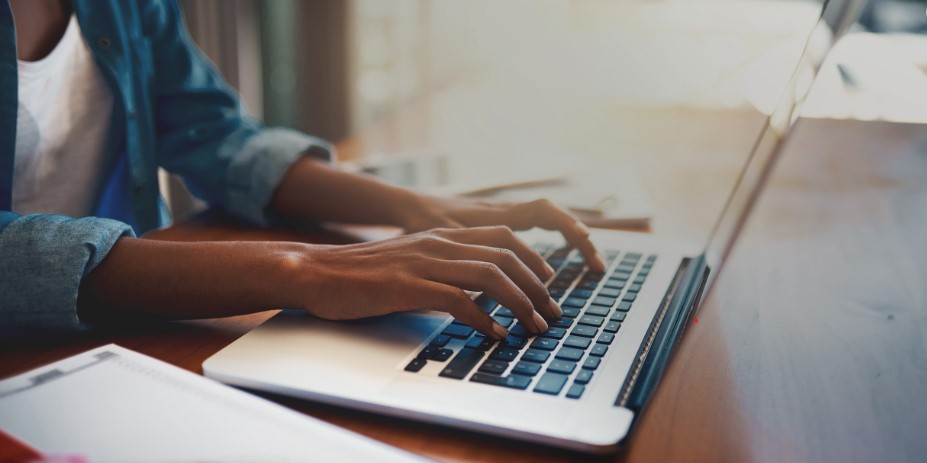 Imagine you've just finished creating a business proposal or a presentation for an important project. The document contains relevant images and graphics that are integral to your project. However, when you try to send it to your team, you encounter a common roadblock: the exceeded file size limit. Frustrating, isn't it?
It is where methods to compress PDF to 1MB arise to elevate your experience. By rationally opting to reduce PDF size to 1MB, you can overcome such hurdles. This article will highlight practical techniques for PDF compression to ensure smooth sharing and accessibility.
Part 1. Importance to Compress PDF Below 1 MB
Trimming down the size of a PDF less than 1MB offers a multitude of advantages. Compression is particularly useful when dealing with larger files exceeding the one-megabyte mark. These sizable files often contain a sea of information, including text, images, and more. Let's delve into why it is important to compress PDF to less than 1MB:
Enhanced Accessibility
Compressing PDF files boosts their accessibility. When you resize a PDF file to 1MB, it becomes more versatile. Thus, it can be shared via email, uploaded to websites, or transmitted through messaging apps. Compression ensures that your valuable information is readily available to a broader audience without compatibility issues getting in the way.
Swift Upload and Download
The convert PDF 1 MB method facilitates fast file uploading. By reducing the file's bulk size, you're not only lightening the load on your internet connection but also cutting down the excessive time. This optimization benefits both the sender and recipient, especially in situations where internet speeds are usually low.
Email Size Limits
Email services often impose restrictions on attachment sizes. It can be a major headache when dealing with large PDFs. However, using the compress PDF 1MB method, you ensure they fit comfortably within these limits. Thus, you won't have to worry about email delivery failures or frustrating size-related hurdles.
Optimal Storage Management
Compressed PDFs occupy less space on your device and in your cloud storage. It not only declutters your digital workspace but also allows you to manage your documents with efficiency. Hence, you'll have more room for important files instead of junk piles of data.
Efficient Document Handling
A PDF less than 1MB eliminates performance hurdles. Compression ensures a lag-free experience, especially when you need to access or navigate through your PDFs. PDF compression proves vital when presenting documents in real-time or during video conferences, where every second counts.
Part 2. Well-Proven Methods To Compress PDF to 1MB Free
Dozens of methods for compressing PDFs are available on the internet. Each has its unique benefits and drawbacks. Also, some methods may cost several dollars, but their compression services may not be satisfactory. To ensure you get an efficient as well as budget-friendly solution, we have offered two practical methods. Let's delve deeper:
Method 1: Use HiPDF to Reduce PDF Size to 1MB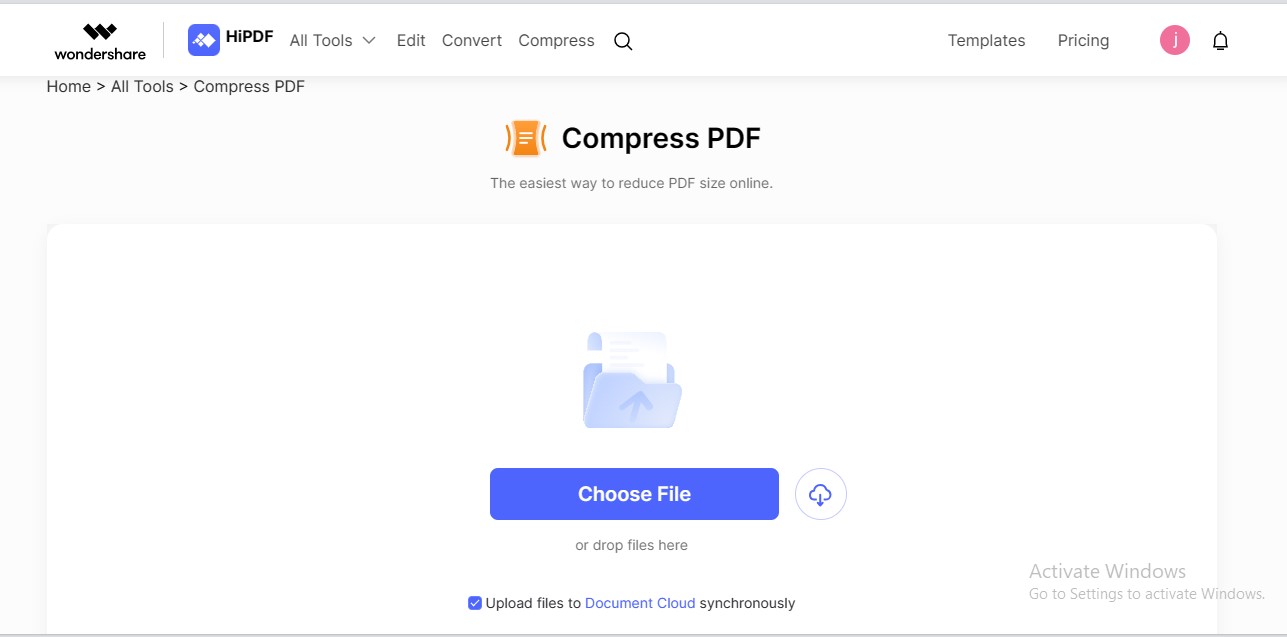 HiPDF is a highly recommended online compressing PDF to 1 MB free tool to streamline your document workflow. You can compress PDF to 1 MB online or less than this size seamlessly because of its neuro-intuitive interface. The tool offers different compression levels to let you choose your preferred compression quality. You can also process multiple files in batch using this cutting-edge PDF compressor below 1MB solution.
HiPDF – a Top-Notch PDF Compressor to 1 MB
Here are some highlights of HiPDF, a game-changing platform in the arena of PDF compression:
- Allows you to compress PDF to 1MB free – no limits on daily uploads
- Provides a straightforward interface to ensure a smooth process
- Supports batch processing of 5 files in the free plan
- Prioritizes document security, deleting your file immediately after you download it
- Offers web interface to remove downloading or installation hassles
- Presents different compression levels to strike a balance between quality and size
- Effortless PDF compression, requiring no signups or personal information
- Equipped with speedy engines to enable fast-paced compressions
- Offers budget-friendly premium plans to cater to the needs of all-level users
- Integrates with several external platforms to facilitate file uploading, sharing, and storage
How To Convert PDF to 1MB Using HiPDF?
Below is how you can use HiPDF as a PDF compressor under 1MB tool:
Step 1 Navigate to HiPDF's official website. Locate the "Compress PDF" feature under the "All Tools"
Step 2 Click "Choose File" to load your PDF file.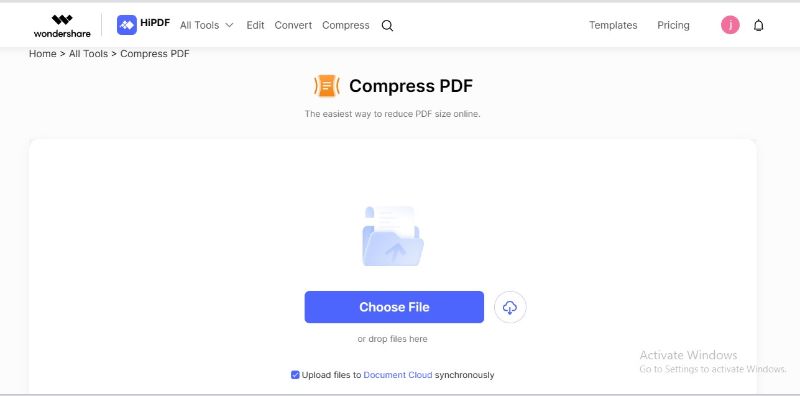 Step 3 Select your desired compression level and click "Compress".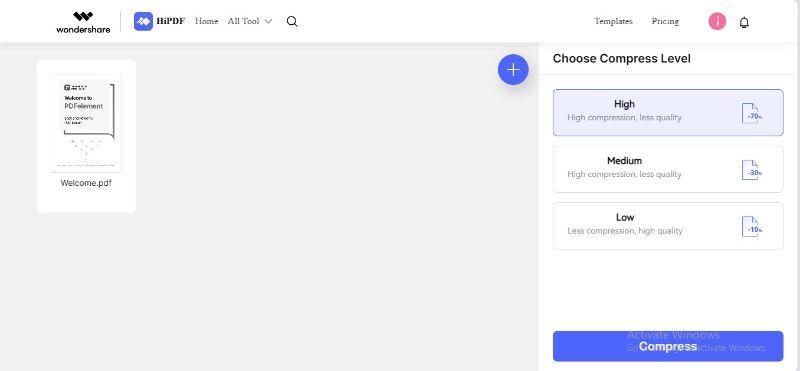 Step 4 HiPDF will compress PDF to 1MB and automatically download your compressed document.

Method 2: Use PDFelement To Resize PDF to 1MB
PDFelement is a versatile and certified PDF management software. The tool offers a seamless solution for resizing your PDF documents to a target size of 1MB. With its rich feature set, PDFelement stands as a reliable tool for PDF compression. What sets PDFelement apart is its ability to reduce PDF sizes without compromising on file quality. Its navigable interface and vast feature diversity make it an ideal choice for all users.
How To Compress PDF Below 1 MB Using PDFelement?
Below is the go-to process for PDF compression under 1MB using PDFelement:
Step 1 Launch PDFelement and open your target PDF file. Click on "Tools" at the top, then select the "Compress"
Step 2 Choose your desired compression ratio for the file size.
Step 3 Click "Apply" to initiate the compression process.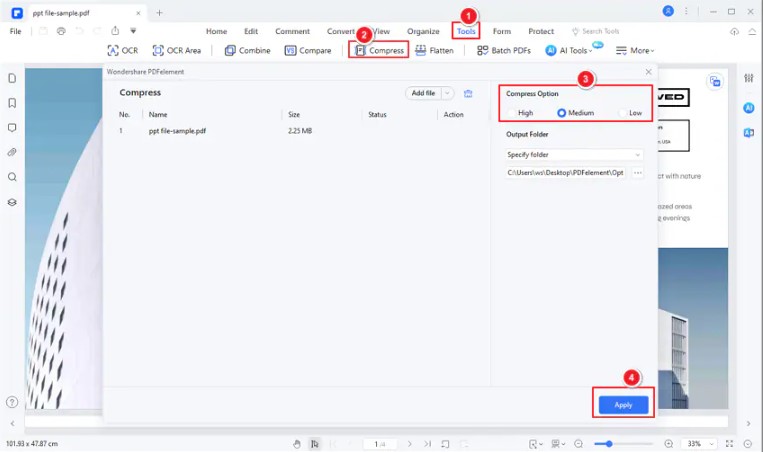 Step 4 You will see the on-screen notification showing the reduced file size and the new size.
Part 3. Useful Tips To Reduce PDF Size to 1MB
Several factors contribute to the increase in file size. Thus, you must not only rely on PDF compressors for PDF size reduction. Here, we have presented some valuable tips to lessen your PDF file sizes besides using compression tools. Compressing a PDF file to fit under 1MB will be more effective with these useful tips:
Optimize Images
Before adding images to your PDF, it's essential to optimize them. Images with high DPI (dots per inch) can significantly inflate the PDF's size. Use image editing tools to reduce the image resolution. Images with lower resolution will maintain visual quality but occupy less space in the PDF. Also, lowering the DPI of images to a reasonable level will facilitate PDF sharing.
Choose the Right Format
The format of images you use in your PDF can significantly impact the file size. Opt for formats like JPEG, which offer a good balance between image quality and size. Avoid formats like BMP or TIFF. It is because they tend to result in larger file sizes.
Remove Unnecessary Elements
Carefully review your PDF and identify redundant elements. For example, it is advisable to remove extra images, needless pages, or superfluous content. Such things don't contribute to the core message of the document but occupy space. Deleting these elements can reduce the file size.
Check Font Size and Type
The choice of fonts in your PDF can affect its size. Opt for standard fonts that are widely supported. Also, avoid using oversized or uncommon fonts that might increase the file size.
Reduce Embedded Fonts
If your document contains numerous fonts, consider reducing the number of embedded fonts. Keep only those fonts that are essential for preserving the document's appearance. This tip can also lead to notable size reductions.
Crop Margins
White space or excessive margins in your PDF can lead to a larger file size. Crop unnecessary margins to make the document more concise. Use a PDF editor with strong features to perform this task.
Part 4. Scenarios Necessitating To Compress PDF Under 1 MB
Certain limitations or practical considerations often demand file size reduction. Thus, compressing PDFs below 1MB becomes essential in these scenarios. Here are some scenarios that may necessitate you to compress PDF under 1MB:
- To send PDFs as email attachments, compressing them becomes a requisite. It is because most email services don't allow heavy PDF file sharing.
- Many websites or online platforms impose file size limits for uploads. For these situations, you will need to reduce your file size.
- If you're using cloud storage services, larger PDFs may take excessive storage. However, compression will enable you to occupy less space with the same information or dataset.
- Mobile devices, especially smartphones, may have storage constraints. Large PDF files may fill up your phone's storage. Thus, you can tackle this situation using a solution like PDF compression.
- If you run a website that offers PDF downloads, uploading large PDFs to your site will retard its performance. However, a compressed PDF will upload and download efficiently.
- Compressed PDFs are quicker to share. Thus, if you have online collaborative meetings, you must opt for PDF compression for swift file loading.
Conclusion
Compressing PDF files to 1MB or less is essential for efficient storage. The process also ensures quicker uploads and hassle-free file sharing. To simplify your search for the ideal method, we have provided two must-try ways. Whether you choose HiPDF for its accessibility or PDFelement for its versatility, both methods will make your PDFs more concise and manageable.
Hence, pick the compress PDF method that suits your needs best. Enjoy the convenient experience of having smaller and handy PDFs at your fingertips!