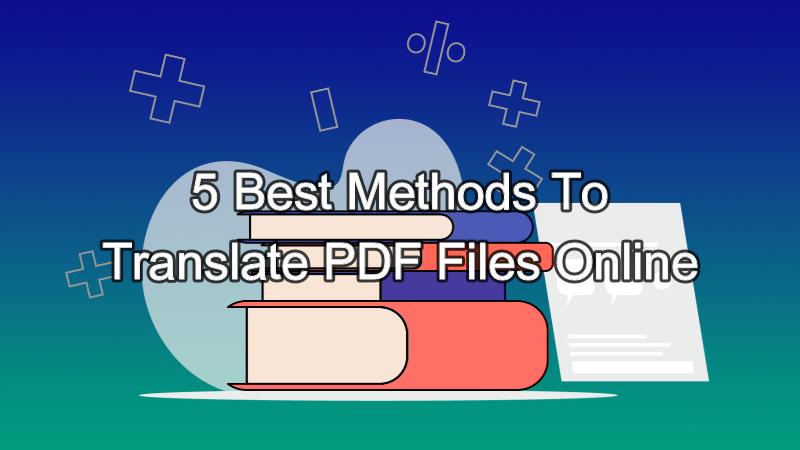 No matter how much informative and useful your PDF is, it is of no appeal if it does not target a broader audience. Without translation, its true potential will remain untapped. Also, thousands of PDF documents in various languages are created and shared every day. You may frequently come across PDF files in foreign languages. In this situation, these foreign-language PDFs can pose significant comprehension troubles to you.
It is where the demand for a PDF document translator arises. Knowing different ways to translate PDF documents is necessary for dealing with multiple files. This article will shed light on some practical methods to translate PDF documents online.
Practical Techniques To Translate PDF Documents Online
The importance of selecting the right method and tool for translating PDFs cannot be overstated. A PDF with translation augments your understanding more profoundly than a foreign text. While the digital world offers many options for tackling language barriers, the right choice can impact the outcome. If you're a student striving to learn research papers, online PDF Doc translators offer a reliable solution.
Now, let's delve into the five best methods for translating PDFs online. Each PDF translation method offers its unique set of benefits and features to cater to diverse needs. Whether you're an expert navigating business contracts or someone looking to explore foreign content, you can streamline the learning process using these ways:
Method 1: Translate PDF online Using the AI feature of HiPDF
When it comes to translating PDFs online, HiPDF stands out as the best PDF translator. It offers radical AI features that make the "translate from a PDF" process easy and accurate. Two key AI options within HiPDF are "Chat with PDF" and "AI Read," both of which can be employed for translating PDFs effectively.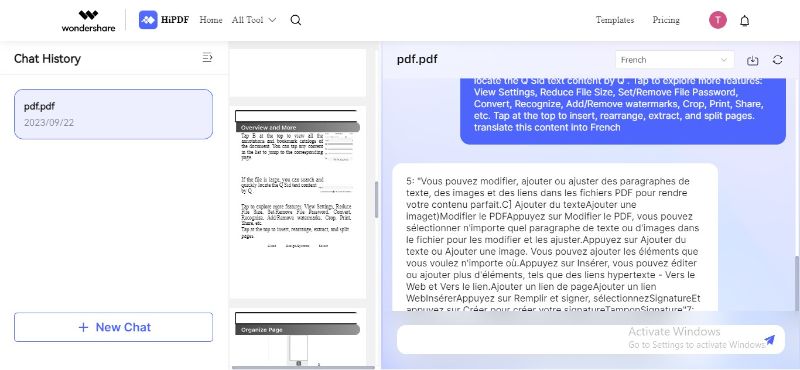 HiPDF's Chat with PDF allows you to interact with your PDF. The tool offers translation suggestions and corrections in real time. It's like having a virtual language assistant at your disposal. Using HiPDF makes the translation process dynamic. On the other hand, "AI Read" empowers HiPDF to extract and understand the text within your PDF. You can analyze and translate the text through its language prompt.
How To Employ HiPDF To Translate File PDFs Using Its Chat With PDF Feature?
Step 1 Visit HiPDF's official website. Navigate to "AI Tools>Chat with PDF".
Step 2 Click "Choose File" to import your PDF document.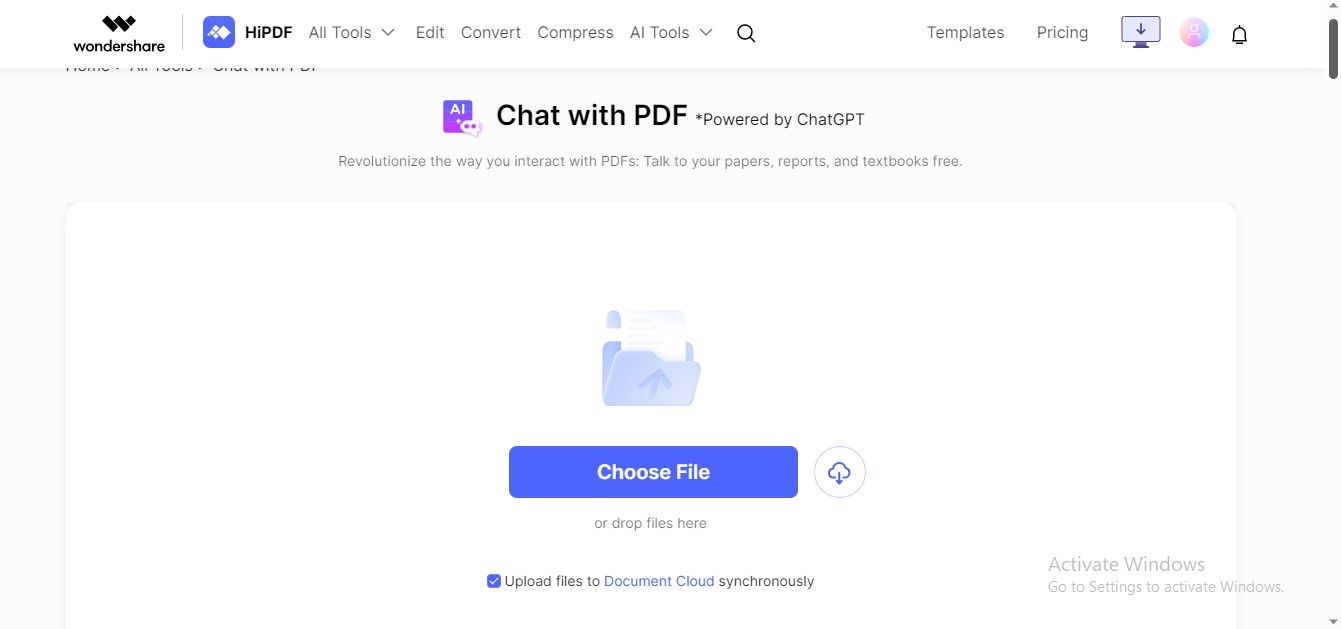 Step 3 Click the "Analyze" button to proceed.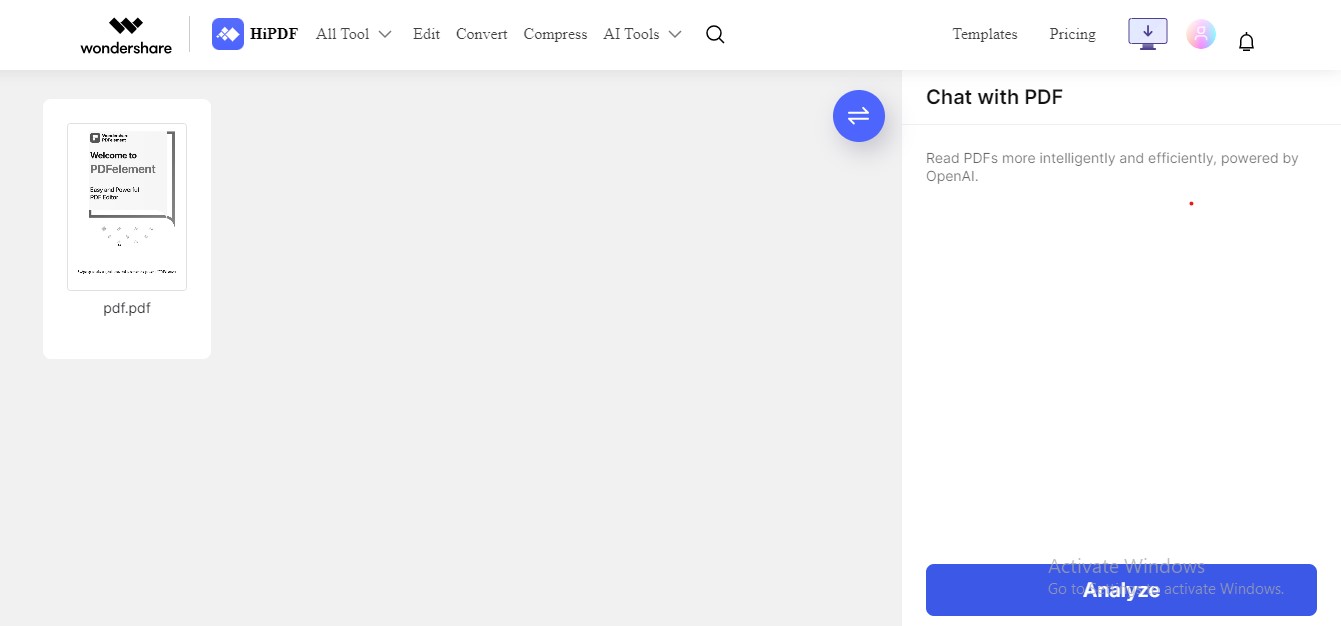 Step 3 Ask the AI assistant to translate PDF to English or other language. You can translate the entire document or specific part into your target language.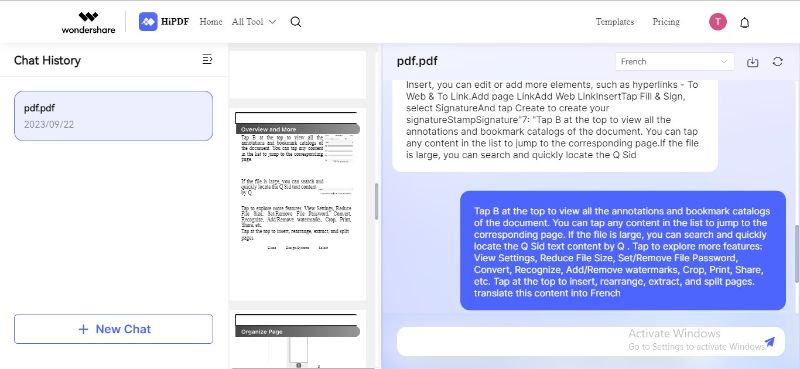 Step 4 The AI chatbot will process your request and translate your PDF document into your desired language.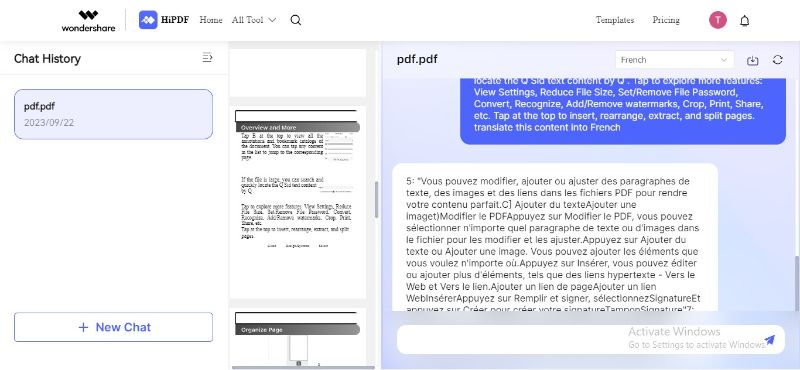 How To Use HiPDF as a PDF Document Translator via Its AI Read Feature?
Step 1 Access HiPDF's official site. Go to "AI Tools" on the homepage and choose "AI Read".
Step 2 Click on "Choose File" to load your PDF.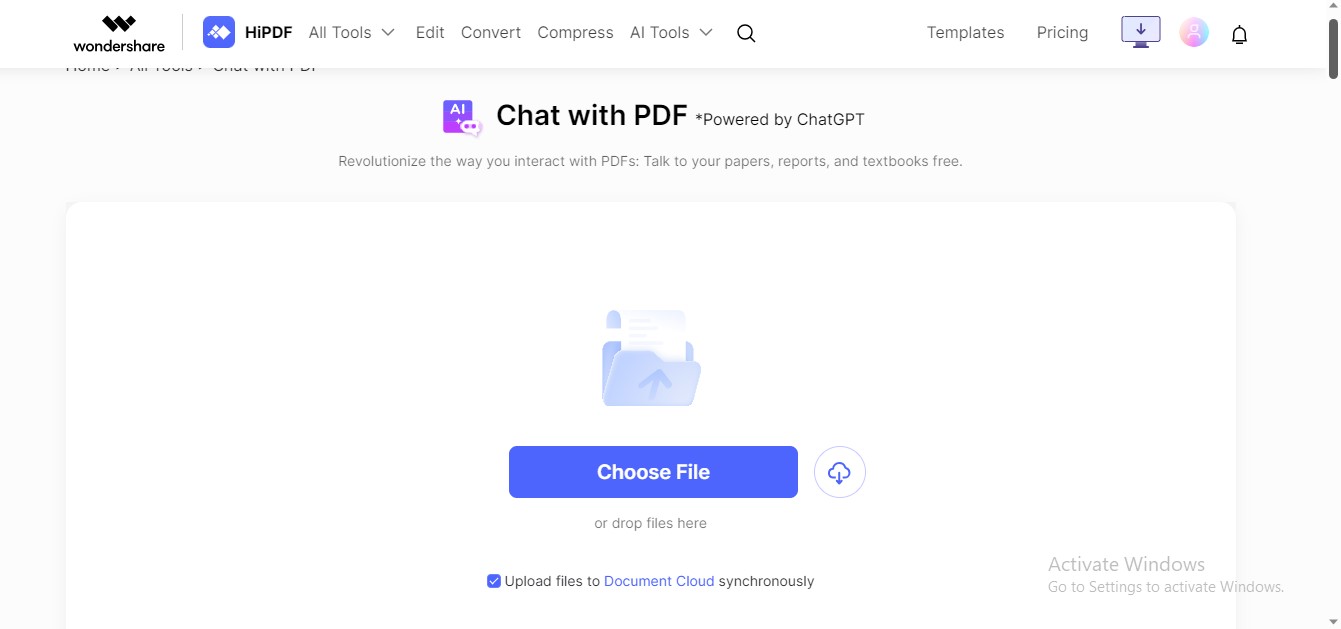 Step 3 Choose the "Ask Anything" option from the prompt. Select your desired language.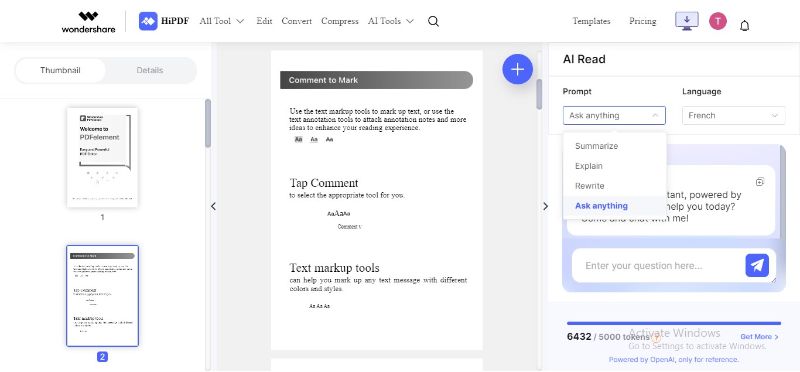 Step 4 Ask the tool to translate your PDF content into your preferred language.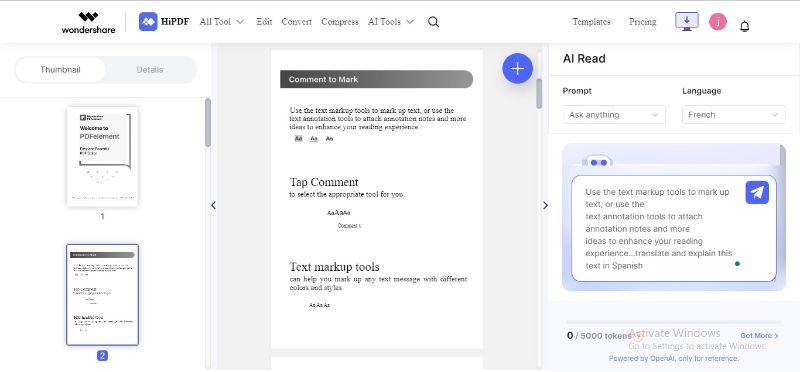 Step 5 HiPDF will process your input and translate the content. You can copy the translated text and use it in the way you want.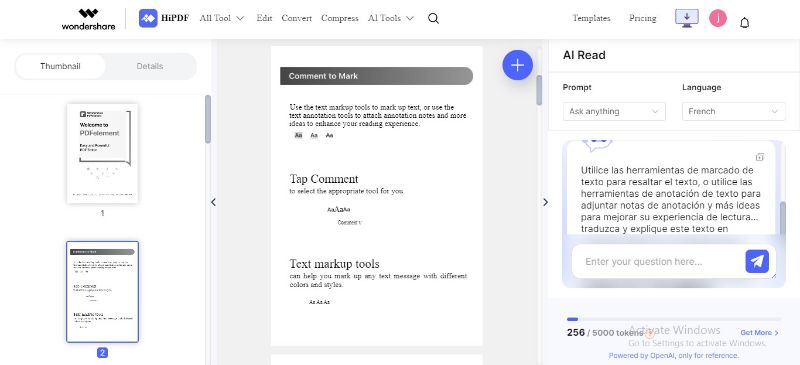 Method 2: Using Google Translate as a PDF Language Translator Online Platform
Google Translate is a free online translation platform powered by Google's robust language translation algorithms. It has gained popularity for its ease of use and accessibility. While Google Translate is commonly used for translating text, it also offers a feature specifically designed for translating PDF documents. This feature makes it a valuable tool for those seeking quick and straightforward PDF translations.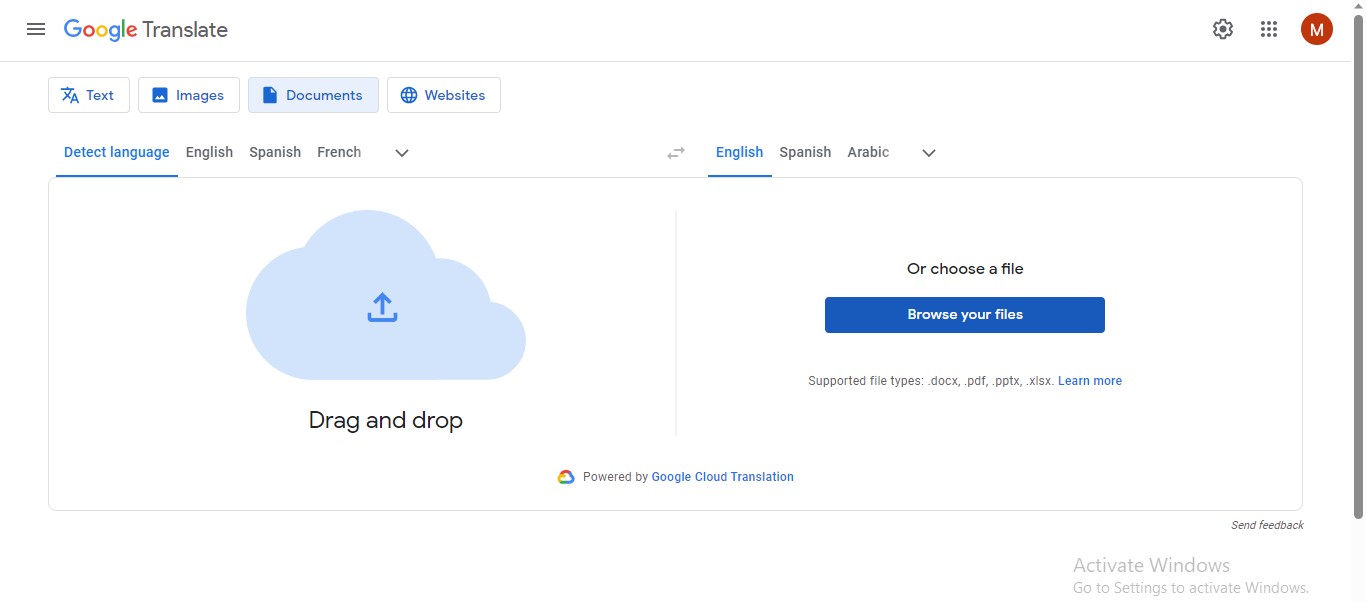 Also, Google Translate is incredibly versatile. It can translate PDF document to English or other languages, whether they're widely spoken or not so common. Its PDF translation feature simplifies things. Thus, you can access and understand information from around the globe without hassle.
How To Use Google Translate as a PDF Translator Free Solution?
Step 1 Go to Google Translate using your web browser.
Step 2 On the Google Translate page, you'll see various options. Click on "Document" for PDF translations.
Step 3 Click "Browse Your Files" to upload the PDF you want to translate.
Step 4 Google Translate will figure out the PDF's original language. Select the language you want the PDF to be translated into.
Step 5 Click "Translate" to get the process started.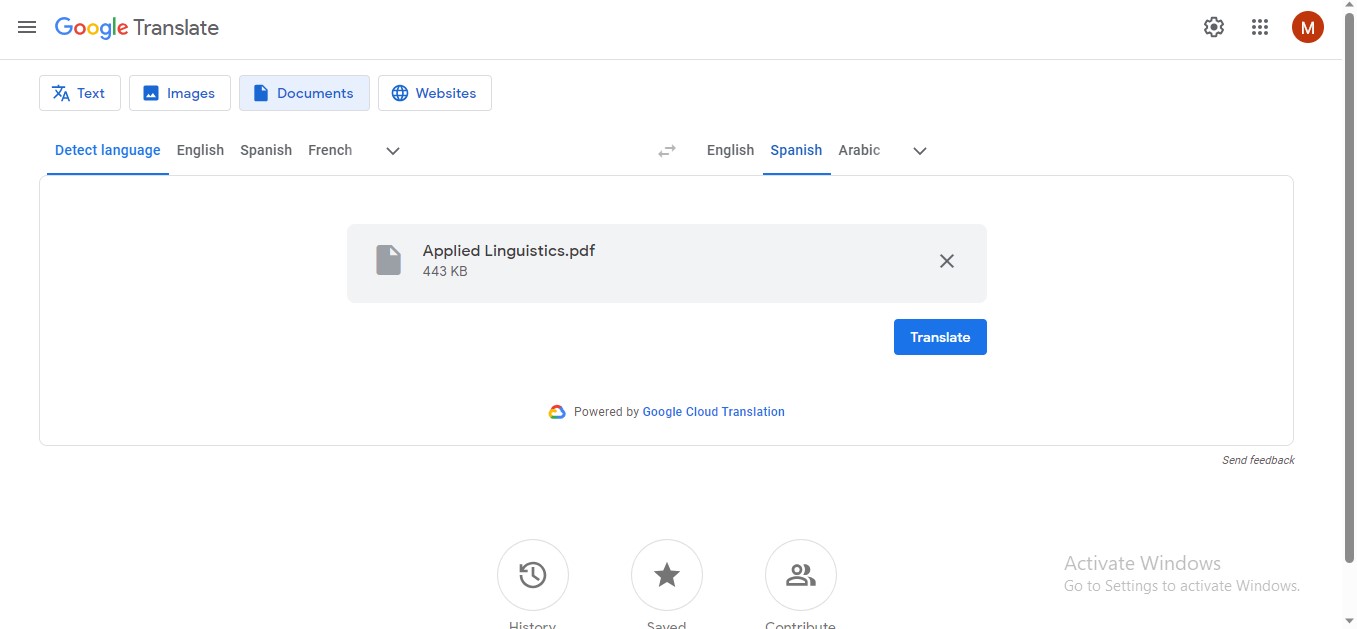 Step 6 After translation, Google Translate will give you the translated document. Click the "Download Translation" button to save the translated PDF to your device.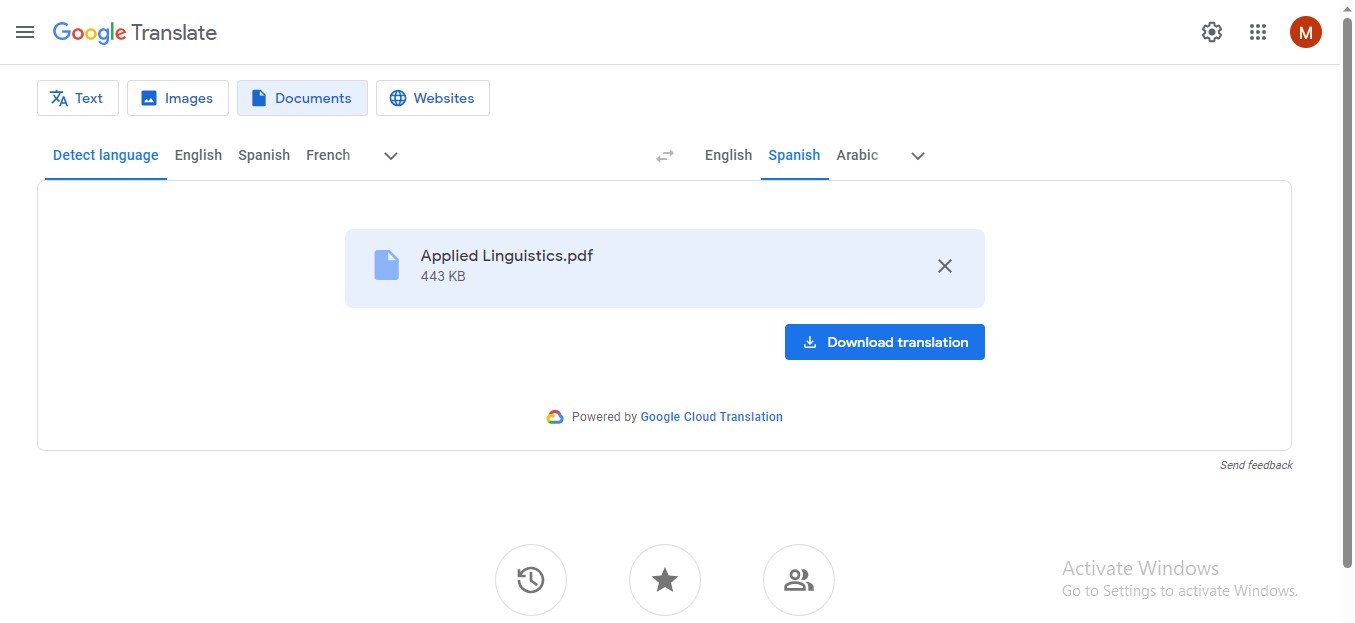 Method 3: Translate PDF File Online Using PDFt.ai
PDFTranslator is another practical solution for online PDF translation. The platform offers a direct approach. The tool allows you to translate PDF in English and several other languages. Its online accessibility from any device removes the need for software installations.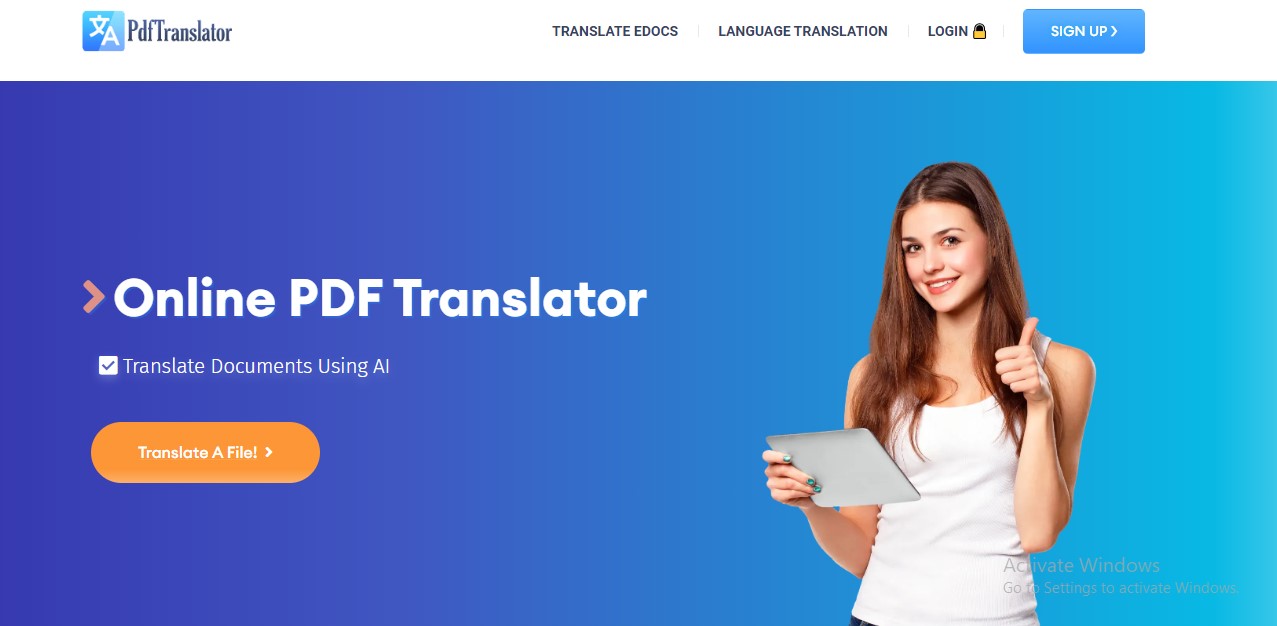 Known for its speed and efficiency, it offers translated documents promptly. Also, PDFTranslator is a budget-friendly solution for students or anyone curious about global content.
How To Use PDFt.ai As a Doc Translator PDF?
Step 1 Go to PDFTranslator's official site. At the homepage, you will see the "Translate a File" Click it.
Step 2 Upload your file to translate from PDF to English or your target language.
Step 3 After uploading the file, define the source and target language of the document. Click the "Upload" button to start translating.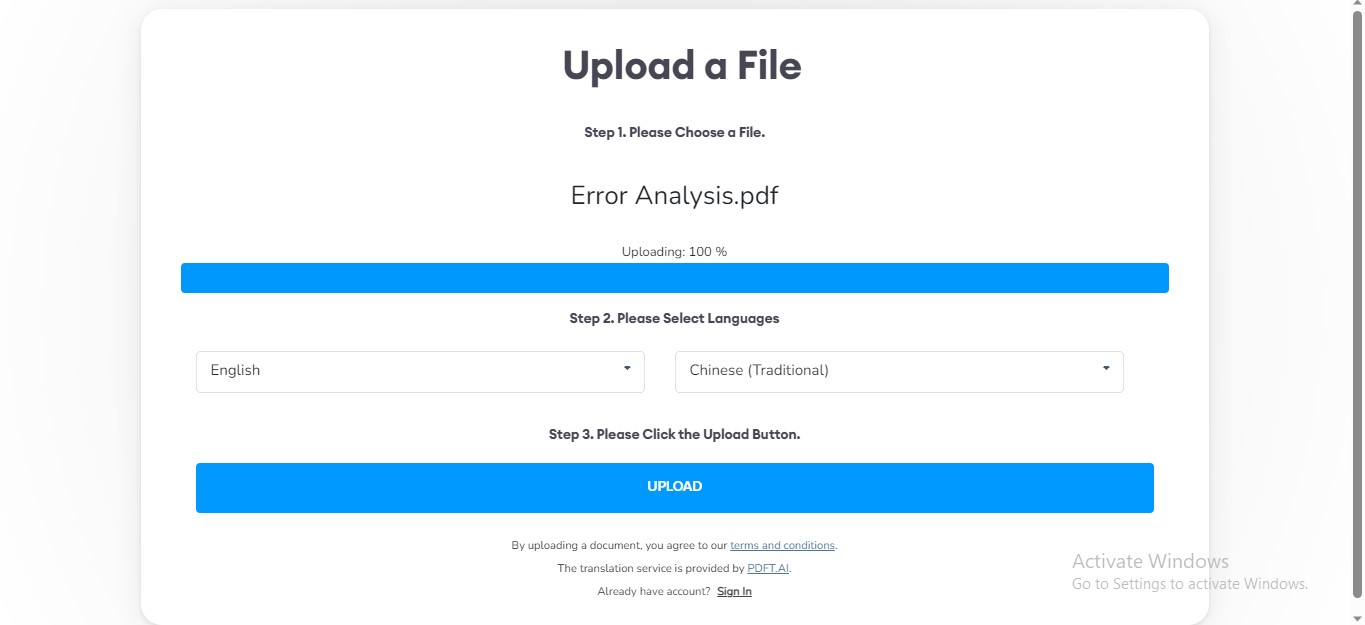 Step 4 After translation, download your document to get the translated version of the file.
Method 4: Use GroupDocs as a PDF Document Language Translator
Generally, GroupDocs is a robust document management platform. The tool simplifies document handling of various formats and team collaboration. Whether you're dealing with PDFs, Microsoft Office documents, or images, GroupDocs offers a wide suite of tools.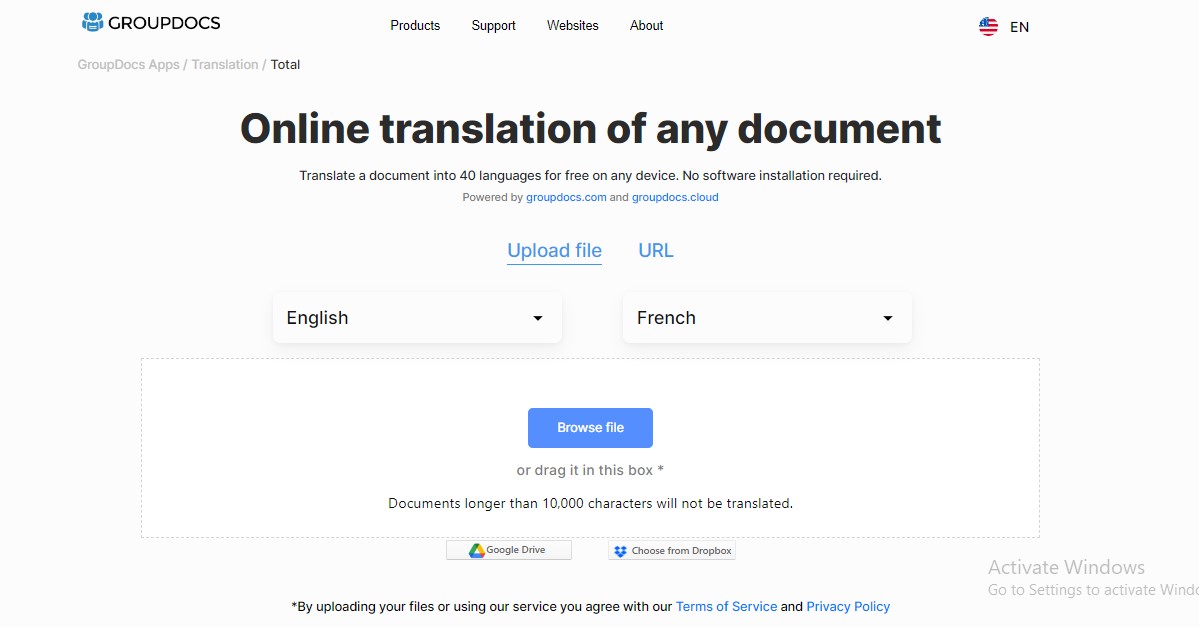 However, the tool also offers a PDF translation feature, enabling you to translate your documents into more than 40 languages. One notable benefit of GroupDocs is that it operates without the need for software installations. Also, it does not require any signup for PDF translation. You can also define the output format of your translated document. The export choices are several, including PDF, Doc, Excel, PPT, and more. You can upload documents having 10,000 characters.
How To Use GroupDocs as a PDF Language Converter?
Step 1 Visit the GroupDocs website. Locate its PDF translation feature.
Step 2 Click the "Browse File" option to import your PDF. You can also import from Cloud storage spaces.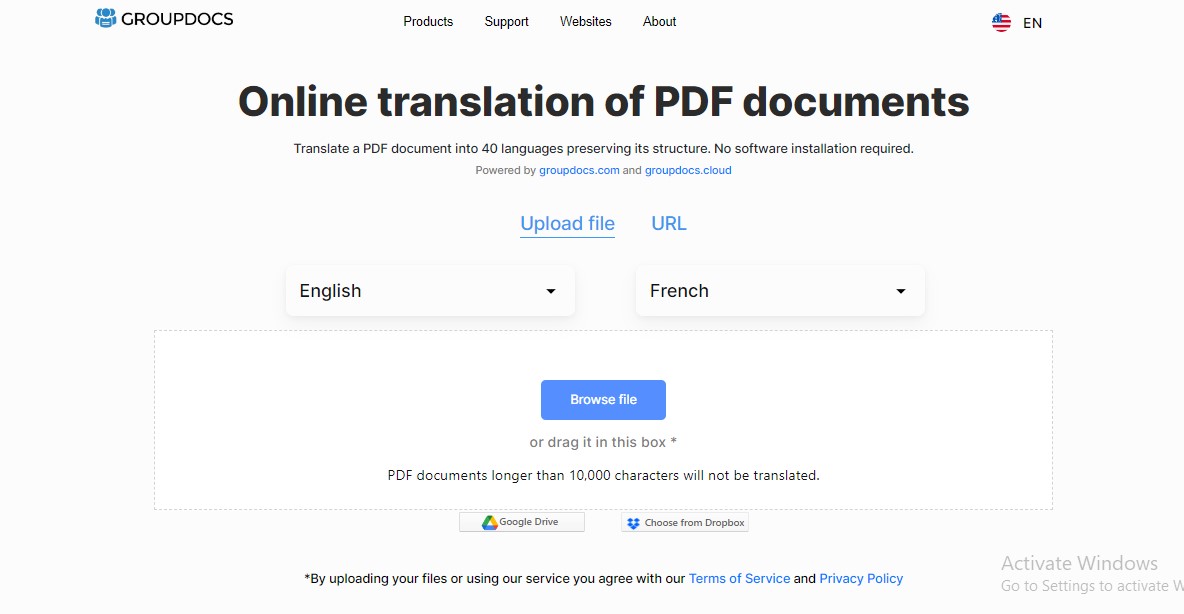 Step 3 Define your document language and target language for translation. Specify the output format of your translated document.
Step 4 Click the "Translate" button to start translating your file.
Step 5 The translation process will take a few moments. Hit the "Download" button to save your translated file. You can also preview, edit or share the document.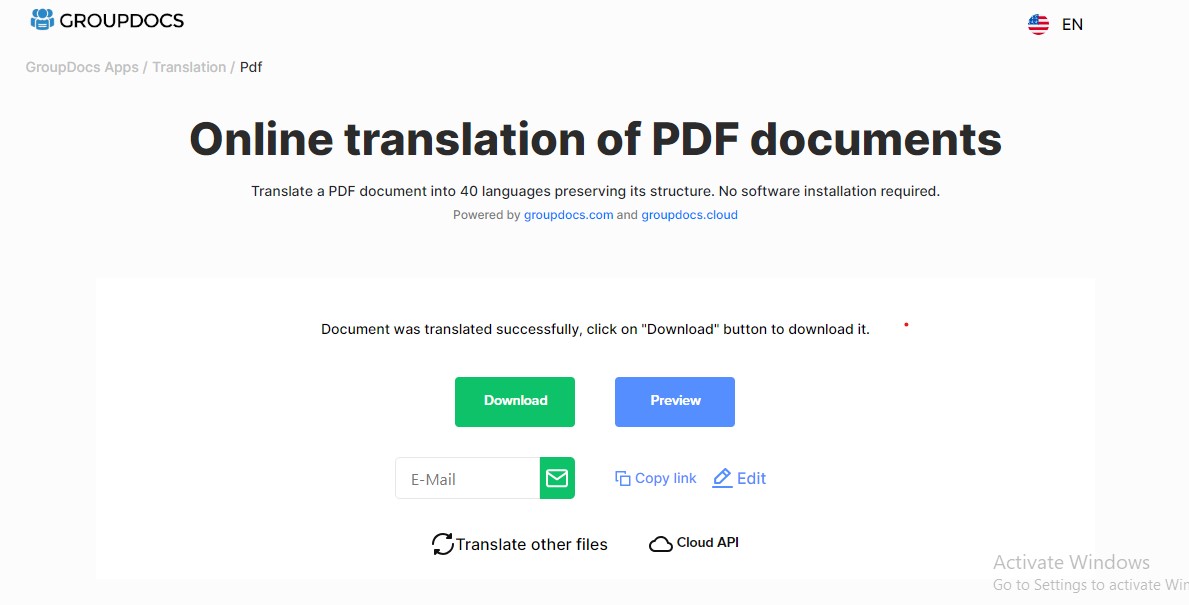 Method 5: Use Free Online PDF Translators
If you need advanced features like local language translations, you can use free online PDF translators. The benefit of using these AI tools is that they use deep learning techniques to learn internal language patterns. The result is that you get more contextual and accurate translations.
Also, these AI PDF translators use NLP to interpret emotions, sentiments, and local jargon present in a text. As a result, they convey the exact tone and sentiments of the local languages.
DeepL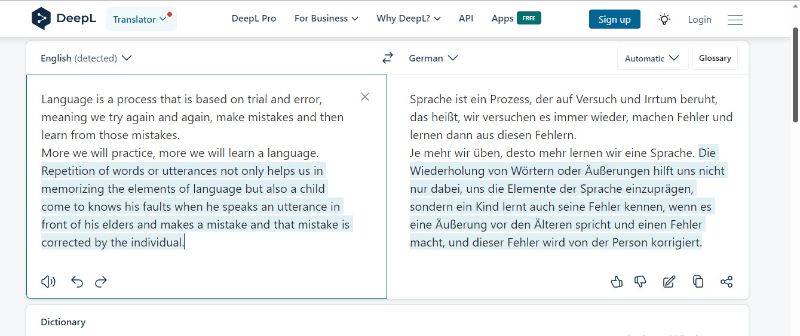 DeepL is probably one of the best AI translators out there. You can use the tool as a translate PDF document online free solution. The tool is renowned for its brilliant accuracy and linguistic skill. DeepL is intricately trained on vast multilingual datasets. These drills allow it to deliver translations that are contextually precise and natural-sounding. It can auto-detect the text's language with its smart algorithms.
The tool supports 31 languages, spanning a wide range of global linguistic diversity. Another benefit of using DeepL is that the tool is completely free. Also, it does not put any limit on words or the number of translations per day.
Conclusion
In this dynamic world, the information knows no bounds. PDF translation has further elevated the information handling. It has emerged as a powerful means of global communication. Translation allows users to transcend language barriers. By opting for an apt translation approach, we can grasp and share knowledge, ideas, and insights.
It's up to you to choose a free solution like Google Translate or an AI-driven online platform like HiPDF. All the methods described would well fulfill your diverse translation needs. Hence, choose the most suitable PDF translation way and grow your linguistic horizons.