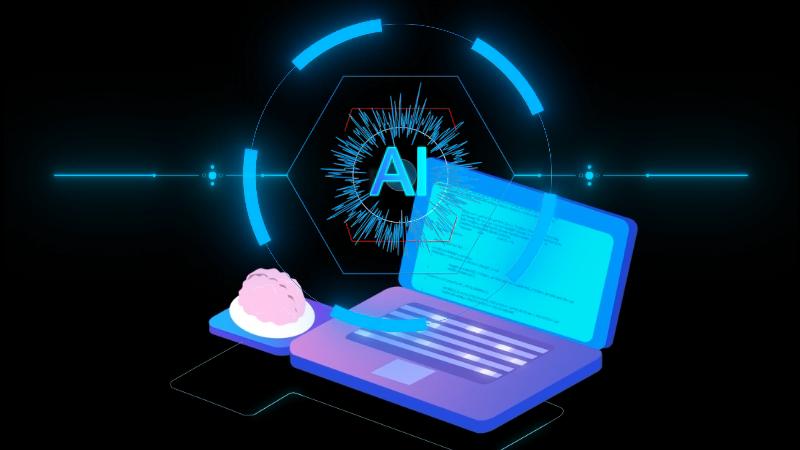 Information overload is a common challenge in this digital age, especially when dealing with lengthy PDF documents. While these PDFs are packed with valuable information, they can also be overwhelming to sift through. That's where PDF summarizer AI tools come to the rescue.
These summarize PDF AI solutions have emerged as invaluable tools to simplify the process of extracting insights from complex files. By employing cutting-edge technology, these PDF summarizer tools scan, analyze, and condense lengthy PDFs into concise summaries. Given this context, the article will list the best PDF summarizers to let you choose the suitable one.
A Comprehensive List of Best AI PDF Summarizers
Using AI to summarize PDFs is increasingly becoming a trend now. With the emergence of AI summarizer PDF tools, it has become easier to make your documents handy. These intelligent systems summarize PDF files and condense the most vital content using NLP.
Let's explore the best AI PDF summarizers available, each offering unique features and capabilities tailored to diverse needs:
Part 1. Online PDF Summarizing Tools
Online PDF summarizers have gained significant popularity in today's digital landscape. Their appeal lies in their accessibility, affordability, innovative features, and friendly interfaces. Let's delve into some online PDF to summary converters: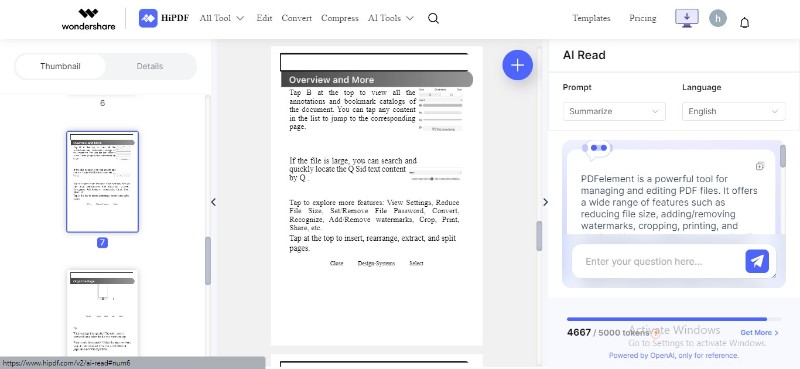 HiPDF stands out as a top-tier free online PDF summarizer, offering users a versatile and efficient solution. The tool provides 5,000 AI tokens to use the AI summarization feature. You can extract essential insights from lengthy PDF documents with a single stroke. The tool is an indispensable choice for students, professionals, and anyone grappling with information overload.
Specifications

Explanation

Price
Free, starts from $5.99 per month
Main Features

· One-click summarization

· Summarizing Specific Content

· Multilanguage Summary Generation
HiPDF as the Summary PDF Online Generator
Online accessibility is one of HiPDF's key strengths. Users can access this PDF summarizer from any device with an internet connection. The tool offers an AI Read feature through which you can approach the summarization feature. Thus, whether you're on a computer, tablet, or smartphone, HiPDF is available to distil critical information.
How To Summarize PDF Online Using HiPDF's AI Read Feature?
Step 1 Visit HiPDF's official site. Navigate to "AI Tools>AI Read".
Step 2 Click "Choose File" to upload your PDF.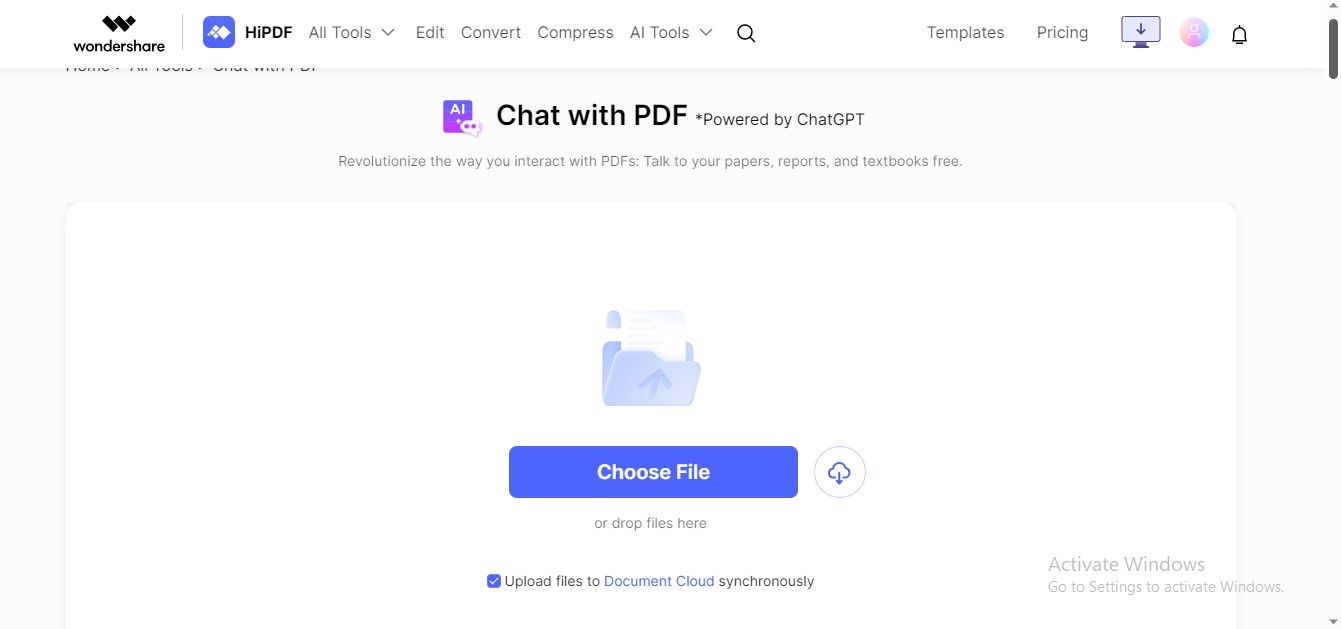 Step 3 Choose "Summarize" from "Prompt". Opt for the entire PDF summary or its specific content.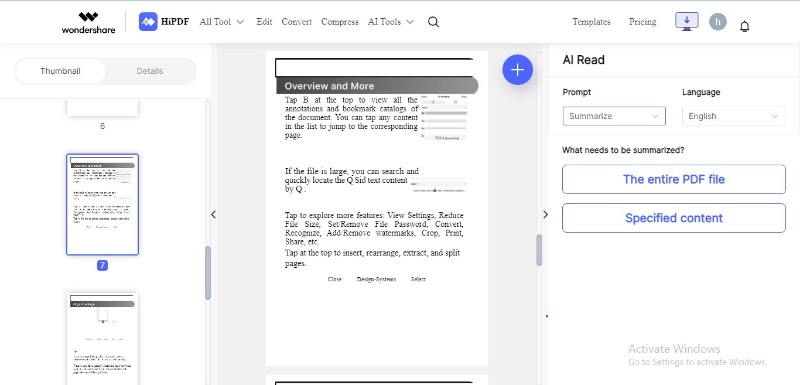 Step 4 HiPDF will generate a concise summary upon your request.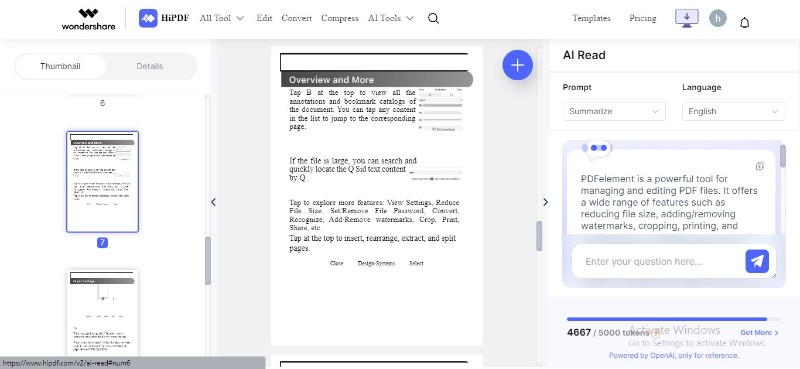 Benefits of Using HiPDF as an AI PDF Reader
-Effortless summarization with a single click
-Multi-Format compatibility
-Best for one-time usage or short PDF files
-High level of speed and accuracy
-Interactive experience through AI chatbot
-Ease of accessibility because of an online interface
-Assured privacy and document protection
2. AI PDF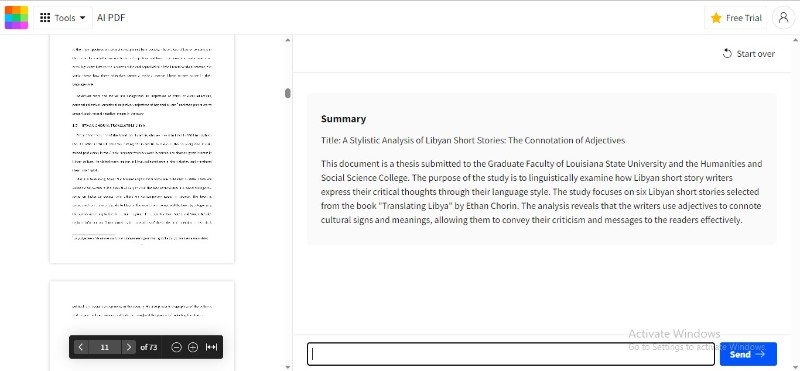 AI PDF is the product of Smallpdf, which specializes in offering AI solutions for PDF management. The tool is equipped with GPT-3.5, providing a chatbot interface to investigate the document. Along with offering a summary of PDF file online, the tool also answers your queries regarding PDFs. You can upload files from Dropbox, OneDrive, Google Drive, and your device.
Specifications

Explanation

Price
Free, Starts from $12 per month
Main Features

· One-Click Summarization

· Friendly Interface

· Multisource File Uploading
3. AnySummary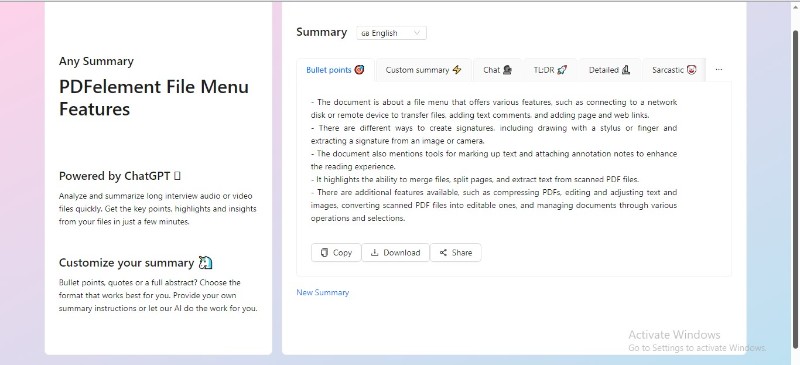 Looking for a user-friendly and all-inclusive free PDF summarizer? Consider AnySummary, a top-notch AI summarizing solution. You can generate the summary in several styles, such as bullet points, paragraphs, detailed, sarcastic, and more. The free version allows summarizing 3 files daily, making it ideal for low-budget users.
Specifications

Explanation

Price
Free, starts from $7 per month
Main Features

· Multilanguage Summary Generation

· Different Summary Formats

· Copying & Downloading Summary
4. PDF2GPT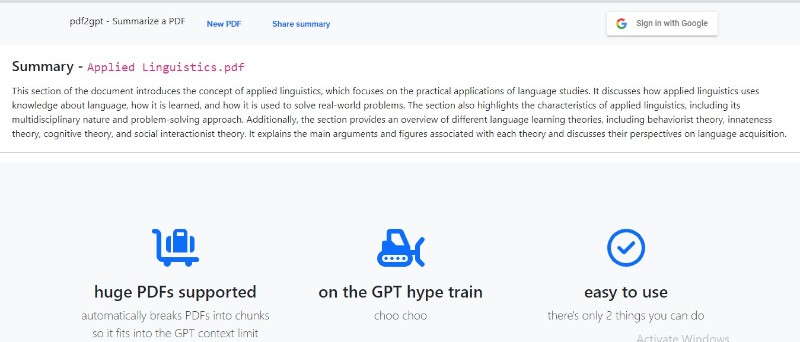 PDF2GPT is a PDF summarizer free tool with a straightforward interface and impressive features. The tool provides only 2 plans: free and pro. The free version allows summarizing of 15 pages per PDF file. The pro version is budget-friendly, costing only $5 per month. You can upload a PDF or paste a URL link. The tool also offers an AI chatbot to interact with your PDF naturally.
Specifications

Explanation

Price
Free, starts from $5 per month
Main Features

· One-Click Summarization

· AI Chatbot

· Long PDF Article Summarizer
5. PDF Coach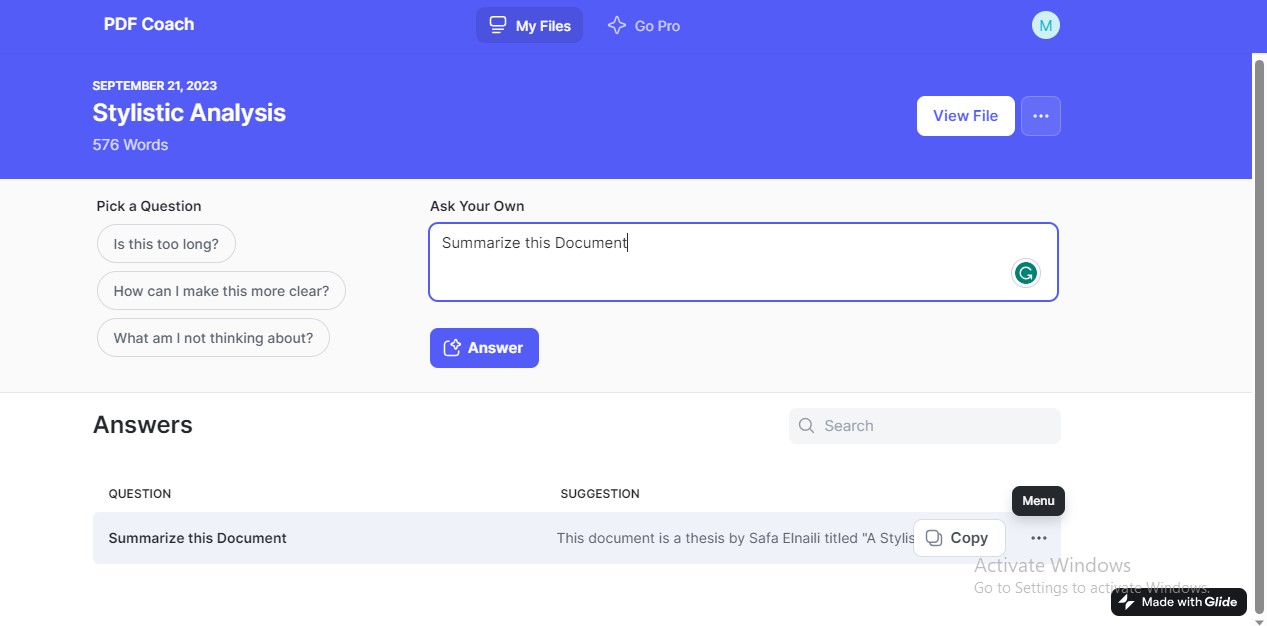 PDF Coach is a project of Glide that excels in offering a seamless chat-with-PDF experience. The tool is packed with valuable features to simplify your information extraction. You can upload a document or paste a URL for summarization. The tool offers prompts to enhance the communicative experience with AI. Although the tool is not free, you can try its functionality via its free trial.
Specifications

Explanation

Price
Starts from $9.99 per month
Main Features

· Sample Prompts

· AI Chatbot

· Response Fixing
6. Summary Box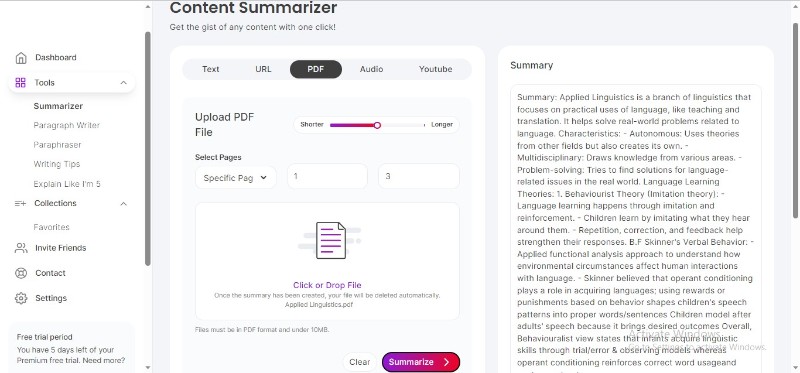 Do you want to integrate a PDF summarizer online free extension into your browser for all-time accessibility? If yes, then Summary Box is for you. The platform is a cutting-edge solution that you can use to summarize PDFs and website content. The tool offers a 5-day free trial in which you can make 20 prompts per day. You can also paraphrase the summarized text using its in-app paraphraser.
Specifications

Explanation

Price
Free, starts from $9 per month
Main Features

· Summary Length

· Page Selection

· Summarizing History
7. Summarizethis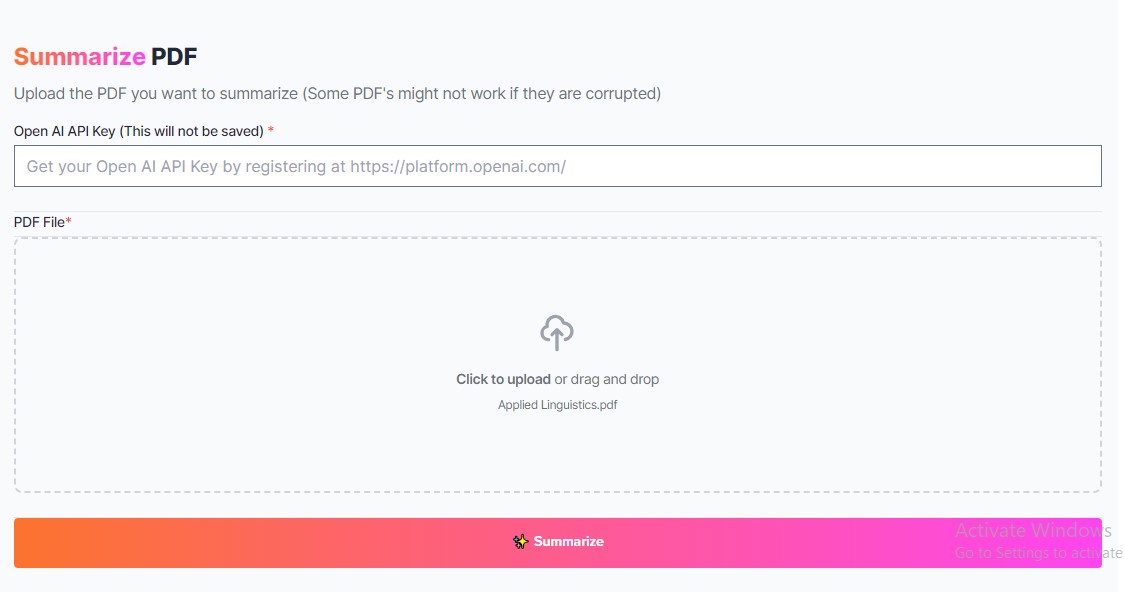 Summarizethis is an impressive AI-powered summarize PDF online free tool that simplifies the process of condensing a wide range of content types. The tool can summarize texts, PDFs, videos and Twitter threads. This versatile tool is available for free. However, it requires an OpenAI API Key to unlock its full potential.
Specifications

Explanation

Price
Free, starts from $ per month
Main Features

· Lifetime Free

· One-Click Summarization

· iOS Application Availability
Part 2. Desktop Summary Generator PDF Tools
Desktop Summary Generator PDF Tools are specialized software designed for users who require in-depth control over their PDF summarization. Unlike their online counterparts, these desktop tools are ideal for situations where privacy, security, or professional usage is a priority. Also, they are suitable for permanent and recurring usage. Once installed on your device, these tools become a permanent addition to your workflow. Let's discover the best AI summarizer software: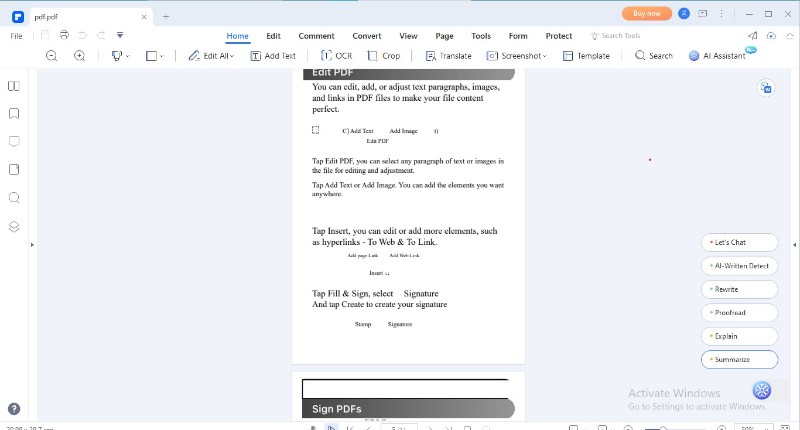 PDFelement, renowned for its excellent PDF editing abilities, goes beyond its ordinary functionalities. The tool is powered by a robust AI PDF summary feature. This cutting-edge functionality elevates PDFelement to a league of its own, making it an indispensable tool. You can extract key insights from long-winded PDFs with the click of a button. Thus, PDFelement's AI summarization feature is a time-saving marvel.
Specifications

Explanation

Price
Free, starts from $79.99 per year
Main Features

· One-Click Summarization

· Quick AI Toolbar

· AI PDF Chat
PDFelement as the Best AI Summarize PDF Tool
PDFelement's AI summarization feature employs cutting-edge technology to analyze and distill the key points of a PDF document. Whether you're dealing with papers, reports, or lengthy articles, PDFelement offers a reliable and sustainable solution.
How To Summarize a PDF Document Using PDFelement?
Step 1 Open your PDF in PDFelement. Access the AI Sidebar by clicking "AI" on the right or "AI Tools" under the "Home"
Step 2 Click "Summarize PDF" in the AI Sidebar. If you want to summarize specific text, click "Summarize," input your text and click "Send."
Step 3 To summarise the selected text quickly, highlight the desired portion. Click "AI" in the floating toolbar, and choose "Summarize."
Step 4 AI will generate a summary with key points. You can copy and paste it as needed.
2. UPDF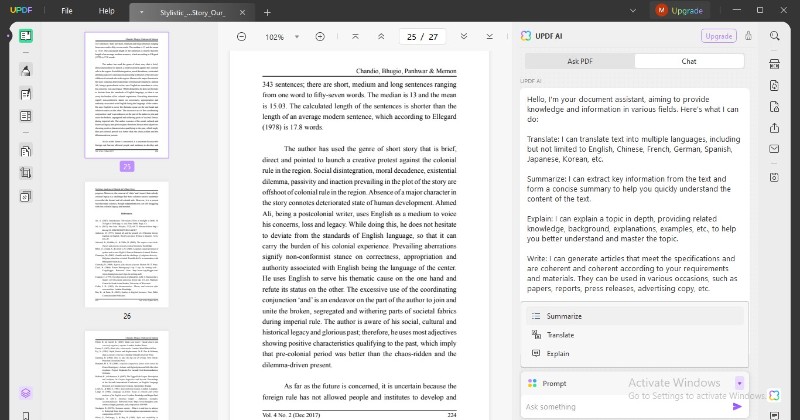 UPDF is an impressive PDF reader that incorporates AI summarization into its functionalities. This in-app facility allows you to quickly distill key insights from your PDFs. The tool can generate summaries in multiple languages. Also, you get sample prompts from the AI assistant about the documents to clarify your grey areas.
Specifications

Explanation

Price
Free, starts from $25.99 per year
Main Features

· AI Chatbot

· One-Click Summarization

· Multiple Language Outputs
3. LightPDF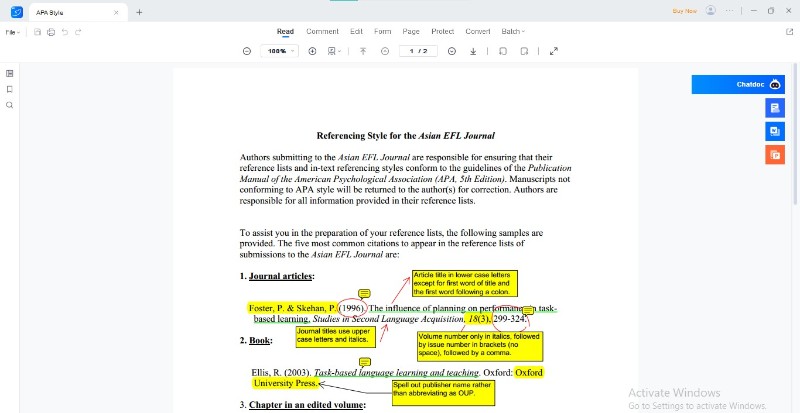 Endowed with GPT-4 technology, LightPDF elevates convenience to the next level. The tool serves as a summary generator from PDF documents. The AI-powered chatbot allows you to discuss your ambiguities with confidence. LightPDF is the preferred option for students and researchers who constantly need a reliable solution for their information management.
Specifications

Explanation

Price
Free, starts from $19.99 per month
Main Features

· GPT-4 Technology

· AI Chatbot

· One-Click Summarization
Conclusion
In this digital cosmos, where information abounds, the need for information management is greater than ever. AI PDF summarizers have stepped up as viable options in such a context. They are not just time-savers but also knowledge enhancers. These PDF summarizers transform dense documents into concise and actionable insights.
Bridge the gap between information overload and clarity, making the quest for knowledge more enjoyable. With these best PDF summary generator free tools at your fingertips, you can conquer the vast sea of information with ease.