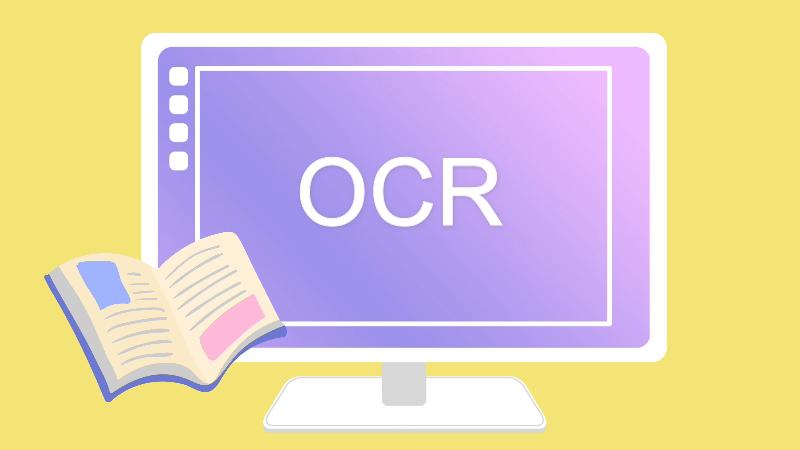 You might often face scenarios where you need to extract text from PDFs, such as book excerpts or content-rich PDFs. Also, there are instances when you need to extract tables from documents for further editing or integration into tools like Microsoft Excel. In such situations, having a reliable OCR online tool becomes indispensable.
PDF to text OCR online tools accurately recognize characters in images and convert them into editable text. To simplify your search for the ideal OCR software, we've curated a list of the best OCR online solutions available. These PDF text recognition tools eradicate the hassle of downloading propriety software and manual data typing.
A Well-Researched List of Top PDF OCR Online Solutions
PDF text recognizers unlock the content trapped within PDF files or physical documents. The below-described OCR to text converters are selected based on their ease of use, functionalities, and pricing. Without further ado, here's the list: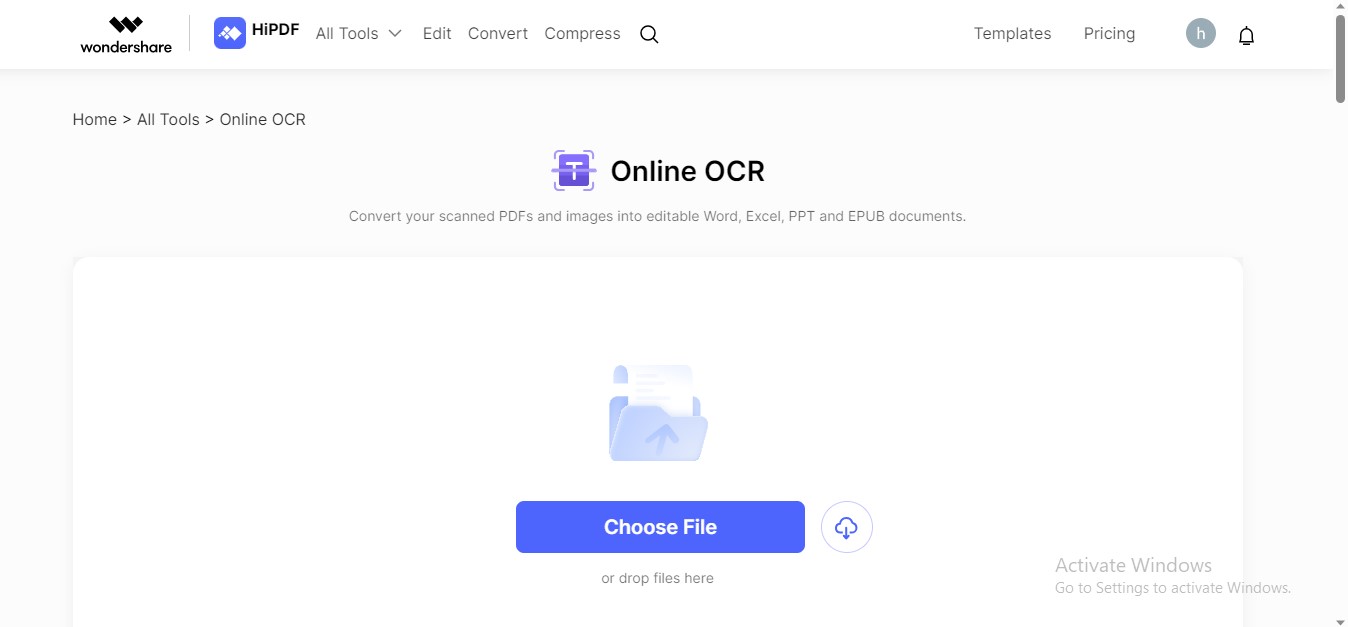 HiPDF is an exceptional online OCR PDF tool that specializes in converting scanned documents and images into editable text. With HiPDF, you can easily extract textual content from PDFs, making it accessible for editing, searching, and sharing. Its user-friendly interface and multilingual support make it an appropriate option for different domains and use cases of users.
Specifications

Explanation

Price
Free, starts from $5.99 per month
Main Features

· Multilanguage Text Recognition

· Several Output Formats

· Web and Application Interface
HiPDF – The Best PDF Text Recognizer
HiPDF possesses the PDF text recognition feature with lightning-fast OCR technology. The tool enables processing documents in batches. Furthermore, it can detect more than 20 languages present within the document.
How To Use HiPDF to Recognize PDF Text?
Follow the given steps to use HiPDF as an online OCR reader:
Step 1 Visit HiPDF's official site. Go to "All Tools>OCR." You can also search for the OCR feature in the search bar.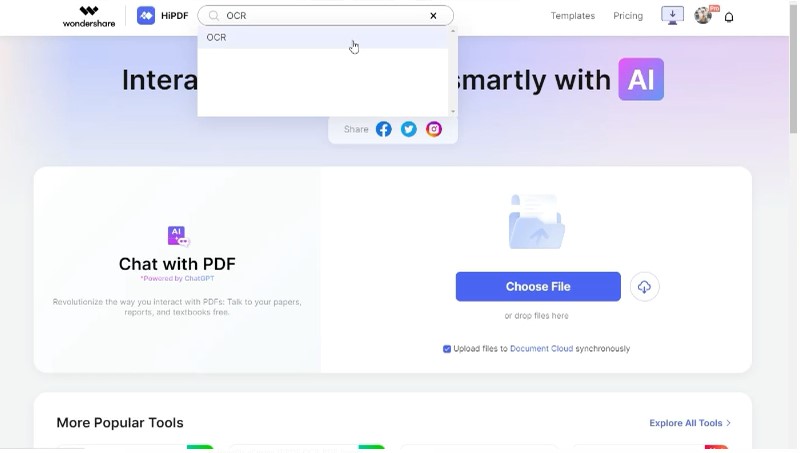 Step 2 Upload your PDF by clicking the "Choose File"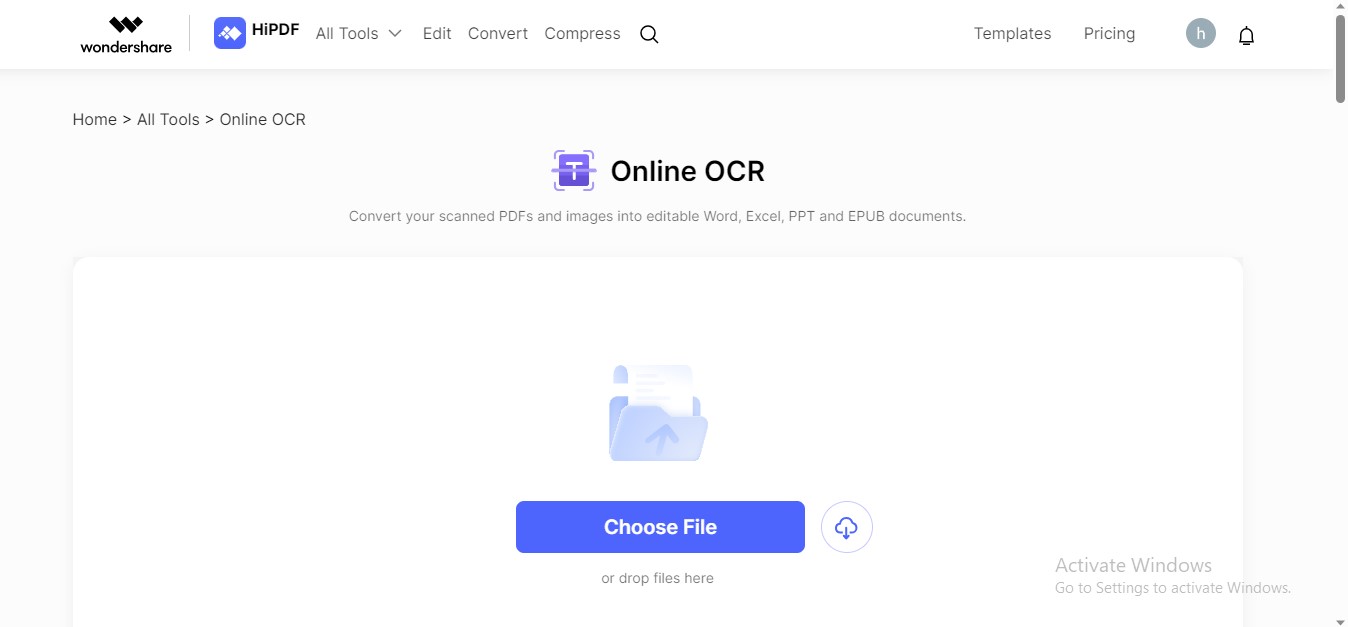 Step 3 Choose your output format and language. Click the "Recognize" button to get started.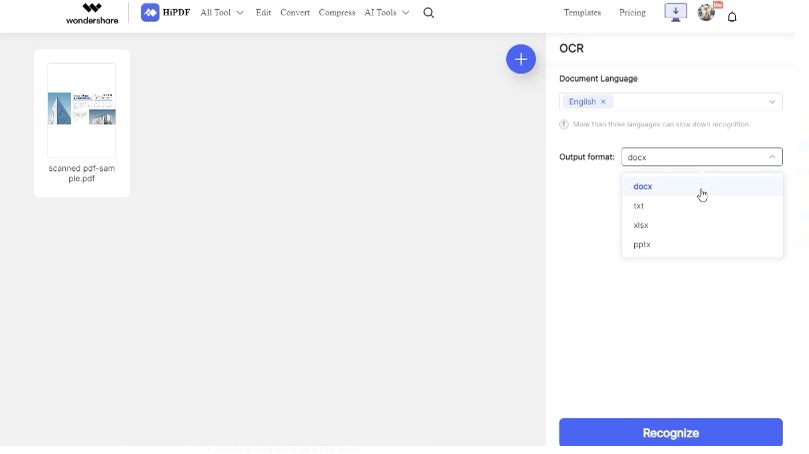 Step 4 HiPDF will convert your PDF file into editable text. Hit the "Download" button to save your document.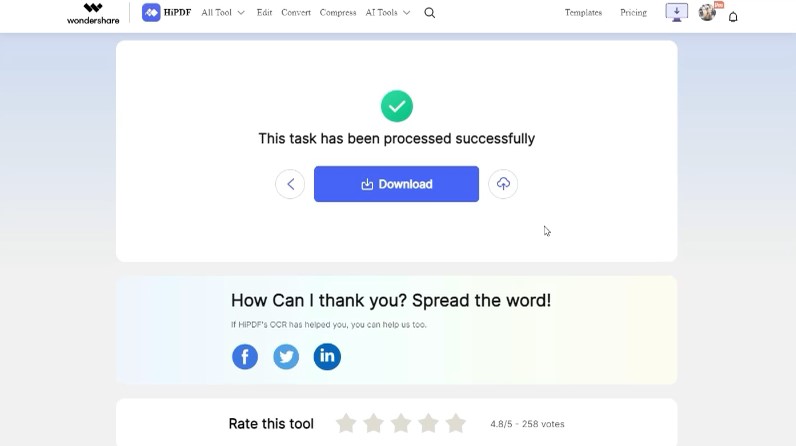 Benefits of Using HiPDF as a PDF to OCR Text Converter
HiPDF stands itself apart as a certified OCR text converter due to its admirable attributes. Here are some noticeable aspects that make HiPDF a top choice compared to other market rivals:
-HiPDF is accessible through both web and application interfaces, ensuring you can use it on various devices and platforms.
-With its fast-paced OCR technology and batch rendering, HiPDF efficiently converts multiple documents, saving you time and effort.
-HiPDF's text recognition spans over 20 languages, ensuring accuracy and convenience for users across the globe.
-You can easily transform PDFs into editable formats such as Word, PowerPoint, Excel, and plain text, enhancing your document flexibility.
-HiPDF supports a variety of file formats, making it adaptable to import different types of documents.
-HiPDF offers budget-friendly premium plans, allowing you to access advanced features without breaking the bank.
2. OnlineOCR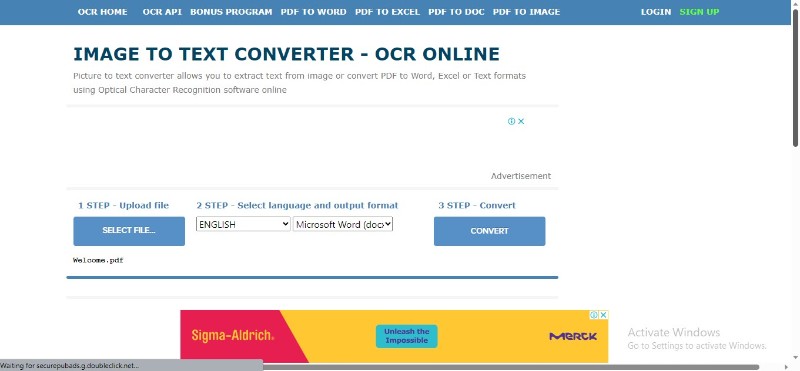 Online OCR is a handy tool that turns PDFs and photos into editable text. The tool is skilled in recognizing 32 different languages. You can convert scanned PDFs into editable Text, Word, and Excel formats. Also, the tool allows you can convert up to 10 pages in an hour, making it a reliable option for one-time text recognition tasks.
Specifications

Explanation

Price
Free, starts from $59.95 per month
Main Features

· Multilanguage Text Detection

· Multiple Output Formats

· Straightforward Interface
3. Convertio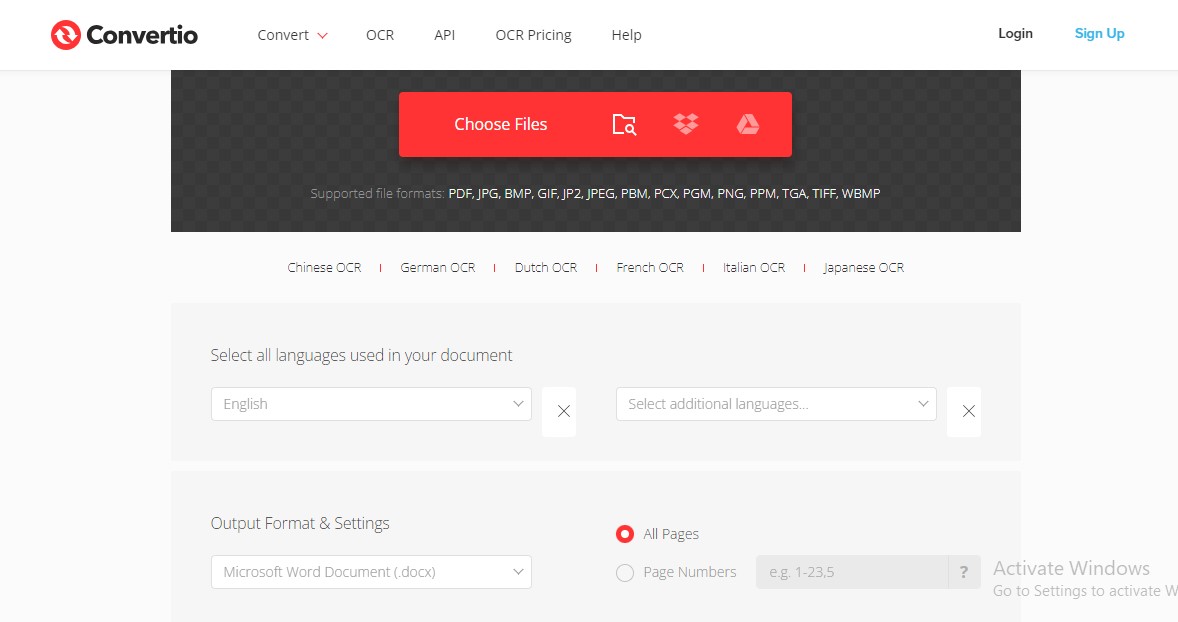 Looking for an all-inclusive OCR online solution? Convertio is another remarkable online OCR image to text converter that supports over 100 languages. Besides global languages, the tool also provides additional languages for detection. You can upload multiple files from different sources simultaneously. Also, the export formats are numerous.
Specifications

Explanation

Price
Free, starts from $4.99 per 50 pages
Main Features

· 100+ Languages

· Several Export Formats

· Detect Specific Pages
4. Google Docs

Google Docs contains a hidden OCR feature which you might be unaware of. To use this feature, upload a PDF document on Google Drive and open the file with Google Docs. Google Docs will automatically convert the PDF file into an editable text. Google Docs text recognition is completely free, requiring no subscription or additional cost.
Specifications

Explanation

Price
Free
Main Features

· Automatic PDF Text Conversion

· Lifetime Free OCR Service

· Plain Interface
5. Nanonets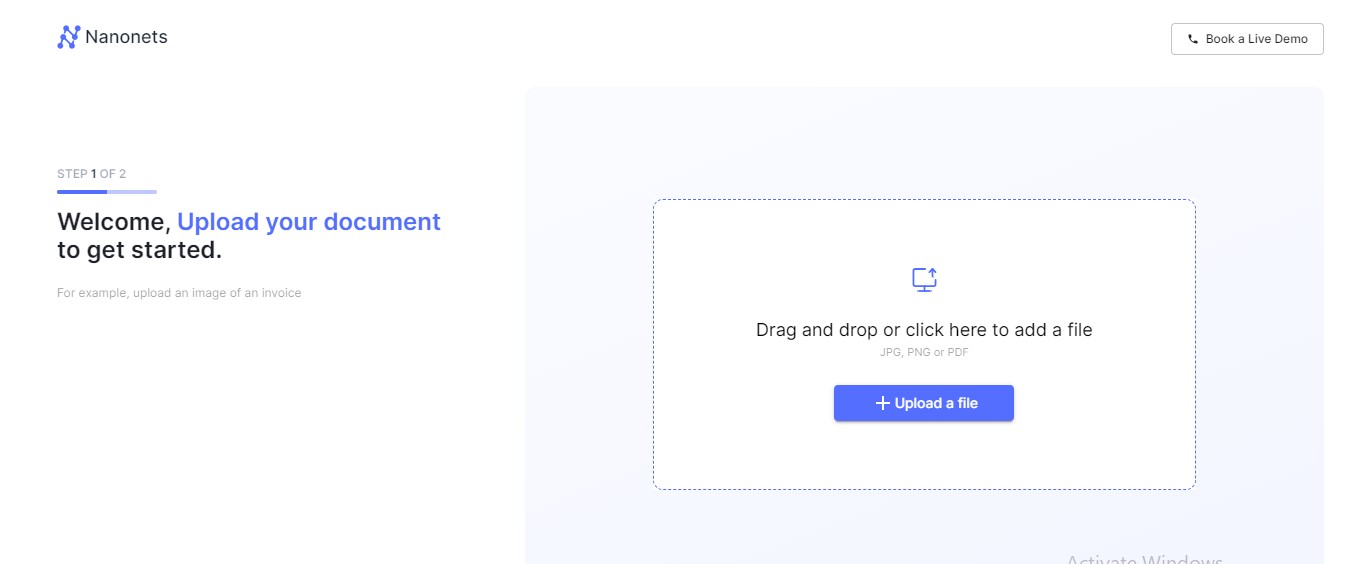 Nanonets is probably one of the most efficient online OCR solutions with maximal accuracy. The tool offers a comprehensive array of features for advanced-level users. Nanonets gets you covered, whether it's export formats, languages, document types, or speed. The tool also supports team collaboration for editing needs.
Specifications

Explanation

Price
Free, starts from $499 per year
Main Features

· Several Document Types

· Team Collaboration for Collective Editing

· In-App Editing Services
6. PDF OCR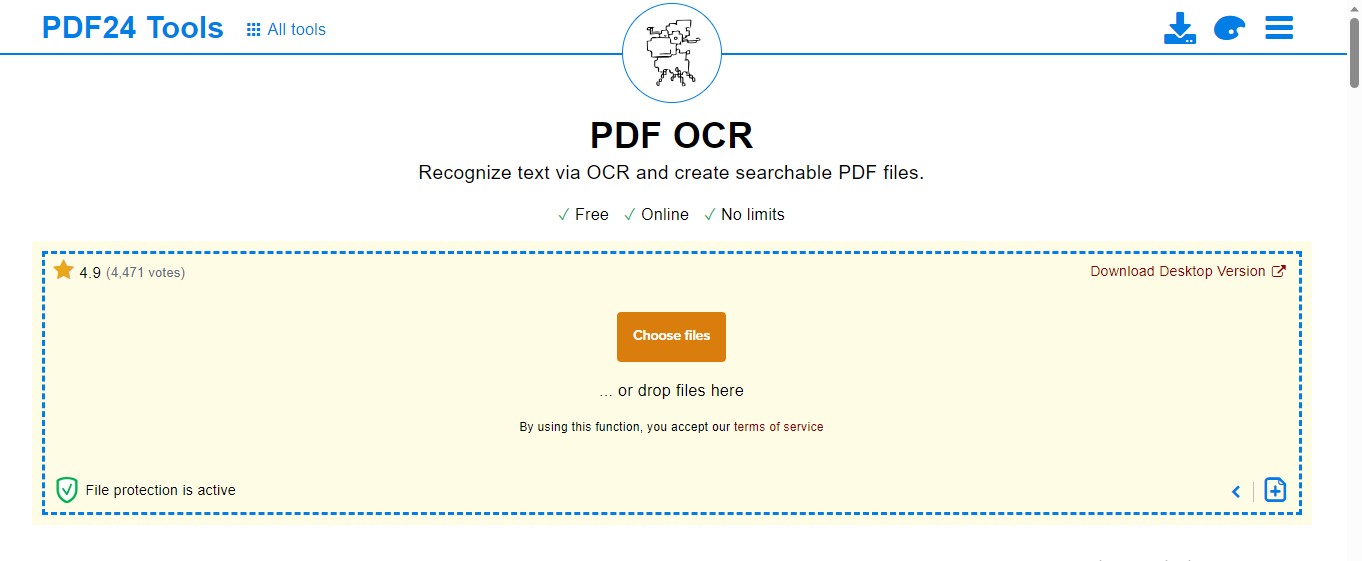 PDF OCR lies among the suite of tools offered by PDF24 Tools. The tool provides both a web-based interface and a Desktop application. PDF OCR is packed with several advanced features, which are commonly absent in free OCR readers. For example, you can deskew pages, remove background, and rotate pages. The supported languages by PDF OCR exceed 100.
Specifications

Explanation

Price
Free
Main Features

· 100+ Supported Languages

· Page Deskewing

· Background Removal
7. iLoveOCR

iLoveOCR is a dependable online OCR tool that simplifies the process of converting scanned documents into text. With its intuitive interface, iLoveOCR caters to a wide range of users. The tool offers support for multiple languages and ensures precision in extracting text. iLoveOCR provides a convenient solution for efficiently digitizing content.
Specifications

Explanation

Price
Free, starts from $12.50 per month
Main Features

· 10+ Languages Supported

· Multiple Output Formats

· User-friendly Interface
8. Workbench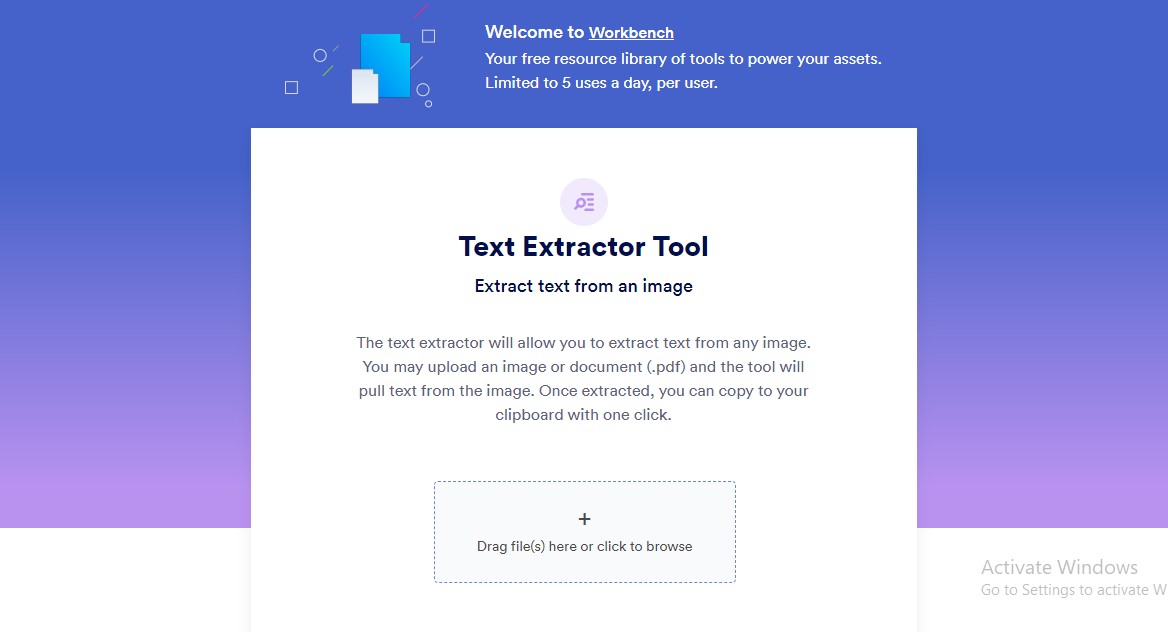 Don't want to go through the trouble of signup and registration? Here is a solution for you. Workbench is a free online OCR tool that meets this criterion. The tool allows you to process five files a day without needing to move back and forth for signup. The greatest advantage of the tool is that it is completely free, requiring no license or subscription.
Specifications

Explanation

Price
Free
Main Features

· One-Click Text Extraction

· File Upload from Various Sources

· Lifetime Free Service
9. 2pdf.com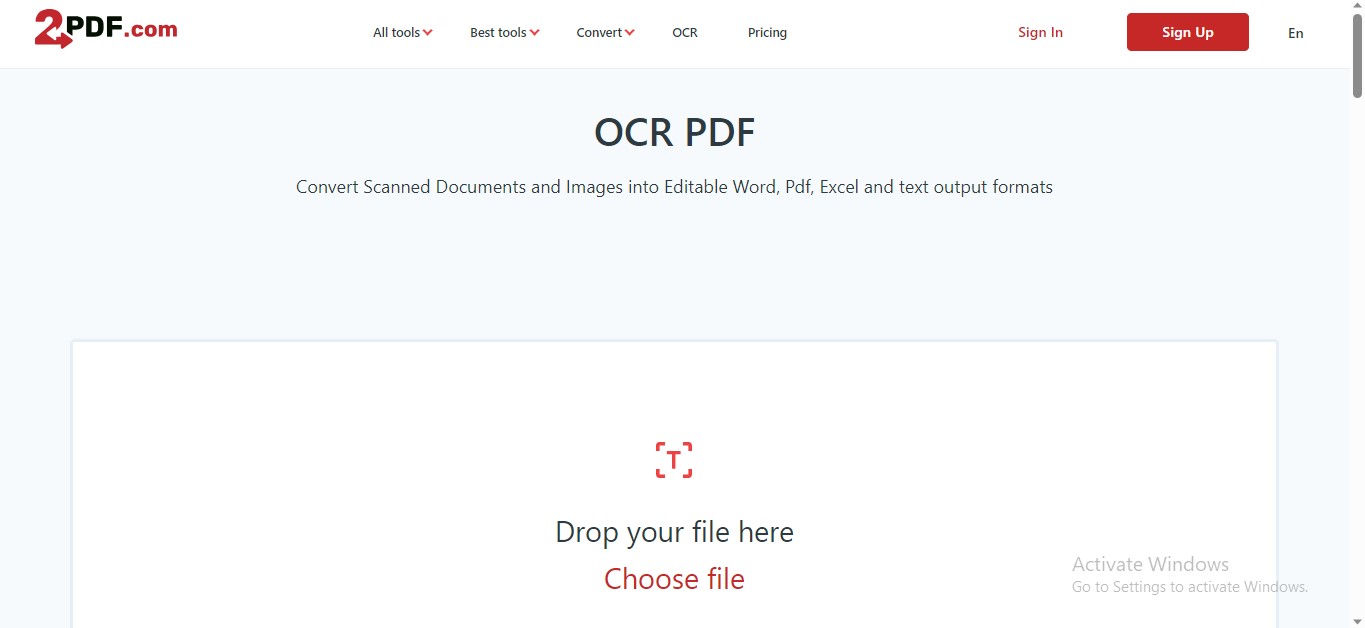 On a hunt for an online PDF OCR solution loaded with features yet designed for ease of use? Consider giving 2PDF.com a closer look. The tool supports several languages for text extraction. You can also select your desired output format for file downloading. However, the only problem is that its free version allows only 10 pages for OCR.
Specifications

Explanation

Price
Free, starts from $5.99 per month
Main Features

· 10+ Supported Languages

· Several Output Formats

· Specific Page Scan
10. pdf4me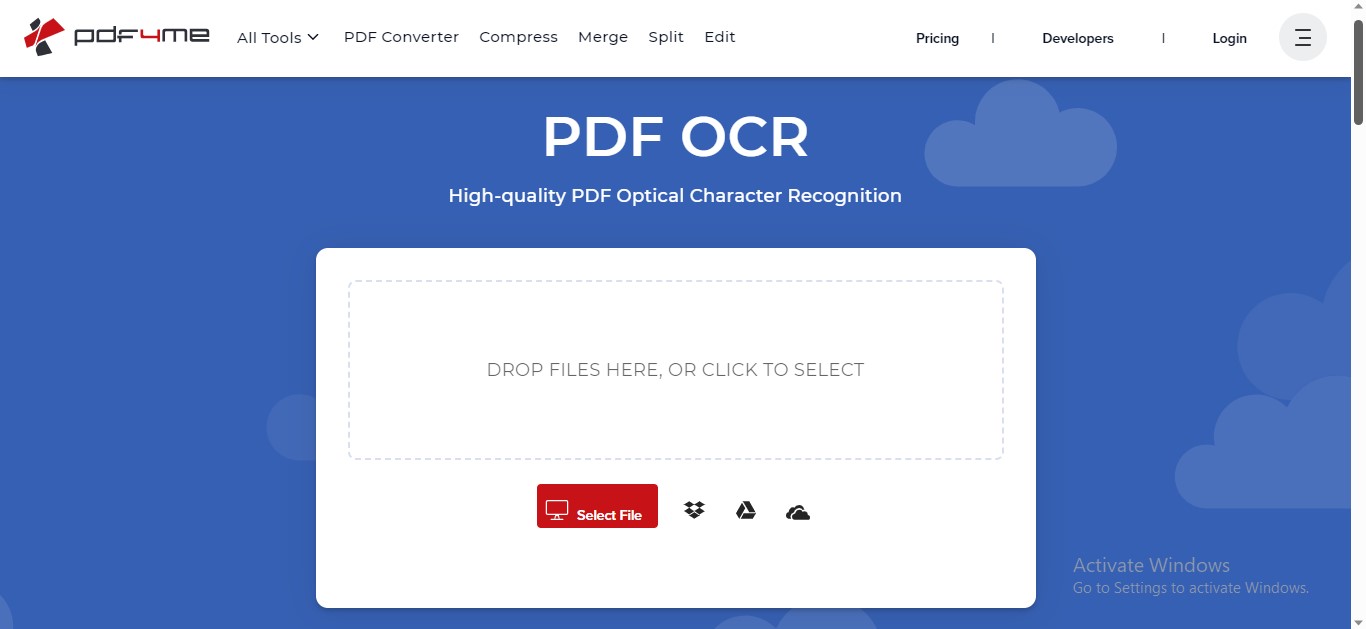 Last but not least, pdf4me is a preferable online OCR reader that offers text recognition services for free. The tool enables you to upload files from your device, One Drive, Dropbox, and Google Drive. You can also select the specific pages for the OCR scan. However, the tool supports limited languages for text recognition.
Specifications

Explanation

Price
Free, starts from $6 per 20 files
Main Features

· Scan Specific pages

· Instant File Download

· File Saving to External Platforms
Conclusion
OCR technology is a blessing in this era because it simplifies the document-handling experience. Online OCR readers make it effortless to extract text from PDF documents and images by converting them into editable formats. Another advantage of using online OCR solutions is that you don't need to install any application for text recognition. Also, most of the tools are equipped with state-of-the-art technology.
The top 10 PDF OCR online readers listed here offer a wide range of solutions to meet diverse needs. Whether you choose a free OCR tool like Google Docs or opt for a budget-friendly premium solution like HiPDF, the choice is all yours.