10 Best Easy PDF Editors of 2022 (Online & Desktop)
Most users say that they're frustrated with the sheer number of PDF tools out there. It's understandable because they come with different feature sets, different pricing, and a range of UI variations. However, once you understand the requirements of an easy to use PDF editor, finding the right one is a piece of cake. We've done all the hard work for you, so read on to see the list of Top 10 easy PDF editors and desktop options.
Best Online Easy PDF Editors in 2022
HiPDF is a very easy PDF editor to use online. All you need is an updated browser on a connected device and you're ready to go. One of the main benefits of HiPDF is that you can use the platform for free if you have a limited workflow. If you need higher limits, you can upgrade to an affordable monthly or annual subscription plan that works out to just a few dollars a month.
Notable features of this easy to use online PDF editor include a drag-and-drop interface, extensive editing, conversion, security, and file management tools, advanced capabilities such as OCR, and so on. Each feature can be found on its own dedicated web page, and the clean menu layout makes it easy to find the PDF tool you need.
The best part about HiPDF is the ease-of-use factor. You can drop a PDF, document, or image file into the web interface to upload it, then click a button to process the file, and then click Download again to save the processed file. You can also proceed to perform other actions, upload the file to the cloud, or start over and process another file. Batch processing is available in the paid version, which also removes file size limits and restrictions on how many files you can process per day. This user-friendly design is what makes HiPDF one of the top easy to use PDF editor options online.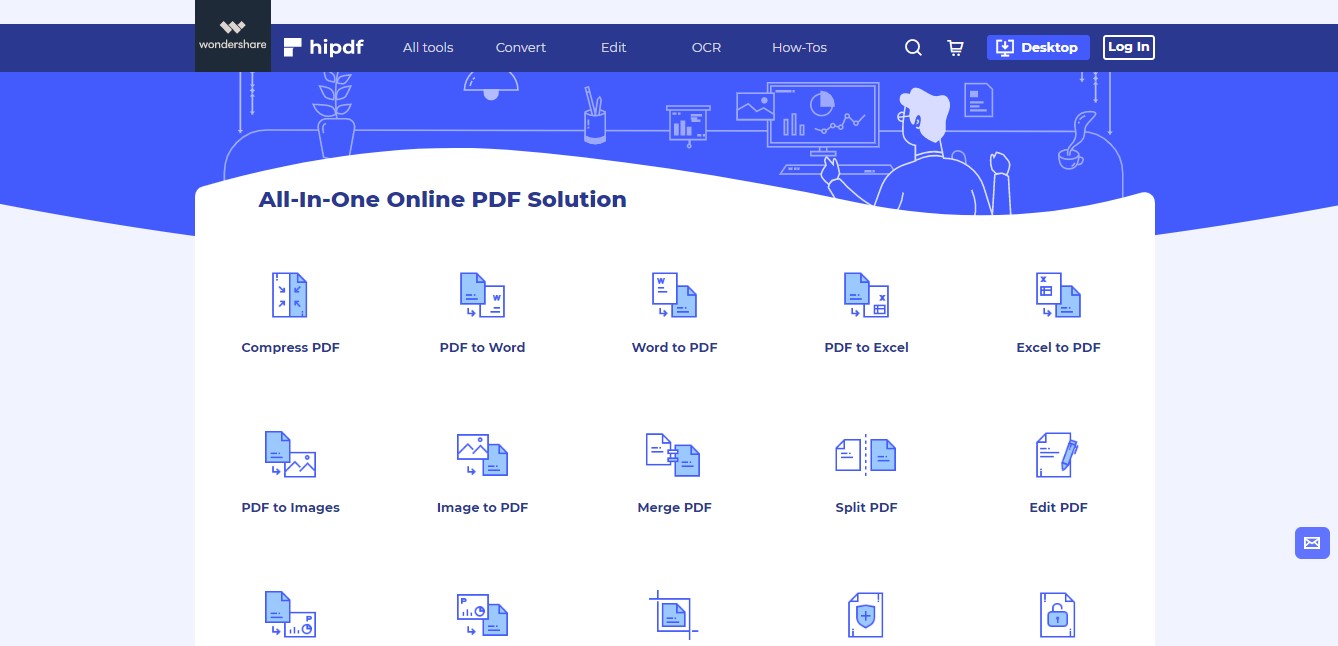 If you're looking for a basic easy PDF editor, you should definitely consider iLovePDF. The platform doesn't boast any advanced features but the interface is very user-friendly and intuitive. Drop your file, click a couple of times, and you're all done!
Among iLovePDF's top features are PDF editing (adding content only), file size reduction (optimize PDF), password protection, and some types of file conversion. The features aren't extensive but the UI makes it a very easy to use online PDF editor for most basic PDF tasks.
Another great thing about iLovePDF is that the upgrade to a paid plan is very reasonably priced, but even the free version is quite generous with regard to the limitations. For instance, you can upload PDFs of up to 200MB for file compression and up to 20 image files at a time to convert to PDF in this easy PDF editor online.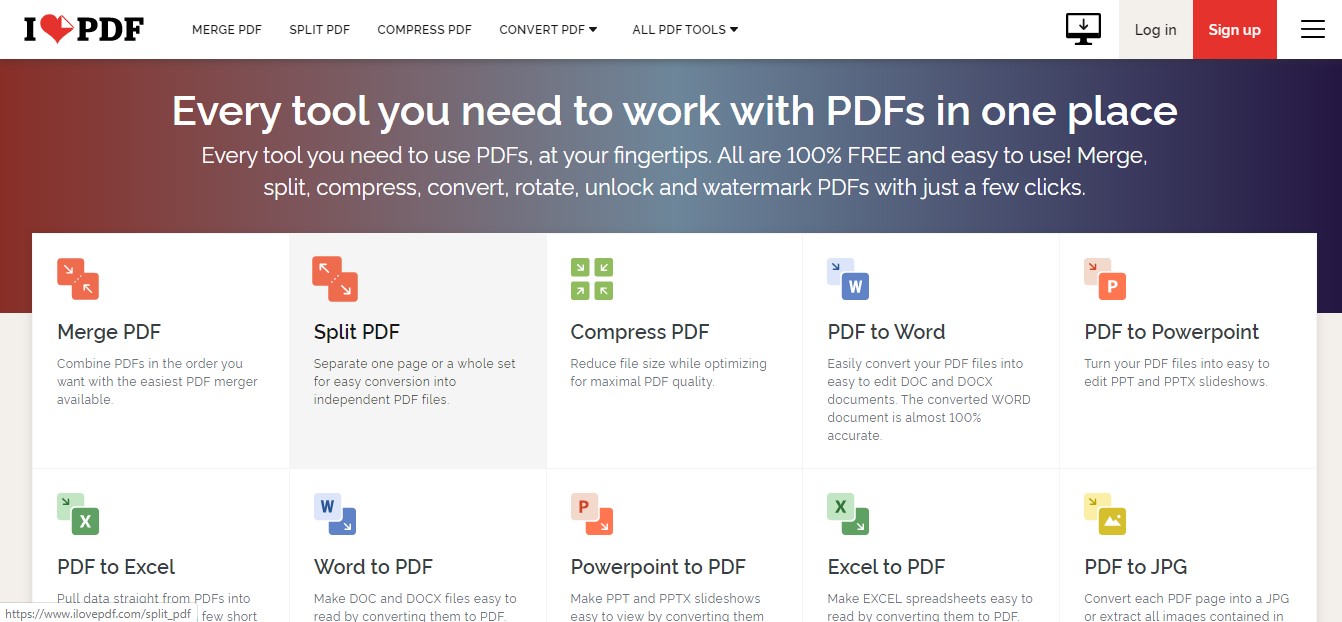 Sejda is more advanced than iLovePDF and comparable to HiPDF in terms of features. The PDF editor function is currently in beta testing but you'll find a host of other features in this easy to use online PDF editor.
The platform offers quite an extensive feature set for online PDF processing, and they include both basic and advanced tools. Some examples of basic tools include PDF organizing, watermarking, PDF splitting, PDF cropping, page deletion, etc., while the top advanced features include PDF compression, OCR, page and image extraction, PDF flattening, and metadata editing.
You can also use Sejda to easily fill and sign PDF forms, and there's also a new feature to create forms with interactive elements that can be filled in electronically. Sejda is a little more expensive than HiPDF but the feature-rich environment and usability kind of justify the higher pricing. In short, this is among the top easy to use PDF editor options to consider when you're on the go or away from your main computer.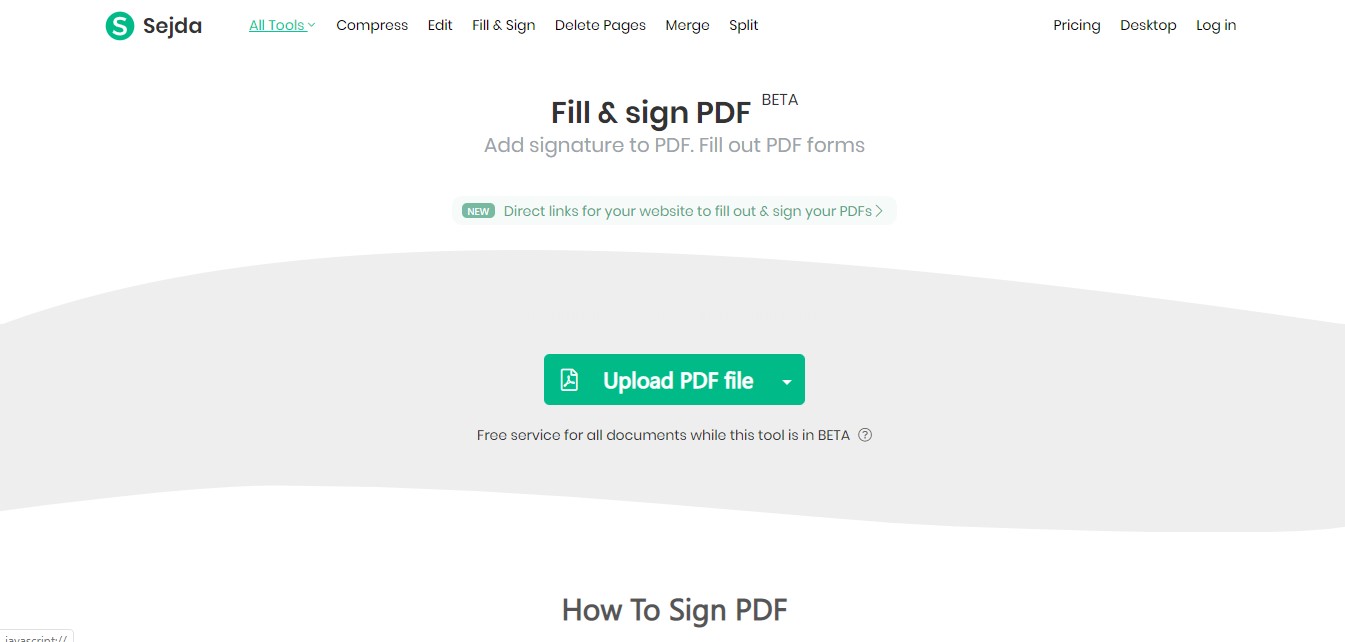 Getting back to basics, PDFescape is a very simple tool with limited features but is definitely an easy PDF editor for online users. You can use it for a variety of tasks, including adding content, annotating, and managing pages. No advanced features here but if all you need is an easy PDF editor, this might be it. You can add text, images, links, and even form fields with this easy to use PDF editor.
PDFescape can be used for free even without registration, but there are also limitations to using this online PDF reader/editor. You can only upload PDFs that are up to 10MB in size or 100 pages long. If you need higher limits, you'll need to use the desktop version, which is quite affordable.
The one thing you should know about PDFescape is that the interface is as basic as its features. No fancy graphic UI, no stunning design, and no bells and whistles. That's actually one of the things that makes it an easy to use online PDF editor.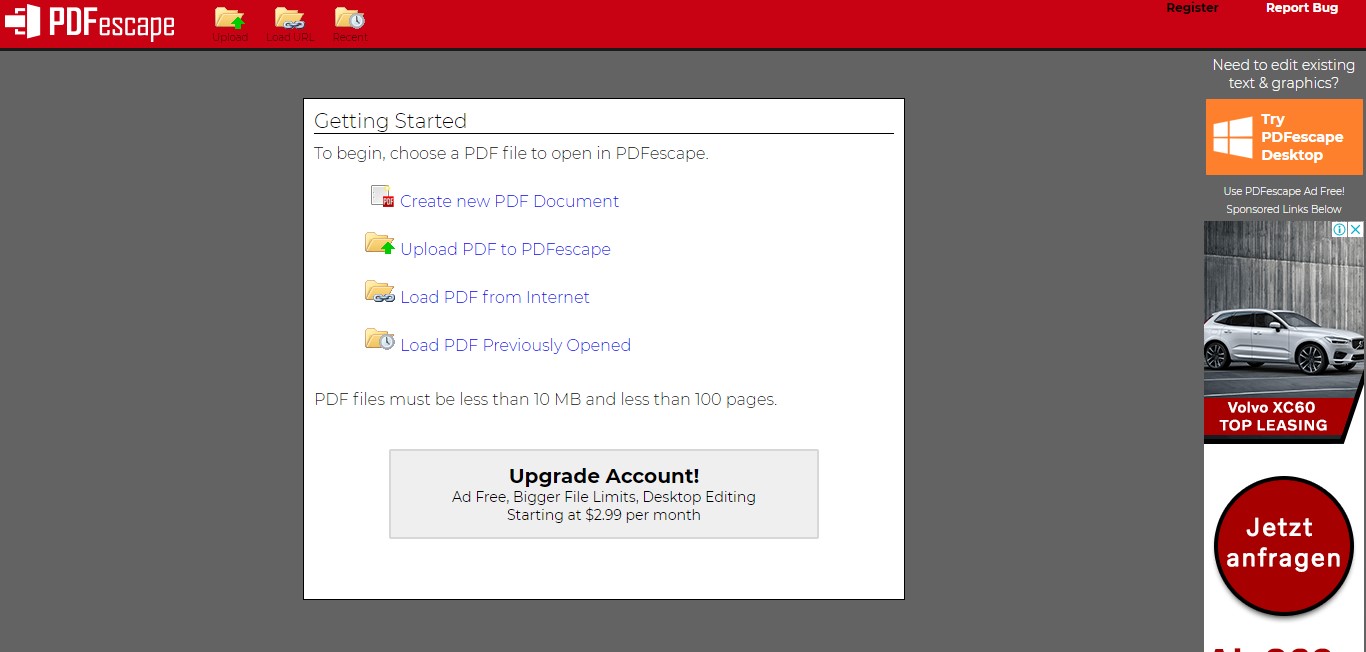 PDF2Go is another basic but easy to use PDF editor with tools for PDF conversion, optimization, repairing, compression, security, etc. Interestingly, it even comes with free OCR, but only to convert image-based PDFs into searchable files. If you need to convert such a file into an editable PDF, you'll need to go Premium. As such, it's a very handy freemium online PDF editor with a clean interface for easy navigation.
The standout feature in PDF2Go is the list of options to convert other files into PDF. In other words, it supports a range of file types for PDF creation such as DJVU, ePub, Word, Excel, JPG, etc. In addition to these dedicated web pages, there's also a special tool to convert almost any file type to PDF. There's also a tool to convert PDF into various other formats, as well as web pages dedicated to specific conversions such as PDF to Word, Excel, PPT, JPG, and Text.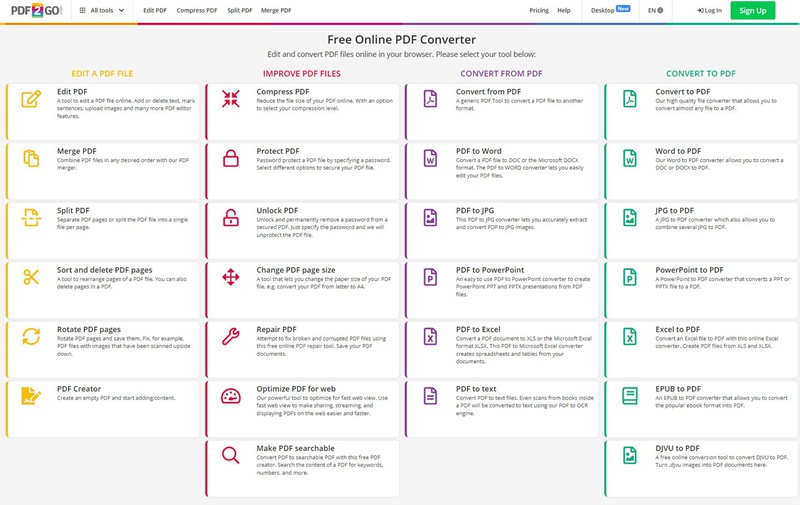 ---
Best Desktop Easy PDF Editors in 2022
PDFelement is often touted as the most affordable alternative to Adobe Acrobat DC and Pro DC. The reason is that it offers most of the same features you'd expect from a top-grade PDF editor but for a fraction of the cost of an Adobe subscription or perpetual license. However, it's not just the features that are appealing; it is also one of the most easy to use PDF editor applications available on the market today. The seamless user experience is aided by a modern and minimalistic user interface that makes navigation and task handling a breeze.
In terms of features, PDFelement sports an extensive range of options from PDF creation to editing, annotations, form creation, form conversion, OCR, batch process, PDF security, file size optimization, file conversion, and more. The file creation feature needs a special mention because it supports hundreds of file formats that you can instantly transform into a PDF with a high level of accuracy and fast processing. That applies to OCR, converting PDFs to other formats, and most of its other features as well. In short, if you're looking for an easy PDF editor for desktops, this is it. What's more, it doesn't stop at desktops. There are also versions for iOS and Android, as well as a cloud service called Wondershare Document Cloud for PDF storage and electronic signature collection.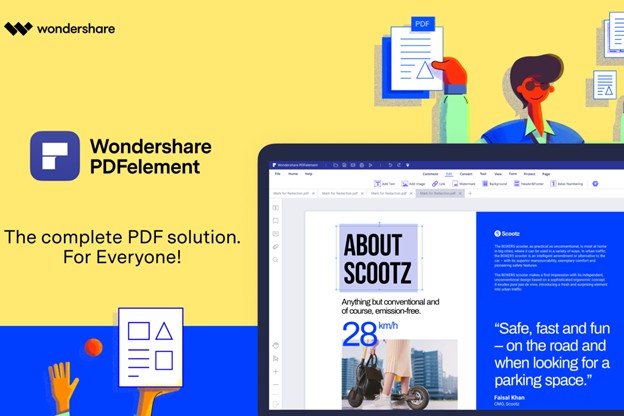 Nitro PDF Pro features in this list because of the Windows-like environment of the UI. The familiar ribbon-style toolbar layout will be easy for most Windows users to navigate around. It is also a feature-rich application with advanced tools, some of which include creating and combining PDFs, advanced annotations, to and from PDF conversion, comparing PDFs, PDF editing, eSignatures and digital signatures, OCR, PDF security, and forms management.
There's no Mac version but Nitro does offer a mobile version for iOS. The feature set is relatively limited but you can still edit PDFs, fill and sign forms, add links, apply password restrictions, annotate files, and even validate digital signatures. The downside of Nitro is that it doesn't support extensive file conversion options; however, it does offer some conversion features for commonly used file formats like Office files and text files.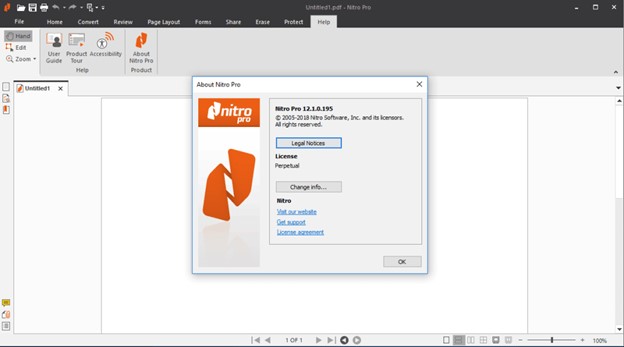 Some say that Acrobat is NOT an easy to use PDF editor because of the sheer number of features and tools that it contains. However, once you get the hang of it, you'll appreciate this feature-rich environment - and it keeps getting easier to use over time. Acrobat is very versatile and covers the needs of the bulk of simple and complex document flows. It is also a multi-platform utility available for desktop, mobile, and online use - very similar to PDFelement in that respect.
Acrobat is understandably the most used PDF platform in the world with a +40% market share, according to data from Datanyze, and its user base comprises about 32.4 million professionals across more than 6500 companies across the world. And that's just the basic Acrobat DC version! With impressive numbers like those, it's hard to leave out this robust family of PDF editors and readers from any list of easy PDF editors.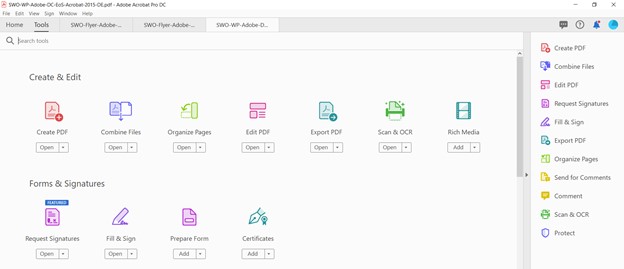 PDF Complete is a Windows-only utility that comes in two variants - Corporate and Office. The pricing is on the higher side but the rich features that come with each edition make it worth the money. The UI is also very clean and well-organized, making it easy for most users to jump right in and start using the software.
PDF Complete Corporate Edition is more of a PDF reader and creator, offering conversion to PDF, annotation tools, a form filling tool, and other useful modules for light PDF workflows. The more powerful PDF Complete Office Edition comes with advanced tools for PDF editing, creation, annotation, conversion, OCR (to searchable text only), digital signatures, PDF protection, page and file organizing, etc.
The conversion options are quite limited but it covers most of the commonly used formats such as Office files, PDF/A, HTML, XPS, and eBooks. The conversion quality is excellent, and your PDF content will be rendered quite accurately in the output file. Overall, this is a solid Windows utility and definitely an easy PDF editor to get the hang of.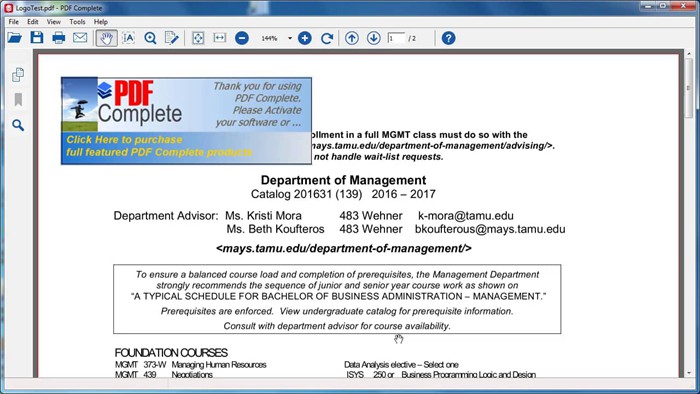 Foxit PDF Editor is a multi-platform utility similar to the PDFelement and Acrobat range of PDF editors. There's no advanced version for Mac users but the Pro version for Windows is a powerful and affordable tool that's not only easy to use but quite responsive in terms of processing speed.
Common features that are included in most Foxit versions include PDF creation, file merging, Night Mode, PDF comparison, PDF search, PDF editing, hyperlinks, bookmarks, form-filling, eSigning, form editing, PDF security, and digital signatures (except Mac version). In the Pro version, you'll find unique features such as creating a 3D PDF from DWG files, advanced PDF editing (also in Mac version), reflow editing, search and redact partial words, and so on.
The Foxit interface is very much like an Office application, so if you're on the Windows version, this is a very easy to use PDF editor for all your workflow needs, whether it's just basic PDF manipulation or performing advanced tasks.