Best 10 Nitro PDF Editor Alternative
Nitro PDF is a robust PDF editor for Windows but it leaves a lot to be desired. For instance, you won't find an extensive list of files supported for conversion from or to PDF, and navigation isn't always that simple. At times, you will find yourself clicking manically on the menus just to find the right feature or tool. Moreover, when you use the Nitro PDF editor free, you'll find that it is quite limited in terms of functionality - and there's no Mac version, either. For all these and other reasons, users tend to look for alternatives to Nitro PDF editor.
Top 10 Alternatives to Nitro PDF Editor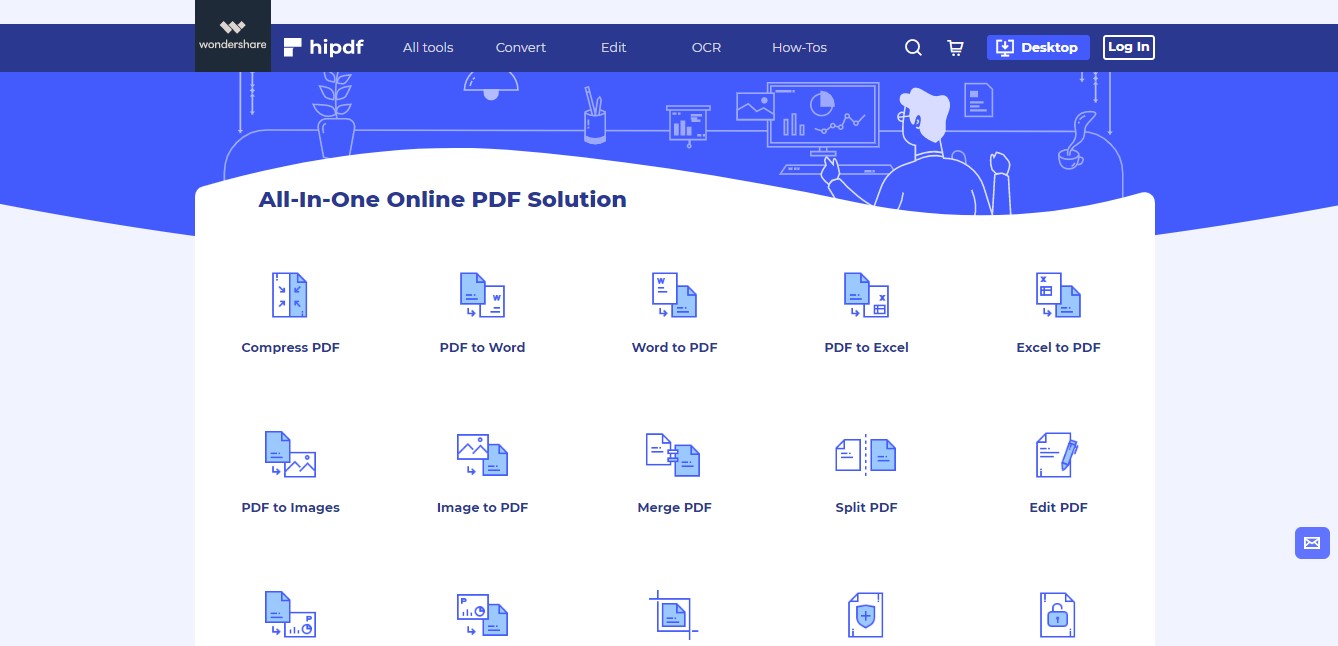 Pros:
Extensive features to match Nitro PDF editor
Advanced tools such as OCR
More affordable than Nitro Pro PDF editor
More user-friendly UI
Optional access to desktop, mobile, and cloud tools with the same login
Cons:
Not installable
Needs a secure Internet connection to process confidential files
File size and processing volume limitations in the free version
Price: Starts at $4 a month for the annual plan or $6 monthly
HiPDF is an elite product among online PDF editors and a fitting alternative to doing a Nitro PDF editor free download. Since there's no Nitro PDF editor online, HiPDF is the perfect alternative if you're looking for a portable solution that you can access from any connected device through a modern browser.
One of the key features of HiPDF is its usability. Simple actions such as clicking, dragging, and dropping are all you need to get even the most complex PDF tasks done. And it's quite fast when you have a high-speed Internet connection such as fiber for desktops or 5G for mobiles.
By far the best feature of HiPDF is not actually a feature but the fact that it is part of a larger family of PDF tools from Wondershare. These tools include PDFelement for Windows, Mac, iOS, and Android, as well as Wondershare Document Cloud, which is a PDF-exclusive storage and electronic signature platform.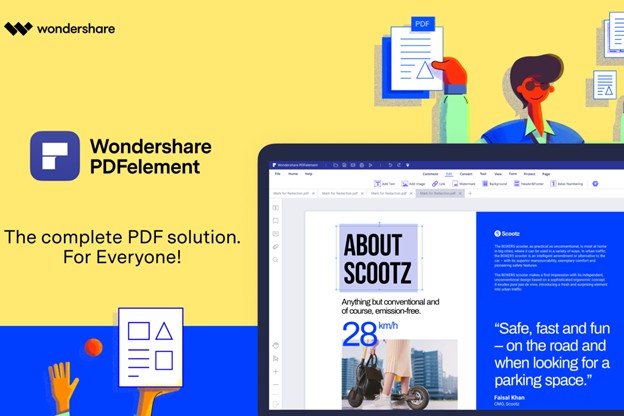 Pros:
Advanced feature set covering all complex PDF tasks
Cross-platform support
Modern UI that's native to each operating system
Easy operation - most tasks can be completed in just a few clicks
Accurate and fast conversion and OCR engines
Cons:
Mac, iOS, and Android versions are not as feature-rich as the Windows edition
The free version applies a watermark (but no feature restrictions)
Price:Starts at $79/year, and $129 for a perpetual license
As briefly mentioned above, PDFelement offers versions that cover nearly all major OS platforms. This versatility runs through PDFelement's other aspects as well, such as an extensive feature set, an excellent UI for easy navigation and operation, and blazing fast performance even when processing complex or very large files.
Moreover, since it is a desktop/mobile application, you don't need to worry about data being compromised because nothing leaves your computer, smartphone, or tablet without the user sharing it manually. PDFelement is often referred to as an affordable alternative to Adobe Acrobat's DC and Pro DC versions, but the same applies to Nitro PDF editor as well. When you compare the features against the cost, the winner is PDFelement by a mile.
What makes it even more attractive is the cross-platform availability and slick interface that gives users a very gentle, near-zero learning curve. Overall, this is one of the best alternatives to Nitro PDF editor or any other premium PDF editor.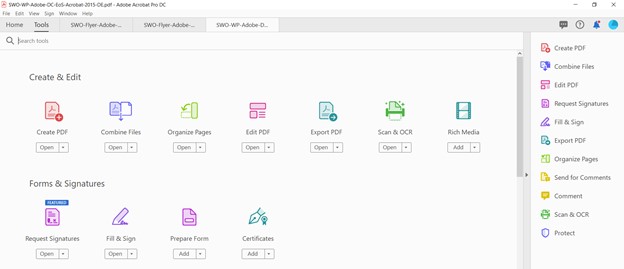 Pros:
More features than Nitro PDF editor
Supports Windows, Mac, iOS, and Android
Advanced toolset for complex PDF actions
Cons:
Expensive PDF solution
Cloud access requires a separate subscription to Adobe Document Cloud
Price:$12.99 a month ($155.88 annual billing)
Although Acrobat Pro DC is certainly a powerful alternative to the Nitro Pro PDF editor, it's a lot more expensive. That being said, there's a subscription option available for Acrobat users, while Nitro users have to pay the full amount for a perpetual license. It may make more sense long-term but a subscription plan would have been great for users who only need the tool for a limited period of time.
In terms of features, Acrobat Pro DC beats all other PDF editors on the market. It is one of the oldest PDF tools, after all, which means new features have been added on a regular basis with each new iteration. This gives Acrobat a distinct advantage in the Enterprise segment where intricate PDF tasks are business-critical.
From a UI perspective, Acrobat might not be a great alternative to Nitro PDF editor because it's quite cluttered and some features are hard to find. In that regard, Nitro is considered superior due to its Office-like design that features the familiar ribbon toolbar layout.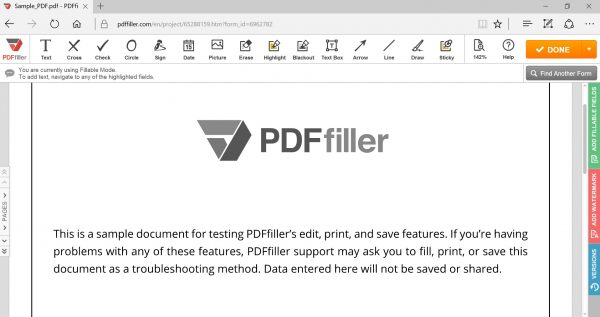 Pros:
Cross-platform support - online, desktop, and mobile
Several basic features such as PDF editing, conversion, security, annotation, etc.
Extensive feature options for business and Enterprise users
Fast customer support
Cons:
No advanced features like OCR, forms management, data extraction, etc.
Pricing may be confusing
Price:$ 8 per month on the annual plan
pdfFiller doesn't allow you to edit PDF text directly but it does have a 'find and replace' function you can use to modify existing text. It also comes with a content eraser, which makes it more like a PDF editor than a PDF reader. It also makes a compelling case to switch from Nitro PDF editor.
Apart from these, it also offers a full range of tools for annotation, conversion, signing, security, and more. There are also unique integrations with Office 365, Google Drive, and other cloud platforms that are useful for collaborative PDF workflows where users from multiple locations are involved.
The pricing, as we saw, is relatively affordable but only if you take the annual plan to start with. The monthly plan is a lot more expensive at $20/mo. However, it does get cheaper when there are more users. For instance, it only costs about $4 per user per month if you take the annual 3-user subscription plan.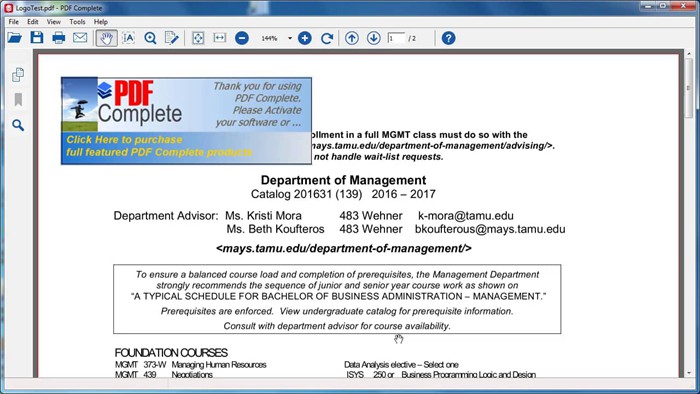 Pros:
Flexible options between a PDF creator and PDF reader
Several useful features to handle normal PDF workflows
User-friendly navigation and UI
Affordable compared to a Nitro PDF editor download
Cons:
No Mac version supported
Limited features in the Corporate edition
Not ideal for very heavy PDF workflows
Price:$49.95 one-time perpetual license fee for the Corporate Edition
Similar to Nitro PDF editor, PDF Complete is also a Windows-only PDF solution, so it makes sense to look at this product family as a viable alternative to doing a Nitro PDF editor download. PDF Complete is available in Corporate and Office editions, which is the equivalent of a basic and a pro PDF editor.
The Corporate variant is more of a PDF reader with additional tools for compression, annotations, conversion, scanning to PDF, form-filling, password security, PDF creation, file merging, etc. The Office version is more powerful and includes advanced tools for PDF editing, digital signatures, redaction, OCR to text, export options, converting to PDF/A, and so on.
The UI is very simple-looking and neatly organized, which makes it easy to navigate around and find the tool you need quickly and without any confusion. In fact, this is one of the factors that tip users in favor of this platform over Nitro PDF editor. Moreover, it's also quite an affordable alternative to Nitro Pro even if you go for the fully loaded Office edition of PDF Complete.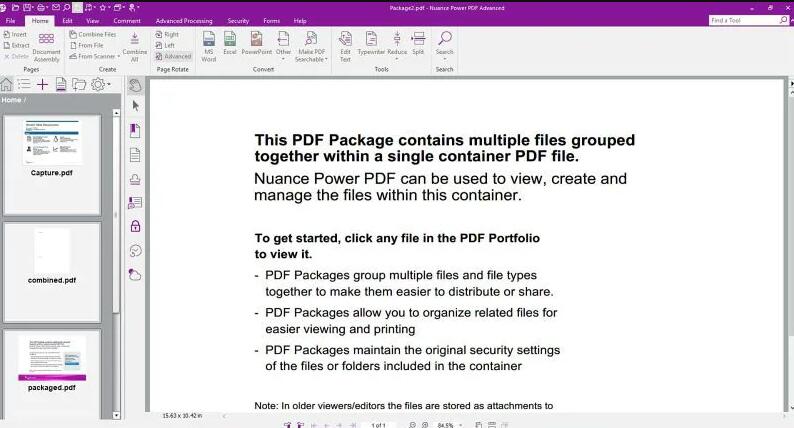 Pros:
An affordable and easy-to-use alternative to the Nitro Pro PDF editor
User-friendly UI with a neat and clean layout
Powerful features such as redaction and object embedding in the advanced version
Cons:
Limited file conversion options
Mac version is only available in the Standard variant
Price:Windows and Mac Standard versions are $129.95 for a perpetual license
Kofax, formerly known as Nuance, is a dual platform alternative to Nitro PDF editor. The Standard version is a reasonably robust PDF reader and editor with conversion, annotation, and other commonly-used PDF tools. However, the Advanced version is the real competitor to Nitro PDF.
Features in the Advanced version (Windows Only) include creating interactive forms, converting static forms to interactive PDFs, object embedding, redaction of text, and more. The more basic version can also be used for editing but it's quite a bit lighter on features compared to the Advanced edition.
The UI is more polished and less cluttered than the Nitro PDF editor, which makes it easier to learn the ropes on this versatile PDF tool. The only downside is the limited support for exporting PDF to other formats. In that respect, it's not nearly as robust as Nitro.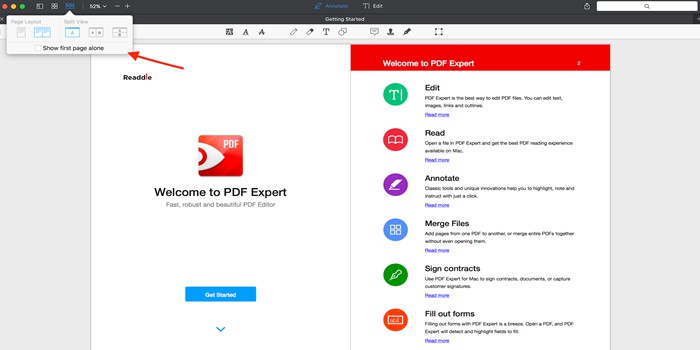 Pros:
Excellent Mac-centric interface
All essential tools in one package
Lightweight utility for Mac computers
Ideal for small teams
Cons:
No Windows version
No advanced PDF tools
Price: $79.99 for up to 3 Macs
If you're a Mac user looking for a Nitro PDF editor alternative, then PDF Expert should be considered seriously as an option. Although its features are limited compared to Nitro, Adobe, and other upmarket products, it covers all the bases for essential PDF tasks. Moreover, since the UI is specially designed for Mac, it gives the user a very seamless and fluid experience.
Top features include PDF annotations, creation, editing, filling forms, merging PDFs, and electronic signature application. Features such as auto-aligning content blocks make it easy to use and will make you more productive at work. This product is ideally suited to students and professionals alike.
The downside with this product is that file optimization, OCR, and other advanced tools aren't available. There's also no Windows version so that basically leaves out millions of potential users. Nevertheless, this Mac-only utility offers a great user experience and is definitely worth your money.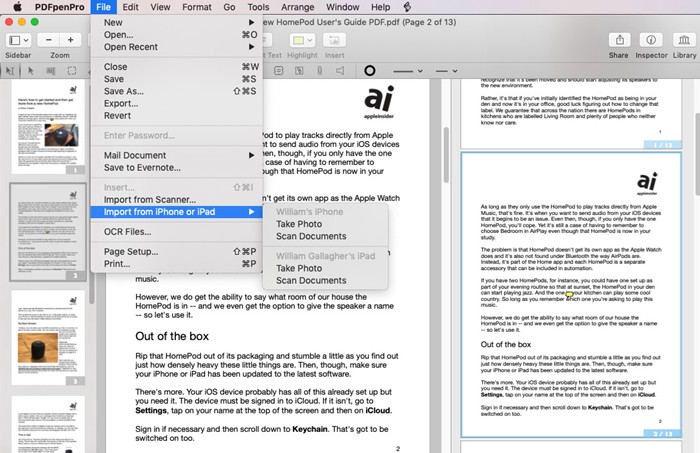 Pros:
Mac-focused functionality and interface
Excellent OCR quality
Additional tools and support for security, automation, etc.
Cheaper than Nitro
Cons:
No Windows version
Limited export file format options
Price:$79.95 for PDFpen (basic version) and $129.95 for PDFpenPro (advanced version)
Rather than being an alternative to the Nitro Pro PDF editor, this versatile tool actually complements it. That's because the brand is now owned by the same company that owns Nitro. They purchased it a few years ago, presumably to compensate for the fact that Nitro doesn't offer a Mac version of its own.
PDFpenPro is an advanced utility with extensive features. There's also a regular version called PDFpen, but the Pro version is the true equivalent of the Nitro PDF editor. Features include PDF editing, OCR, web to PDF, interactive form creation, exporting to other formats, eSigning, PDF merging, and integration with iCloud and Dropbox for collaborative workflows.
Another key aspect of PDFpenPro is the ability to automate your workflows with AppleScript or JavaScript. You can also enhance the quality of a scanned PDF to make the OCR conversion more accurate. Text redaction and other security features keep your information confidential and safe.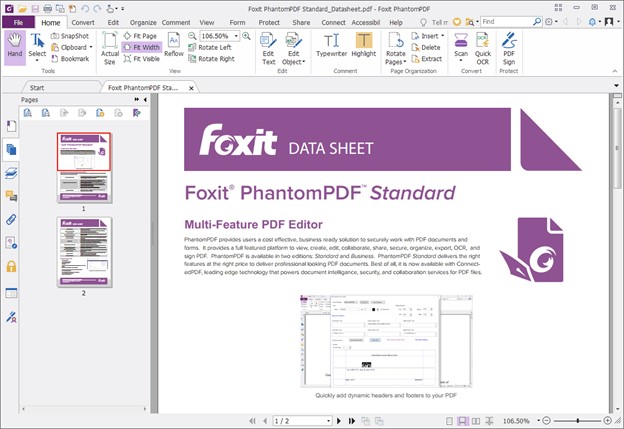 Pros:
OS-friendly interface on both Windows and Mac
Extensive features even in the Standard version
Economical alternative to Nitro PDF editor
Cons:
No Pro version for Mac
No one-click PDF creation in the Mac version
Price:$14.99 a month for Standard and $16.99 a month for Pro
Foxit PDF Editor, which was earlier known as PhantomPDF, is quite a user-friendly alternative to the Nitro Pro PDF editor. The standard version is available for Mac, Windows, iOS, and Android but the more advanced Pro edition is a Windows-only application.
Pro features include scan to PDF, OCR, high compression, text to path capabilities, and editing of PDF graphics. The Standard version comes with all the basics such as PDF editing, an annotations tool, file and page organizing features, form design and filling tools, creating PDFs from other sources, file protection, etc.
Foxit also offers flexibility in terms of licensing options. You can opt to pay a one-time perpetual license fee or just go with a subscription plan for the Windows and Mac versions. The iOS and Android apps are really affordable as well. However, even the subscription plan is a little pricey when compared to PDFelement - it's more in line with Adobe's subscription pricing.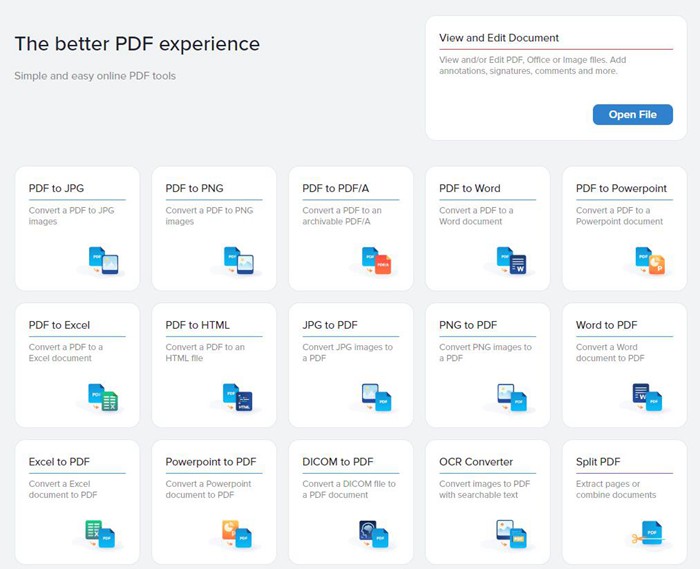 Pros:
Extensive feature set
Lots of free features
Excellent OCR quality in the Plus version
Cons:
No version available for Mac
Slightly clunky interface
Price:$56.00 for a single-user license
Even though PDF-XChange comes in a basic variant, PDF-XChange Editor Plus is the more advanced utility and a fitting alternative to Nitro PDF editor. The downside is that there's no Mac version but if you currently use Nitro, you're probably looking for a Windows alternative anyway.
The Plus version brings in some heavy firepower in the form of advanced form creation, dynamic stamps with JavaScript, a better OCR engine than the one in the standard version, and a lot of extras that really make this a value-for-money PDF editor.
As of this writing, the tool boasts about 319 features, of which 204 features are free to use. These include PDF editing (text correction only), creation, basic form creation, basic OCR, annotations, PDF protection, and a host of other capabilities. Overall, this is a feature-rich family of products that also includes bundle options and other tools such as a virtual printer and a special PDF-Tools application that includes the standard version of the PDF editor.
---
Food for Thought
If you're looking for a viable alternative to Nitro PDF editor, the best option would be to go with one of two choices: an OS-agnostic tool that can be used on any device, or one that's available for desktop, mobile, and cloud. In that regard, HiPDF, PDFelement, and Wondershare Document Cloud make the perfect combination of PDF tools for all platforms. It is also the most affordable solution by far, considering the rich features and smooth user experience you can enjoy.