Top 5 Best GIF to PDF Converter Online
GIFs are becoming increasingly common everyday, especially with the growing use of social media. GIFs are bitmap images in a Graphics Interchange Format which supports 8 bits per pixel for each image. While these GIFs are highly useful, users might need to convert them into PDF files which are easier to edit, store, and share. For that, users seek the best GIF to PDF converters online.
HiPDF is inarguably the best GIF to PDF converter online which allows the user to avoid the time taking hassle of using their email. This website is on top of our list because it has a lot of options, and most of them are completely free. The online conversion tool of Hipdf is not just for PDFs but images as well, including other document formats such as TXT, Word, PPT, Excel and RTF. Across the internet, Hipdf proves to be the most helpful and effective as it gives users the opportunity to fulfil all their PDF requirements on one website.
As a free user, a person can convert their documents easily and quickly, and get a great output quality of the documents. Users who choose to pay can unlock the OCR feature which allows them to edit images as well, as the Optical Character Recognition software automatically recognizes the text within an image.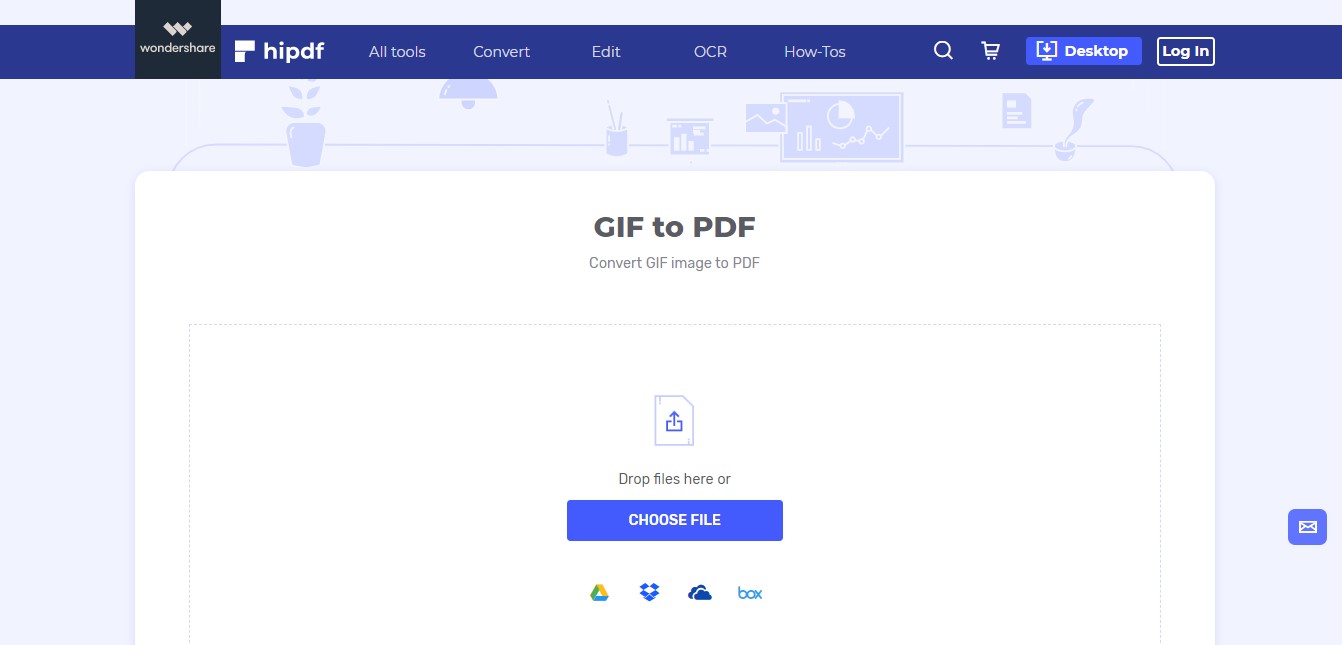 Pros:
Free to use
Easy to use
No need to download any software
High variety of tools
Good quality files
Allows conversion of less used formats
Cheaper paid plans than other converters
batch conversion
Cons:
Some paid features
Limited file size (online editor has a limit of up to 10MB file size)
Pricing: Currently, the HiPDF desktop version is being offered at a discount of 55% off. To get the Hipdf PRO version, which gives unlimited access to all tools, 50MB maximum file size, and an advertisement free interface, the user has to pay $6 for a monthly subscription, or $39.99 (lowered from $48) to get annual access.
---
Zamzar is another popular and easy to use website which allows users to convert their GIFs into PDF files. This website does not require any download or account, and has covered over 400 million files since 2006! To convert, the user merely has to directly drop the GIF, or submit its link, choose the PDF format, and click convert. Free customers can convert 2 files per day. While most features are free, users may create accounts.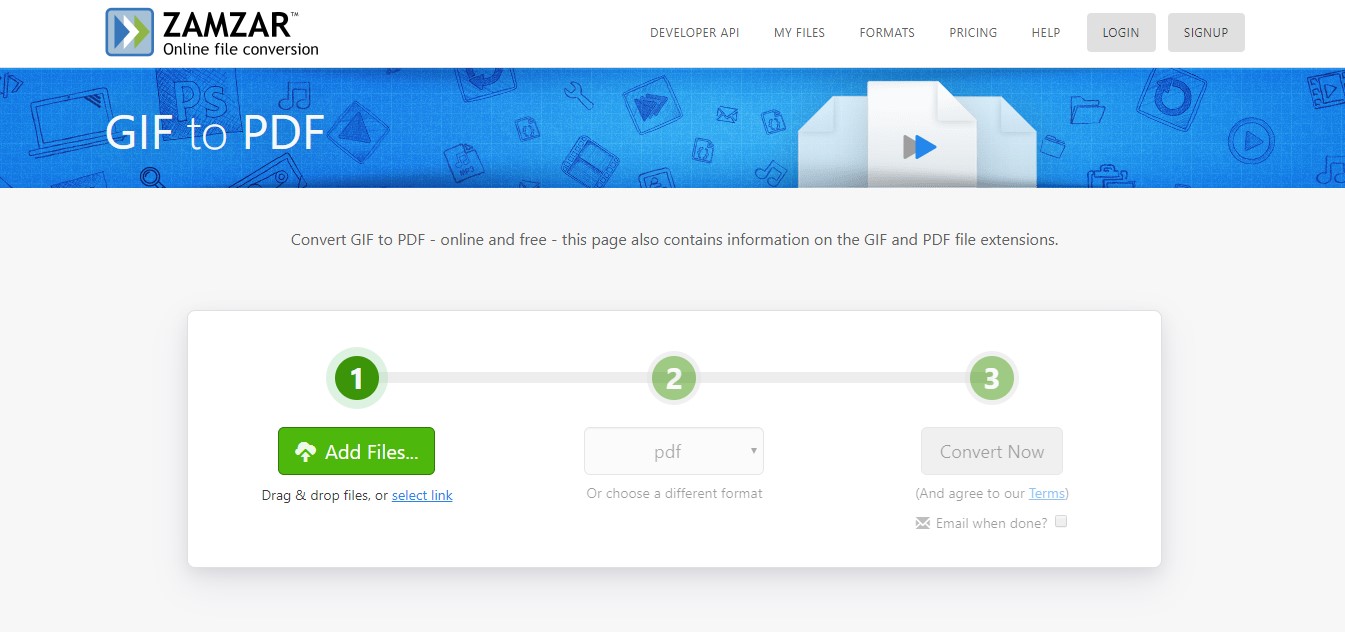 Pros:
popular
easy to use
subscriptions can be cancelled any time
free for usage twice a day
Cons:
2 files per 24 hours if free -big con
file size limit
some features require payment
Pricing: The Basic Zamzar account provides unlimited file conversions per day, 200MB maximum file size, 5GB online storage, and high speed downloads, for only $9 per month (30¢ per day). The PRO Zamzar account offers unlimited file conversions per day, 400 MB maximum file size, 20GB online storage, and high speed downloads, at a cost of $16 per month (53¢ per day). The Business account comes at a price of $25 a month (83¢ per day), providing 2GB maximum file size, unlimited conversions per day, 100GB online storage, high speed downloads, and a personal inbox to manage files.
---
Convertio is a great website which gives users the opportunity to easily convert their GIFs to PDFs, as well as supporting many other formats such as Word, Excel and TXT. The remarkable website supports more than 25600 different conversions between more than 300 different file formats. Conversions do not take up any extra space on the user's device, and is a very easy process where the user merely drops the files, chooses the formats, and clicks 'Convert'.
The website also values the security and privacy of the user and therefore, instantly deletes the uploaded files, and gets rid of converted files within 24 hours! Users do not need to download any software because it is browser based, and accessible across devices.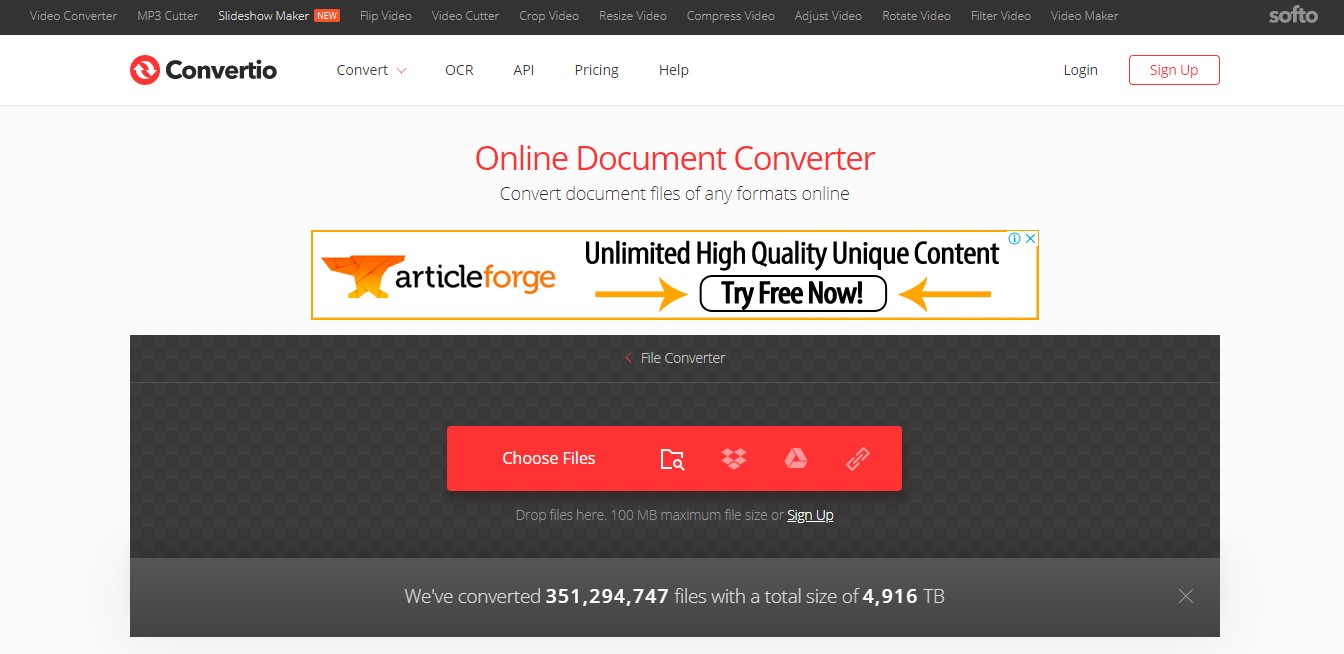 Pros:
Most features free
Allows conversion of many different formats
Easy to use
batch conversion
Cons:
File size limit (except for paid members)
Some paid features
Pricing: The website offers many different pricing plans, such as $9.99 for a month, with and 500MB file size limit, $14.99 per month with 1GB maximum file size, or $25.99 (lowered from $50) with unlimited file size. These paid features allow ad free pages, high priority, unlimited conversion minutes per day, and unlimited maximum conversion time per file!
---
This website allows users to convert many different file formats such as png, bmp, jpg , xlxs, jpeg, tiff, ppt and GIF, docx, html, and PDF files. Files can easily be dropped into the toolbox or accessed through Dropbox, or Google Drive, then converted and downloaded.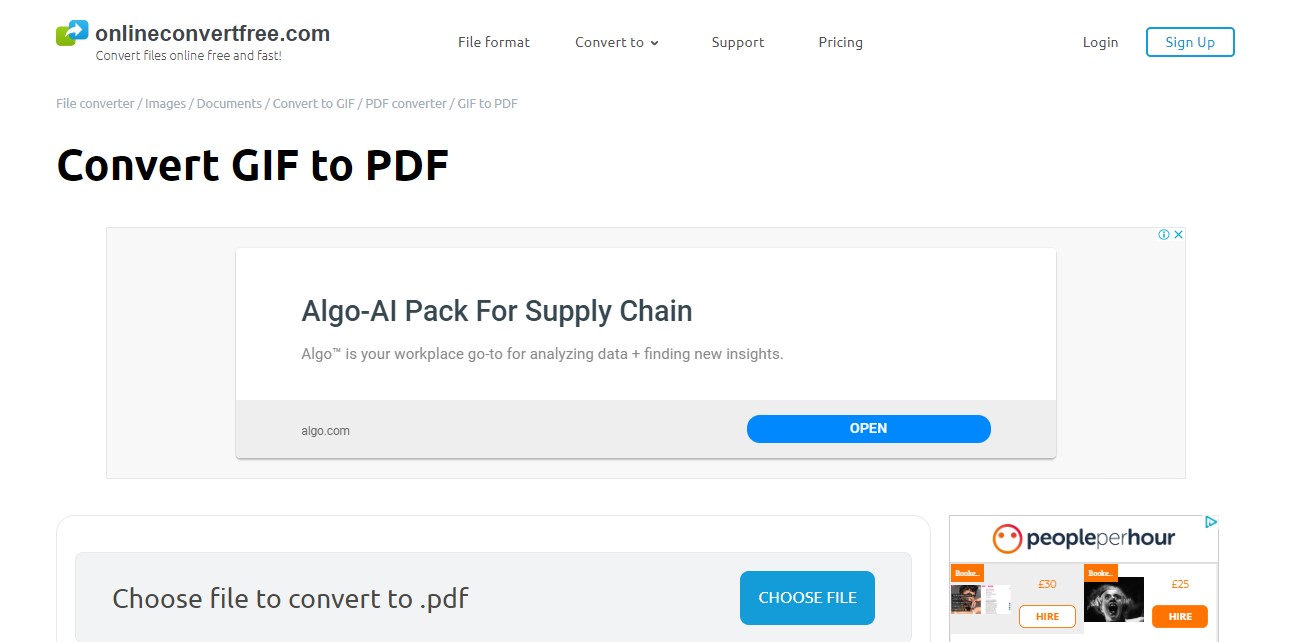 Pros:
free
fast
more than 200 supported formats
Cons:
file size limits
the website is not ad free
Pricing: To avoid advertisements, increasing maximum file size, and getting more storage space, users may pay $7.99 per day, or $6.99 (Basic account) or $11.99 (PRO account) per month.
---
This website gives users the opportunity to convert their GIFs into PDF files, as well as accommodating other formats such as JPG, RTF, PPT, XLXS, PNG, TXT, or Word etc. To create a PDF, the user simply has to upload the file and click the 'Convert' button. The user can then edit the PDF as the website provides tools to split, rotate, compress, and protect the file.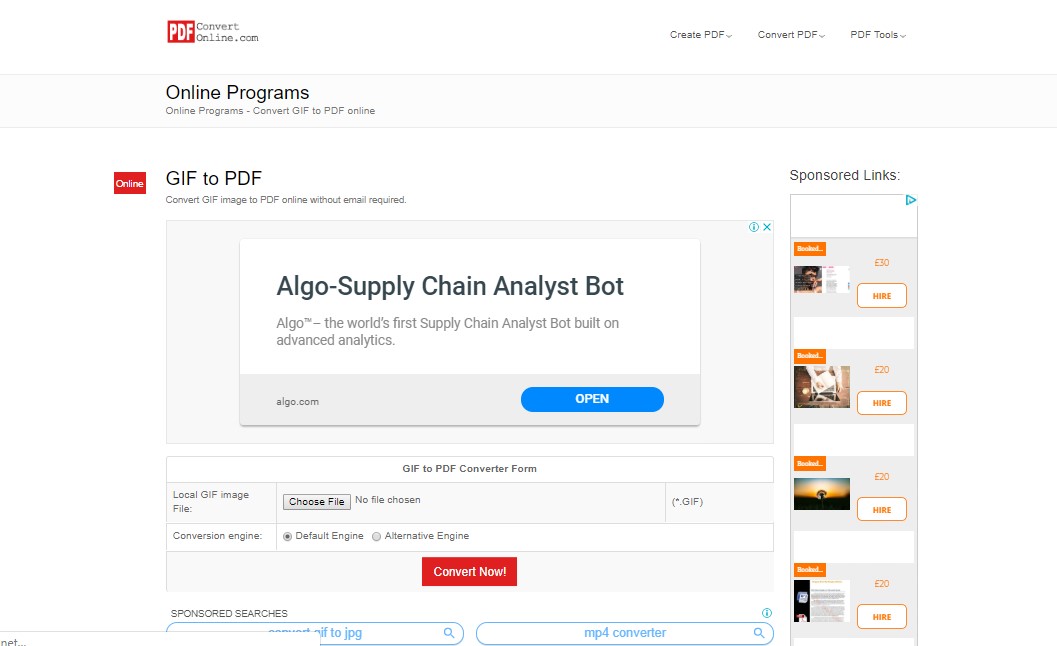 Pros:
easy to use
provides OCR software
does not require email
Cons:
advertisements on the website
website interface is not very inviting or aesthetically pleasing
Pricing: Free to use
---
Conclusion
Converting GIFs into PDFs sounds like a difficult task, but with the help of these online GIF to PDF converters, users can easily create new documents and edit them. Some converters even allow the user to fulfill their requirements for free! HiPDF is the most effective GIF to PDF converter as it is the easiest to use, has the most inviting and beautiful website interface, and supports the highest number of file formats! With the help of these online converters, users should be able to create PDFs simply and easily!