Top 6 Best PNG to PDF Converter Online
Are you here to find the best PNG to PDF converter? Do you want to know which one is best PNG to PDF converter? Do you want to convert your PNG file into PDF but don't know what is the best converter for free? if your answer is "YES" so you are at the right place after reading this article you will know which is the best PNG to PDF converter online without using your email. We will look and go through the 6 best PNG to PDF converter online.
I'll show you all these converter one by one and guide about them like their pros, cons, subscription charges monthly/annual and more stuff like picture and link also, so you can easily open it by just one tap/click.
After all I'll guide you which one is the best converter for you as a beginner or pro as well without consuming your time.
This is a top PNG to PDF converter online when it comes to converting PNG to PDF formats. Though the website looks so plain but the reality is that it is very effective PDF converter. Apart from converting PNG to PDF, HiPDF is also known to convert other formats like excel, word, PPT, ePub and other to PDF format. It is very easy to use. In fact, all that is needed is just upload and then convert. You can use HiPDF on any platform and all browsers.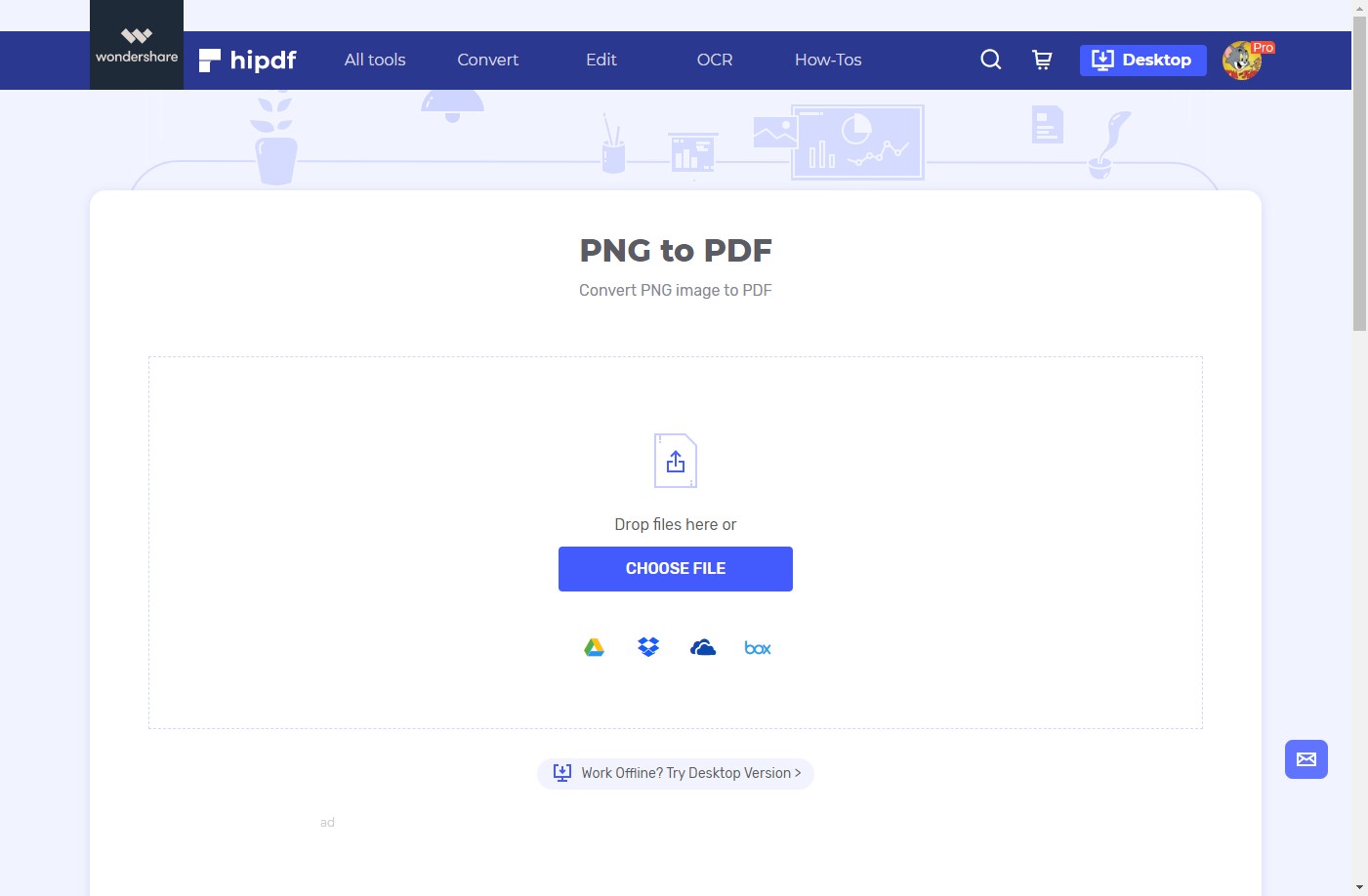 Pros:
Easy to use
Full-featured PDF editor online
Create and Edit PDFs
Convert PDFs to other formats
Secured your documents
Cons:
It has page limit
it has size limit
it has some paid features also
Pricing: Free (USD $6/month for advanced tools)
---
Zamzar has always been popular for converting multiple files into PDF, Image or video formats. The free version of Zamzar PNG to PDF converter will let you only convert the files of maximum 50 MB.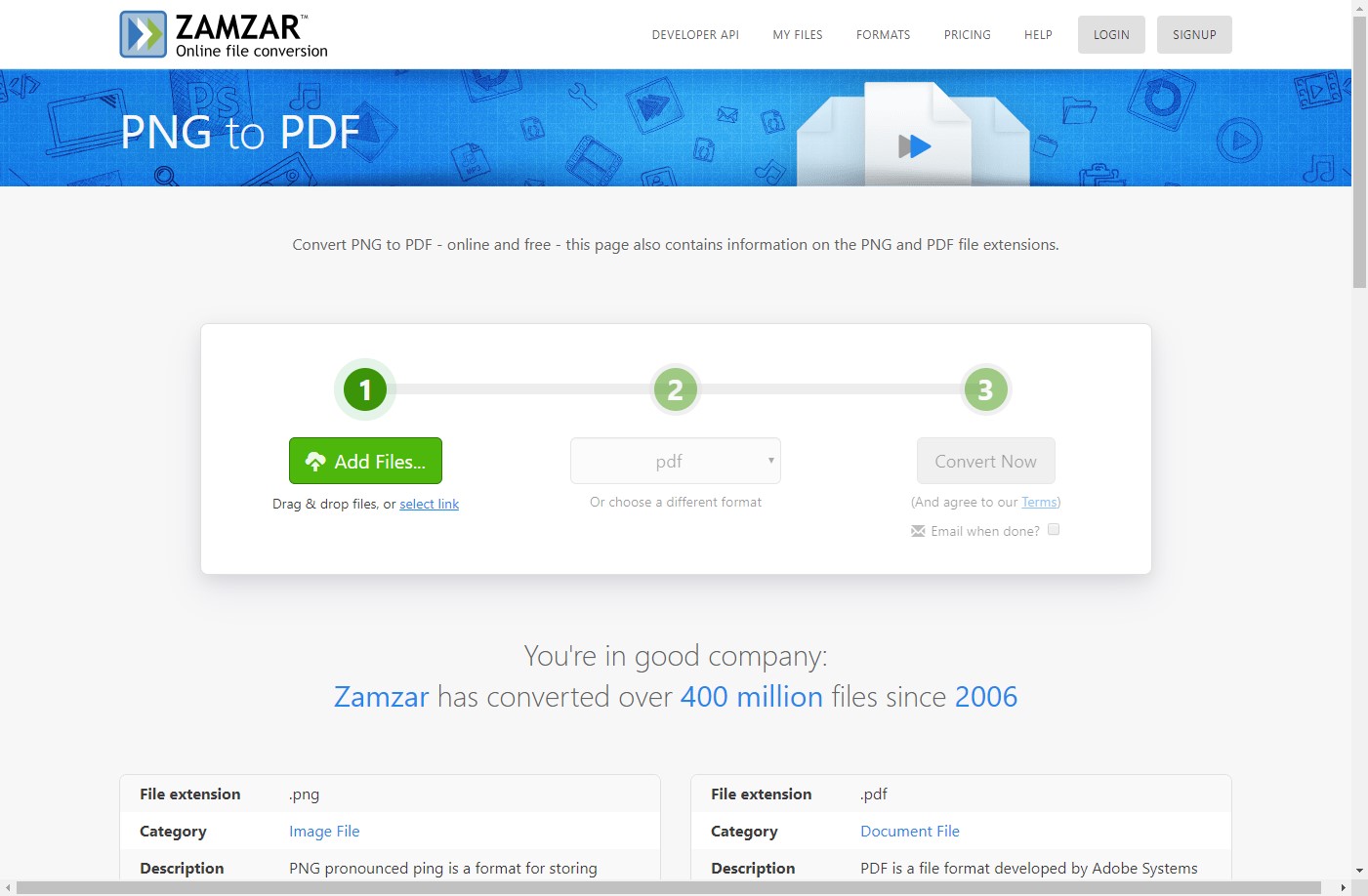 Pros:
The best feature of this app is that it can convert images as well as videos too
it does not provide you the download link on the same page. However, it will be e-mailed to the given email address
Cons:
It has page limit
It has size limit
It doesn't provide you the download link
Pricing:
BASIC: $9/monthly
PRO: $16/monthly
BUSINESS: $25/monthly
---
As the name of this online converter indicates, it is a plain website with user-friendly interface which will let you convert PNG to PDF online in a minute. All you have to do is upload the PNG file and it will automatically convert it to the PDF file. Once the Image file is converted, a download button will be shown on the file. You can click on it to download the PDF file.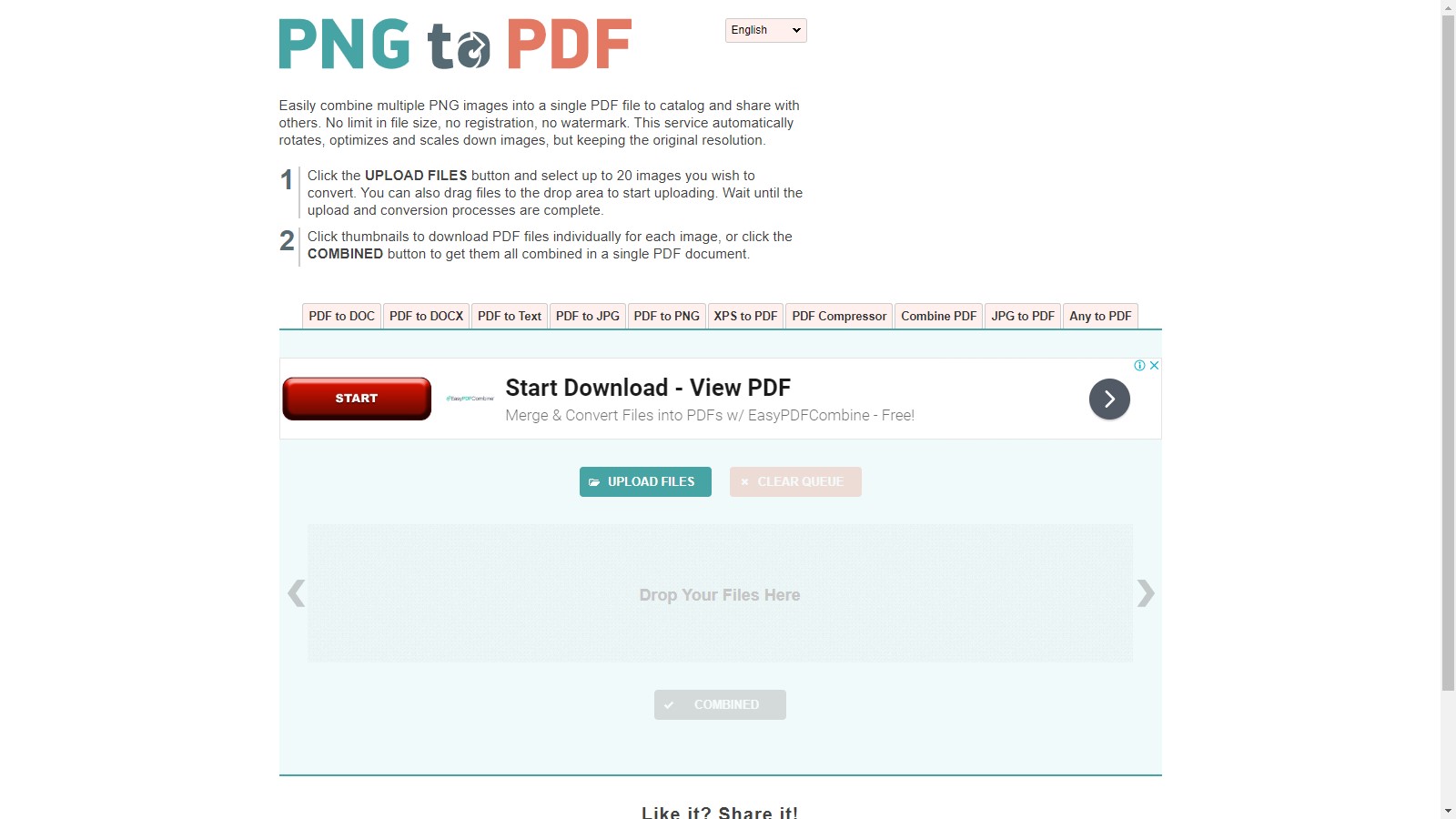 Pros:
Easy to use
User friendly
No ADDs (You can do your work without any add)
you don't need to use your email
Cons:
Don't have all format
Don't have all tools
Image limit is 20 at a time
Pricing: Free to use
---
Although the user-interface of this online converter is not as clean as above-mentioned converter, yet it does a very good job. You can only convert the 20 files at the same time and the overall size of these images should be less than 100 MB.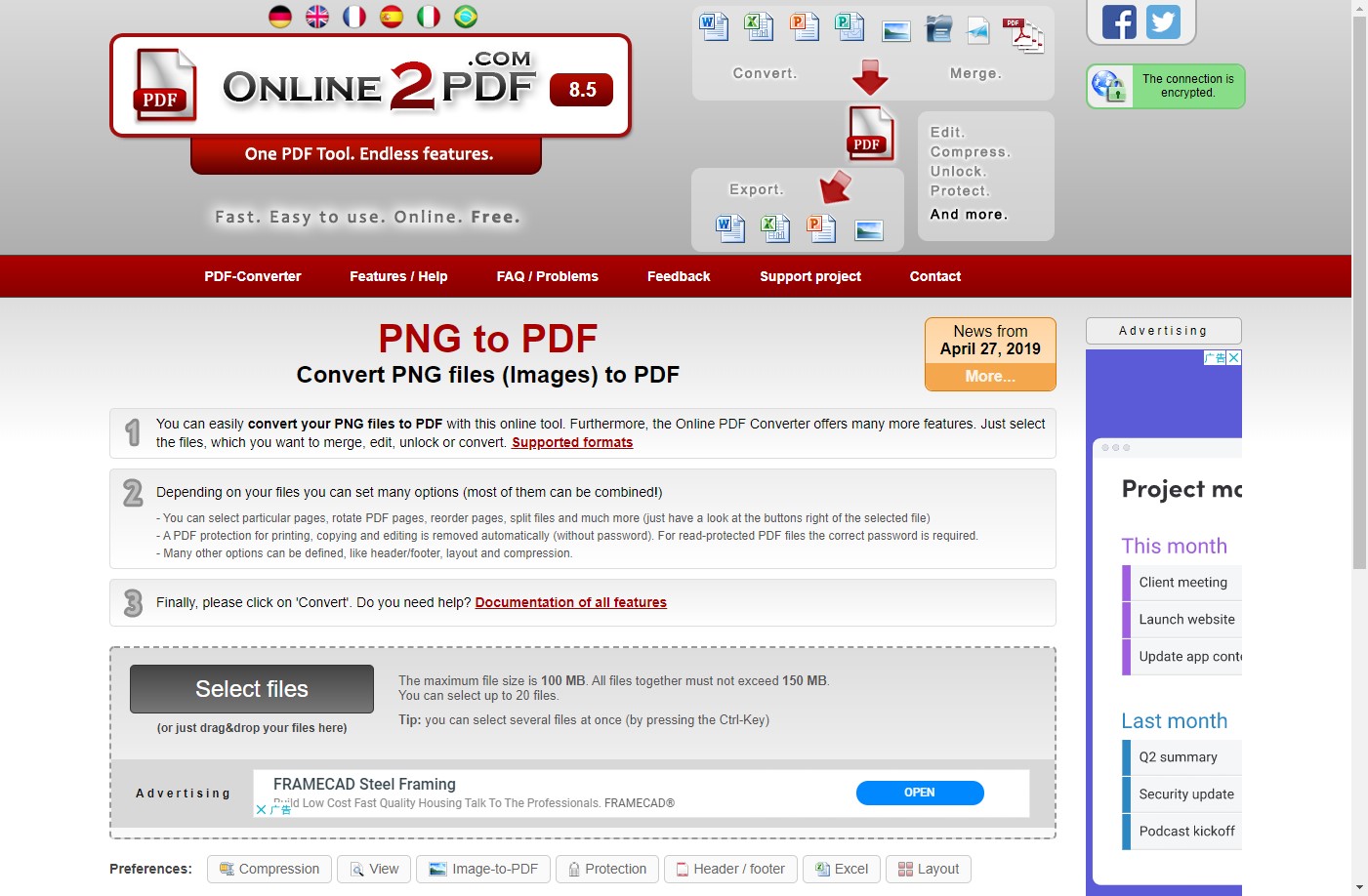 Pros:
Easy to use
Good for beginner
It is not paid app
Cons:
It has page limit
It has size limit
One disadvantage of using this service is that the download link will be valid only for 60 seconds.
Don't have all formats to use
Pricing: Free to use
---
Being one of the most popular online PDF converters, Small PDF converts the Images, documents, ppt and excel sheets to the PDF documents.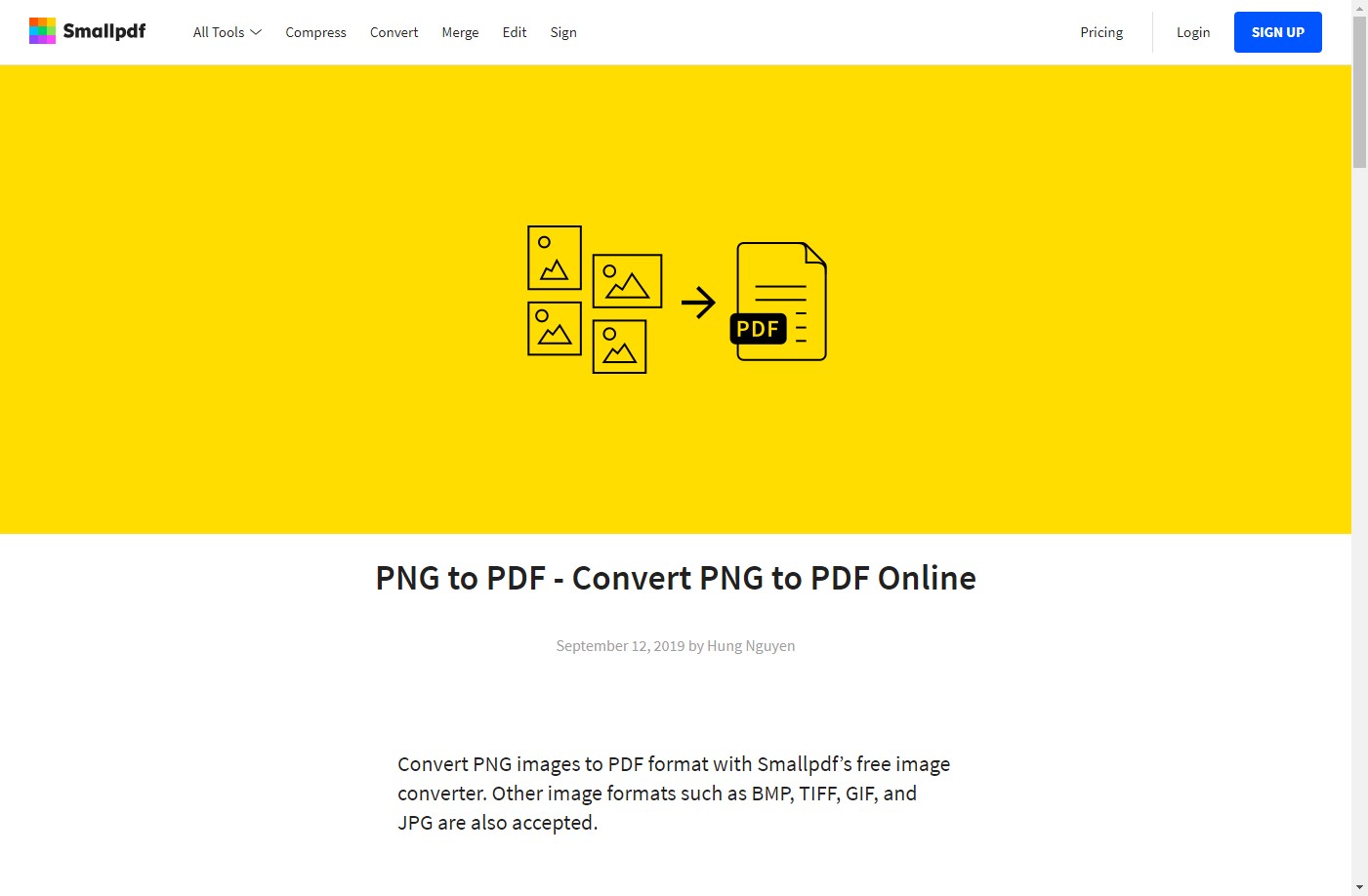 Pros:
No page limit
No image limit
Can share your file directly to dropbox
Can share your file directly to google drive also
Cons:
It is a paid app
Hard to use as compare to other apps
Pricing:
$12/month
$108/year
---
Last in our list is PDF convert Online which also has the Windows version. The method to convert the PNG to PDF file is same. Apart from that, conversion is very easy and the download link is displayed right on the same page.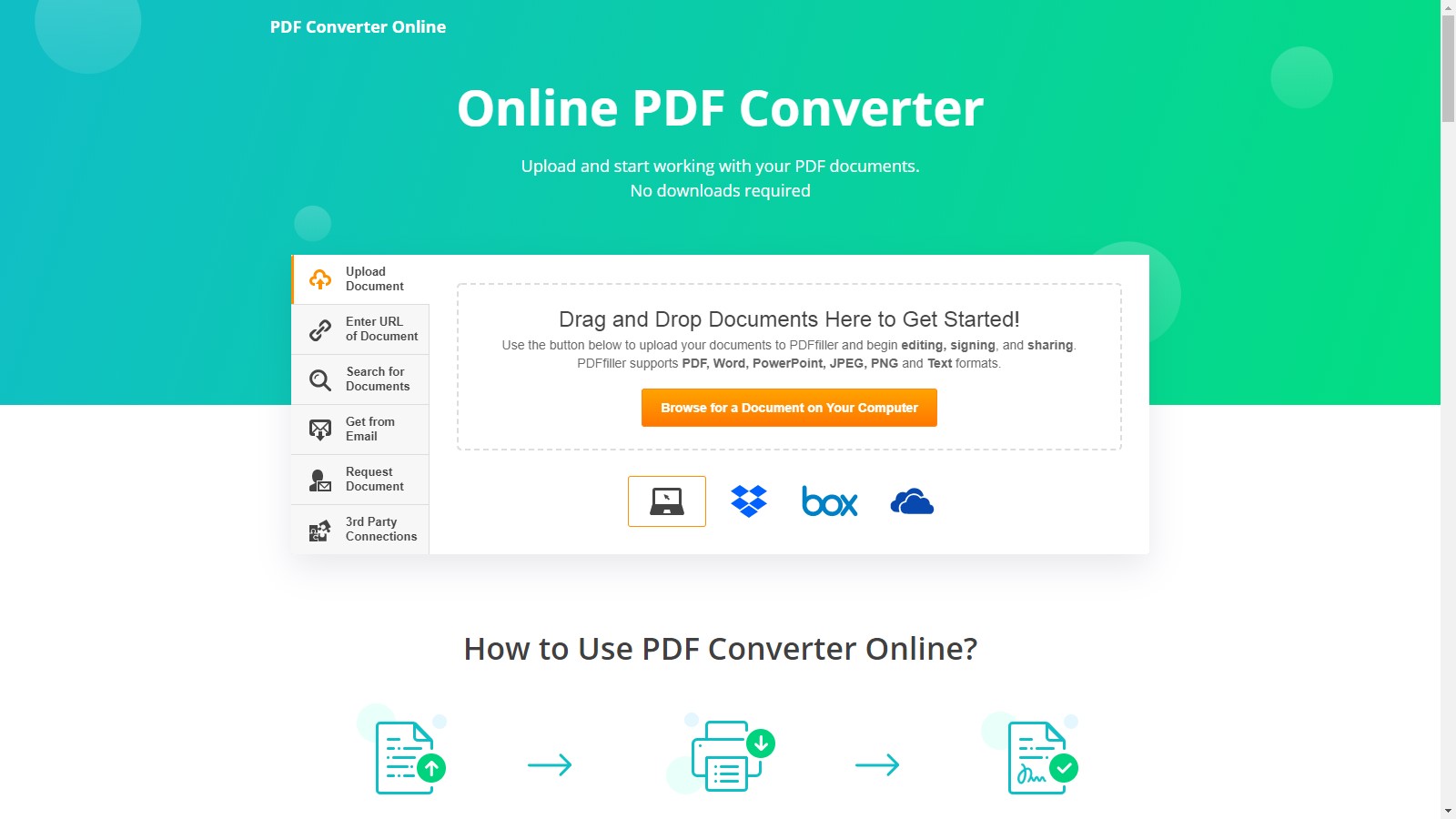 Pros:
User-friendly
Redact & review PDFs online
Fast and secure
Cons:
the output file was not as clear as the original Image
Low quality of output pdf
Pricing: Free to use
---
Conclusion
After going on all the tool it is clear that HiPDF is the best online PNG to PDF converter out there. It's followers the highest amount, the tools and features as compared to others. It's UI/UX is really good looking and easy to use for the users. Apart from, it offers direct image conversion to other formats. Meaning it can also be used as an image converter.
Additionally, it has all the tools and features to solve all your PDF related problems like edit, merge, split, crop, convert, compress and many more. It has some amazing features like OCR and batch conversation too. Let me explain these two features to those who don't know about it, so you can have an idea of how these two features are amazing and helpful. Sometimes, you want to edit the text inside an image but you may not know how to do it or you use difficult or long procedures to do it. OCR (Optical Character Recognition) makes possible for you to edit texts on images. On the other hand, batch conversion makes it possible for you to simultaneously convert multiple files from one format to another.
In the end, I would like to suggest all the reader who wants to have PNG to PDF or many other PDF editor to get a PDF Pro or PDFelement I hope that this TOP 6 PDF TO PNG CONVERTER list was useful to you and also I hope that this article will help you to decide which one is best suited PDF to PNG converter for you and your needs.