Top 5 Best Online PDF to HTML Converters Available
HTML remains a critical technology and a unique language of the web for internet content presentation and structuring. To convert your PDF to HTML doesn't really have to be hard and complicated at all, especially if you are able to use the right tool for the job. With the best PDF to HTML converter online you can get the job done really well and fast.
Even when all you want is the best PDF to HTML converter online free tool, you should be able to access the best available for such an undertaking. The following are some of the best online PDF to HTML converter tools you can actually use right away to transform your PDF files into a format that you want.
If you think about it, the best PDF converter to all manner of formats out there has the right features and functionalities, easy to use, effective, intuitive and has a clean interface, works perfectly well and document output are top quality and doesn't alter them or destroy their nature in the new format. HiPDF exactly promises all that and more and remains one of the best free PDF to HTML online converter tools available to you now.
You can use it to convert to and from PDFs to lots of formats out there including images. You are also provided with key PDF editing features and image tools you can use to split, crop, and delete, rotate or even resize images and convert them to PDF or other image formats. For instance, you can convert PNG to TIFF with HiPDF easily just as it's easy to convert JPEG to Word. HiPDF is definitely the best PDF to HTML converter online without email; all you need is to upload the file to convert and download it into your computer once you're done.
The free version works just fine but if you need more complicated functionalities and tools such as online OCR (optical character recognition) feature it'll cost you a negligible little amount. If you need an intuitive, robust, efficient and reliable HiPDF desktop version you can also try it out via a free trial version and go for the premium version later.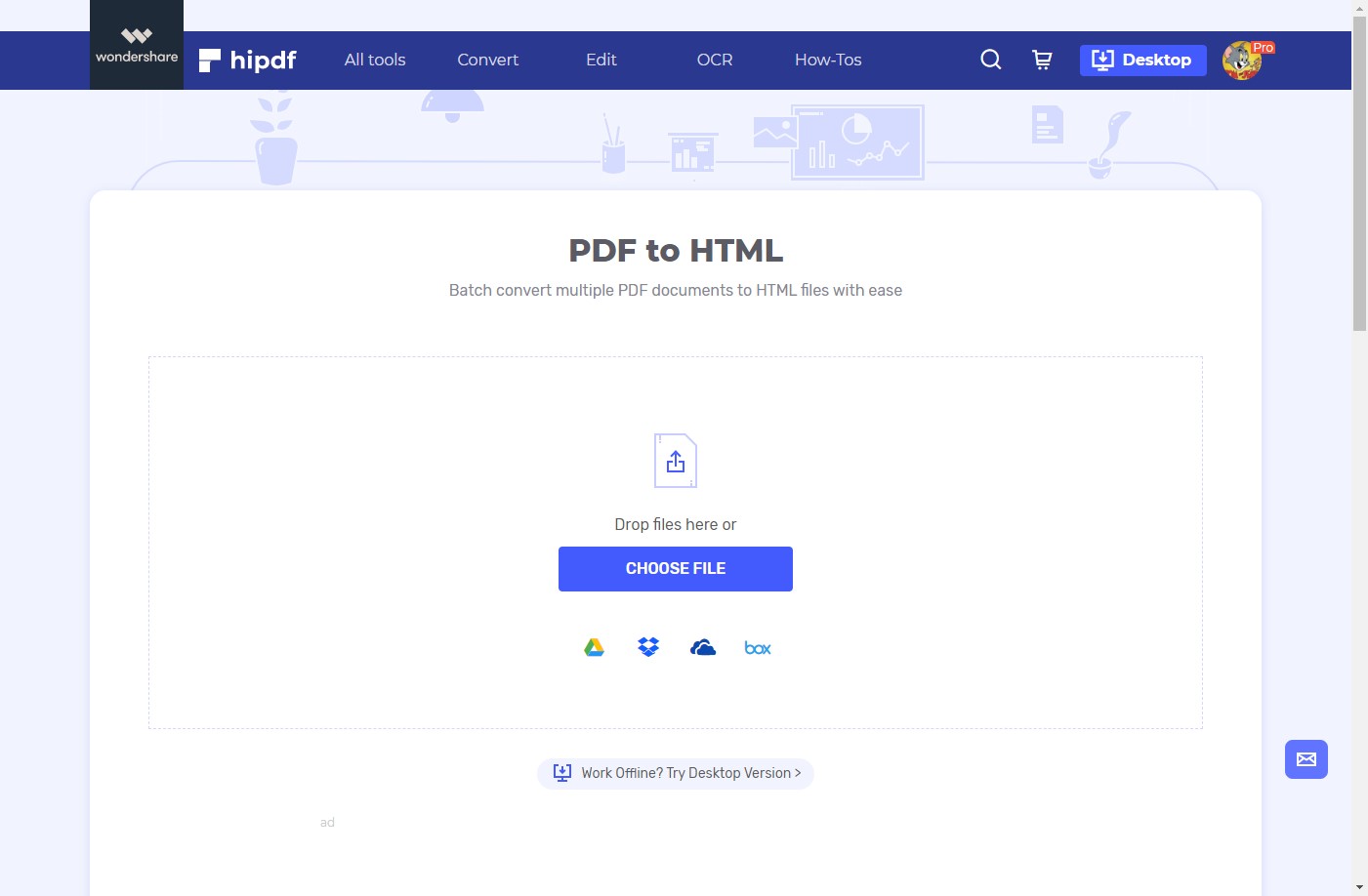 Pros:
Clean and beautiful UI
Easiest tool to use
Privacy assured (files deleted from their servers within 3 hours of being downloaded)
Includes lots of diverse management tools
Online OCR
Cloud accessible
Converts images as well
Batch processes supported
PDF management and editing tools
Cons:
Advanced features like OCR premium
Free version has a file size limit
Pricing: Free (USD $6/month for advanced tools)
---
Highly useful and available, Zamzar is a quality PDF to HTML conversion tool you can use effectively well to convert lots of other documents into various formats as well. You can also convert sounds and videos with the tool. All you need to use it is find the PDF file and upload into the online tool and convert it.
It comes with a free version and useful even in converting to image and MS Office formats. Even so, Zamzar can be disappointingly slow at times, especially when you want to convert large files. You will also need an email to use the tool and the original formats might not be well maintained after conversion.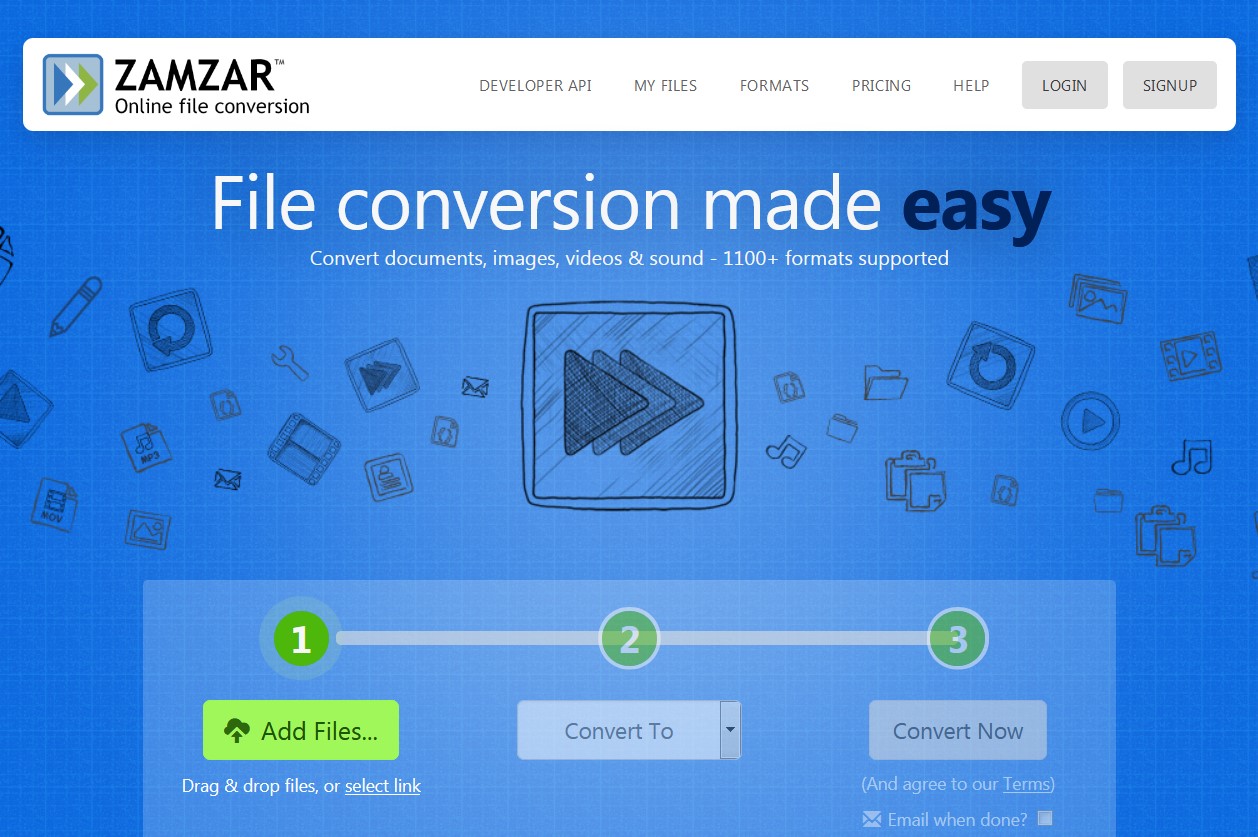 Pros:
Supports lots of formats
Works just fine
Includes a free version
Cons:
Requires email to use it
Can be slow more so with large files
Output document format can lack original layouts and format
Pricing:
BASIC: $9/monthly
PRO: $16/monthly
BUSINESS: $25/monthly
---
It's never easy to get your PDF converted to HTML but it doesn't have to be hard to get the right tool for the job. PDF Candy is another that can help you get the job done fast whenever you need it. It comes with lots of features and tools, such as PDF conversion to and from diverse formats such as Excel, Word, images, Docx among others. You can also use PDF Candy to edit PDF, merge, and split and delete PDF pages, edit metadata and access PDF OCR tools. You only need to add the files or drag and drop them into the tool to get the job done.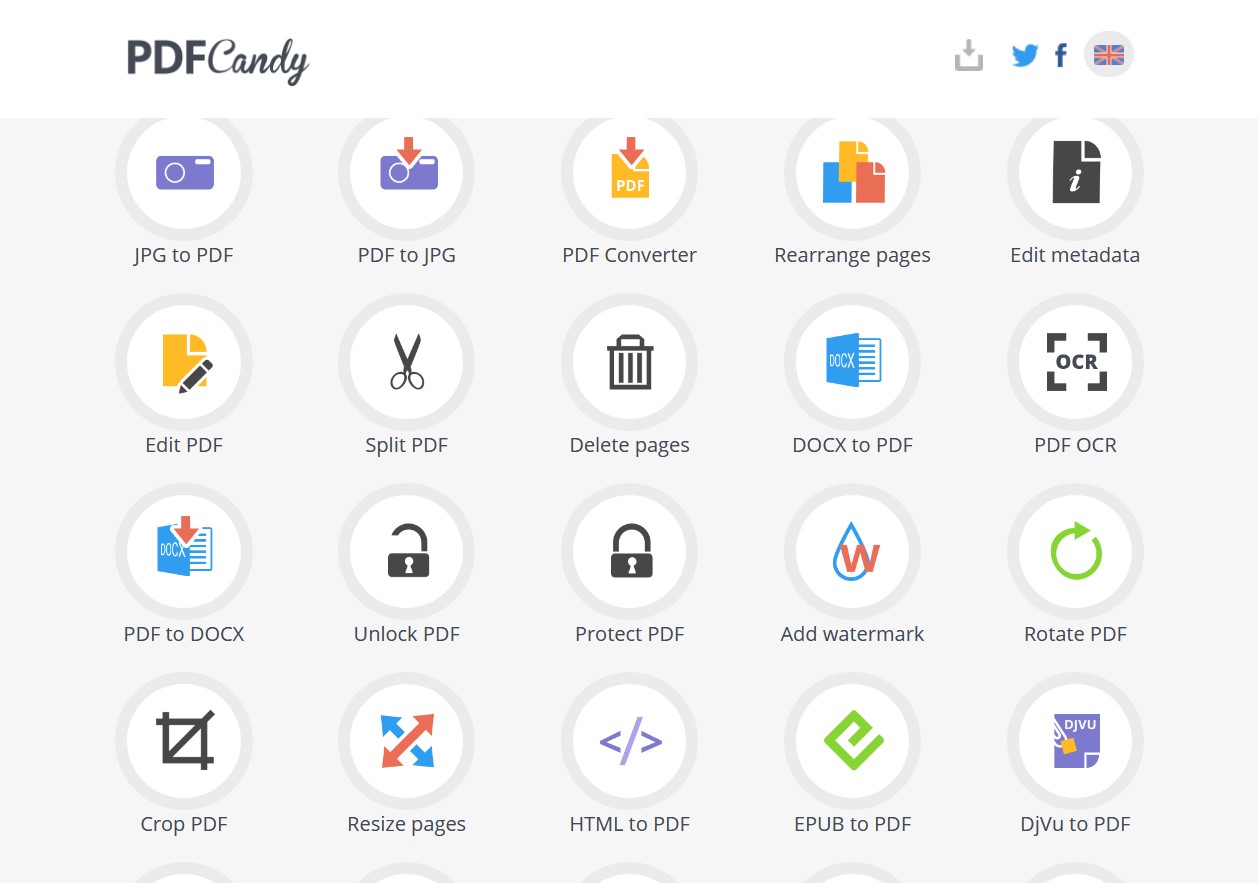 Pros:
Optimizes original files and avoids document modification and distortion somewhat
Lots of PDF and document management features
Cons:
Isn't really the speediest converter available online
Doesn't support URL file at all
Pricing: Free for standard online version
---
PDFonline offers users some usable tools that also render some good output as many applications already mentioned here. The program format isn't too bad and you can use the tool with ease, especially because you don't need any email address to use the online program. This makes it easy to access the file converted from PDF to HTML right on your PC instantaneously. Note that it comes with a file size limit of about 2MB and supports quite a number of file formats.
The speed of conversion from PDF to HTML isn't the best but works just fine. Due to its ability to keep the style and formatting stylistics intact users won't have to spend so much time retyping and re-editing anything.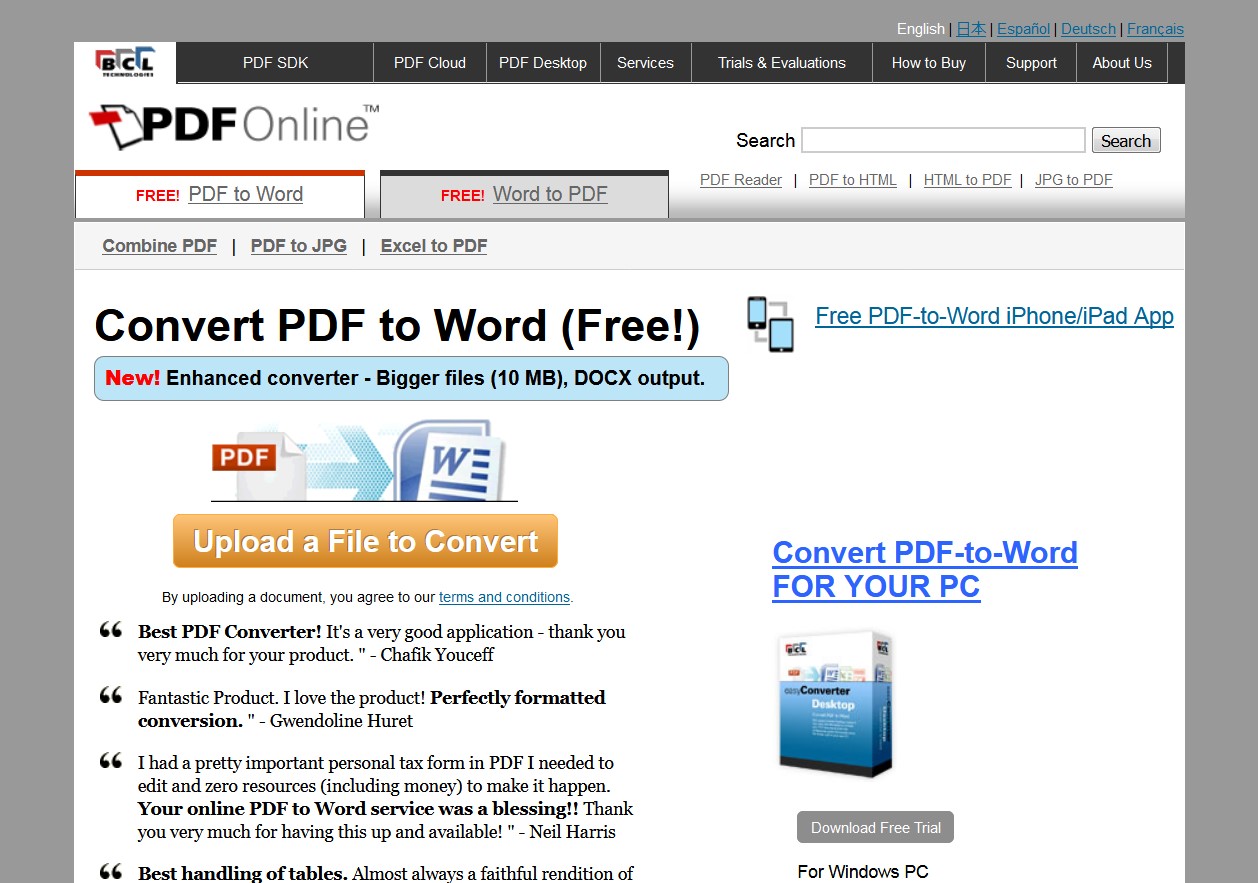 Pros:
Quality converter from and to PDF files
Supports a number of file formats
Includes a number of tools to help manage your documents
Cons:
File size limit too small
Doesn't support OCR
Not the best UI
Pricing: Free to use
---
Also a very easy PDF to HTML converter to use, PDFConvertOnline makes conversion possible by supporting hundreds of formats. To use it isn't complicated; all you need is "Choose File" and find the PDF file you need to convert. You can then go ahead and create the conversion you want which could take a few seconds depending on the size of the file. The converter actually allows you to either download the converted file, view it or both. In essence, it supports different PDF tools to rotate, split, compress, remove or add password and even convert from other formats not just PDF, such as from Excel to JPG.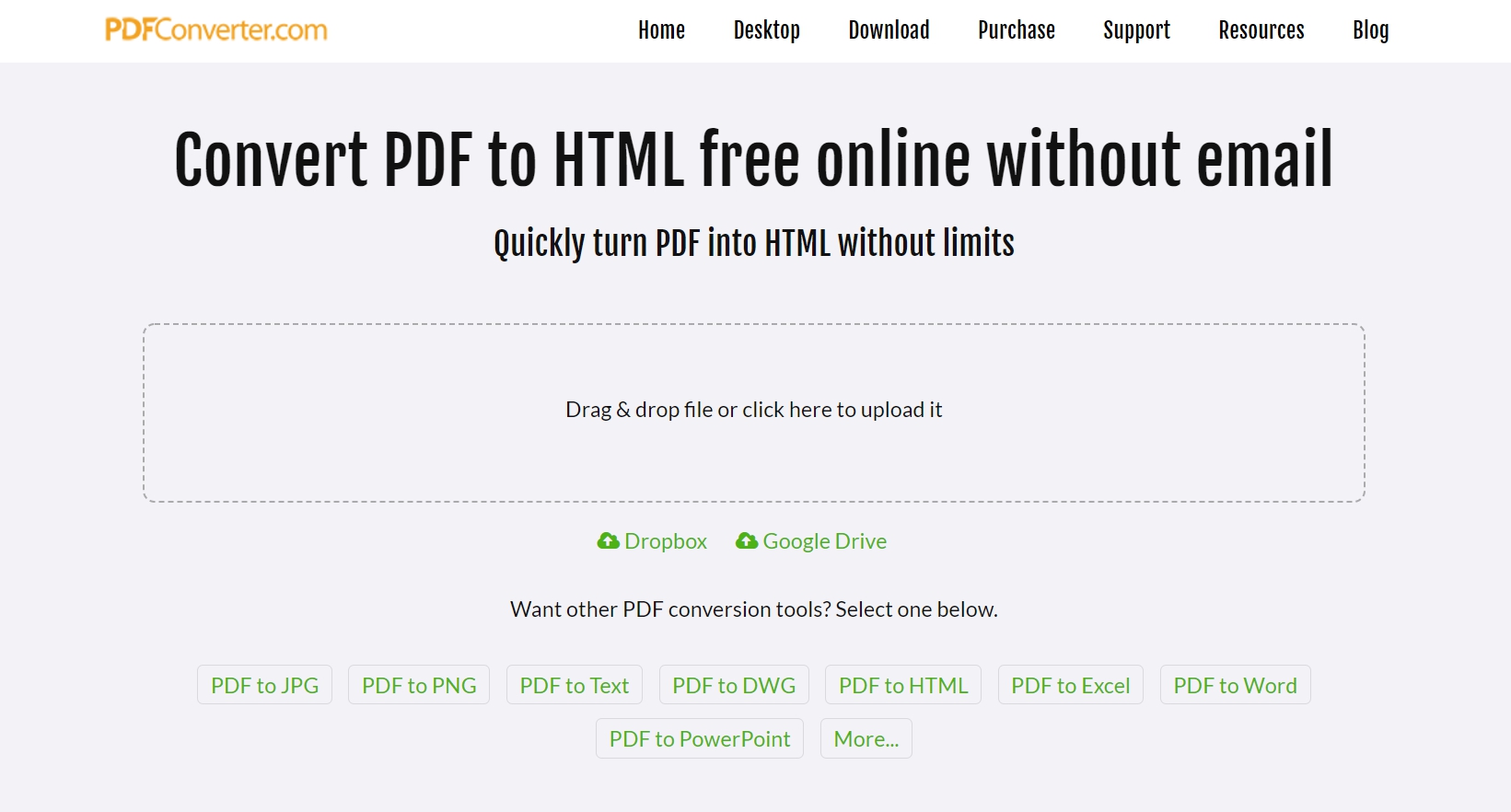 Pros:
Supports lots of file formats
Accessing files converted hardly requires an email address
PDF editing tools
Cons:
Uploading via URL unsupported
Not the fastest of conversions online
Pricing: Free limited version, $29.95 annually
---
Conclusion
Making the most of a working PDF to HTML converter is key to getting the job done really fast. While all the other tools are useful HiPDF stands out nonetheless, not just because of its intuitive, quality document output, feature-richness and ease of use but much more. For instance, it takes security and privacy seriously ensuring file transfers and information is well secured and files uploaded are permanently deleted from the servers an hour later after uploading them.
HiPDF comes with a cloud access storage facility allowing you to access all the files you've saved in any cloud storage service you're subscribed to, whether it's Dropbox, Google Drive or One Drive. The tool also includes an online OCR service to help you convert all your PDF scanned files, screenshots, faxes, e-books and images into editable PPT, Excel and Word documents. You won't need to make any file download to run HiPDF unless you want a desktop version you can use offline; HiPDF desktop version - PDFelement is available.
---
HiPDF main features:
Includes lots of image editing tools such as rotation, resizing, cropping and compressing
Image to PDF conversion and image to other image formats conversion supported such as PNG to ICO and BMP to JPG
Offers lots of PDF management tools such as PDF e-signing, text replacement in PDFs, PDF redaction, pages rearrangement, PDF pages deletion, splitting, cropping, merging, compressing, editing, unlocking and protection
An accomplished converter from and into PDF from hundreds of file formats
Includes a desktop version for use offline
Supports online OCR
Batch conversions supported
Includes a free version with sufficient features to get the job done really fast
Usable with any operating system (from Linux, Windows to Mac and mobile apps) for both the online and offline HiPDF tools