Top 5 Best PDF To RTF Conversion Tools Available Now On the Web
You can bet that no matter where you're, whether in college, owner of a small business, corporate finance executive, medium to large organisation or simply a person who uses PDFs the ability to convert to RTF files, a single file or multiple of them will definitely come in handy.
Having the best PDF to RTF converter online working for you pays. In fact, most of the converters actually handle and support diverse formats, including Word, Excel, EPUB, PPT, iWorks or Open Office, HTML and image formats such as JPEG, GIF, ICO and BMP, among others.
It doesn't really matter much about the name or title as far as the best PDF to RTF converter online free tool offers you all that you need to get the job done. It must be efficient, offer quality document conversions, easy to use, maintain original document integrity, intuitive, simple to grasp and maximise on and definitely robust and reliable.
Here are the best free PDF to RTF online converter tools you might want to check out now.
It pays to use the best document converter available, especially when you want to convert your PDF documents into the Rich Text Format (RTF). HiPDF is ranked top on the list of any best online PDF to RTF converter review out there and for very good reasons. It remains the best due to what you can do with it. The intuitive tool includes so many tools and functionalities that you can do virtually anything with your PDFs, Word, Excel, PPT, image and other documents in other formats.
HiPDF allows you to edit all your PDFs easily online with easy tools you can use really fast due to the simplicity of use. Also, considering this best PDF to RTF converter online without email requirements is feature-rich, it allows you to use some critical image editing features to manage images, such as redaction, splitting, cropping, rotating, resizing among others.
You will also access lots of other features to e-sign, remove or add password, unlock, edit, compress, and merge, among other operations. Online OCR (Optical Character Recognition) feature maybe an advanced tool in HiPDF but perfectly designed to get you started in transforming, PDF, Word or other format scanned documents into editable and searchable files with ease. It's quite easy to use with a simple and user-friendly look that's intuitive and lovely to use.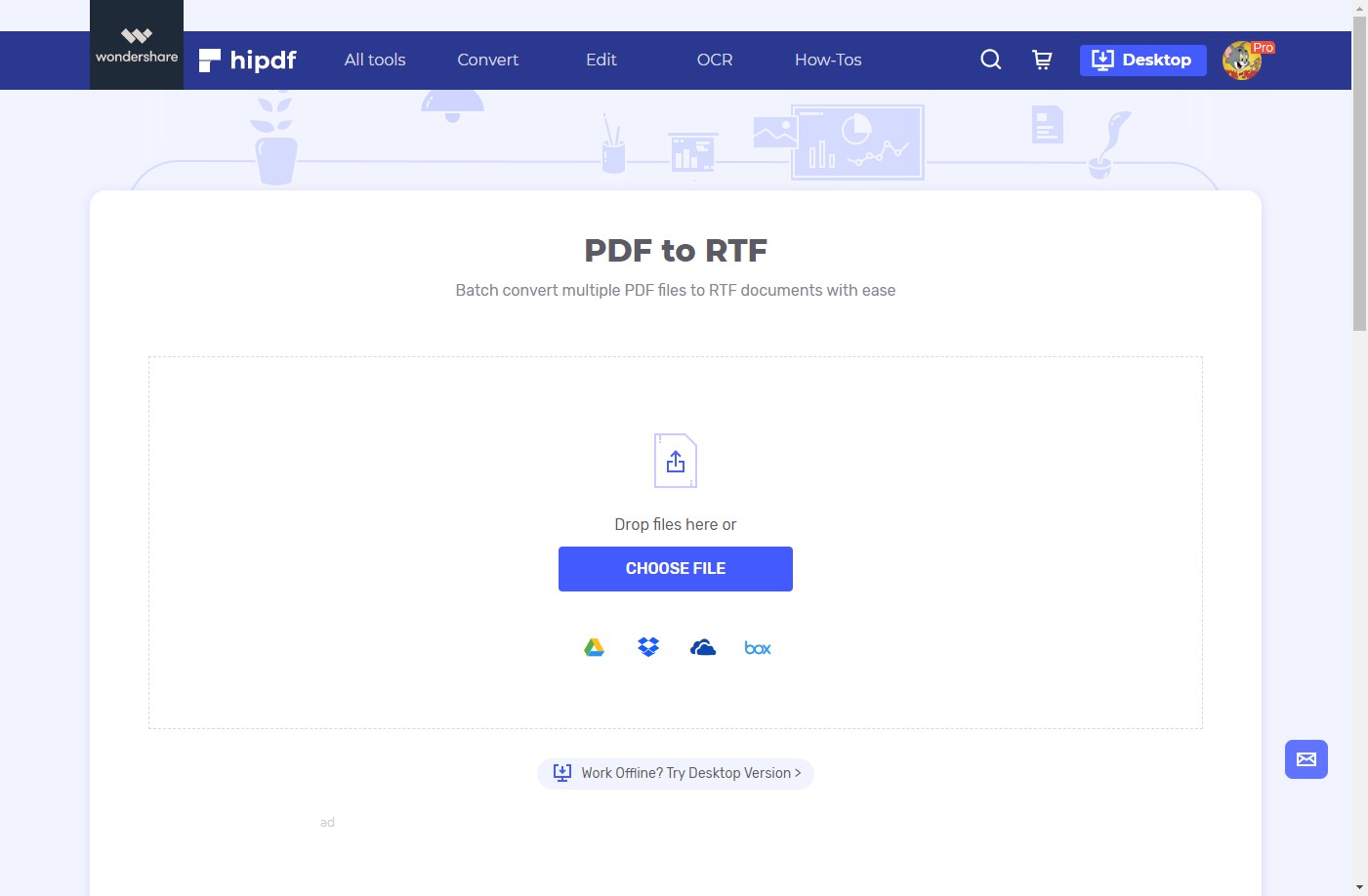 Pros:
Includes lots of usable document management tools
Includes cloud storage access to help you convert or manage your files fast
Batch processes supported
Supports hundreds of formats
Includes superb online OCR
Easy to understand and use
Editing and converting tools superior
Cons:
Some advanced features aren't free
Includes a file size limit
Pricing: Free (USD $6/month for advanced tools)
---
With Zamzar you can actually carry out lots of conversions into diverse formats. It supports hundreds of document formats, meaning you can actually convert from PDF to Excel, Word, Doc, and DWG, among others and from EPUB to PDF and DJVU to PDF as well.
Sound file conversion is also supported, where you can convert a WAV file to MP3 for instance, MOV to MP4, MP4 to GIF, among others. Converting to image formats is supported as well. EPUB to MOBI conversions are possible with Zamzar. All you need is add files or drop them into Zamzar, choose format to convert to and start the conversion.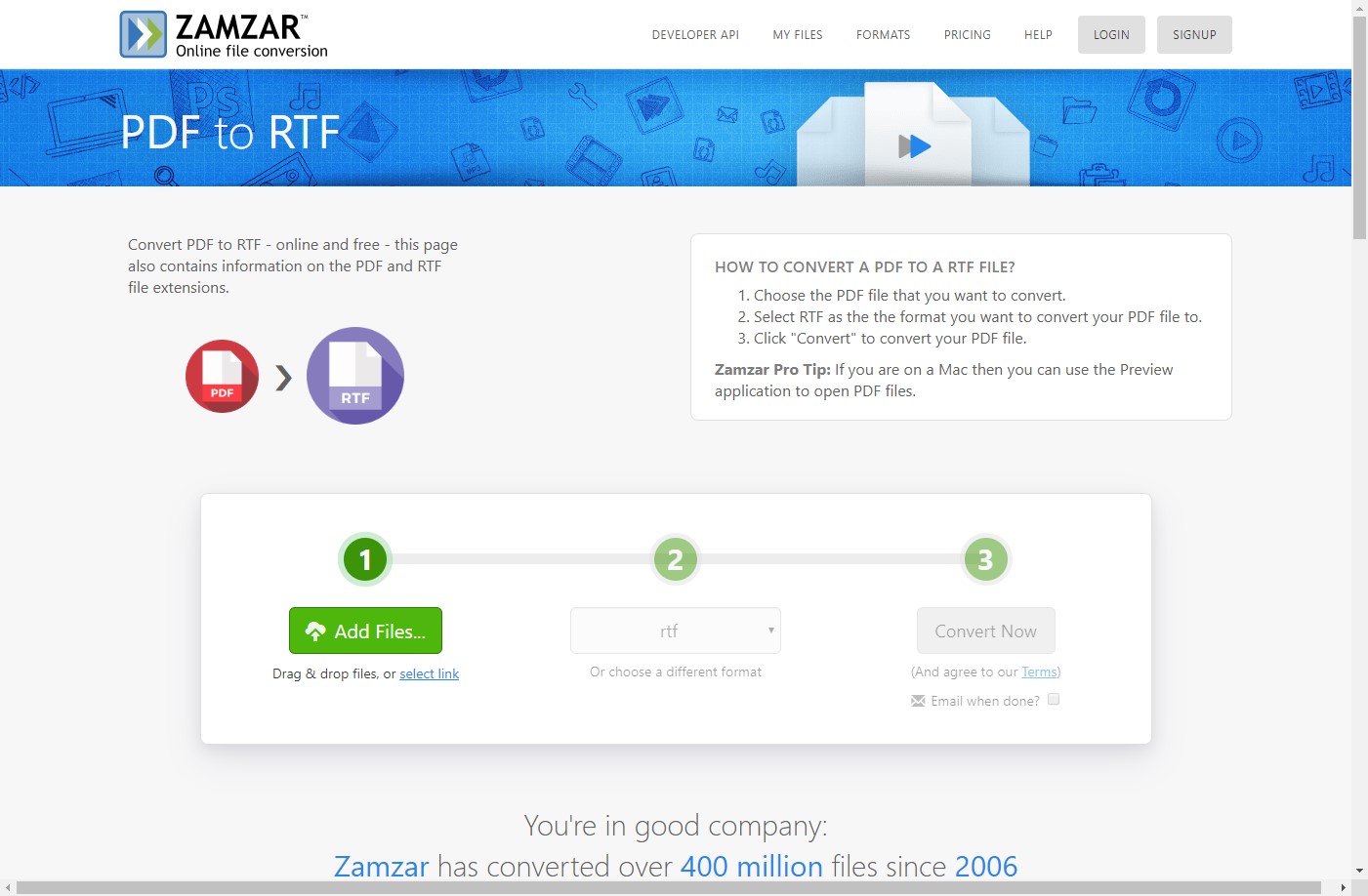 Pros:
Easy to use
Free version available
Supports lots of file formats
Cons:
Can be quite slow to convert
You need to email to use
Doesn't really maintain the documents original state ass you'd want
Pricing:
BASIC: $9/monthly
PRO: $16/monthly
BUSINESS: $25/monthly
---
Also one of those online PDF to RTF converters you can easily use to get as many RTF files as you want, PDF Candy comes packed with lots of functionalities. It's an accomplished converter, not just to RTF from PDF but also PDF to other documents such as Word, Excel, image formats, among others.
It also includes other tools such as page rearrangement features in documents, metadata editing functionalities, page deletion, PDF splitting, editing, protecting, unlocking and watermark addition. Using it online is free in an easy to use application that's not just clean to use but also doesn't contain lots of clutter such as ads and links to all manner of things. You can add the file to convert by dragging and dropping it into the tool or just adding it. The conversion process is pretty easy to grasp.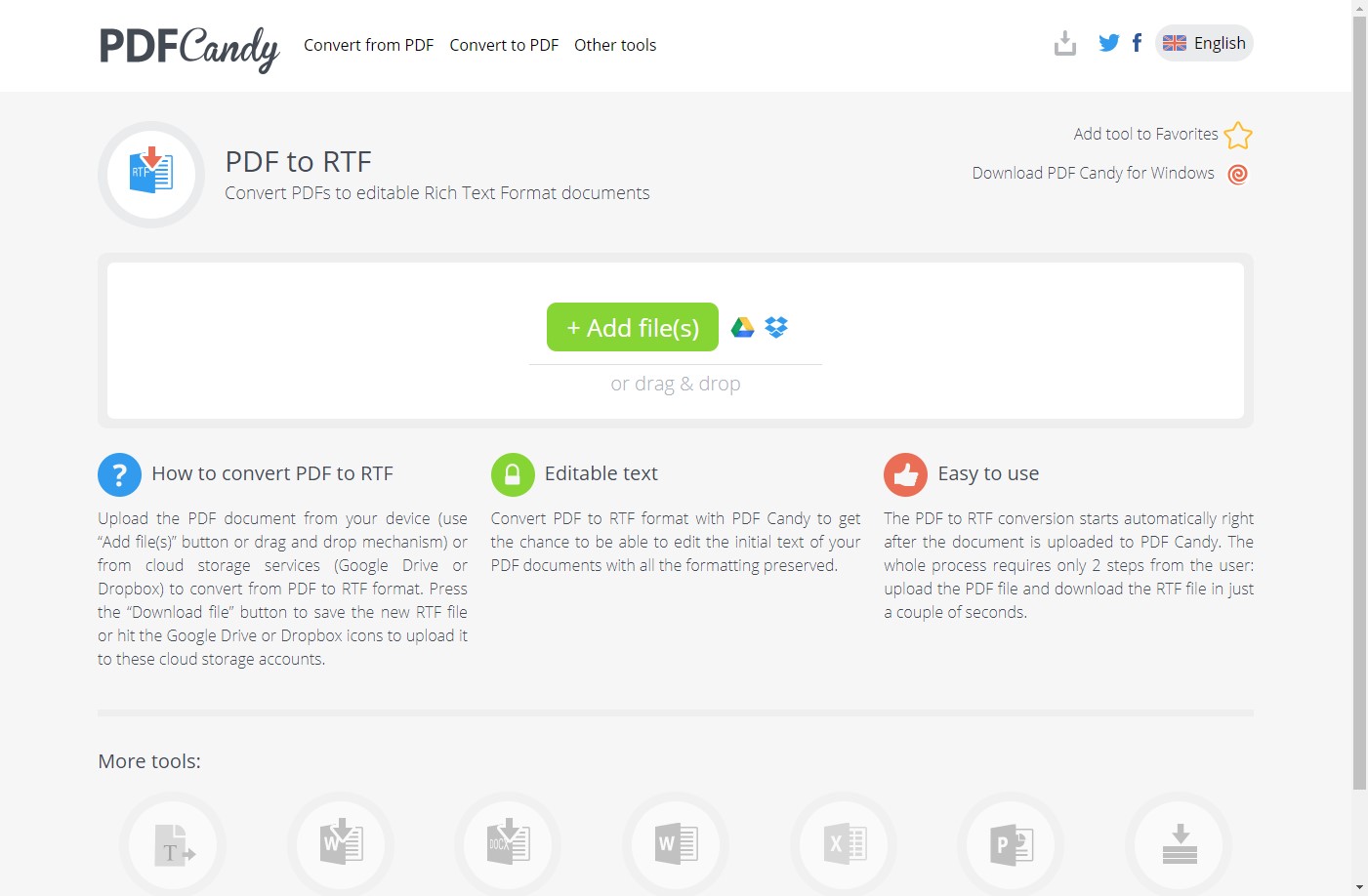 Pros:
Optimizes original documents rather well
Free to use to convert to RTF from PDF
Not cluttered
Cons:
Doesn't really convert fast as you'd want
Doesn't support conversion via URL
Pricing: Free for standard online version
---
A quality PDF to RTF converter accessible online, you can also use it to handle lots of PDF related functions such as unlocking, merging and editing PDF files. Conversion is critical with the online tool and supports lots of formats, document and image formats to help you carry out as many conversions as you can. Supported formats include PDF, XPS, JPG, BMP and other image formats, publisher, PPT, Excel and Word, among others. Also allows you to rotate, reorder and select certain PDF pages and even split files if you need to. To use it, you only need to choose the files or drag and drop them into the tool and start the conversion.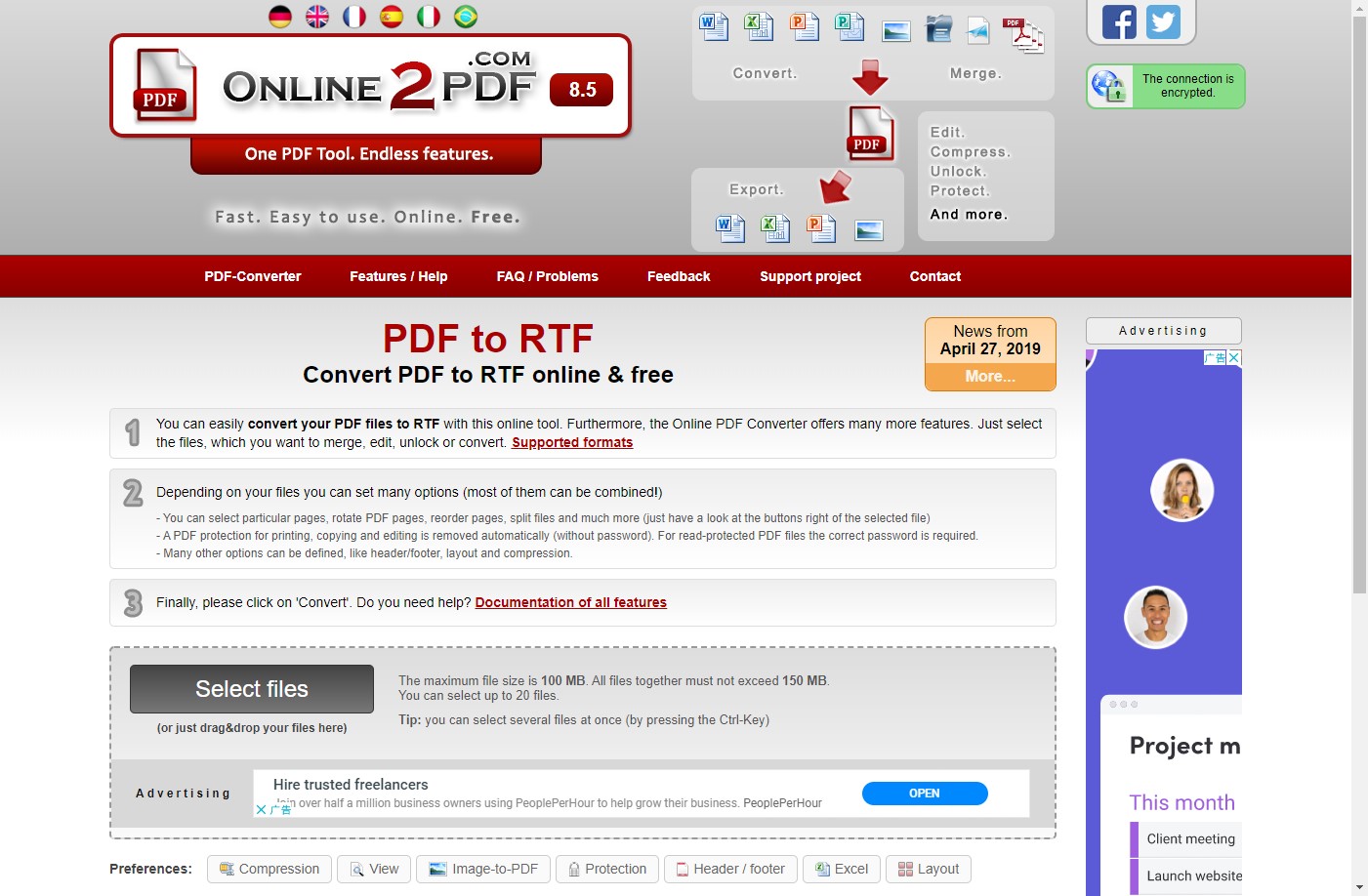 Pros:
Allows you to convert up to 100MB
20 files can be selected simultaneously
Supports lots of formats
Includes simple to use editing tools
Cons:
Looks cluttered
Not the best user-interface
Lacks OCR support
Not the simplest to use
Pricing: Free to use
---
With this PDF to RTF converter you can be sure of a seamless easy to use tool that won't be any hard to use. It offers various capabilities, such as PDF conversion to RTF or other formats such as EPUB, HTML, Excel and JPG and PDF creation from other formats like Word, PPT, HTML and JPG, among others. You can also convert from JPG to Word, Excel to JPG among others.
Tools that come with ConvertPDFOnline include features to remove and add password, PDF rotation, merging, splitting and compressing tools. The free version allows you convert files up to 40MB though it has ads and only two files can be selected. For the Pro version you can choose unlimited files and doesn't have ads.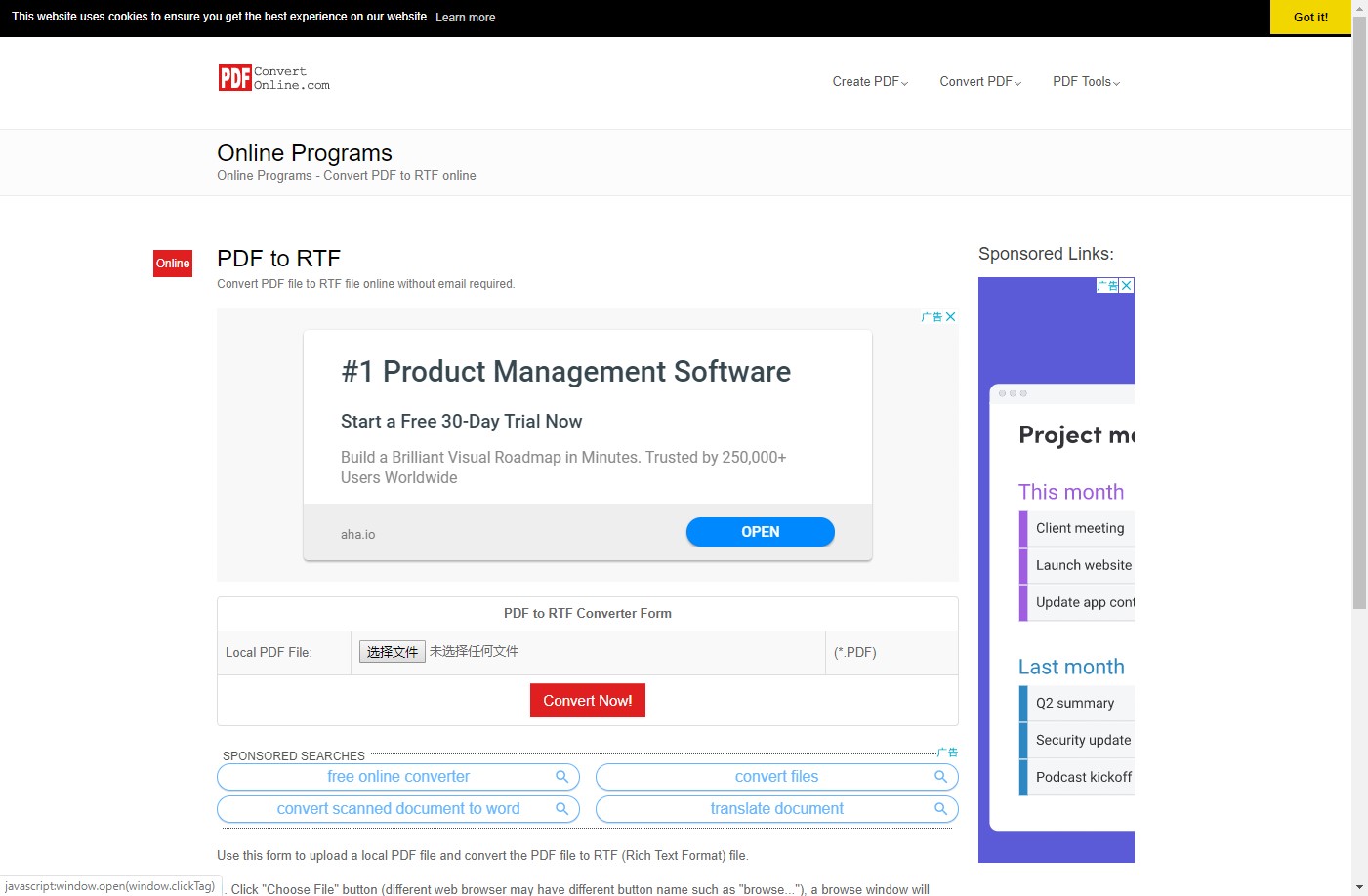 Pros:
Supports lots of formats
You don't need an email to convert using the tool
Includes features to edit PDF files
Cons:
Not really fast when it comes to file conversion
Can upload a document for conversion using URL
Pricing: Free limited version, $29.95 annually
---
Conclusion
Obviously, converting from PDF to RTF is important to you and having the best tool for the job really saves you time, gets you quality document output and doesn't cost you much. HiPDF fulfils all the criteria of a quality PDF to RTF converter and goes a step further
It includes advanced features such as online OCR to help you convert all scanned PDF files, including e-books, screenshots, faxes and images into documents you can edit such as PPT, Excel, PDF and Word.
Even better, your uploaded files are deleted within 3 hours to protect your documents and files. Cloud storage collaboration allows you to use HiPDF to convert documents from your Dropbox, One Drive, Box or Google Drive.
---
Other important HiPDF features include:
HiPDF is accessible online and offline for use in a desktop
Allows you to convert to and from PDF to hundreds of formats
Includes diverse PDF management tools to sign, unlock, crop, merge, delete pages in PDF, rotate, edit, redact and protect PDF files among others
Image editing tools allow you to rotate, compress, resize and crop images
Converts from one image format to another and even PDF to images and vice versa