Top 6 Best PDF to Word Converter Online
File conversion is an important aspect of work, school and university life. Whenever we need to transfer files, we mostly use PDF files for transferring, but when we need to edit files we use Word. Thus it is important for us to learn that which is the best PDF to Word converter available online.
In this guide, we will explore different features like OCR, editing and file formats conversions to find the best online PDF to Word converter. We hope this will help you decide which PDF to Word converter is best for your needs.
Hipdf is the top PDF to Word converter on our list. The reason for this is that it has the highest amount of features and tools, and most of them are totally free. It divides users into three categories. Free users, users with an account and finally paying users.
As a free user, you can easily convert Word to PDF just by dragging and dropping the file onto the PDF to Word in the tools section. You can also add files from cloud drives like Google Drive and Dropbox in this best PDF to Word converter online without email tool website.
If you become a paid user then you can use Hipdf's OCR feature, which will enable your images to become editable and you can change the text in the images.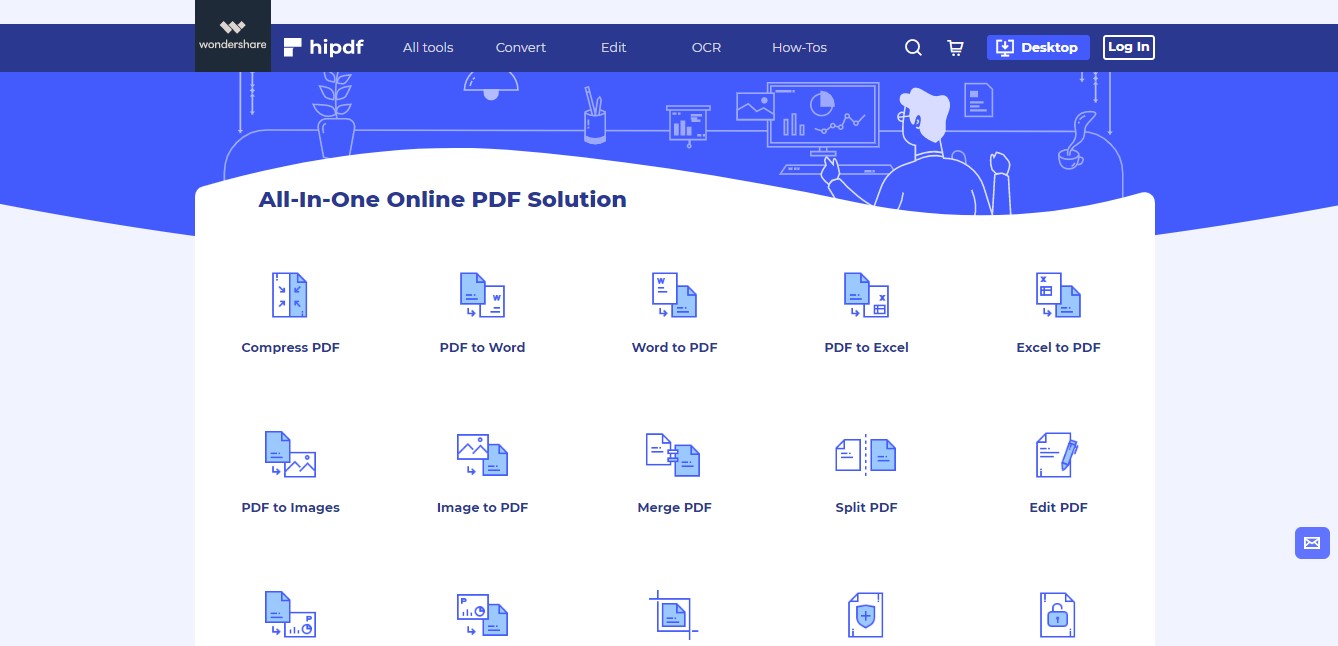 Pros:
Ease of Use
High variety of tools
Cloud Access
OCR Feature
Image conversion
Multiple Formats
Batch conversion
PDF editing Tools
Cons:
Pricing: $6 USD/monthly
---
This is another great tool in our best free PDF to Word online converter list. It has a great UX/UI , which helps you easily locate any tool. You can add files from your computer or cloud storage. Therefore, you can easily find the PDF to Word tool using the main menu and drop your file onto the tool. You can even do batch processing of files.
However, on the downside ilovepdf has limited conversion tools and lacks OCR functionality. So as a PDF editor it lacks many vital features. You can also compress and protect the PDF. You can convert images to PDF and then to Word. But as it lacks OCR the text won't be editable and also other PDF tools like redaction.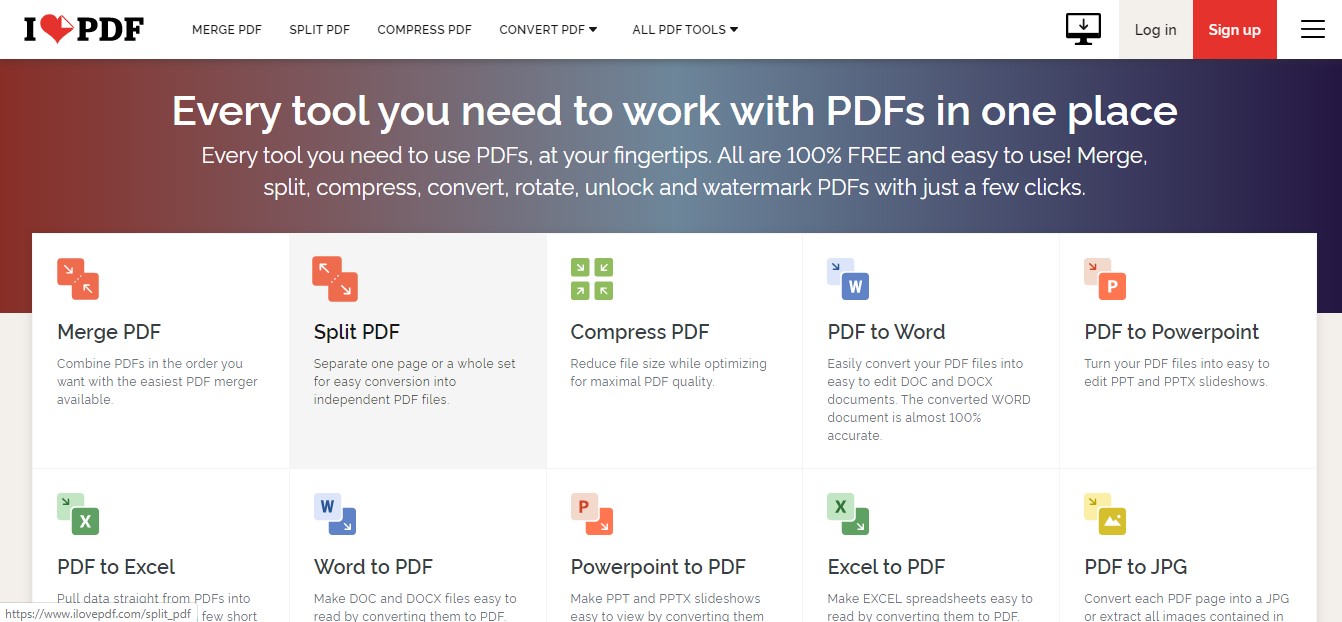 Pros:
Ease of Use
Cloud Access
Image conversion
Multiple Formats
Batch conversion
PDF editing Tools
Cons:
No OCR
Limited Conversion formats
No Image to image conversion
PDF tools
Pricing: $6 USD/monthly & $48 USD/Yearly
---
The third in this best PDF to Word converter online tool list is SmallPDF. It's very well designed and as a good look and file to it. It also allows file conversion and editing. However, it focuses only mostly on Gmail and Chrome integration.
It also provides some unique features. You can use SmallPDF as a plugin inside Gmail, without ever having to go to the SmallPDF website. Thus, you can convert PDF files to Word right inside your Gmail. This is a huge advantage as you can convert PDF to Word faster.
However, not all file formats are available. Some major ones are missing like TIFF and GIF. It also lacks features like extracting the image, editing header, and footers, However, it still has basic features like sign and Gmail integration. On the downside, it's not free to use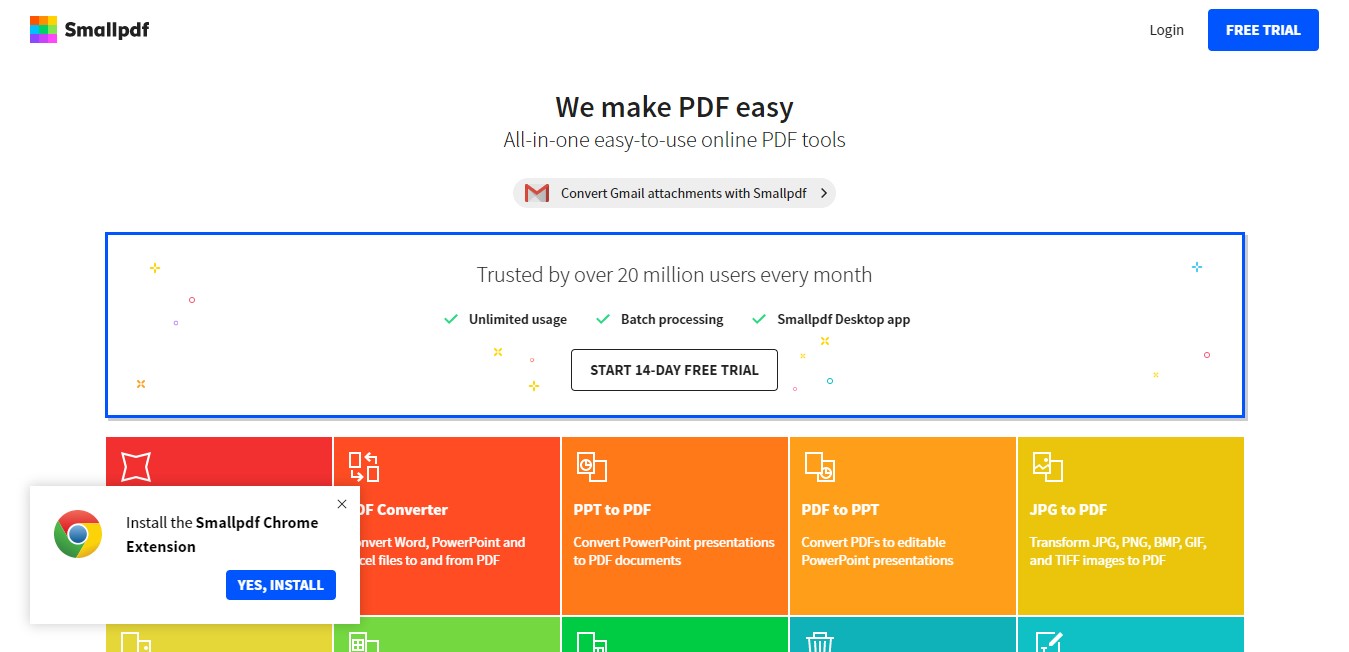 Pros:
Cons:
Less Variety of File Formats
Tools variety
Hard to Use
Limited PDF Tools
No OCR
Not free to use
Pricing: $6 USD/monthly
---
Another interesting product in our the best PDF to Word converter free tools list. Zamzar is the most advanced conversion tool in our list as it offers conversions into many many formats. You can virtually take any file and convert it into any other file type using this tool.
Furthermore, it can also act like an inbox for online file storage. However, on the downside it offers no PDF editing tools of any kind.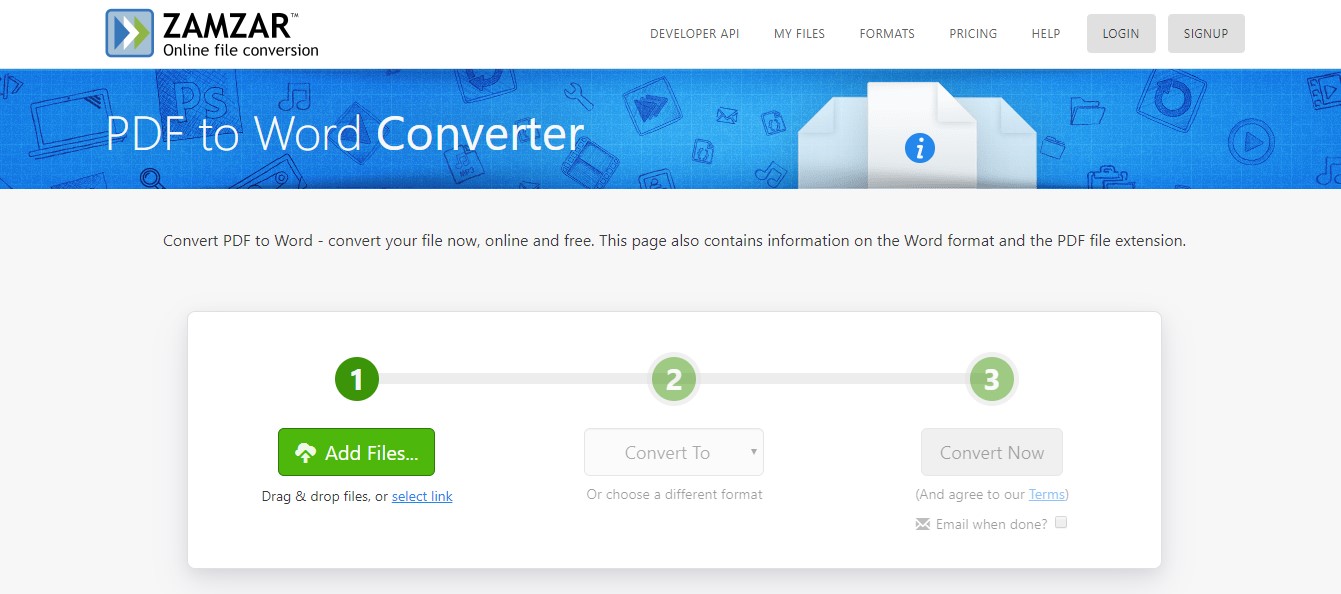 Pros:
Any format convertable
Fast
Batch conversion
Cons:
Horrible UX/UI
No PDF editing
No OCR
Expensive
Pricing: $9-25 USD/monthly
---
This is another great tool in our best PDF to Word converter tool list. It has a fantastic interface and it's really easy to use it. What's interesting is that it offers file conversions that no other converter offers on the list. You can easily convert PDF to Word, but you can even convert whole ebooks to PDF format. It also offers batch file conversion.
On the downside, it offers limited PDF editing tools as compared to other editors.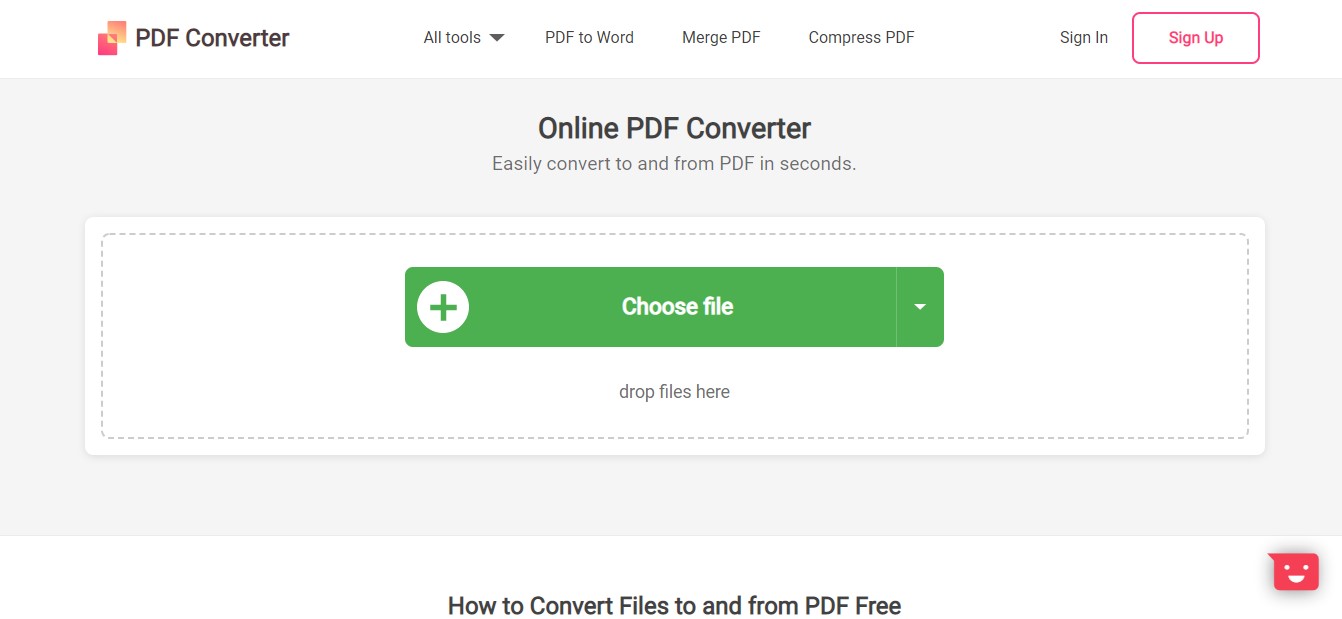 Pros:
Good UI/UX
Multiple conversion formats
Easy to use
Cons:
Limited PDF editing Tools
Expensive packages
Pricing: $5 USD/monthly
---
PDFPro is another great tool in our best pdf to word converter online free tool list. It doesn't have as high specs as the top two, but it still offers quite a punch. It allows file conversion and PDF editing, however, what makes it unique is that it stores your file for 12 hours. Even on the free version. So once you have uploaded the file, you can edit it anytime after opening its editor. Additionally, don't need to upload downloads over and over for different types of conversion. This saves a lot of time.
One key special feature is that it has one centralized editor, where you can perform all the tasks, rather than going back and forth on different tool pages. It also directly allows you to email files straight from the tool page, thus saving you time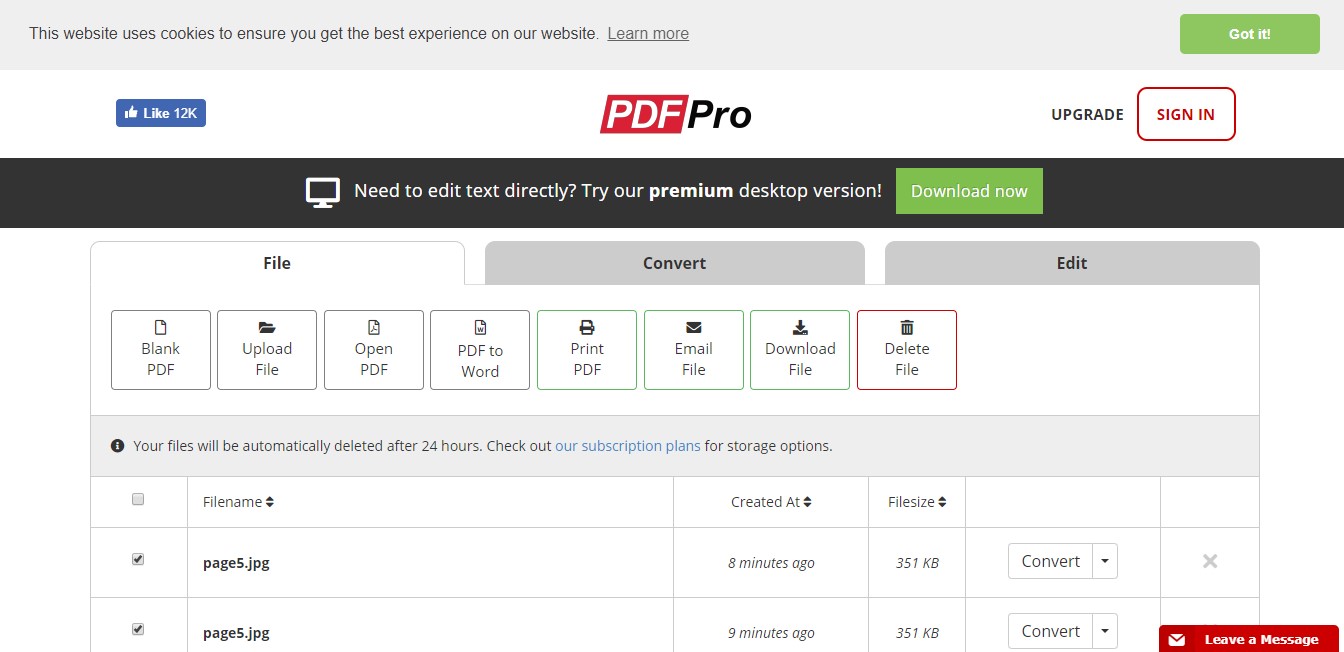 Pros:
Easy to use
Can email file
Files stored for 12 hours
Combo tools
Easy access to files
Quick processing
Email Files
Cons:
Limited Convert File Formats
Image to Image conversion missing
OCR missing
Limited PDF Tools
Poor UI/UX
Low Tools Variety
Pricing: $7.99 USD/monthly
---
The Best PDF to Word Converter Online
I hope we have covered all the various solutions to convert PDF to Word. We hope that it helps you find the best PDF to Word Converter online. However, the best converter in our opinion is Hipdf. As it offer superior services.
For example few PDF converters offer OCR, which enables you to take image files and convert them to PDF and then be able to edit their text in Word. Similarly, Hipdf offers direct Image format to other Image format conversions, like JPG to PNG, few other converters offer this. And lastly, it also deals with lesser popular formats as well like GIFF, EPUB and TIFF.