Best 10 PDF to Word Converter of 2022
Picking a solid PDF to Word converter requires a stringent checklist against which several apps can be vetted. Not all PDF to Word file converter applications are equal. Some are online, some are for desktops and others offer multi-platform experiences. The best PDF to MS Word converter, however, must have the ability to work across different platforms and bring a rich set of features to the mix. In addition to converting PDF to Word, it should also have other tools like a PDF editor, e-signing options, security features, text recognition, form-filling, and so on. So what are the best tools that qualify for the position of a Top 10 PDF to Word Converter? Let's see.
Best 10 PDF to Word File Converter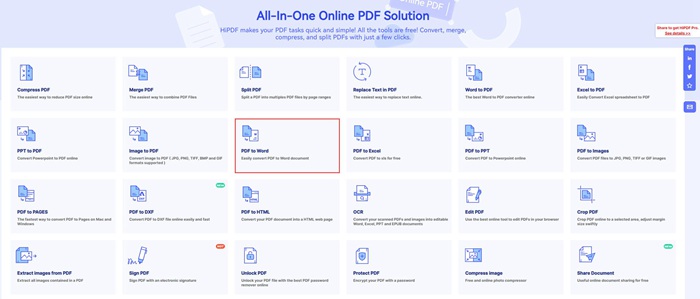 Pros:
Premium user experience
Clean and simple layout
Advanced tools for free usage
Cons:
Requires a robust Internet connection
No Batch Process in the free version
Price:
Free usage for light tasks
Pro version is $4 a month billed annually
HiPDF is high on this list because of the sheer breadth of features that it offers. Despite being an online-only PDF to Word converter service, the speed and accuracy of the conversion are astounding. Large PDF files can be converted in mere minutes, and the accuracy rate of the rendered Word file is extremely good.
HiPDF boasts an array of useful features for editing (with annotations, shapes, etc.), conversion (to and from PDF), security (passwords, redaction, etc.), PDF creation from other file types, file management (split and merge), page organizing (reorder, remove, add, copy, replace, and rotate), size optimization, OCR text recognition from scanned PDFs, easy form filling and signing, and much more.
The site's modules are clearly laid out in an easy-to-navigate menu where you can quickly find whatever you need. It's free to use within certain limits but if you need to upgrade, it's quite affordable compared to most other online PDF to Word converter tools. In simple terms, it is arguably the best free PDF to Word converter that requires no installation.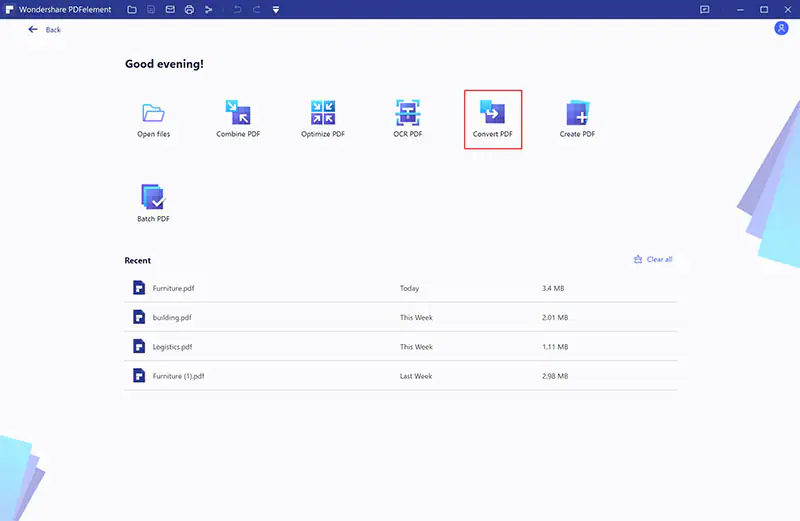 Pros:
Powerful and comprehensive PDF tool
Advanced features matching Acrobat
Easy to use and multi-platform support
Cons:
No Linux version
Free version adds a watermark
Price:
$79 per year or $129 for a perpetual license
Among the leading PDF to Word converter tools for desktop and mobile is PDFelement from Wondershare. This robust utility is as beautiful as it is powerful, and the conversion quality is considered to be among the best in the industry. It also has a rich feature environment that covers everything from simple PDF reading and editing to complex OCR, data extraction, and form field recognition.
If you look closely at the feature set, you'll see that you can do nearly anything in terms of document management. You can create PDF files from hundreds of other file formats, edit them with ease, read them like books, annotate them, protect them, convert them to other formats, merge or split files, reduce file size, flatten PDF content, perform OCR, scan directly to PDF, create and modify forms, and much more.
One of the best things about the PDFelement PDF to Word converter utility is its ability to process files in bulk so repetitive tasks can be performed in a highly efficient manner. Just queue up your files in the appropriate section of the Batch Process tool, tweak any settings you want to change, and click a button to get the job done automatically on any number of files no matter how large they are.
3. Adobe Acrobat DC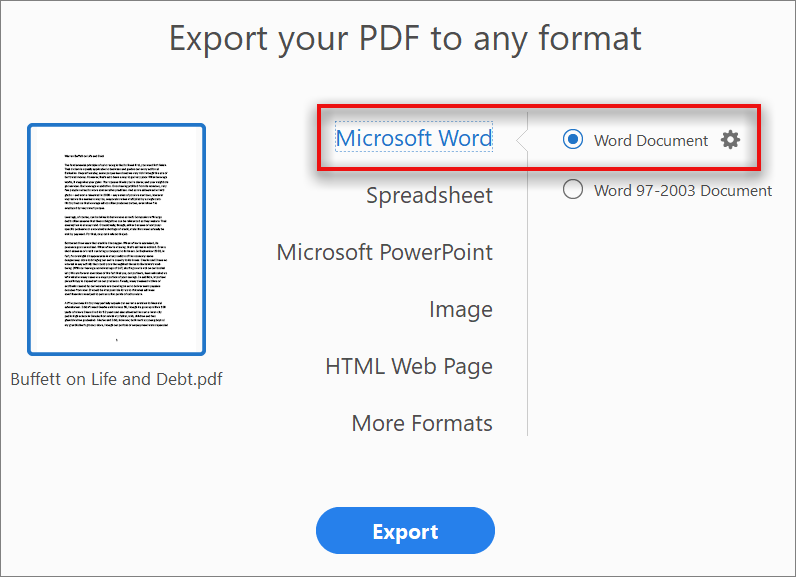 Pros:
Full-fledged PDF utility
Handles complex tasks well
Excellent conversion quality
Cons:
Complicated UI
Expensive PDF to DOC converter
Resource-intensive
Price:
Standard DC: $12.99 per month or $155.88 per year - no perpetual license available
Pro DC: $14.99 per month or $179.88 per year or $450 for a perpetual license
Acrobat has over 40% market share in the world of PDF applications and can certainly be considered to be the best PDF to Word converter. Unfortunately, you can only use it as a PDF to Word converter free of cost while you're in the initial 14-day free trial period. After the expiration of this period, it reverts to being a PDF reader and is no different from Acrobat Reader DC, which is actually a different and free application.
Features-wise, there's no doubt that Acrobat beats most other PDF to Word converter utilities hands down. That's because of the accuracy of the final output and the fact that it can easily convert highly complex PDF content into its equivalent Word version. And you can do this with just a few clicks of your mouse. Moreover, Acrobat is available for both desktop and mobile, and when you hook it up to Adobe's cloud service, it becomes one of the best collaborative document tools you can find.
Unfortunately, despite its rich features and strong capabilities as a PDF to Word file converter, Acrobat and its more powerful cousin, Acrobat Pro, can be pretty expensive under the subscription model. Moreover, purchasing a license outright will set you back hundreds of dollars. The other downside is the complexity of navigation. Due to the excessive features, it may be hard to find what you need, especially when you start using it for the first time.
4. Nitro PDF Pro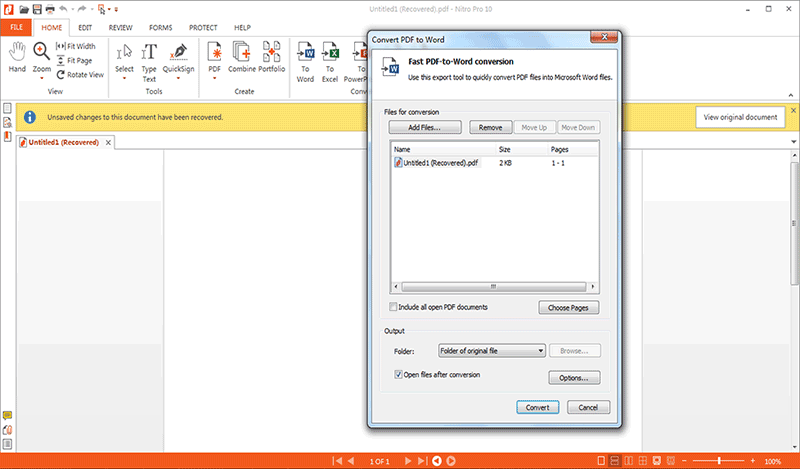 Pros:
Office-like experience
Accurate PDF to DOC converter
Impressive feature set
Cons:
Expensive compared to PDFelement
No subscription option
Price:
All licenses are only available in perpetuity per user (no free upgrades)
Windows: Nitro PDF Pro is $179.99
Mac (PDFpenPro rebranded): Nitro PDF Pro Essentials is $129.99; Nitro PDF Pro is $179.99
Nitro PDF Pro is a desktop PDF to Word converter and PDF editor for Windows. There's no Mac version but you can purchase PDFpenPro on the Nitro site since the brand is now owned by the Nitro parent company. Nitro is very Windows-friendly but if you're averse to the ribbon-style toolbar, you may be disappointed because that's exactly what Nitro offers.
The features are pretty extensive (as much as the software is expensive!) Though not as pricey as Acrobat Pro, it will still set you back by quite a bit. Moreover, it's not as user friendly as an online tool such as HiPDF or a desktop and mobile utility like PDFelement. Nevertheless, it is definitely a serious contender for the PDF to MS Word converter top 10 list.
Key features include PDF conversion, PDF editing, OCR, PDF security, file optimization, page and file management, forms creation and filling, electronic signature, and a vast range of additional tools that most PDF workflows require. It is highly accurate and quite fast, but that would also depend on whether you're running it on a new Windows PC or an older one with limited hardware capabilities.
5. PDF Complete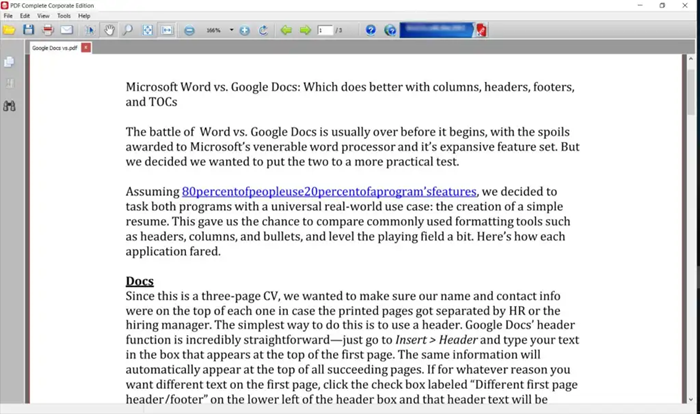 Pros:
Layout is familiar to Windows users
Solid PDF to DOC converter quality
Simple UI
Cons:
No advanced features (OCR to editable)
Only Office version has conversion
Very basic PDF utility
Price:
Corporate Edition: $19.95 (previously $49.95)
Office Edition: $59.95 (previously $129.95)
Another Windows-exclusive PDF to Word converter for PC is PDF Complete. It comes in Corporate and Office variants, and there's a clear demarcation between the two editions based on the features each of them offers.
The most lightweight Corporate version of PDF Complete is essentially a very limited tool with features such as PDF annotations, limited file conversion (primarily PDF creation from other formats), e-signing and other essentials for day-to-day PDF management. On the other hand, the Office version is a little heavier but comes with a lot more functionality such as PDF editing, extensive conversion options to useful file types, OCR (but only to create searchable PDFs, not editable ones), and so on.
As we saw in the case of Nitro, PDF Complete is styled like Windows, with the ribbon toolbar and familiar layout. That makes it easy for new users to switch from another application and start using one of the PDF Complete variants.
6. PDF Expert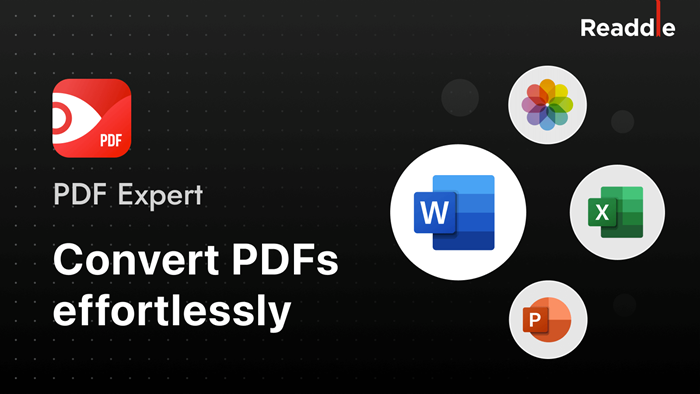 Pros:
iOS-friendly UI and UX
Award-winning brand
Rich PDF tools
Cons:
No PDF to Doc converter in Mac
Basic tool set
No Windows version
Price:
$12.49/month or $49.99/year
This PDF to Word converter application from Readdle is a relatively new entry into this list because the feature can only be found in the iOS version rather than the desktop edition for Mac. There's no Windows version but if you're a mobile user with an iPhone or IPad, the conversion quality is pretty good for this PDF to Word file converter.
The other features of PDF Expert are quite limited, even in the desktop version, but you can perform most basic PDF tasks such as editing, annotations, filling and signing forms, merging PDFs, and compressing them to smaller sizes. The best feature of all is the PDF creation tool, which lets you convert a wide variety of file types into PDF for editing.
PDF Expert is available exclusively for Apple's OS platforms such as macOS, iOS, and iPad OS. You can download this PDF to MS Word converter free and use it for 7 days; after that period, you can upgrade with one of the paid plans, which gives you access to both the desktop version for Mac as well as the mobile version for iOS and iPadOS devices.
7. Samllpdf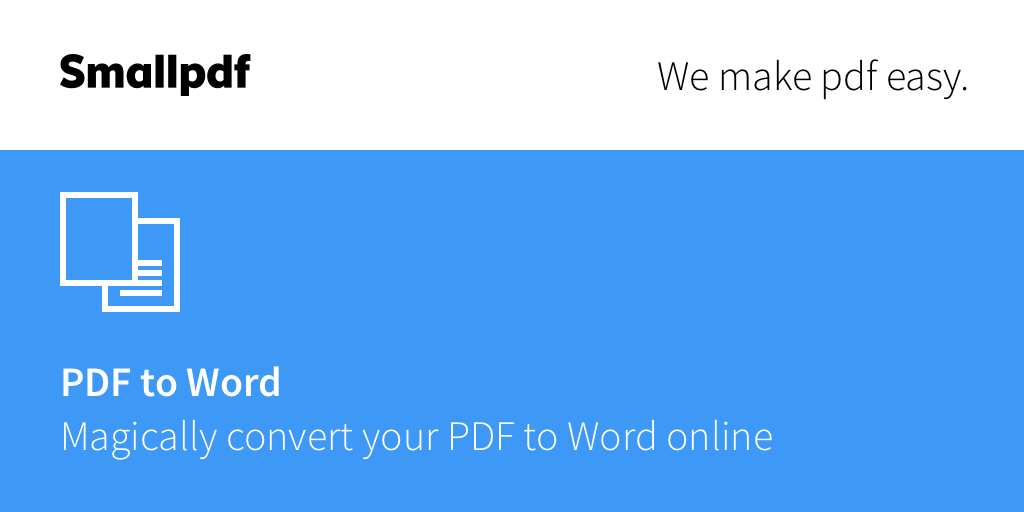 Pros:
Adequate feature set
Accurate PDF to Word converter online
Attractive UI design
Cons:
Advanced tools are not free
More expensive than HiPDF
Confusing navigation at times
Price:
$9 per month with annual billing
$7 per month for 2+ licenses with annual billing
Similar to HiPDF, Smallpdf is also an online PDF to Word converter tool that you can use in your browser without having to download anything. That also makes it a multi-platform utility since you can access it on a desktop or mobile device regardless of the operating system. That's one of the biggest advantages of Smallpdf or, indeed, any web-based PDF to Word file converter.
In terms of features, Smallpdf offers a reasonably robust range of tools. This includes a PDF editor, various conversion options (to and from PDF), PDF password addition, page organizing, file merging and splitting, and even OCR. The PDF to Word converter is where the OCR feature is integrated, but unfortunately, it can only be used if you have a Pro license.
That brings us to the negatives of this online software - several key features such as high-level compression and OCR are locked behind the paywall. On the plus side, many other features are free (but with limits), such as basic file conversions, organizing tools, and so on. If you want to remove the limits and unlock all features, you'll need to go Pro.
8. Sejda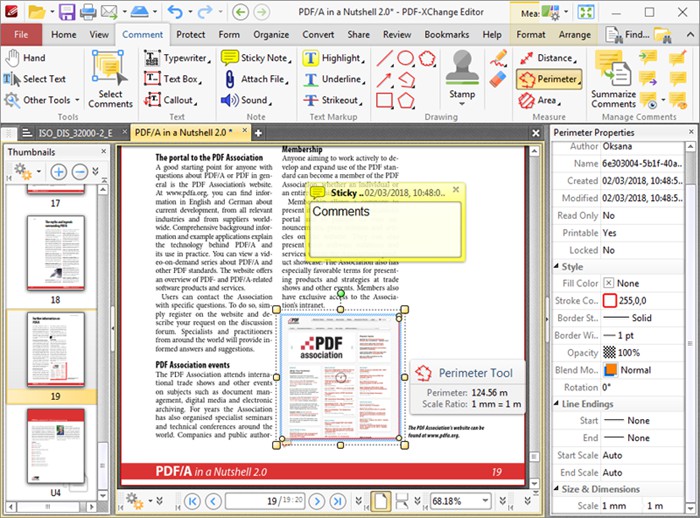 Pros:
Extensive feature set
Also offers desktop version
Accurate PDF to Word converter
Cons:
Limited usage in the free version
Not as affordable as HiPDF
Price:
$5 per week
$7.50 per month
$63 per year (with desktop license included)
Another great online platform where you can use a PDF to Word converter free is Sejda. The features are quite a bit more comprehensive than Smallpdf and almost comparable with those of HiPDF from Wondershare. It even has a few extras such as a metadata editor for PDF files.
Key features include editing, converting, creation, security, optimization, OCR, image extraction, organizing, and so on. In other words, these capabilities will cover the needs of most PDF workflows, even heavier ones where large files need to be processed quickly.
Sejda also offers a desktop version for Windows that comes with pretty much the same features as its online counterpart. Together with the online service, it provides a holistic solution for PDF users looking for an answer to the mobility problem.
9. PDFSimpli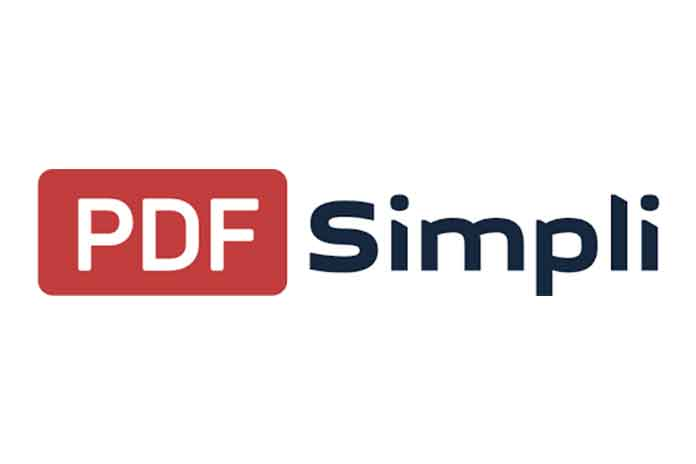 Pros:
Industry-targeted PDF solutions
Reasonably priced
Excellent basic PDF utility
Cons:
No advanced functionality
No free-forever version
Conversion quality is variable
Price:
$39.95 a month (7 users)
$74.14 a year (8 users)
This online PDF to Word file converter is easy to use and allows you to edit your PDF files prior to conversion and even add an electronic signature for authentication. Along with the core conversion feature, PDF Simpli also has a range of other PDF action options such as editing, annotation, redaction, splitting, signing, merging, compressing, watermarking, and rotating.
The software is also available for industry-specific or task-specific purposes, so you'll find variations for the legal, medical, and other professions. In addition to this, the site offers templates and other preformatted PDF documents that you can download and use.
PDFSimpli is priced quite reasonably because it doesn't offer advanced functionality such as batch processing, OCR, etc. that services like HiPDF offer. On the other hand, there's no free-forever version; you'll get a 14-day trial but will need to upgrade after that to keep using the service. Nevertheless, if you're only handling light PDF workflows on a daily basis and need simple features such as editing and conversion, this might be the PDF to Word converter you were looking for.
10. PDF Candy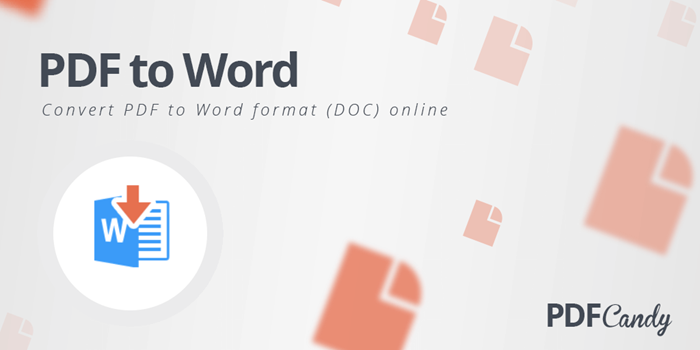 Pros:
Includes advanced tools
Reasonable conversion quality
Affordable upgrade
Cons:
Layout is not user-friendly
Limited free usage
Price:
$6 per month
$48 per year
$99 one-time
Our last showcase PDF to MS Word converter free for limited use is PDF Candy. It offers a full suite of conversion tools apart from the main PDF to Word file converter module. The conversion quality is pretty good and the service is relatively simple to use. The only drawback would be the cluttered menu where you may need to search hard to find a particular feature.
On the bright side, PDF Candy offers a range of advanced tools such as a PDF to Word converter with OCR (perform OCR and then use the converter to get the docx output), metadata editing, and header/footer addition.
PDF Candy can be used as a PDF to Word converter free but requires an upgrade once you hit your hourly limit and file size cap. However, doing an upgrade is relatively affordable, especially if you compare it with the more premium tools such as Adobe or even Smallpdf.