10 Best CutePDF Editor Alternatives & Competitors
CutePDF Editor is a free and browser-based PDF utility that helps users manage PDF pages and files. The feature set is not that impressive because you can't convert to and from PDF, edit PDF, or any of that. Suffice it to say that it is a great page management utility for PDF files, but not much more than that. In fact, what's why you might be looking for a CutePDF editor online alternative or offline alternative - one that has more teeth that it can sink into tough PDF tasks such as file creation, editing, forms management, OCR, and so on.
10 Best Alternatives to CutePDF Editor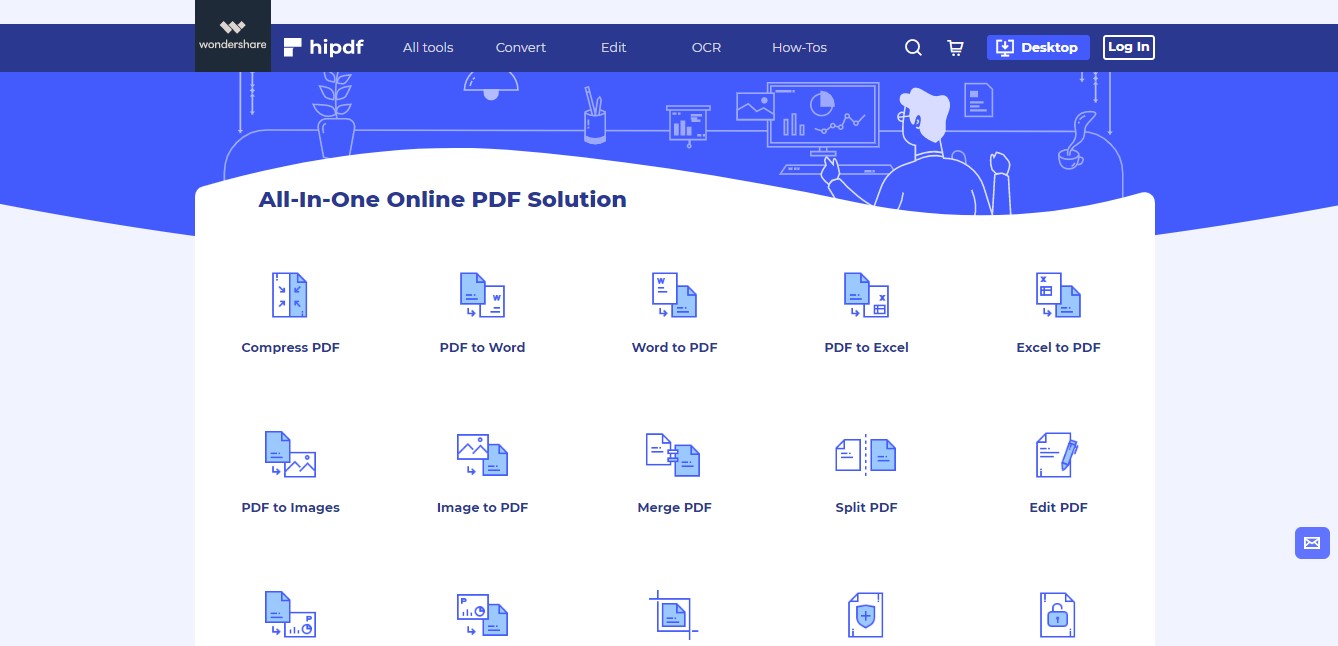 Pros:
More advanced tool than the CutePDF Editor
Extensive feature list - basic and pro
Intuitive UI - better iconography and easy navigation
Cons:
The free version limits you to two tasks per day
Some tools like deskewing for OCR aren't available
Price:
Subscriptions available from $4 a month for the annual plan
This is the most closely matching online alternative for the CutePDF editor, but it extends the functionality significantly by providing individual modules for advanced jobs such as creating, viewing, and editing PDFs, converting PDFs to and from other formats, extensive protection tools, batch processing, OCR, PDF optimization, PDF security, file/page organizing tools, and a lot more.
HiPDF offers users a slick and modern interface where each module resides on its own dedicated web page. This allows you to bookmark specific tools for quick access whenever you need them. It's akin to having a browser extension or add-on but without the need to install one.
One of the best aspects of HiPDF is the accuracy of conversion, whether you're creating PDF files, converting them to other file types, or using OCR to convert scanned PDFs to editable PDF files. Your output file will be rendered as closely as possible to the original source content, including font type, color, and size, content alignment and layouts, and so on.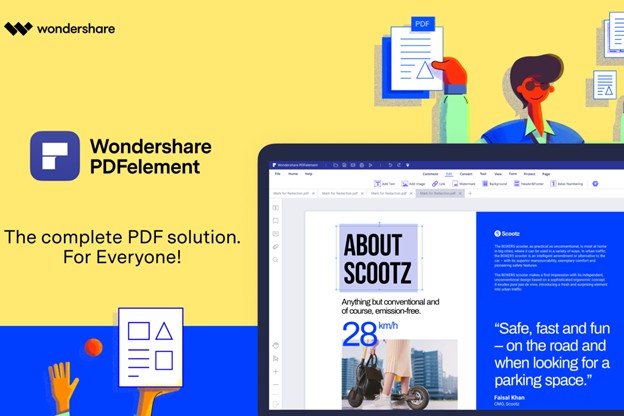 Pros:
Rich feature set with comprehensive PDF tools
Minimalistic UI, context-sensitive toolbars, etc.
Affordable PDF solution for multiple platforms
Cons:
Overkill as a CutePDF Editor alternative
The free version applies a watermark to exported files
Price:
Standard version - $59 per year | Pro version - $79 per year
PDFelement is a well-rounded PDF solution for Windows, Mac, iOS, and Android that's comparable to the best PDF editors on the market but significantly more affordable. The cross-platform capabilities of this family of PDF editors make them the ideal desktop and mobile alternative to CutePDF Editor. Moreover, because the apps can work completely offline and you won't need to send anything over the Internet, there's no need to worry about your data being compromised.
The features of this platform are exhaustive on both desktop and mobile editions. The mobile app versions for iOS and Android devices allow you to efficiently handle PDFs on the go, while the Mac and Windows versions give you a richer toolset with several advanced capabilities such as OCR, advanced forms management, batch processing, etc. You can also buy a bundle that includes any combination of desktop and mobile versions, making this a flexible solution for any type of device set up.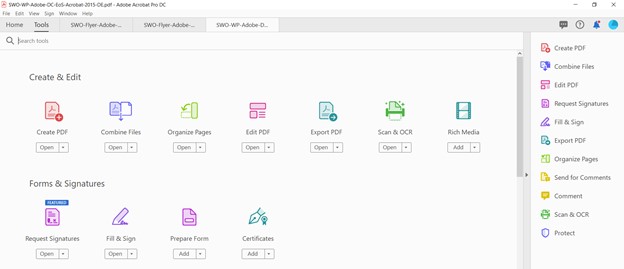 Pros:
Pro-grade PDF tools
Familiar interface for most regular users
More extensive features than CutePDF
Cons:
Prohibitively expensive for many
Complex for first-time users
Needs Cloud subscription for collaborating
Price:
$12.99 monthly for Acrobat DC | $14.99 monthly for Pro DC
The DC and Pro DC versions of Adobe Acrobat are very advanced tools when compared to doing a CutePDF Editor download (CutePDF Professional or CutePDF Writer) or using CutePDF Editor online. However, as the premier PDF solution for a significant portion of the world's businesses, it's definitely a competitor to the CutePDF Editor and associated products.
Although regular Acrobat users will generally say that the tools are quite intuitive and user-friendly, that might not be the case for first-time users who haven't used Acrobat in the past. The UI is a lot cleaner in the DC and Pro DC editions but the sheer number of features makes it hard to organize them in a user-friendly manner, which could mean spending several minutes trying to find the right tool. It is also far more expensive than other premium Cute PDF Editor alternatives such as PDFelement.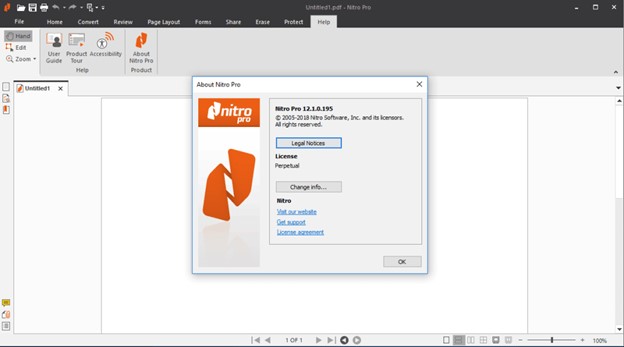 Pros:
Full suite of PDF tools
Windows-friendly environment
Cloud-integrated (Productivity Platform)
Cons:
Relatively expensive PDF editor
No extensive options for file conversion
Price:
$179.99 per user per year
Although Nitro PDF Pro is a Windows-only PDF editor, it does qualify to appear in this list of CutePDF Editor alternatives on the strength of PDFpen and PDFpenPro, a duo of Mac and iOS PDF editors that Nitro purchased a few years ago. We'll discuss those two PDf editors next. As for Nitro itself, its Office-like design and intuitive user experience make it one of the top premium PDF editors for Windows..
Nitro's best features include seamless PDF creation, annotation, and editing, excellent file conversion quality, great OCR accuracy, easy electronic signature creation, advanced PDF security protocols, comprehensive PDF form creation, etc. The product is definitely on the expensive side considering there are multiplatform utilities such as PDFelement/HiPDF/Wondershare Document Cloud that are far more affordable yet fully equipped with all basic and advanced PDF tools required to handle any type of PDF workflow situation on desktops, mobile devices, and the cloud.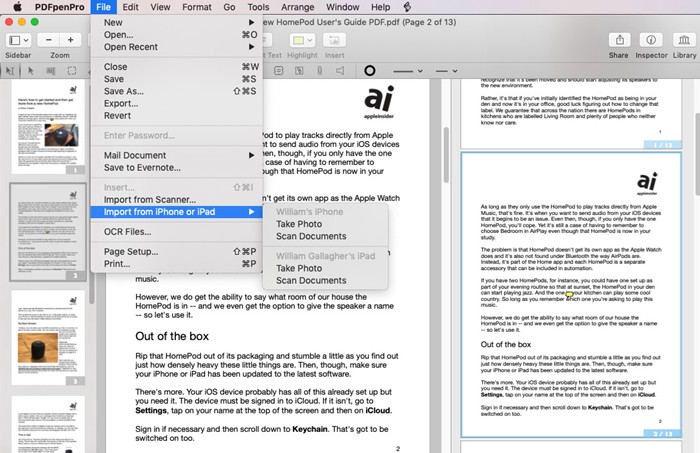 Pros:
Available for macOS, iOS, and iPadOS
Easy-to-use interface
Tools to match any PDF workflow scenario
Cons:
Pricing is on the higher side
Not many PDF export options
Price:
PDFpen - $112.95 | PDFpenPro - $174.95 | Mobile version: $9.99
PDFpen and its more muscular cousin, PDFpenPro, represent a powerful duo of CutePDF Editor alternatives for Apple device users. The Apple-focused interface gives PDFpen a very appealing user experience, and the feature sets of the regular and Pro versions provide most of the tools you need in order to manage your PDF documents.
Some of the basic features (PDFpen) include PDF text, shape, and drawn annotations, web to PDF conversion, iCloud and Dropbox integration, interactive form creation, exporting PDF to other formats, PDF portfolio creation, etc. The advanced tools include OCR, audio annotations, JavaScript/AppleScript automation, PDF compression, content redaction, digital signature creation/validation, automatic form field creation/conversion, etc.
The tools are also available for iPhone and iPad users in the Apple App Store, giving it a well-rounded presence within Apple's ecosystem of desktop and mobile devices.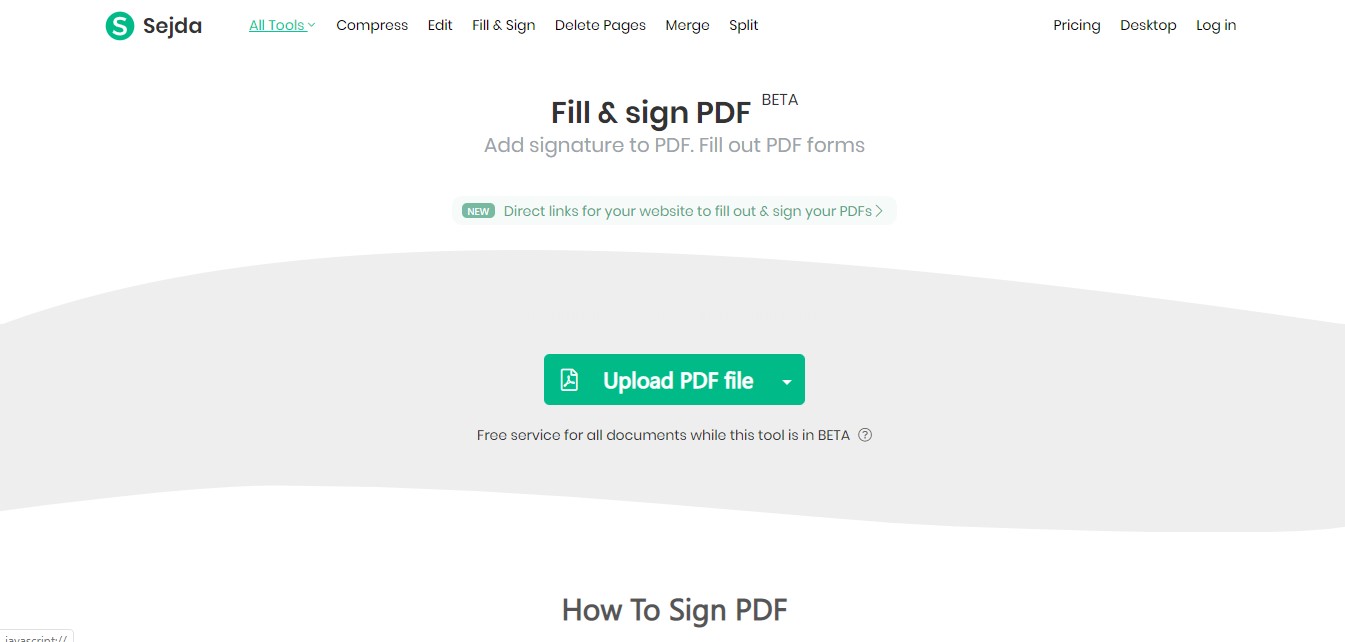 Pros:
Wide selection of PDF tools
Easy-to-use modules
Attractive design
Advanced capabilities online
Cons:
More expensive than HiPDF
Redaction is not available
Can't handle very large files
Price:
$7.50 per month (no annual option - Web Only) | $63 per year for the Web+Desktop bundle
If you're looking for an alternative to the CutePDF Editor online experience, you should definitely explore Sejda. It is a comprehensive set of PDF tools with dedicated web pages for each module. The site layout is quite intuitive and you shouldn't have any problem finding the feature or tool you need. There's also a desktop version with a similar feature set.
Some of these features include PDF content editing, PDF creation from other formats, converting PDFs accurately into other file types, and even advanced tools such as OCR, file compression, image extraction, metadata editing, Bates Stamping, PDF protection and unlocking, file merging and splitting, and page organizing. You can also reduce file size by cropping PDF pages, deleting unwanted ones, or resizing them to have a smaller footprint for sharing and other purposes.
Sejda's pricing is quite flexible; in addition to the monthly option and the desktop+web bundle, users can also get a weekly pass if they only need the tool for a few tasks every now and then. Moreover, it can also be used for free, but with some restrictions.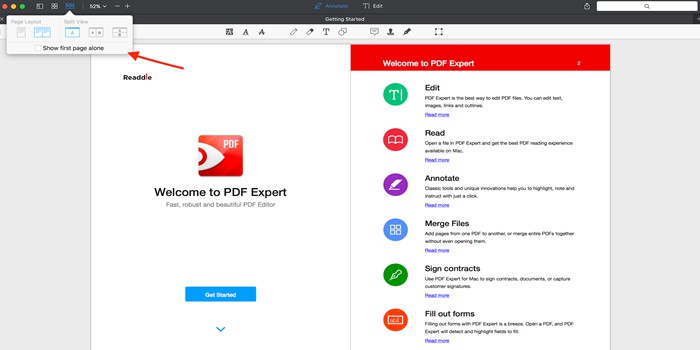 Pros:
Convenient Mac PDF editor
All essential PDF tools
Great form-creation features
Cons:
Pro iOS app is quite expensive
Limited feature-set
Price:
$59.99 for the Mac version | $49.99 for iOS Pro version
Similar to PDFpen and PDFpenPro, PDF Expert is also a Mac- and iOS-only platform. The design is closely matched with the capabilities of the Apple operating systems that it supports, and it's easy to be up and running in a short time.
PDF Expert doesn't match the advanced features of, say, PDFelement or Adobe Acrobat, but it does come with some very handy tools such as a PDF editor, form filler, electronic signature creator, PDF merging tool, password protection, and even text redaction. You can also add annotations, convert files to and from PDF, compress PDFs, add page numbering, and so on.
The Mac version is not very expensive but the Pro version for iOS and iPadOS is a little pricey when you consider the limited features in comparison to an app such as PDFelement for iOS/iPadOS.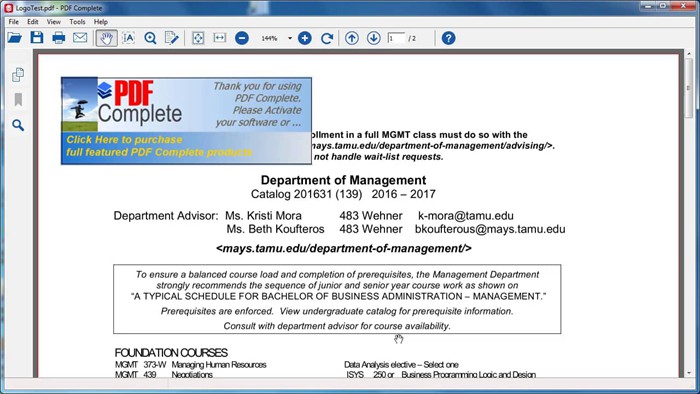 Pros:
Clearly bifurcated tool - Corporate/Office
Function-specific features
Windows-friendly UI
Mid-range pricing
Cons:
No Mac version
OCR to editable not available
Limited features
Price:
$49.95 for Corporate | $129.95 for Office
The two versions of PDF Complete - Corporate and Office - are clearly bifurcated by functionality. The less feature-rich Corporate version is essentially a page/file management and form-filling utility, while the bulkier Office edition contains all the advanced features. However, some tools like PDF OCR to editable text aren't available in either version.
Corporate edition features include creating PDFs, filling out forms, managing pages, and basic PDF security. Office edition features include text editing, redaction, digital signatures, OCR (to searchable text only), file conversion, annotations, and additional security options.
On the whole, PDF Complete delivers a very seamless Windows experience due to its design aspect, which mirrors many Office tools like MS Word. The products are designed with key business roles in mind, which is presumably why the features are bundled in this manner. Price-wise, PDF Complete is somewhere in the middle, between more expensive products like Acrobat and Nitro, and affordable solutions such as PDFelement.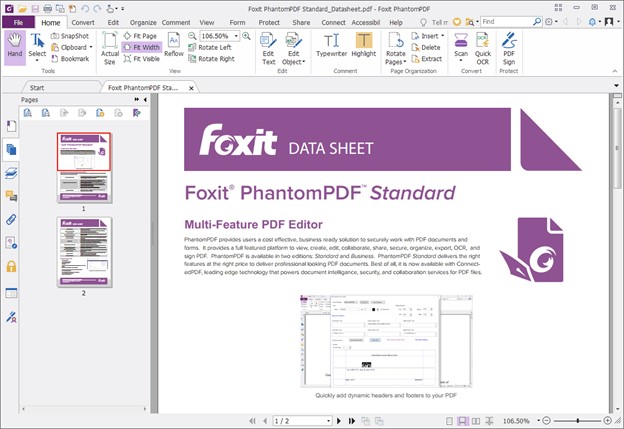 Pros:
Wide range of platform options
Extensive feature set
Advanced PDF tools in Pro
Admin console for large-scale deployment
Cons:
No Pro version for Mac
No advanced editing in Windows standard
Price:
$14.99 a month for Standard | $159 for Win/Mac perpetual | $179 for Win Pro
Foxit is a multiplatform PDF editor and a great alternative to using CutePDF Editor online or doing a CutePDF Editor download for your desktop. It's also more feature-rich than CutePDF Editor, with features that span both simple and complex tasks. It is also available for Android and iOS devices.
The pricing is relatively high, especially when you compare the features against an equally capable but more affordable CutePDF Editor alternative such as PDFelement. However, it does offer many of the same features, including cloud capabilities, OCR conversion, etc. The best part is the Windows-friendly interface in the PC version but it would have been great to have a Pro edition for Mac as well.
Foxit for mobile is more of a PDF reader and viewer than a PDF editor if you're using the free version, but the iOS and Android upgrades come with PDF editing capabilities and other features such as digital signatures, redaction, file optimization, file creation, and file conversion.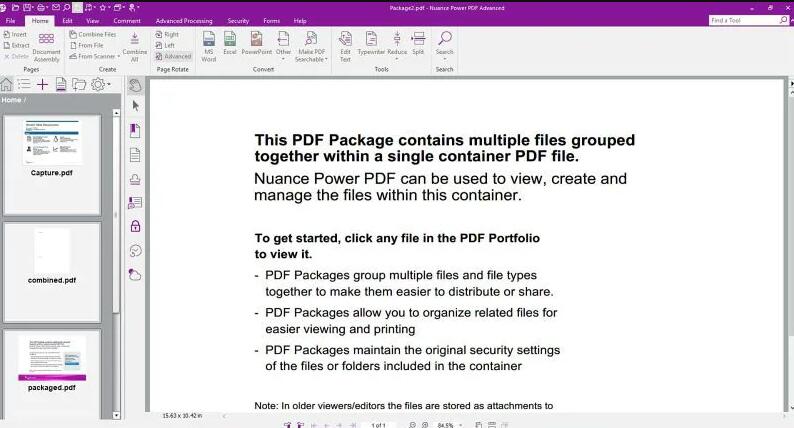 Pros:
OS-friendly design
Top ratings on user review sites
One-time purchase
Cons:
No Advanced Mac version
No OCR to editable text
Price:
$135 for Standard (Win/Mac) | $188 for Advanced (Win only)
Users who have used the Nuance PDF editor in the past can now access the same product under the Kofax brand. It doesn't have monthly subscription options so you'll need to buy a perpetual license, but it's quite affordable considering the features it brings to the table.
This award-winning utility for Mac and PC comes with OS-optimized UIs to make it comfortable to switch from CutePDF Editor or any other software. The feature set is somewhat limited and includes form creation and conversion, annotations, local network collaboration, and digital signatures, among others.
There's also an advanced version with Bates Numbering, stronger security protocols, file conversion (to and from PDF), redaction for text and graphics, and integration with cloud services such as Google Drive and Dropbox. The pricing is a little on the higher side, however, especially when you compare a feature-rich environment such as PDFelement or a versatile online utility like HiPDF.