Top 10 Free PDF Editor Apps - Online & Desktop
PDF files are great for sharing your documents in a formal and organized way. That is until you have to make changes to them. If you do not want to go through the trouble of having to convert your PDF file, you can get help from a PDF text editor. To make things easier, here is a list of the 10 top free PDF text editor programs for both online and desktop to help with the task at hand.
Best 5 Free PDF Editor Apps for Online Use
HiPDF is a freemium PDF file editor app that you can use directly in your browser. For one-off tasks, you can use this as a free PDF editor app, and it's a great tool to help you manage light PDF workflows. For heavier workloads, you can upgrade for as little as $6 a month or $48 per year, which works out to a very affordable $4 a month. This will unlock the full capabilities of HiPDF, giving you all the tools you need to handle any PDF job that comes your way.
Features-wise, HiPDF has everything you need in a robust PDF editor app, starting from basic annotations to full-fledged PDF editing to converting files to and from PDF. The conversion engine is fast and accurate, making it easy to process even large files without leaving your browser. Other key features include form creation/conversion/filling, PDF signing, password protection, page organizing, file merging/splitting, and even a host of image tools like compression, resizing, cropping, rotating, and more.
HiPDF is also a gateway to a powerful set of PDF tools such as PDFelement and Wondershare Document Cloud, which allow you to work across multiple platforms like Windows, Mac, iOS, Android, and the Cloud.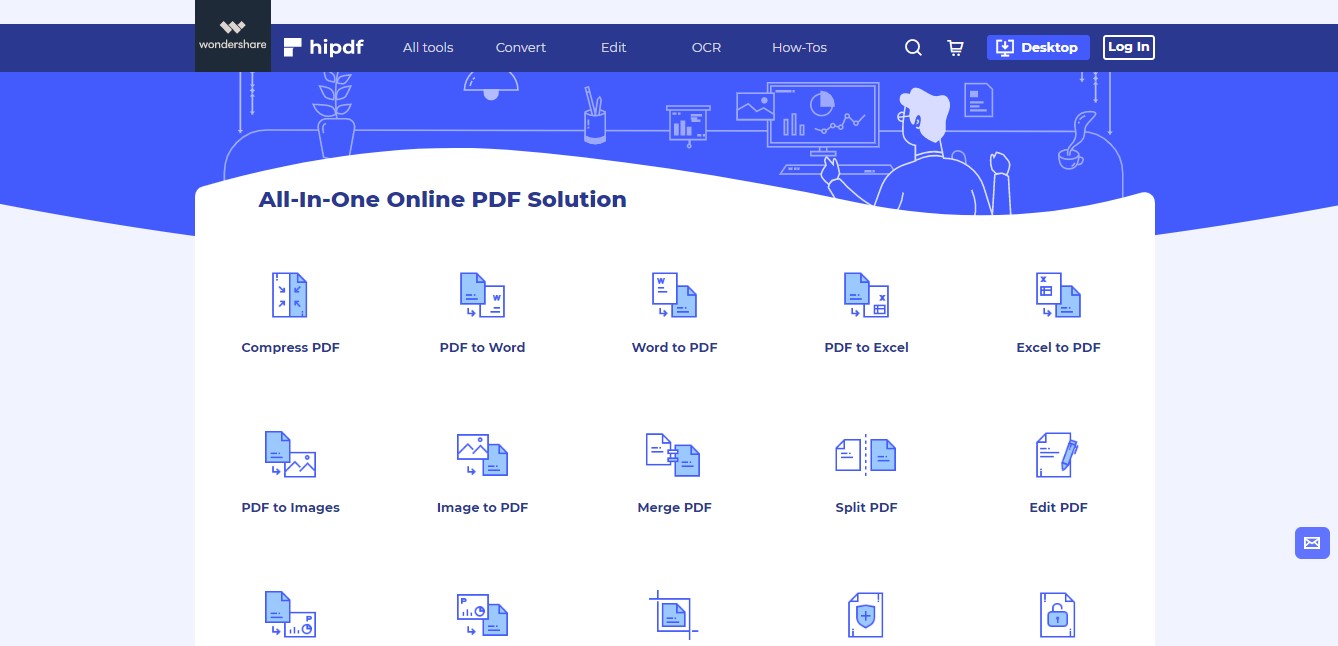 Smallpdf is a multi-platform tool that's primarily known for its online PDF editor application on the cloud. Similar to HiPDF, it has a range of features that cover all essential PDF tasks. However, there are some important capabilities that it does NOT have, such as editing the existing text and other content in a PDF file, OCR conversion, and so on.
This is an ideal free PDF editor app if you're only looking for basic functions such as converting files to common formats, creating PDFs from other file types, annotating documents, splitting and merging files, and so on. It can also be used as an effective and user-friendly online PDF reader, with a few extras such as page rotation, page numbering, and page deletion.
Overall, Smallpdf is an excellent tool to handle light to medium document workflows that don't require advanced OCR and such. The pricing is on the higher side and starts at $12 a month but if you take the annual subscription plan for $108, that works out to about $9 a month, which is quite reasonable for this feature set.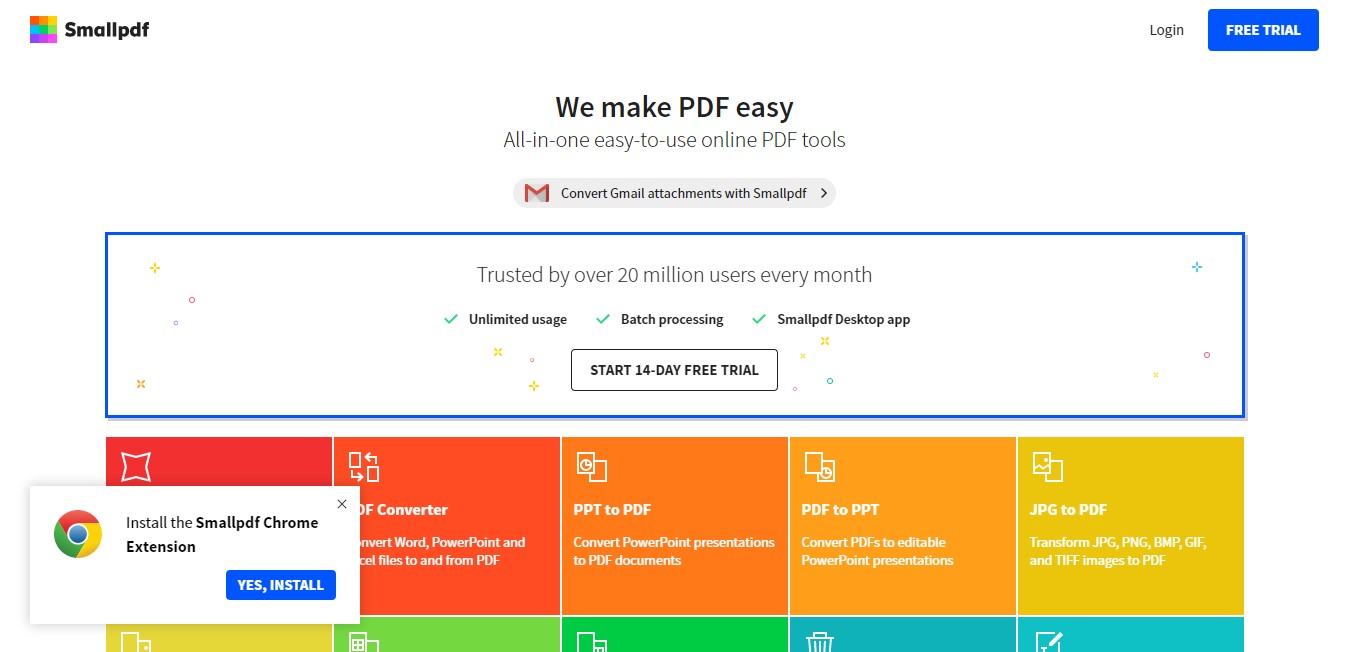 Another great PDF utility that offers a free PDF editor app on the web is iLovePDF, a sister site of the popular iLoveIMG service for image processing. One of the great things about this website is that all the PDF features are laid out right neatly on the home page so you don't have to navigate to a particular tool - just scroll to find what you need and click it to access the corresponding URL.
Key features include file conversion, merging and splitting PDFs, file compression, PDF protection, and a few editing features such as annotations, watermarking, and adding page numbering. The only downside is that the actual editing of PDF content cannot be done in iLovePDF. You can add notes, etc., and then change the attributes of those elements, but whatever's already there on the PDF is pretty much static. However, the Premium plan starts at about $4 a month if you go with the annual billing option so it's quite reasonable considering the limited feature set.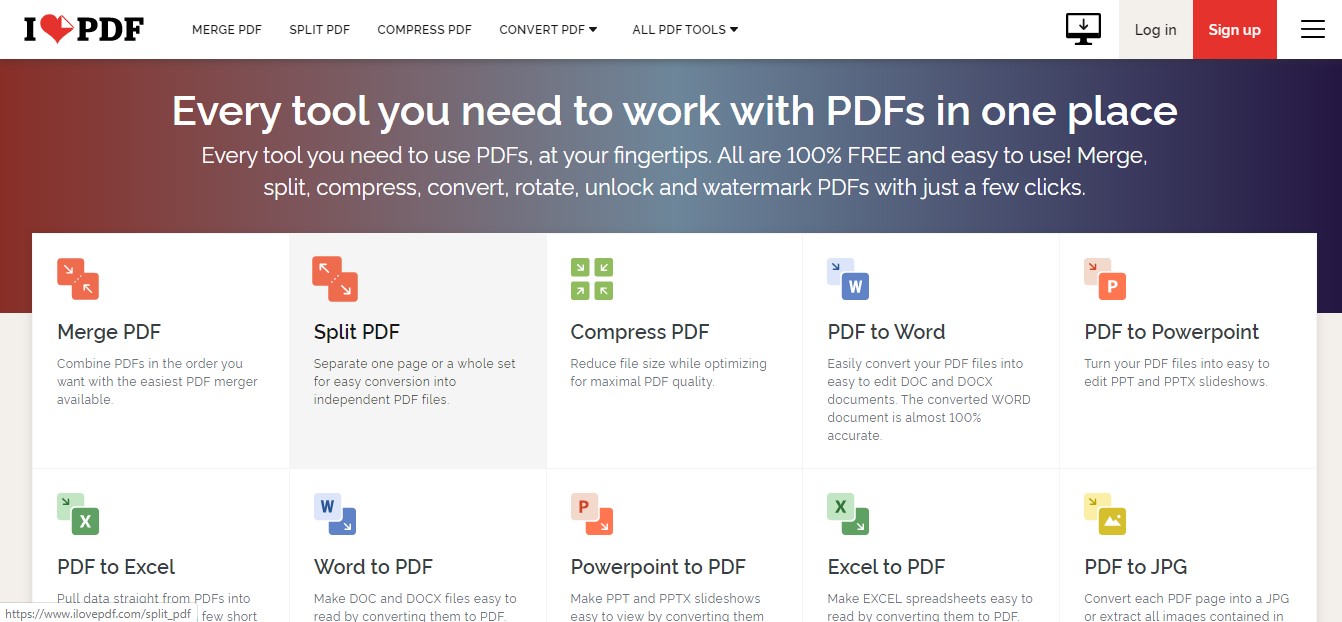 Sejda is one of the few true PDF editor apps online, and similar to HiPDF in that respect. You can directly append, modify or delete any content in the PDF, including text, images, objects, hyperlinks, etc. It's a relatively new addition to Sejda's capabilities but it makes a world of difference to users who are looking for a real PDF editor and not just an annotation tool.
Also similar to HiPDF is Sejda's list of service offerings, which includes a range of conversion options, merging and splitting PDF files, PDF security, PDF editing, form-filling and e-signing, form creation, and several other tools. It even offers advanced OCR, image extraction, metadata editing, deskewing (prepare for OCR), and many useful modules.
Price-wide, Sejda is a mid-range online PDF editor app, with the monthly pricing starting at $7.50. If you want access to the desktop version of Sejda, you'll need to pay $63 annually, which is quite fair.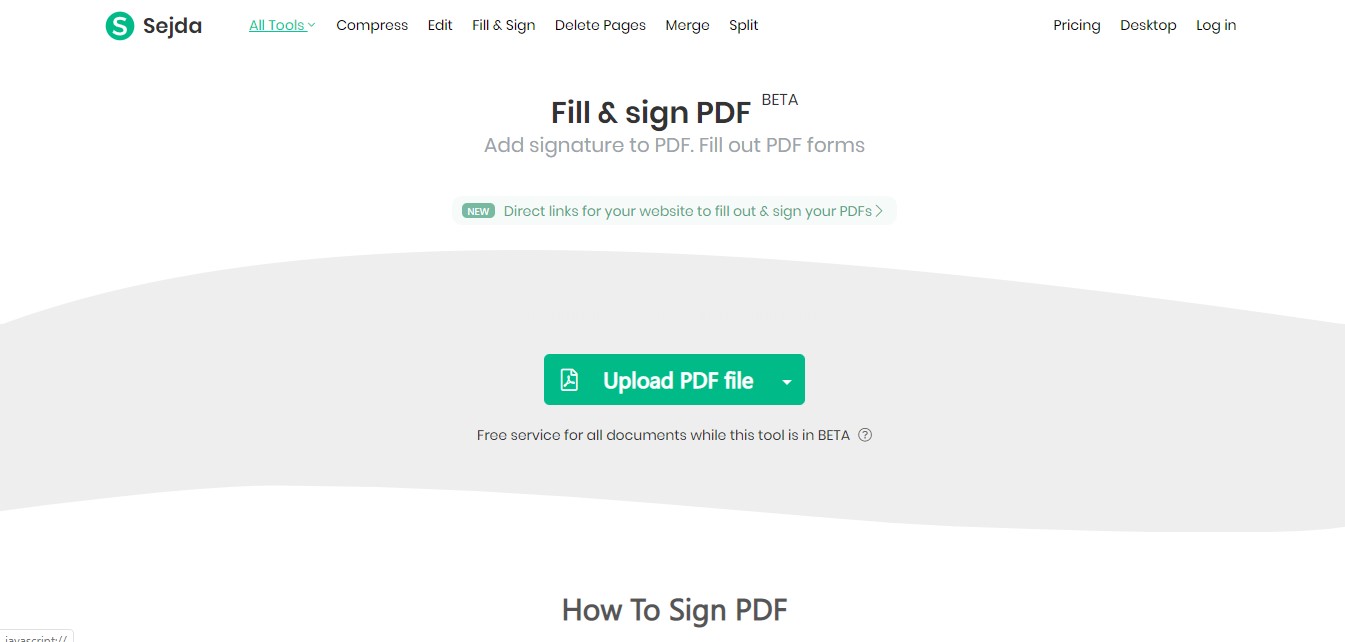 The online PDF editor app from PDFChef allows you to edit, organize, and convert files without leaving your browser. As with most other paid and free PDF editor online application services, PDFChef does not allow you to change any of the existing text, etc. in a PDF file. However, once you upload the file, you can perform several actions such as moving thumbnails to reorder the pages, adding shapes, images, and text, rotating pages, and deleting them.
The online features of the PDFChef PDF editor app might not be impressive, but there are also desktop variants and even a PDF scanner app for iOS devices that lets you create PDFs from your device camera. There's also a PDFChef Cloud option that gives you cloud storage space as part of the package, and this is available for both Windows and Mac. The product is relatively inexpensive at $29.95 for a one-year license or $39.95 for a perpetual license for the desktop editions, which also includes access to the online PDF editor app and the iOS scan to PDF app.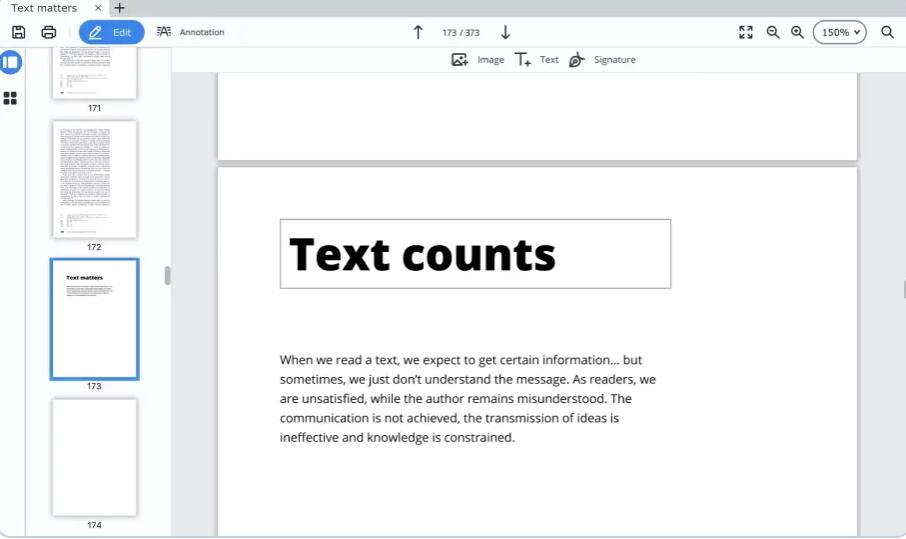 ---
Best 5 Desktop PDF Editor App Options
One of the best things about PDFelement is its cross-platform capability. There are versions for both Windows and Mac, as well as mobile apps for iOS and Android devices. In addition, Wondershare Document Cloud gives you an online repository to securely store your PDF files so you can access them from any connected device and then work on them with the native PDFelement app for that platform.
PDFelement brings some powerful features to the table in the Pro version, some of which include form conversion from non-interactive to interactive PDFs, OCR conversion, redaction to blackout private or sensitive information, and such tools. Basic features cover all the necessities like PDF creation from virtually any file format, file compression, annotations, PDF password security, PDF organizing, and more.
But quite possibly the top feature is actually the UI, which makes it easy for users to navigate through the tool menus and quickly find what they need to get the task completed. Moreover, the processing is very fast and highly accurate when it comes to any job, especially converting files to other formats, creating PDFs from other files, and performing OCR on scanned PDFs.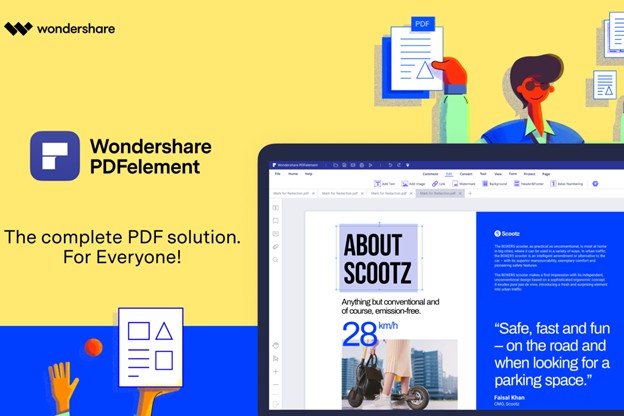 If you're a Mac user, then PDF Expert should definitely be one of the top PDF editor apps to consider. This award-winning app was picked as the Editor's Choice by Apple's internal reviewers back in 2015. It is a full-fledged PDF file editor app, which means you can edit the contents of a PDF file - text, images, etc. This complements an array of other useful features, as outlined in the next paragraph.
The top features of PDF Expert include annotations, filling PDF forms and signing them, viewing and reading PDFs, and merging two or more PDFs to create a PDF compilation. Of course, there are some downsides as well, such as the absence of a Windows version, limited file conversion capabilities, no OCR, and such. However, there's also an app for iOS devices so you can use this to edit PDFs and perform other actions on your Apple device.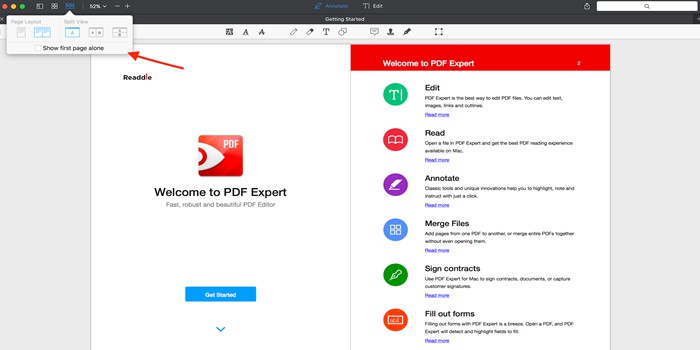 Available in two editions, Corporate and Office, PDF Complete comprises a comprehensive duo of tools to handle PDF workflows of all volumes. It's a Windows-only PDF editor app, and the interface is closely aligned with Microsoft Office products such as Word and Excel, which makes it easy for new users to hit the ground running.
The Corporate edition is essentially the basic version of this app, with features that include PDF creation, document viewing, file merging, web to PDF conversion, filling forms, password security, and file compression or optimization. The Office edition is the pro version, and it comes with full PDF editing capabilities, OCR conversion of PDFs and images to searchable PDF text, exporting to other files types (PDF conversion), digital signatures, password security, organizing PDF pages, merging files, scan to PDF and so on.
The basic corporate version costs $49.95, while the more comprehensive Office version retails for $129.95 for a perpetual license.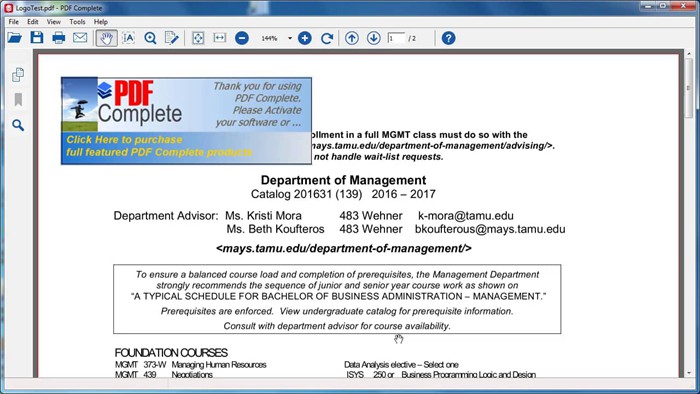 Kofax, formerly sold under the Nuance brand, is a highly rated PDF editor app that's available in both Windows and Mac flavors. The Advanced version is only available for PCs, but even the Standard Mac edition comes with powerful features and capabilities.
Among the features you can expect in this robust PDF editor are collaborative PDF editing, PDF creation, form creation and conversion to interactive PDFs, annotation tools, object and media embedding, security features such as redaction and digital signatures, file conversion and exporting, converting scanned PDFs to a searchable format, PDF encryption, digital signatures, and more.
Although Kofax Power PDF for Mac only comes in the standard variant, the developers have imbued it with some advanced features that you won't see in its Windows counterpart, such as text and graphics redaction, Bates Stamping, and even the ability to perform OCR to convert text-containing image PDFs into searchable PDF files.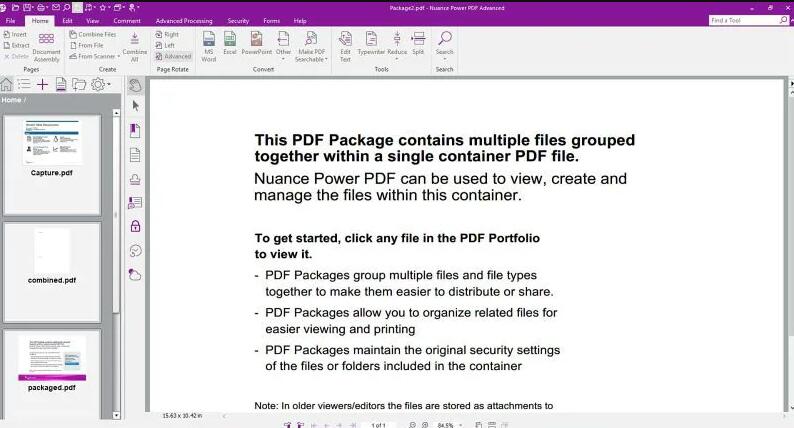 Similar to PDFelement, Foxit PDF Editor is a cross-platform utility that supports Windows, Mac, iOS, Android, and web. The interface is very Windows-friendly and intuitive so even first-time users can get comfortable with the software without too much of a learning curve.
The Foxit PDF Editor app family comes with a laundry list of features that include PDF creation and conversion, PDF reading and printing, PDF editing, electronic signatures, form management tools, PDF protection, and so on. The Windows version is also available as a Pro edition and features advanced tools such as RMS redaction, DWG to 3D PDF conversion, PDF/A/E/X creation (also available in the Mac version), etc.
Another compelling reason why Foxit products are so popular is that it integrates well with Microsoft products such as Visio and other third-party apps, enabling workflows to be seamless and highly efficient.