Top 10 Free PDF Editor Software for PC (Online & Desktop)
A good PDF editor for PC is not that easy to find, simply because there are so many free and paid options available these days. However, if you're specifically looking for a free PDF editor for PC or a paid PDF reader and editor for PC, you'll need to do a little research. But don't worry, we've done the 'hard yards' for you and come up with a list of the top 10 products in this category that you can either use online or as a PDF editor software for PC as well as Mac.
Best 5 Free PDF Editor for PC: Online
Topping the online PDF editor for PC list is HiPDF, a robust browser-based application that gives you a range of PDF tools that don't require any installation on your local system. All you need is the latest browser and a stable Internet connection and you're ready to get started.
An overview of HiPDF features reveals tools for various basic (essential) and advanced tasks. Basic tasks include PDF reading and annotations, password security, organizing PDF pages and files, filling and signing forms, converting to other formats, and creating PDFs from other file types. Advanced features include OCR, editing of existing content, extensive file conversion options, API capabilities, image extraction, and so on.
While the features are certainly impressive, what makes HiPDF a value-added product is the ability to perform almost any task with just a few clicks. In addition, the accuracy of tools like the file converter and the OCR engine is best-in-class, rivaling any desktop tool you care to name. It's also very affordable compared to any other online PDF editor for PC, Mac, Linux, iOS, and Android, and you can use it as a free PDF editor for PCs and other systems if your workloads are light.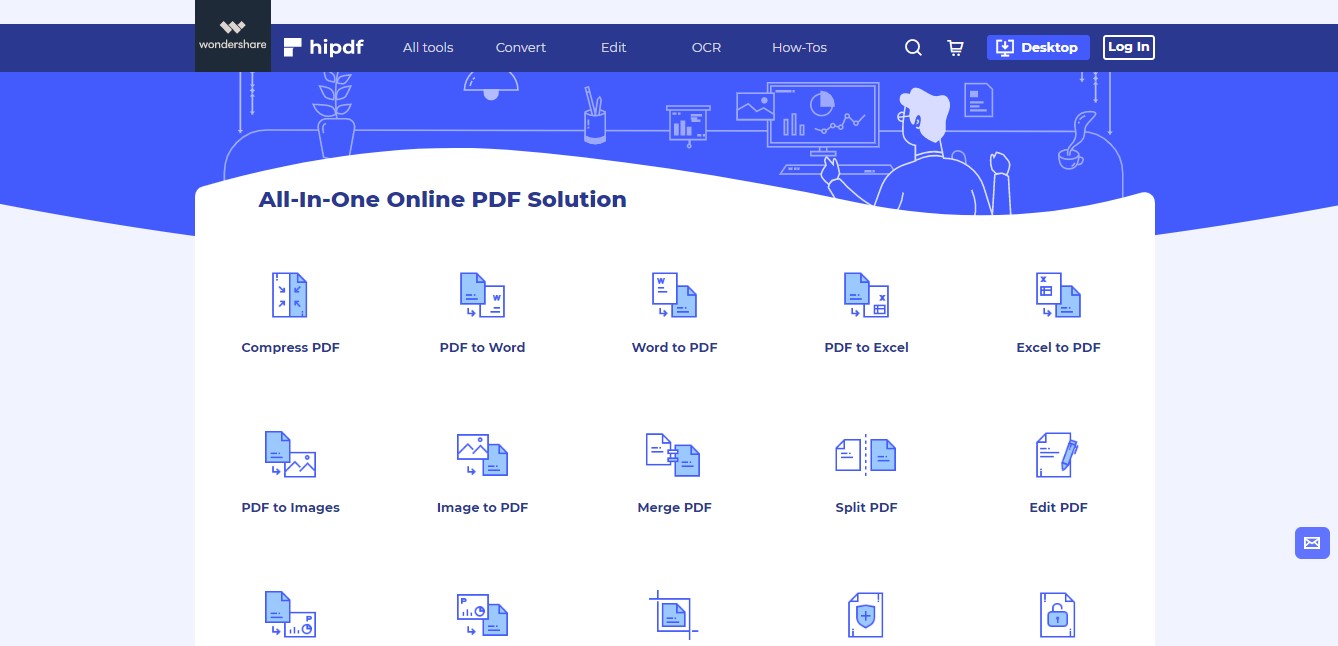 Here's another 'freemium' PDF editor for PC and other platforms that offers a range of essential tools to manage PDFs - and document workflows in general. The UI is quite user-friendly and the features are rich enough to handle light to medium workloads and tasks.
Although Smallpdf's features are quite limited in comparison to HiPDF's, you'll find all the essentials, such as PDF compression, file conversions to and from the PDF format, a PDF reader, different tools to manage PDF pages, encryption, electronic signature application, etc.
One of the downsides of using Smallpdf is that you won't find any advanced tools like OCR or advanced forms management tools. Moreover, a lot of premium actions can only be performed in the PRO version, which is relatively more expensive than most similar online PDF editor software for PC and other platforms. That being said, it's still a solid tool that's reliable, accurate, and easy to use.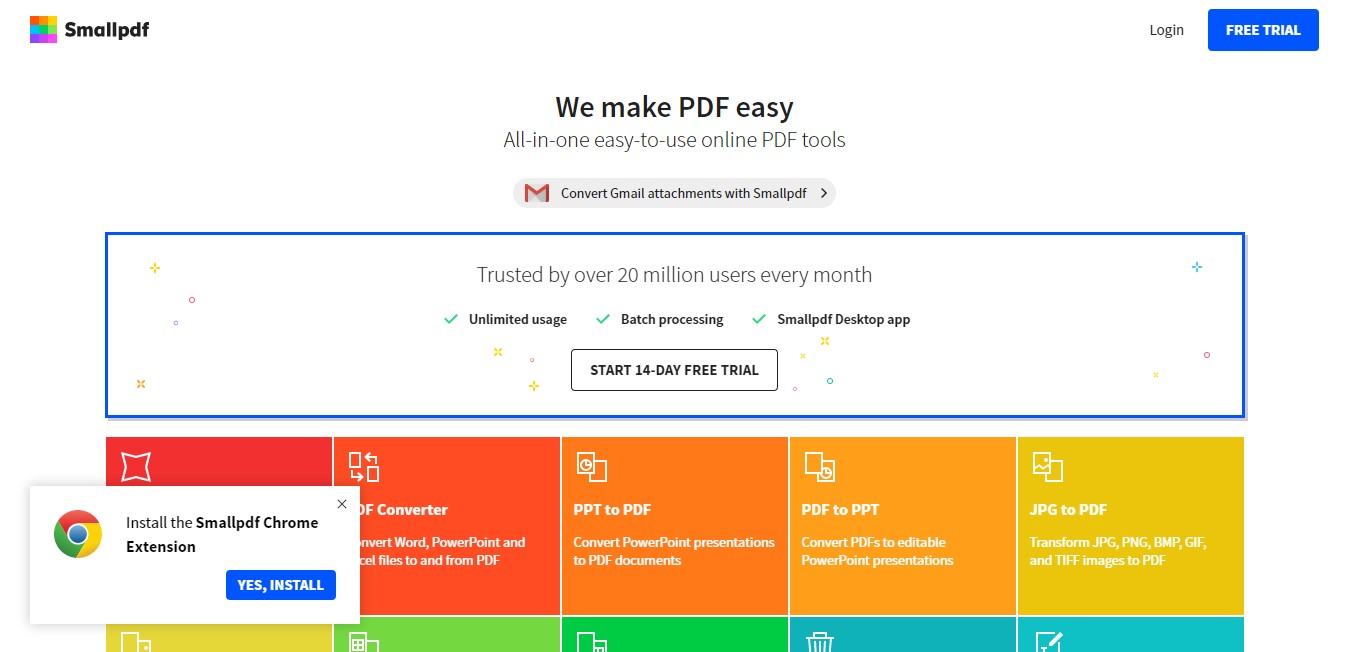 Another great online tool that you can use as your go-to PDF editor for PC is the CutePDF Editor. Contrary to what the name suggests, however, you cannot change any existing content in a PDF file; you also can't add content except for header and footer text. So what can you actually do with the CutePDF Editor online PDF editor for PC?
Among the top features of the CutePDF Editor are page organizing, header and footer addition, PDF merging, PDF protection, scanned image to PDF conversion, blank page insertion, page resizing, deleting, and rotation, and a few other simple tasks.
The real power of CutePDF is only available in its paid products, such as CutePDF Professional and the Custom PDF Converter SDK. There's also a free PDF creation utility called CutePDF Writer, which can convert any printable document into PDF. However, these other tools are essentially standalone applications that you need to download and install on your PC.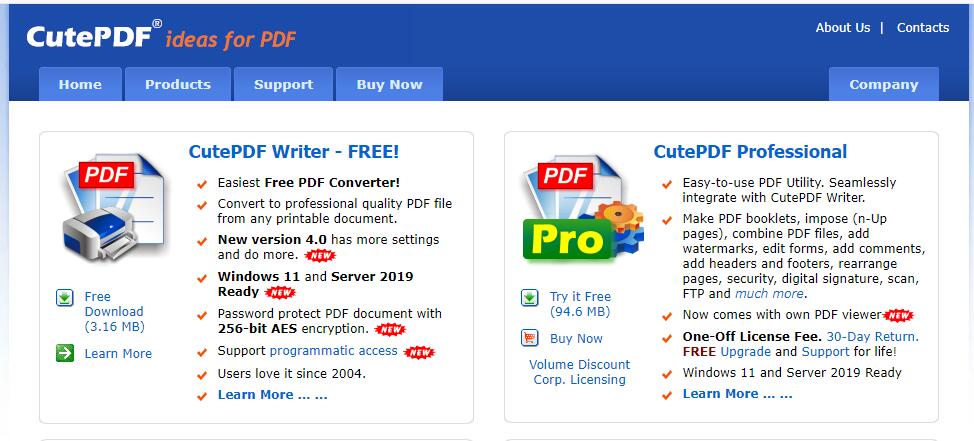 Another useful PDF editor for PC online is DocFly. The features are quite limited, and only include basic content addition, form creation, and page organizing, but it's certainly a reasonably good replacement for downloadable software since it works on the browser.
Once you upload a PDF file to the site, you'll see tabs for the Editor, Form Creator, and Organizer. The Editor tab contains text boxes, shapes, icons, whiteouts, blackouts, image insertion, and other tools. The Form Creator can be used to add interactive form fields or elements to create forms from scratch or add form elements to an existing PDF.
One advantage here is that you can store your PDFs on the cloud for a limited time (24 hours) for free or upgrade to get longer storage durations. The files are uploaded using HTTPS protocols, which means they're relatively safe until they're stored in the DocFly servers, after which the server and network security protocols kick in. Considering the limited PDF features, the upgrade is fairly expensive on a monthly basis but a little more affordable if you're willing to commit to an annual subscription plan.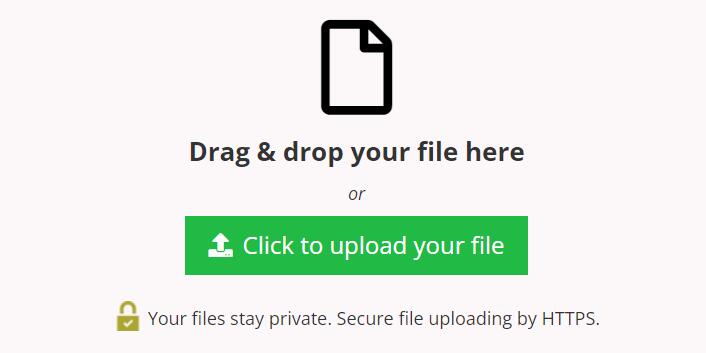 iLovePDF offers an online PDF editor for PC and other platforms that comes with a very Office-like UI that makes it easy for Windows users to settle in and get the hang of this browser-based utility. The features of the online editor include PDF editing, file merging, conversion, annotations, security, OCR, e-signing, batch processes, and more.
There's no free version but you do get a 7-day free trial period, during which you can use all the features and test out the product. However, once that period is up, you'll need to upgrade to a paid plan (pretty expensive) to get access to even simple tools such as PDF editing - it will allow you to edit the document free but when you try to download, it will prompt you to subscribe.
That's one of the frustrating things about this product, but if you're willing to shell out the money, it's a great PDF editor for PC because it also comes as a desktop version.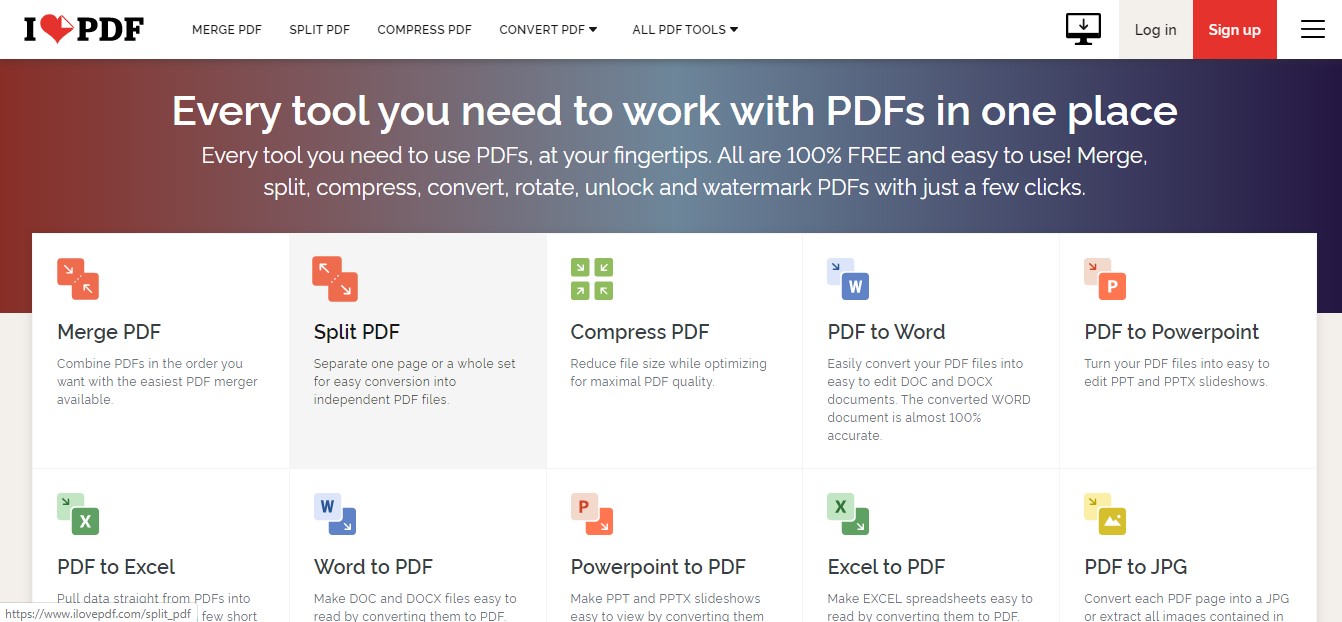 ---
Best 5 PDF Editor for PC: Desktop
PDFelement for Windows is more than just a PDF editor for PC; combined with the considerable ecosystem of Wondershare PDF products that include HiPDF, PDFelement for Mac, iOS, and Android, and Wondershare Document Cloud for cloud storage and electronic signature sending and tracking, it represents one of the most comprehensive PDF solutions for professionals and novices alike. This allows users to work on the platform of their choice and with no limits on the features and capabilities offered.
Specific to PDFelement for Windows PCs, the feature set is very expansive and includes all basic and most advanced tools expected from a pro-grade PDF editor. From PDF creation from any printable format to advanced conversion, OCR, annotations, creation and handling of forms, e-signing, PDF protection, file and page organizing, etc, PDFelement's features offer everything under one roof, in a manner of speaking. Moreover, the integration of Wondershare Document Cloud access in the desktop versions of PDFelement gives the platform global accessibility and the flexibility to work from anywhere with an Internet-connected device.
And yet, the most attractive feature, according to many users, is the price of subscriptions and perpetual licenses, which work out to a fraction of what they currently pay for premium products such as Adobe Acrobat Pro DC or the Nitro Productivity Platform.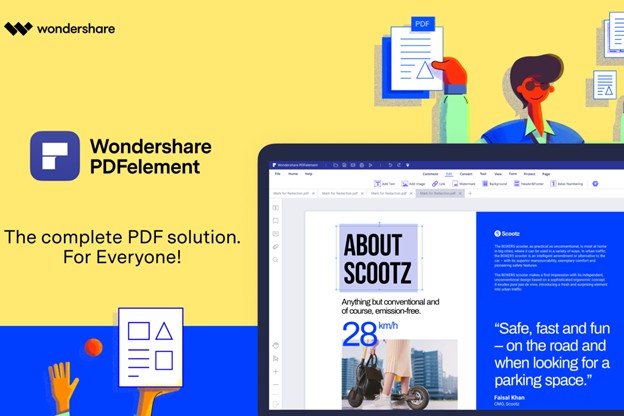 The Acrobat range of PDF solutions from Adobe needs no introduction. As the undisputed market-share leader in the segment, this series of products pervade the enterprise segment like no other PDF product. That's understandable since it was Adobe that first created the PDF format and the first tools to handle such files. Nevertheless, it has stood the test of time against an onslaught of more powerful and affordable alternatives such as Nitro and PDFelement, among others.
Acrobat's greatest attribute is the sheer number of features that it boasts in the Standard and Pro versions. You'll find everything from extensive annotation options to PDF creation, editing, bulk processing, forms management, PDF security, file conversion, OCR, and file organizing and page management features. However, that also makes it complex for new users. Moreover, with a relatively weak support system for smaller-scale users, it does leave a lot to be desired.
On the pricing front as well, the products are generally considered to be at the upper end of the spectrum, which is one of the reasons there are so many capable alternatives on the market today. But if you can afford it and you need sophisticated tools to handle heavy workflows, Acrobat is the go-to solution.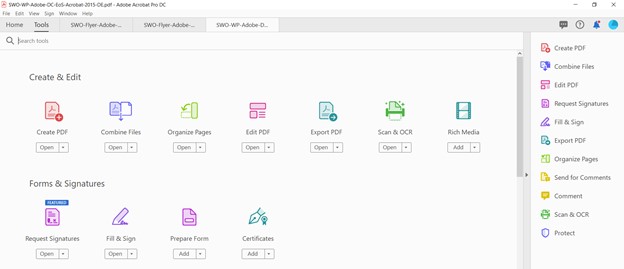 The star player of the Nitro Productivity Platform is Nitro PDF Pro, a lightweight PDF editor that can even run on older versions of Windows. As a premium PDF editor for PC, it leaves almost no stone unturned in terms of features. However, there are a few drawbacks here as well, as we'll see.
The rich features cover nearly every requirement of a professional PDF user, but some conversion options are missing, such as eBook formats and other file types. There's also no Mac version, and to counter this weakness, Nitro purchased PDFpen and PDFpenPro, which are still sold under their own branding but with the Nitro brand slapped on.
The Office-like interface of Nitro makes it appealing to most Windows users and offers a relatively gentle learning curve. The UI features make it even more user-friendly with aspects such as suggestions for print size reduction, a floating toolbar, browser previews, and touch-enabled capabilities. The major downside is that there's no monthly option, just the annual subscription, which is relatively expensive compared to, say, PDFelement.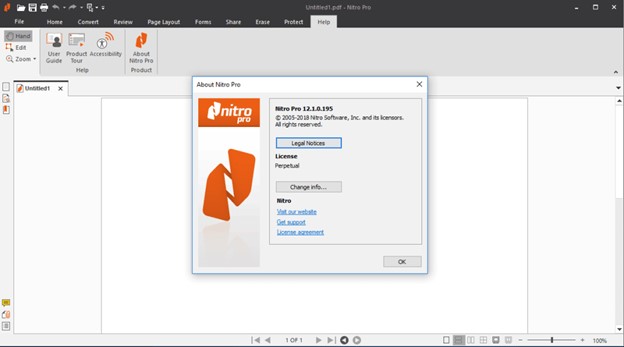 PDF Complete is a duo of Windows-only PDF editors for PC that shares a lot of design similarities with native Windows tools such as Word and Excel. The Corporate version is more of a lightweight PDF annotation and reading utility but with some advanced functionality such as one-click PDF creation from Office files, web-to-PDF conversion, and PDF merging.
On the other hand, the Office version is a pro-level tool that comes with all the bells and whistles that a professional document management expert should have, such as full PDF editing capabilities, several file conversion options, annotation tools, PDF security, tools to organize PDF pages and files, and even OCR. However, the OCR function is limited to converting scanned documents to searchable rather than editable PDF files.
In terms of pricing, PDF Complete falls somewhere in the middle. Considering the features it brings to the table, however, the product was tagged as the best budget editor of 2021 by PC World. Moreover, there are often steep discounts offered that you can take advantage of to bring your cost of ownership down even lower.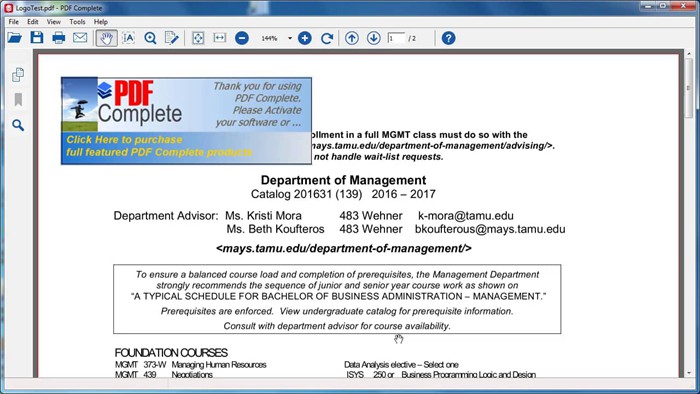 Huh? How does Microsoft Word feature in this list of best PDF editor software for PC? That's because of its easy PDF to Word to PDF conversion capabilities. Unless you have a very complex PDF with lots of graphical elements, multiple exotic font types, etc., nearly any text-heavy PDF can be easily converted to Word for editing and other purposes.
Strictly speaking, MS Word can't manipulate PDF files, but once you convert it to DOC or DOCX, you can pretty much do whatever you need to before converting it back to PDF. And all these tasks can be carried out without leaving the Word interface.
MS Word is also a more affordable solution overall because you typically get a free license along with the PC that you buy, which you can upgrade once it exceeds the free one-year period or whatever the initial offer was.