Top 6 Best Possible Online PDF to BMP Format Converters
When it comes to converting your images you don't really have to worry so much if you don't have a desktop tool to use. For those specifically looking for the best PDF to BMP converter online you might not think you've sufficient choices but you do. Essentially, you can actually make use of the best PDF to BMP converter online free of charge and get right into transforming your PDF documents into the kind of BMP image format you want for all manner of reasons.
We understand the hustle of trying to find a working converter on the web but the following should be sufficient. Of course, some are free PDF to BMP online converter programs while others offer both a free version and an advanced one with more advanced tools.
Of course, when you want to effectively carry out your PDF to other formats on the web you need the best tool for that. Hipdf is definitely the best online PDF to BMP converter available today and comes with some of the most effective features and functionalities you can imagine. It's highly robust and superbly intuitive and very easy to use.
Hipdf provides some of the most comprehensive all-in-one PDF management features such as editing, e-signing among other features. These include PDF conversion to image formats, MS Office tools, HTML, TXT, EPUB, RTF, among others.
Hipdf also allow you to convert from all these formats and more into PDF. In addition, you are able to use PDF unique tools such as PDF redacting, deleting, unlocking, extraction, protection, rotation, splitting, cropping, merging, editing, signing and text replacement tools for PDFs.
With Hipdf you also access image altering tools such as conversion from one image format to another with tens of formats supported, including image cropping, rotating, resizing, cropping and compression features.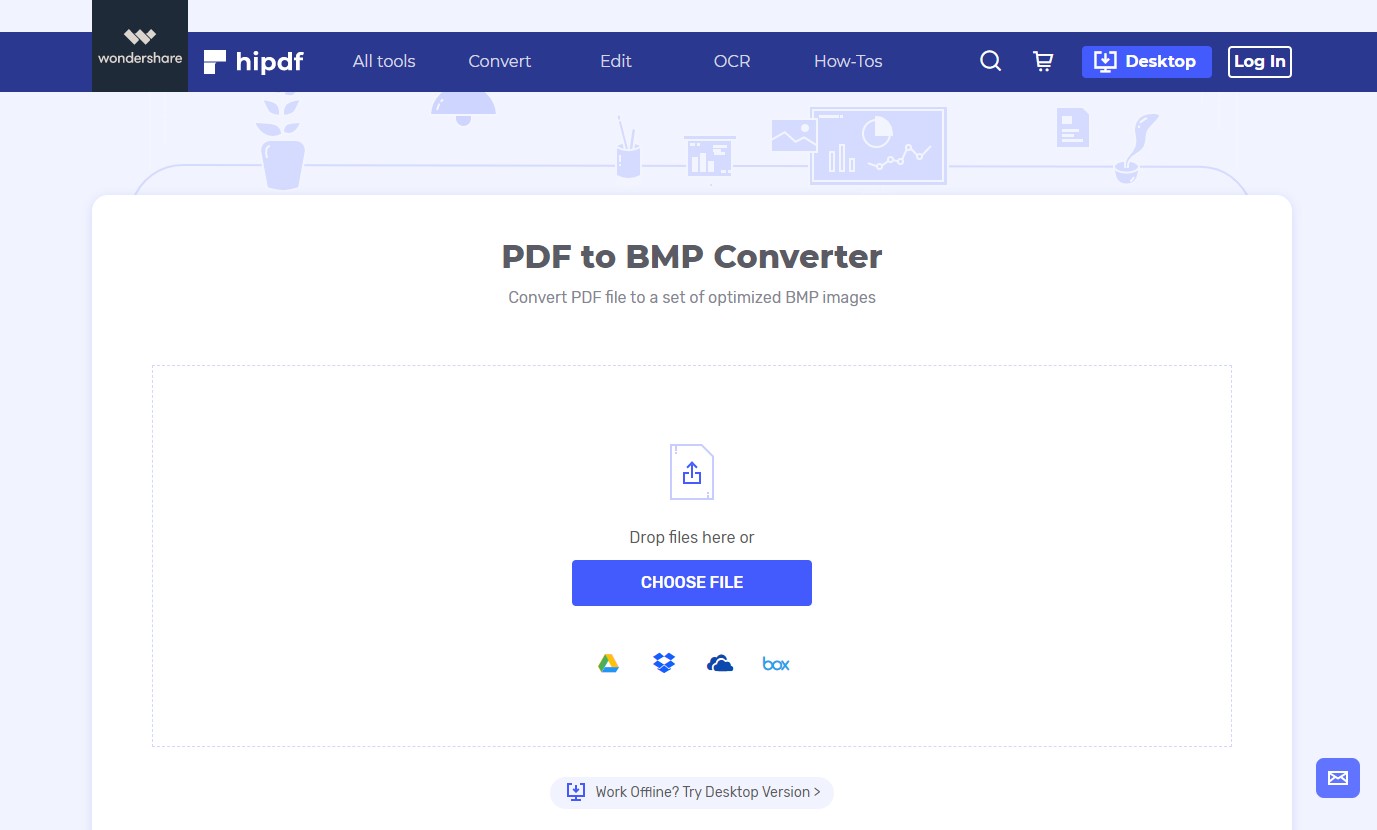 Pros:
Includes tens of tools
Cloud access support
Advanced tools such as optical character recognition (OCR)
Tools for editing PDFs
Supports batch processes
Multiple file format support
Includes free version
Advanced features allow you to do more
Cons:
It has page and size limit
It has some paid features
Pricing: $6 USD/monthly
---
Pdftoword.com is online accessible and well rated on the web. It offers good PDF to BMP conversion results. It can be one of the best PDF to BMP converter online without email issues since your converted document is sent to your email of choice. The Nitro tool is a productive suit that claims to get your PDF files converted from diverse formats such as Microsoft Office tools, editing and creation of PDF files, e-signing and sharing and easily accessible online. While it promises grand results it can be really disappointing at times. Note that it might not have all the advanced and basic features you might need, such as OCR technology support or batch processes.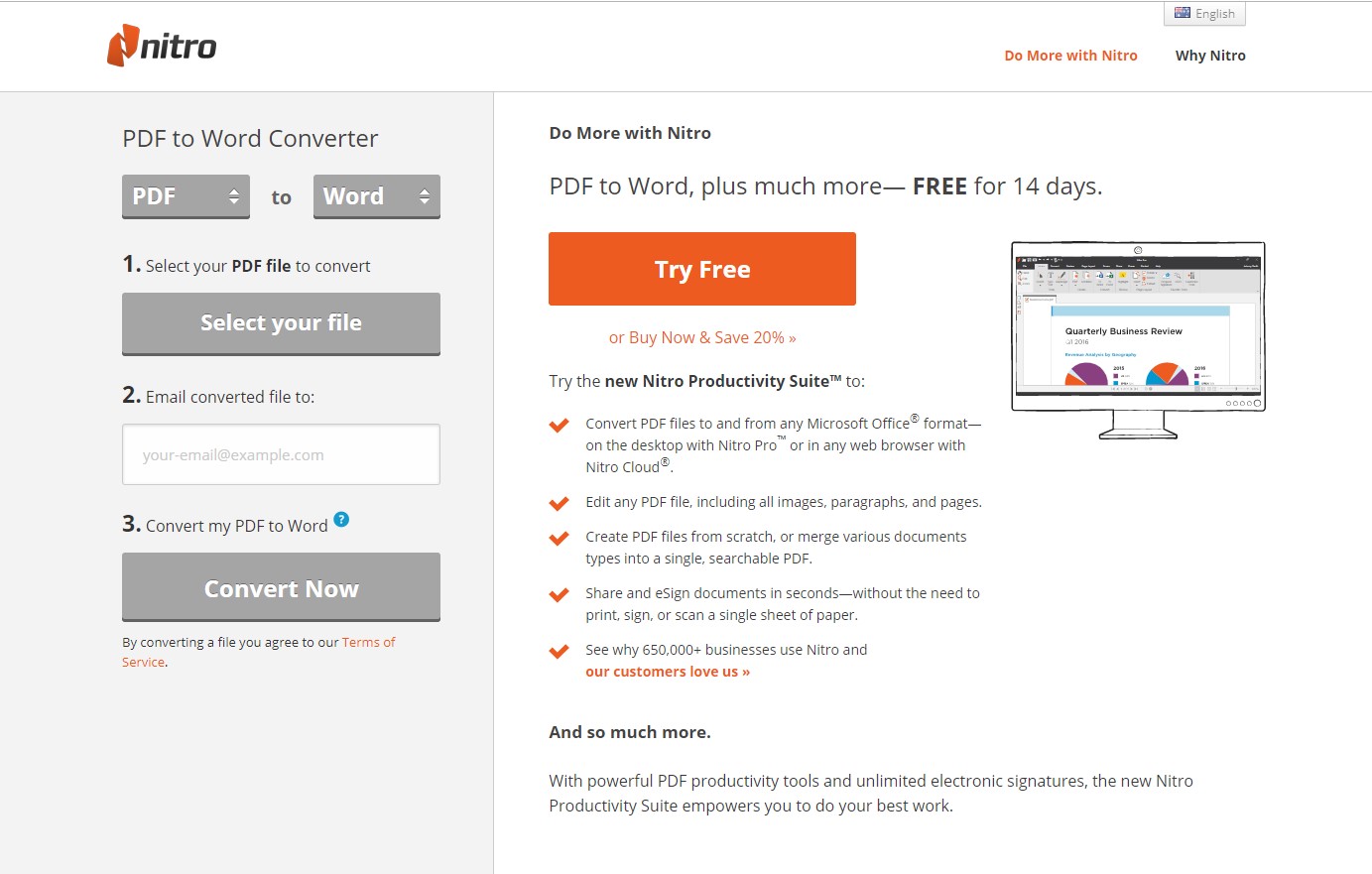 Pros:
PDF to MS Office tools conversion
Includes reviewing, securing, merging, creating, conversion and editing features
Electronic signature
No file size limit
Cons:
Very little image conversion support if any
Very slow
Need an email to receive converted document
OCR and Batch processes unsupported
Better tools accessible via a subscription
Pricing: $159 (single payment)
---
Definitely one of the best free PDF to BMP online converter accessible for free, you can use it to convert your PDF files, among others into diverse formats. The tool also comes with PDF merging tools, including unlock, editing and PDF document export features. Also includes document manipulation capabilities such as PDF page rotation, page selection, file splitting among others. Editing and copying is also supported, including printing support and defined layout, header and footer. Even so, its user interface isn't the most appealing.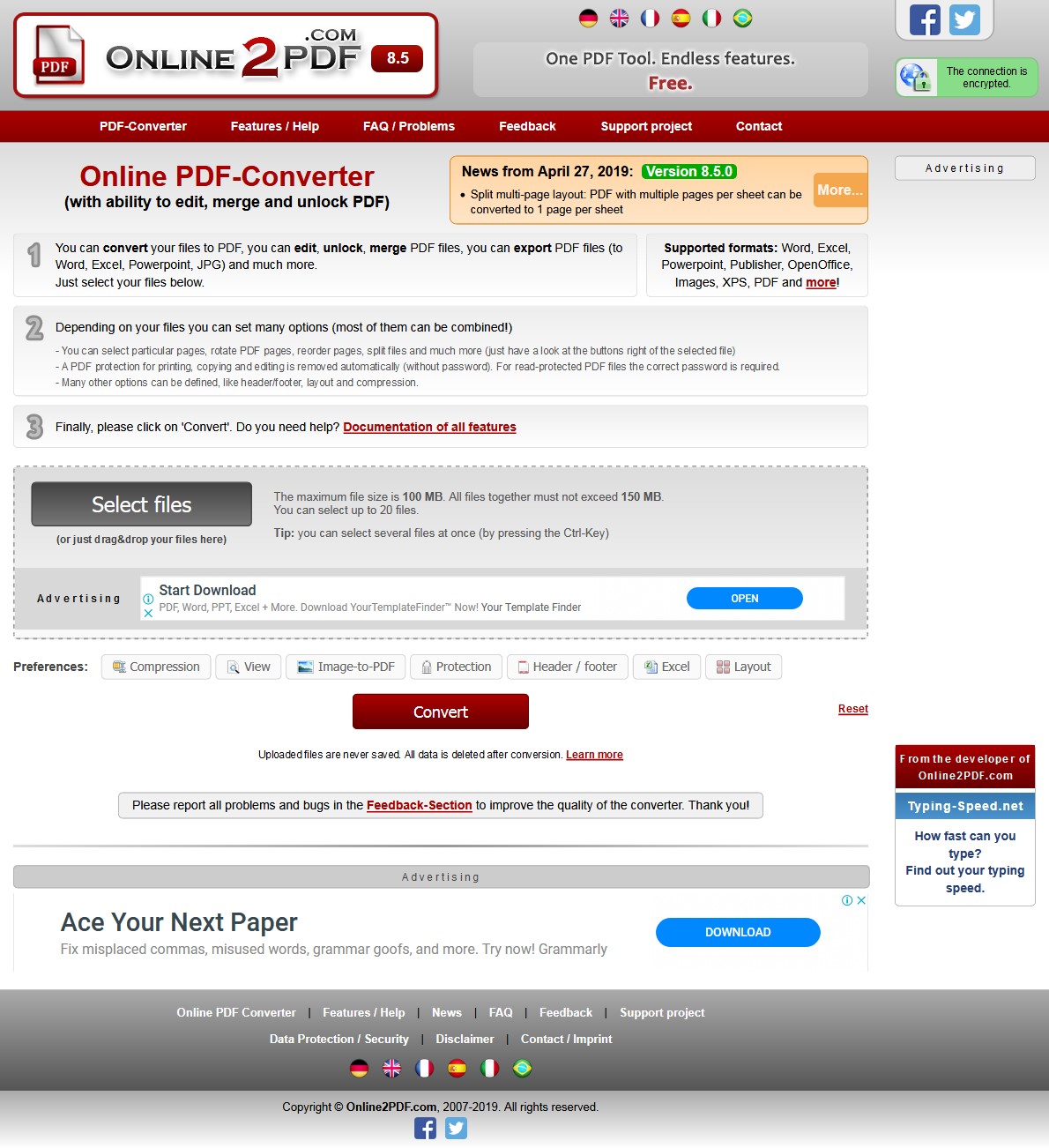 Pros:
Includes PDF management features
Merges, unlocks and edits PDF documents
Supports file conversion
Cons:
UI not really the best
Not the easiest to use
Pricing: Free
---
Not just a PDF to image formats converter, this tool allows you to do a lot, including creating PDFs from other documents in the shortest possible time. It's a converter that supports a lot of formats and features. The online tool comes with a free trial allowing you to test it before committing to anything. Files are encrypted for privacy purposes and deletes files three hours later for safety reasons. In essence, you can protect PDFs, rotate, compress and delete PDF pages, convert into and from PDF while merging and splitting PDF files easily.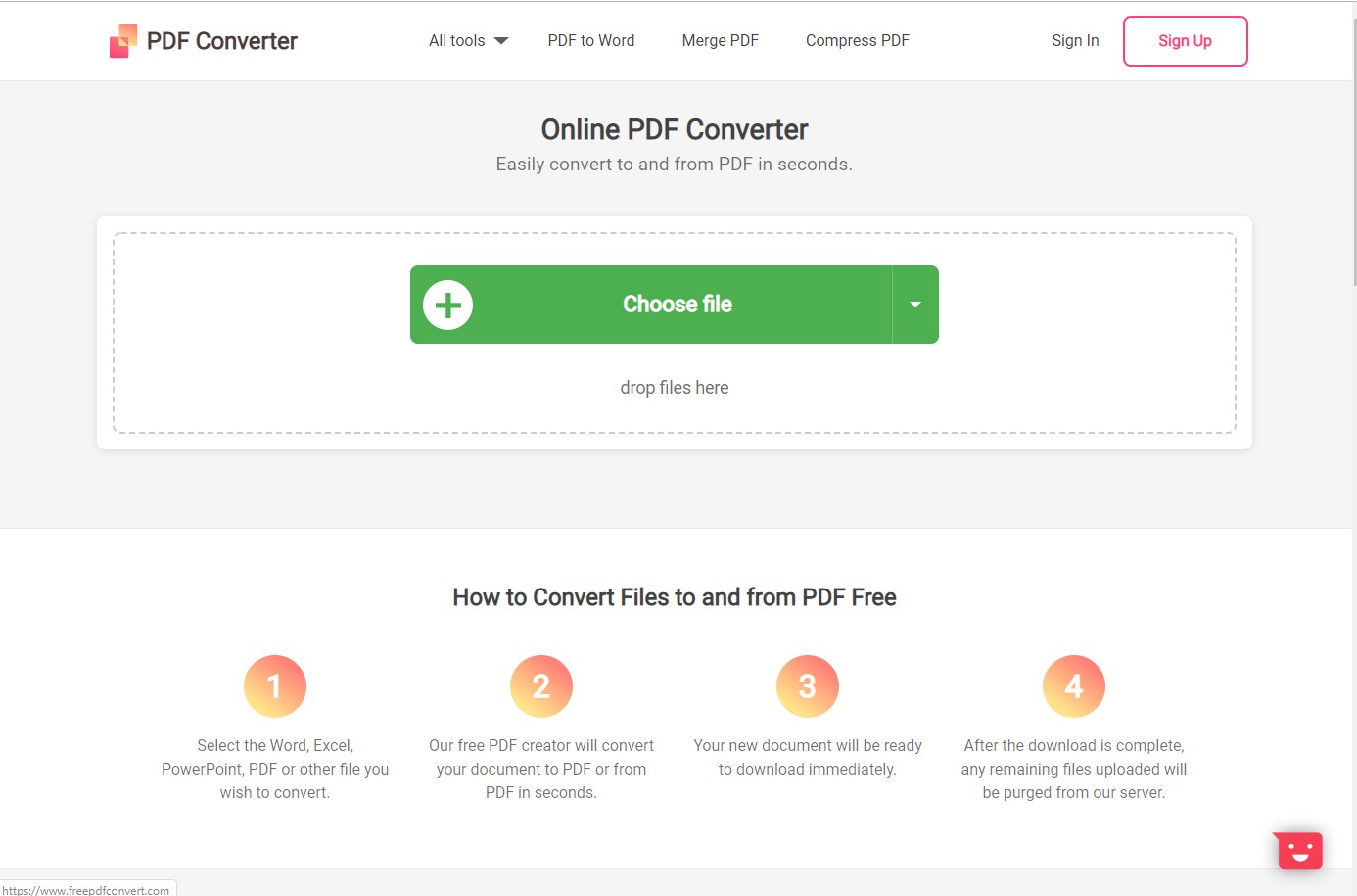 Pros:
PDF to Word, Excel, PPT, image format converter
Converts from OpenOffice and iWorks as well
No email address is needed
No limit to file size
Cons:
Doesn't really convert all pages
Conversion can take a while to complete
OCR and batch mode not supported
Pricing: free trial, $99 one-time, $50/annually and $5/month
---
In most best online PDF to BMP converter review posts across the board Zamzar has been well recommended. It offers diverse options to convert your PDF into lots of formats out there. It doesn't really require a lot except uploading the PDF document you want to convert to BMP and start the conversion. It's also free to use and covers a wide range of functions.
However, you'll need an email to use Zamzar effectively where your conversion will be delivered to and doesn't really maintain the original version of the format. For instance, a 4-page PDF document can be converted into a Word file of 6 pages long. In essence, it works if you're not in a hurry and you don't really mind the document output per se.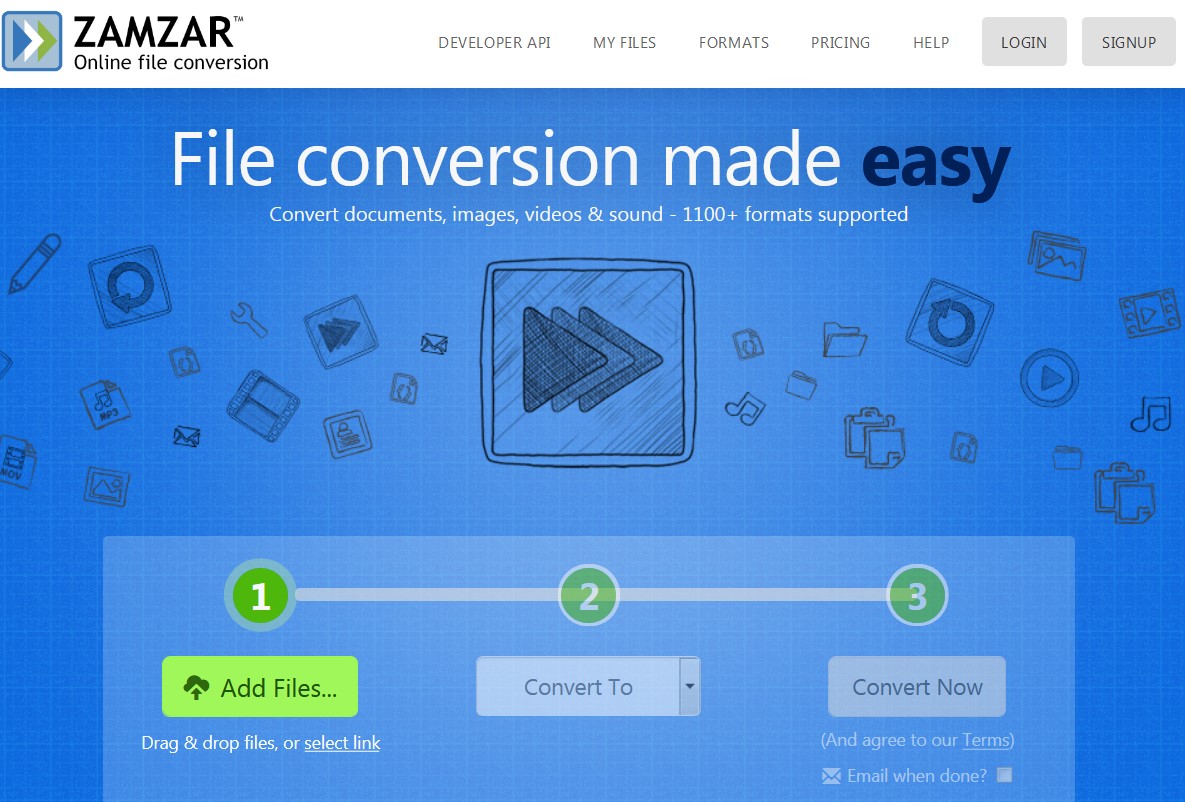 Pros:
Free to use
Easy to use
Converts PDF documents into tens of formats from image, HTML, LRF, DWG to ODT among others
Convert from image formats such as PNG to others such as JPG
Cons:
Quite slow compared to Hipdf online tool among others
Large files can take a while to convert
Doesn't always maintain original file format
Pricing:
BASIC: $9/monthly
PRO: $16/monthly
BUSINESS: $25/monthly
---
An intuitive tool and arguably one of the best online PDF to BMP converters online, you can use it to carry out so much, such as convert files into and from PDF. You're also able to compress, split and merge PDFs. You don't need to create any personal account to use the tool or make any subscription to access the program.
No email is needed to use PDF Candy and you get to access your converted document right away. For fair use of the free tool, you cannot upload a PDF document of more than 10MB. In addition you can use the tool to add a watermark, rotate PDF, protect, unlock and delete PDF images. You're also provided with easy to use how-to's to help you get started.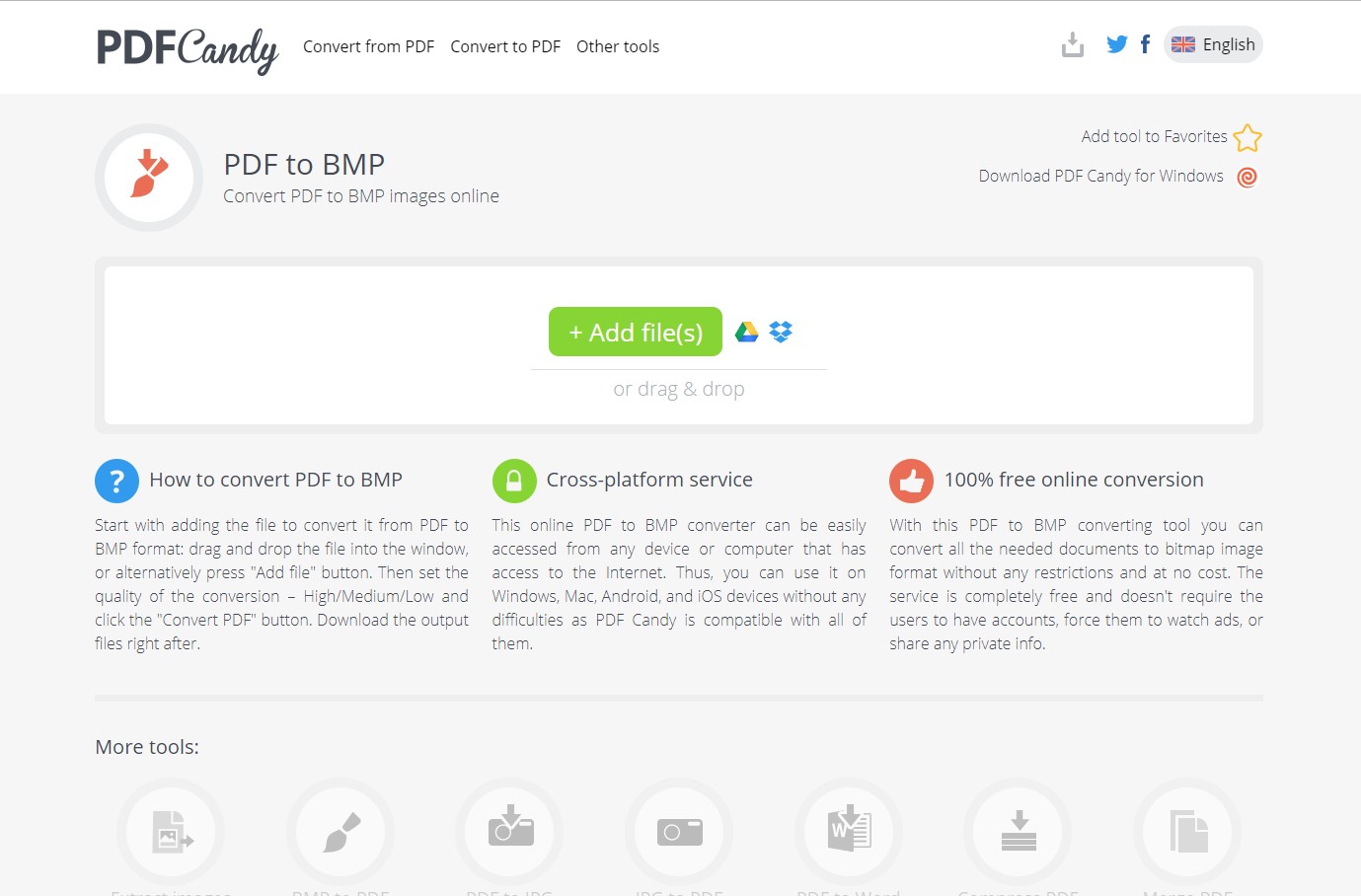 Pros:
Doesn't have ads and it's fully free
Uploaded file safety guaranteed
User interface simple to ease and intuitive
Conversions are of a good quality
Cons:
Only 10MB can be uploaded
File conversion into PDF doesn't support lots of formats
Pricing: Free to use
---
Conclusion
Supported by the most recommended name in digital tools and program design and engineering, Wondershare's Hipdf isn't just recommended as the best online PDF to BMP converter accidentally. It's so intuitive, even for the free version, that you can actually get high quality document output whenever you need to. It offers every user a huge range of features to do as much as possible with their PDFs, right from their favorite web browsers. Hipdf also comes with an offline desktop version that can be used right away on a desktop whenever you want.
It doesn't really matter whether you're a professional or student looking for a unique PDF to BMP converter for all your needs or a small business owner somewhere looking for a quick way to convert PDF documents into so many formats and access many other tools; Hipdf will help you accomplish all these needs and more.
---
Hipdf includes lots of features that include:
Easy PDF conversion to and from diverse formats such as Excel, Word, PPT, Image formats, HTML, RTF, TXT, EPUB among others
Lots of PDF tools such as PDF protection features, merging, editing, cropping, unlocking, deletion of pages, redaction of PDFs, PDF signing, PDF splitting, PDF compression, image extraction from PDFs, among others
Comes with an option to access an all-in-one PDF solution for desktops you can use offline
Includes lots of image manipulation tools such as cropping, compressing, resizing, rotation among others
Also comes with diverse conversion options from image files to Word, Excel, PPT, Text, ICO, among others